Not everybody enjoy traveling, but for the ones who do, it is a never-ending quest. Like a platinum trophy that's impossible to achieve, but we never stop trying anyway. To see the world, learn new things, meet new people, eat new food, and most importantly collect experiences to remember; that's what it's all about.
When the wanderlust metre gets dangerously full, the urge to go somewhere, anywhere, will be very difficult to resist. And that's when travel plans start magically happening, sometimes by accident, but most times with passion. In hopes of sustaining and supporting the love for travel, here are a few places I frequent when looking for travel inspiration.
Pinterest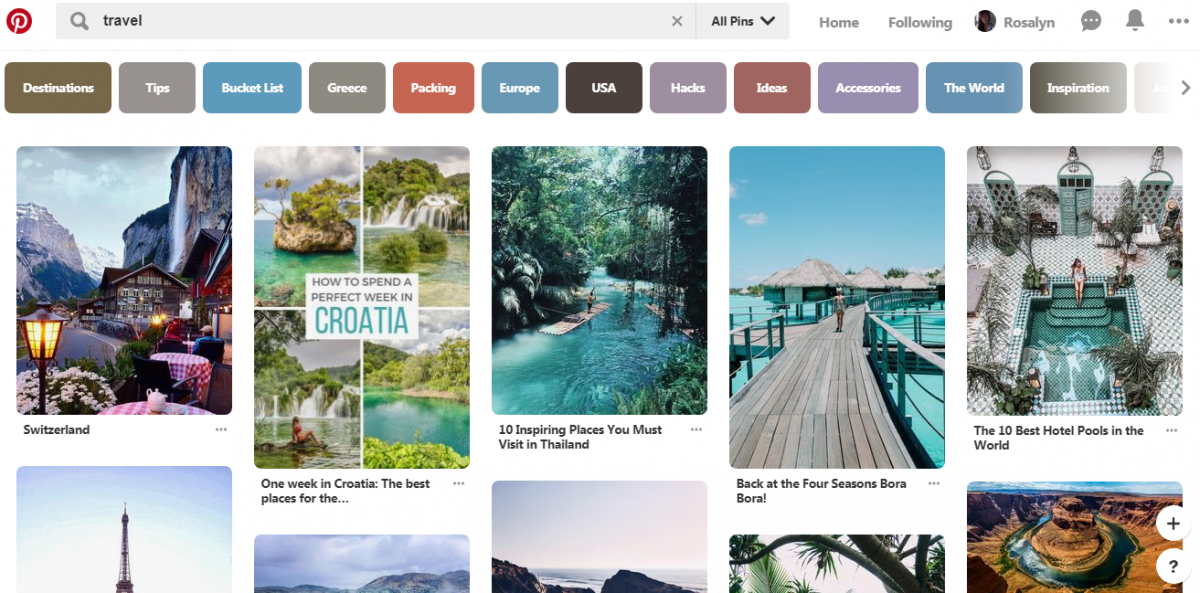 Pinterest is great for inspiration of any kind! It is a community-based platform where all content is uploaded by users like you and I. Searching for a topic is a breeze, all I did was key in 'travel' and a number of different results popped up, all with gorgeous, attractive pictures. You can browse and save 'pins' on it's website or download the free mobile app. The interface is great for both, and it's super easy to create your own lists and save 'pins' to them.
Start pinning here: Pinterest
Instagram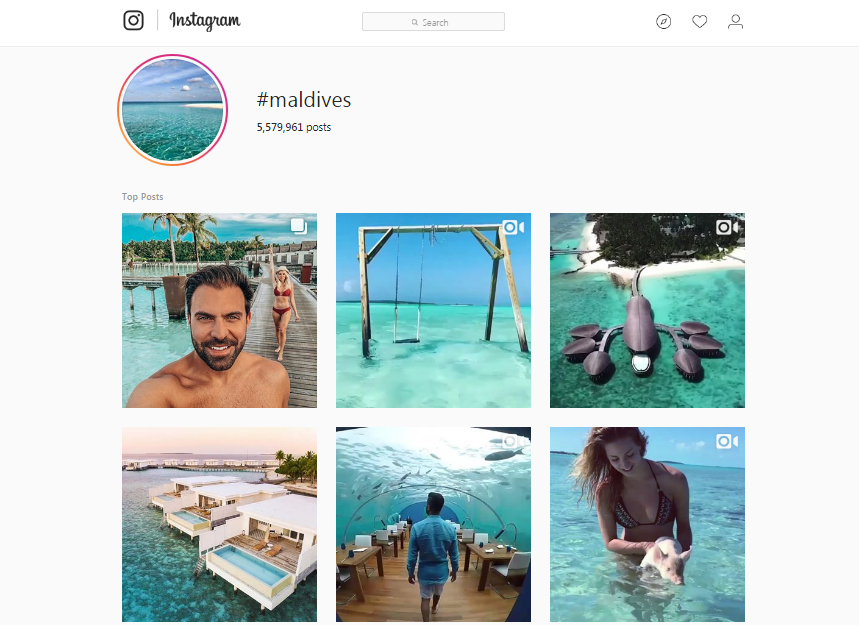 Another platform guilty of robbing hours of our lives, is Instagram. Inspiration, or potential FOMO (fear of missing out) is extremely easy to achieve here. Similar to Pinterest, it is a visually-driven browsing experience where you'll get to see the best face of any place in the world. On the flip side, keep in mind that many photos are carefully composed to only include what looks nice and attractive. Always do a quick Google Maps search of the are you're interested to visit, and view it in the satellite view mode for a more realistic expectation.
One thing we especially love about looking for travel inspiration on Instagram, is the location tag video feature. All Instagram stories that are publicly shared and include a check-in at a specific location are viewable when you search for that location's hashtag. See the 'Maldives' search above, for instance. What we find extra special, is that these stories are in real time (for the most part, we wager). It's an easy way to enjoy peeks of food served at a restaurant, how the weather is that day, how the hotel room really is in real life; fantastic.
Spend hours scrolling on: Instagram
Google Flights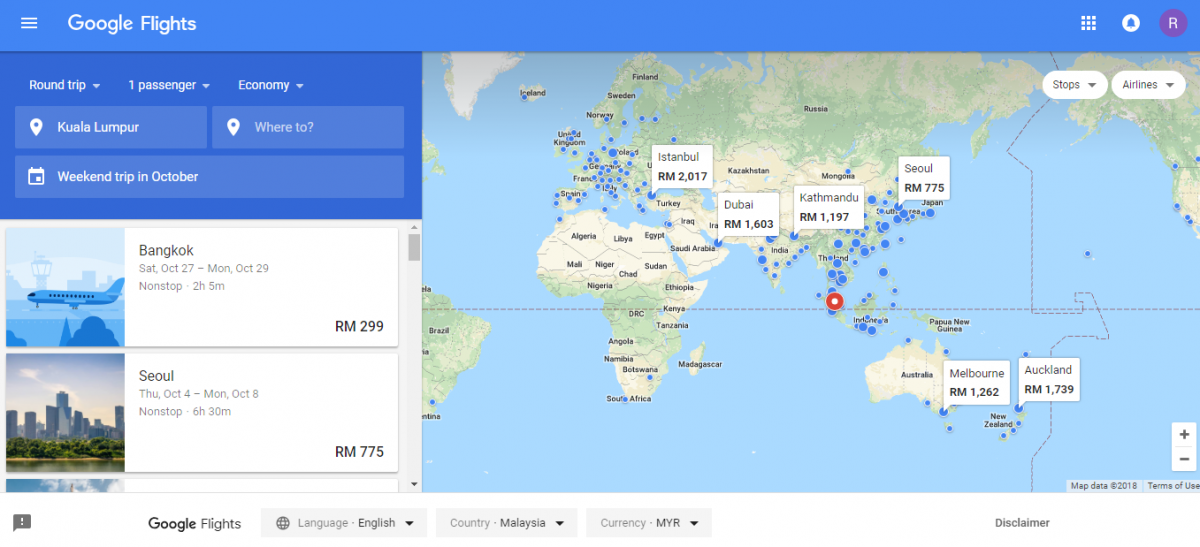 A ridiculous number of hours have been put into dragging the map around on this page, thanks to our insatiable wanderlust. While Google Flights has been available in Malaysia for some time, it seems that not many people are aware of it yet. It can be difficult for travel junkies to focus while browsing, so it's important to set some 'rules' like travel dates or budget. Clicking on a destination will bring up a list of airlines and prices to help with your planning. Clicking further on "View Flights", will bring you to a simple analysis page where there's information like alternate dates and prices, the price trends of your selected destination dates, alternate nearby airports to fly to or from, and tips from Google with external links to travel guides and Google Trips.
Filters available include number of passengers, currency, airplane class preference, origin airport, direct or connecting flights, and single or multi-city destinations.
Fantasize over flights: Google Flights
AirBnb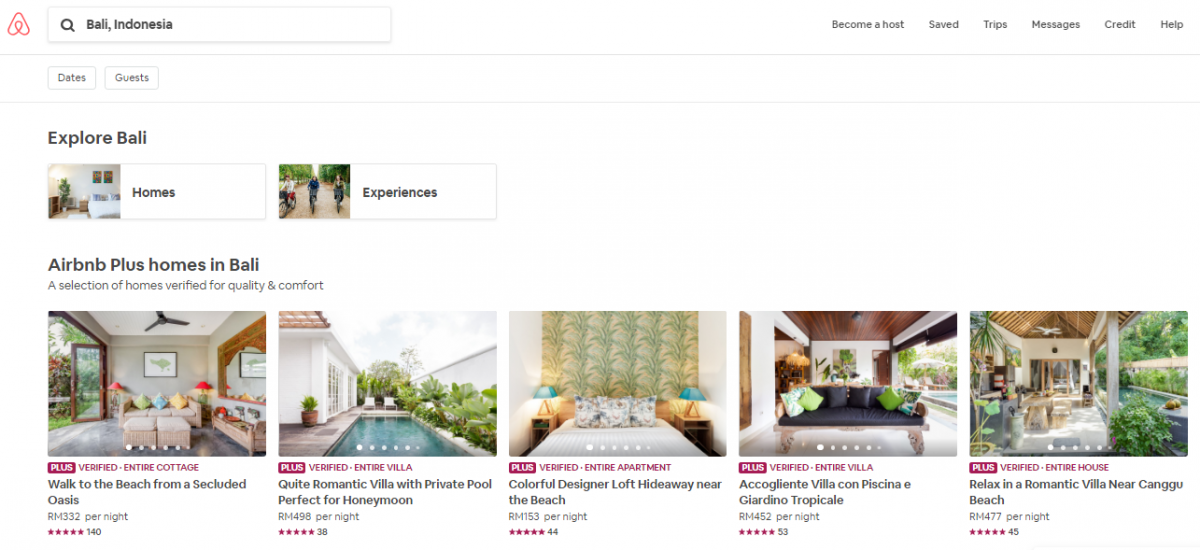 Whether or not you have an inkling on your next destination, typing in random places on Airbnb will bring up beautiful homes and sometimes, experiences, that might be something you're interested in. Depending on the type of trip, your accommodation can make or break it and we wouldn't want the latter, ever. AirBnb has filters like dates, location, number of persons, home type, accessibility needs, type of stay (family or business), amenities, and most importantly, price, among others.
The platform has recently introduced Airbnb Plus homes, which are verified personally by the Airbnb team to be excellent places to stay. Some prerequisites of a home to earn the Airbnb Plus badge include being thoughtfully designed, have a standard set of amenities, have exceptionally well-reviewed hosts, and be well-equipped. These are the premium homes, so to speak, and guests will enjoy special attention from the Airbnb team as well.
Bed and breakfast dreams: Airbnb
Comments