See the latest update and new information HERE.
Malaysia's Minister of Tourism, Arts, and Culture, Dato' Sri Hajah Nancy Shukri, has announced that the government will allow all Malaysia My Second Home (MM2H) visa holders back into the country, effective Sunday, May 17th. This is indeed welcome news for the few hundred people who have been stuck overseas for weeks, simply because they were unable to return before the borders were hastily closed in mid-March. Many have had a very difficult time during this extended period, as their primary homes are here in Malaysia. It is sad it has taken so long for the government to realise how unfair they were being to deny entry to this group who have accepted Malaysia's invitation to come and make their home here.
MM2Hers returning to Malaysia will need to be tested for Covid-19 in the country they're currently in and produce the results of a negative test upon arrival in Malaysia to be permitted entry. They will also be required to complete a 14-day quarantine at a designated centre; some hotels are being utilised for this function. The costs of the quarantine period will be borne by the MM2Hers.
Originally, it was planned to allow MM2Hers back in small batches and government officials were asking for names of those stuck outside Malaysia. In the end, it was decided to allow all MM2H visa holders to return. While we're certainly happy this includes resident MM2Hers, the broad ruling is nevertheless a decision which is hard to understand, given that they are still refusing to let expats with work visas to return. It means even those holding an MM2H visa but rarely visit the country and contribute very little to the country's economic growth will be allowed to enter, while expats who live and work here will not.
Under normal circumstances, this broad acceptance of all MM2Hers would be fine news, but given the government's concerns about allowing foreigners into the country, we are forced to question why 'casual' MM2Hers, who merely hold the visa but have no real ties here, are given priority over those expats who live and work here, pay taxes here, raise families here, and even own businesses here. It is very hard to understand the logic.
The government has already decided to allow most businesses to reopen, yet will not permit the managers and technical experts who work in these companies return to the country. As one expat wrote to us, "I have been stuck in Japan for weeks at a very high cost, and because I am not in Malasyia I cannot restart the business I own, nor pay my Malaysian staff their wages. I cannot understand why the government does not let us in if they want to get the economy going again."
TEG Media have received many depressing stories from MM2Hers, working expats, and even their young dependents who have been stranded overseas. Nearly all of them only have one home and it is in Malaysia.
It has become clear that the rather negative attitude towards the expat community, which was becoming increasingly apparent under the last government, is felt even more strongly by the new government. It is not surprising that we hear more and more working expats starting to question whether Malaysia is a sensible choice for their investments when the government seems to place such little value on them or their contributions to the country..
Given the importance of foreign direct investments to all countries' economic growth, this is especially true now, given the current depressing global and local outlook .
Some expats are speculating that the new government would even prefer to see slower economic growth if it can avoid having foreigners living here. We hope that is not the case.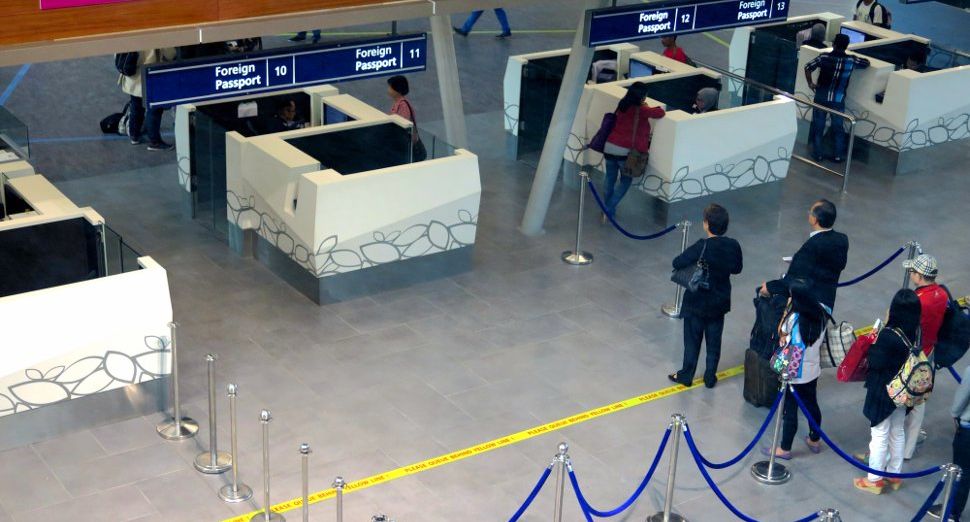 Let's hope the government soon sees the value – and the logic – of welcoming them back to Malaysia, as well.
Additional info can be found here, here, and here, as reported in local media. The full release from the government is below, in image and downloadable PDF formats: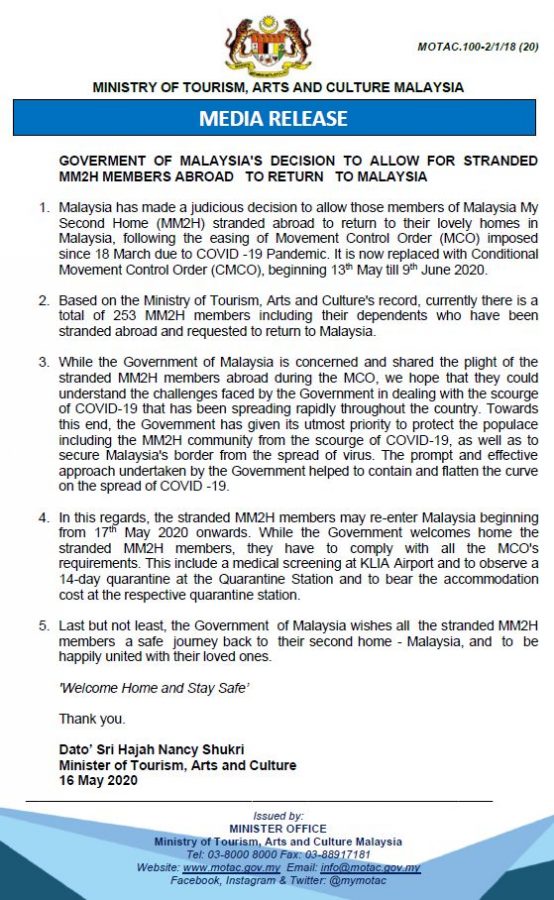 The original post by Andy Davison, CEO of TEG Media, follows below:
Immigration departments are rarely noted for their compassion. Around the world, there are many tales of misery caused by people being denied access to countries. It is of course the duty of immigration officials to restrict entry to only those who are legally entitled to enter and it can be a difficult job where human emotions often have to be set aside.
Malaysia has struggled for years with the problem of a large number of illegal foreign workers. (This is on top of the 2.3 million documented foreign workers.) Despite repeated efforts, they have not been able to solve the excessive numbers of undocumented workers, a problem not helped by the willingness of companies to hire them as cheap labour.
Malaysia has tougher policies than more developed countries when it comes to foreigners, even higher-income, skilled workers. For a foreigner, it is nearly impossible to get Malaysian citizenship and even permanent residency is very difficult to obtain. Unlike Singapore, which saw the value of attracting skilled foreigners to contribute to their enviable economic success, Malaysia has resisted this.
That seemed about to change when the government, under Prime Minister Najib Razak, announced the Economic and Government Transformation Programmes back in 2010. The very detailed plans included a substantial increase in the number of expats in order to be able to reach their ambitious targets. They even introduced a 10-year flexible visa called the Resident Pass-Talent to encourage skilled expats to stay in Malaysia. I was even given unsolicited permanent residency for helping promote Malaysia to the international community.
Sadly, these transformation programmes, which got off to a good start, fell victim to the massive corruption scandals which enveloped the nation. Nevertheless, it is clear that countries which make good use of foreigners tend to have stronger economies than those which don't. In the UK, for example, the Covid-19 pandemic has shown how dependent the National Health Service is on ethnic Asian and South Asian doctors and nurses, and how valuable they are to the country as a whole.
Unfortunately, it seems that the new Malaysian government has a very different view of foreigners.
Despite taking the significant risk of allowing many more people to go back to work early this week, the continued refusal to allow entry to a few hundred foreigners who hold valid visas to work and live here is very hard to understand. As one expat who is stranded in Singapore wrote me, "I have been working and living in Malaysia for 16 years, but it seems that we are considered just as dispensable as the casual tourist."
This expat is certainly not alone. Many have written, and some of their stories are quite sad.
An MM2H visa holder took his wife to Portugal for a special 60th birthday celebration and was unable to get back to Malaysia by the deadline, as the initial MCO was enacted quite hastily. The trip has turned into a nightmare as his costs keep mounting as they wait to be allowed to return.
Other MM2Hers contacted me, who were holidaying in South Africa and Australia and could not get flights back by the deadline are desperate to get back because of the high costs they are incurring.
Another British couple were trekking in Nepal and were unable to get flights back by the deadline. They flew to the UK at considerable expense, and are now in rented accommodation with a rented car incurring high costs.
Another MM2Her who has lived here for 15 years travelled to Singapore for a conference by car and was then not permitted to return. Apart from the other high costs he's amassing, his car parking and road tax fees come to RM80 per day.
Another MM2Her residing in Johor made a desperate rush to get back, but just missed the deadline by a few hours and has been stuck in Singapore ever since – just a few kilometres from his permanent home in Johor's Iskandar region.
The newspaper reported a recently married foreigner arriving at KLIA with his Malaysian wife was told to return to the UK, because he had only been married for four months, not the six months required to be considered a "genuine" spouse of a Malaysian. He had to pay for his ticket back to the UK.
The stories go on and on, and while there are certainly a lot of other people around the world who are suffering much more, the fact is there is simply no good reason to keep these people out of Malaysia. They may not be citizens, but they have made their homes here and contribute to the country's economic growth, so why not show them respect for that? One requirement of the MM2H programme is a substantial fixed deposit held by a Malaysian bank, so many of these MM2Hers who are barred from re-entering the country now have said they have limited access (or no access) to their funds, as well.
For years, the government has been promoting the Malaysia My Second Home programme and inviting people to come to Malaysia and make it their home. (Please do not be confused by the name of the programme, as it actually encourages people to come and retire here and make it their primary home.) The programme can and does contribute billions of ringgit to the economy, as well as valuable foreign exchange to the country. Given the loss of all the tourist dollars this year, the MM2H programme can help offset those losses, so why is the government taking action which can seriously damage this programme?
One theory is that the government is looking at the total number of MM2H visa holders and worrying they will all arrive here. In fact, though the programme encourages residency, it does not require it. So over the years since its inception, most MM2H visa holders have chosen not live in Malaysia and therefore, this category of the programme contributes little to the country. It is certainly understandable to keep this group out of the country as they have not set up their homes here, and typically hold the visa for other reasons. The appeals to allow entry come from the small number of MM2Hers who have made Malaysia their permanent home – in most cases their only home – and just happened to be outside the country when the borders were closed.
Ironically, only a few months ago, the previous government was looking at ways to get more MM2Hers to come here and buy homes because of the damage the property industry was suffering with so many unsold properties. Now, the new government is – intentionally or unintentionally – sending a clear message that MM2Hers are not valued in this country, even if they have accepted Malaysia's invitation and made it their permanent home.
Of course I understand any government's first concern must be to its citizens, but despite repeated requests, we have received no explanation why Malaysia's government would choose to deny entry to a very small number of people who have their primary home in Malaysia and who pose no genuine safety risk in light of the ongoing health crisis.
This also goes for resident expats with employment passes. These expats are now allowed to return to work if they are in the country, but those who were locked out are still unable to return and get back to work.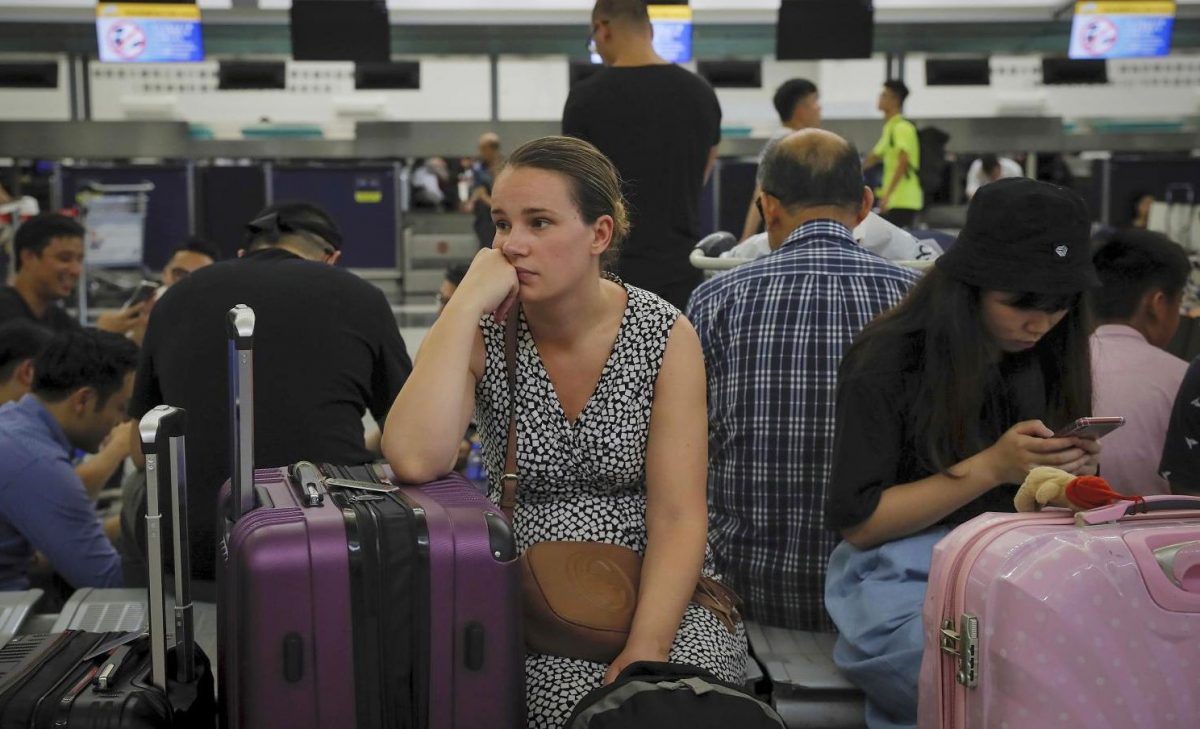 Let me be clear why I think the government should let them in:
There are only a few hundred people involved, and they represent a tiny risk compared to the many thousands of Malaysians who have returned to the country since the outbreak of the disease.
Most of the expats stranded outside the country know they are free of the virus and have already been in quarantine in other countries. All the ones with whom I have communicated said they had no problem with going into self-isolation or government-mandated quarantine. It is evident that MM2Hers, being mostly elderly, are especially concerned about their health, unlike the younger generation, many of whom do not take the risk so seriously.
My biggest concern is for the Malaysian economy, which is currently taking a hammering and both MM2Hers and working expats can help it on its road to recovery. However, the current action of the government clearly sends a negative message that setting up your home here does not give you the right to return to it. Even Malaysians who have relocated overseas and work there are being allowed to return to Malaysia.
If, in fact, this refusal to allow them to return is representative and indicative of the new government's negative attitude towards the expat community, then I believe there will be two losers. First, the expats who very much enjoy living here, and second, the Malaysian people, as there is no doubt in my mind that expats can and do make positive contributions to the Malaysian economy for the benefit of all its citizens.
It is no coincidence that successful countries around the world have seen the value of allowing foreigners to come and settle there. In the UK, the National Health Service would have collapsed during the pandemic if it had not been for the large number of doctors and nurses who relocated to the UK and made it their home.
I feel this apparent anti-foreigner direction in Malaysia is a sad development not just for the foreigners who enjoy living here, but more importantly for the Malaysian people who I genuinely think will only be worse off if the current government truly believes that expats play no useful role in helping the economy grow and are not deserving of some compassion or considerate treatment.



" ExpatGo welcomes and encourages comments, input, and divergent opinions. However, we kindly request that you use suitable language in your comments, and refrain from any sort of personal attack, hate speech, or disparaging rhetoric. Comments not in line with this are subject to removal from the site. "



Comments