To put it mildly, for many people, 2020 has been a year fraught with new realities encompassing challenges, difficulties, and even despair.
So how do you make sense of a world that's been thrown into such unprecedented, widespread, and long-lasting upheaval? How do you navigate the parade of lockdowns, job losses, business closures, relationship stresses, financial difficulties, and a near-term future that's full of questions with no clear answers in sight?
Of course, the primary driver of all this anxiety and uncertainty is the coronavirus pandemic. Though its economic and public health impacts are widely discussed, what is often less addressed is the psychological toll that this long-running crisis is taking on so many people. The fear of a new disease and worry over what may happen can exacerbate normal daily stresses such as work responsibilities, financial strains, family and personal relationships, and even political turmoil (for those who follow such things).
During the initial weeks of the lockdown here, I made a concerted effort to focus on the positives in my life, to keep myself busy, and to set some small goals – usually little projects around the house. Working from home turned out to be much more agreeable (and productive) than I had expected it to be, I got to cook a lot more than usual, and the regular walks to the grocery store and chats with friends kept me from feeling too isolated at home. Nearly everything worked in my favour, I didn't have undue financial worries, plenty of food in the house, and enough to keep me busy. I very much considered myself one of the lucky ones.
But there are a few spotty instances of mental health issues in my extended family tree, so through it all, I was particularly mindful about my own mental state. I actually had to minimise contact with a couple of my good friends during the lockdown because they were just so relentlessly negative, one of them almost aggressively so, and the conversations always seemed to drag me down. Even before the pandemic hit, the previous year had been terribly difficult for me, and it was enough of a challenge to maintain a hopeful and positive outlook without allowing external negative elements into the mix, so I just consciously reduced them. By the end of the full lockdown, as we segued into the modified version, I was fortunately none the worse for wear.
Others, however, have fared worse. Mental illness isn't something that's openly talked about all that much in Malaysia, or indeed in most Asian countries. In the US, where I'm from, it's quite different. (Indeed, in some parts of the country, it's almost as though you're not really someone until you have a personal therapist.) Over time, whatever judgment or misunderstandings that surrounded mental illnesses in America have largely subsided. Here, though, there still seems to be a stigma.
A few days ago, I got the profoundly upsetting news from a fellow media colleague of mine that her 28-year-old brother had taken his own life. As a senior-level analyst, he had been rising through the ranks of the high-pressure corporate world, and perhaps the added strains of the pandemic and its lockdowns and isolation simply became overwhelming. I don't know. His sister said his mental state apparently deteriorated rapidly, but that it all happened quietly, unknown to his family and friends. In what I feel was a remarkably courageous and generous gesture in the midst of such pain, his sister posted the tragic news publicly in a bid to bring more attention to an issue that is too-often unspoken or brushed aside, and to possibly help others who may be suffering from mental health problems.
Her plea, one which I will echo here, is simply this: If you are struggling with anxiety, fear, depression, suicidal thoughts, or any notion of worthlessness or despair, please don't suffer silently. Tell someone, even if you think they're too busy or won't care. Don't feel that you are burdening them with your problems. It may feel hard, but take that step to reach out. There is no shame and no weakness – at any time, but particularly now – in asking for help. These are profoundly trying times.
Another reminder here is to proactively keep connections open. Reach out to your old friends, send a message or an email to check on acquaintances. Use social media for good. Reopen a dialog with family long out of contact. Pick up the phone. When you meet a friend, slow things down and sincerely inquire about their well-being. You never know what battles someone may be quietly fighting.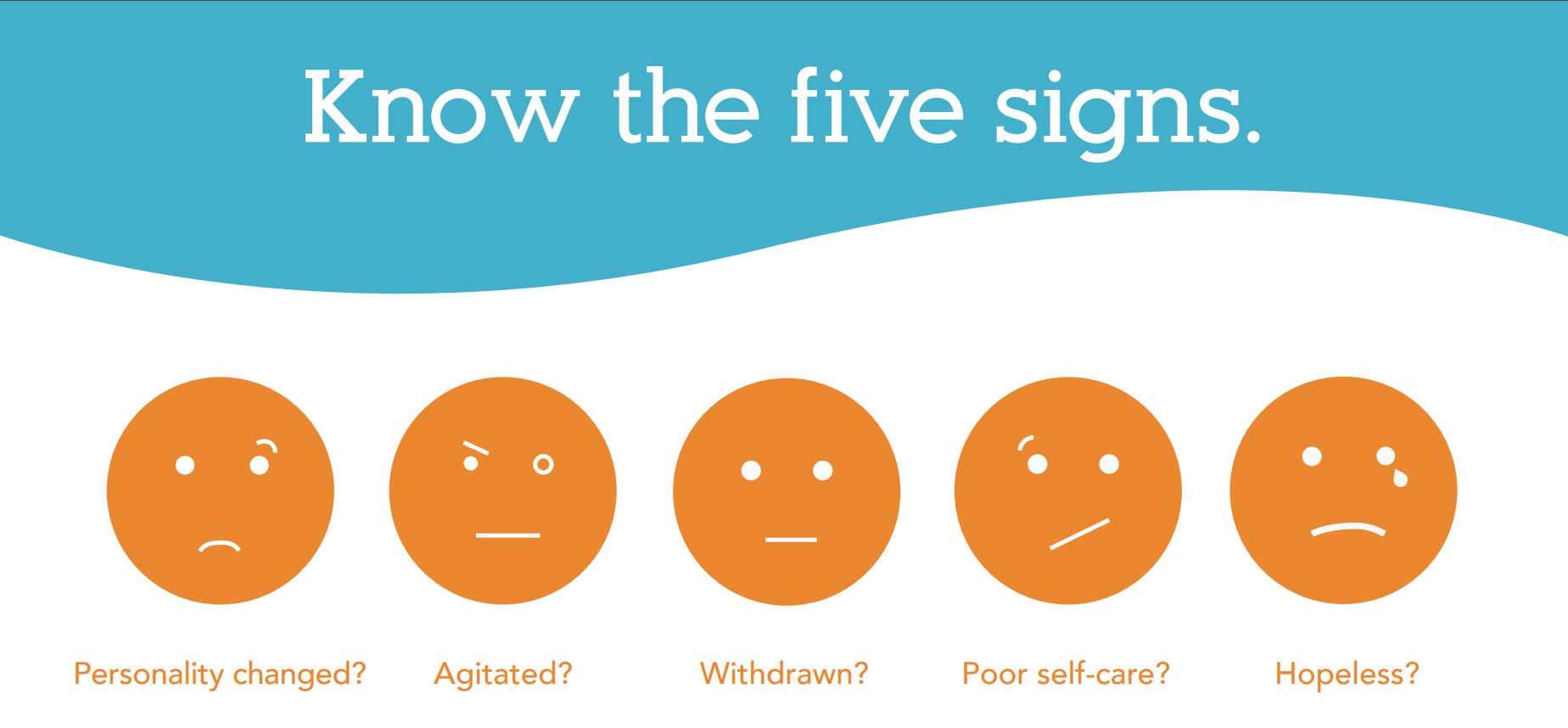 If you or someone you care about is struggling with mental illness or thoughts of suicide, finding help or support in Malaysia is surprisingly easy. Current estimates suggest that over 30% of Malaysian adults are facing mental health issues, and the services to help them have grown correspondingly in the past two decades. For a round-up of resources, visit www.mentalhealth.my. Another good round-up of resources can be found on our own ExpatGo story here.
For urgent help, or in the event of suicidal thoughts, a well-known 24-hour support hotline is called Befrienders. Visit their site at www.befrienders.org.my or call them at 03.7627 2929. It's free and confidential. Their website also has a list of resources and helpful information.
The coronavirus pandemic has dramatically upended our lives in many ways, but it has also underscored the reality that, in many other ways, we really are all in this together. So stay safe, take care of yourself, and take care of each other.
With that in mind, here are some proven ways to help yourself cope with the difficulties of living through a global pandemic:
Exercise. Though it seems counterintuitive to get moving when you least feel like it, this can really help reduce stress and anxiety. Exercise helps release endorphins and, beyond the many physical health benefits, yields very real, tangible mental health benefits, too. Even taking a (socially distanced) walk each day is a mood booster.
Focus on getting quality sleep. A side effect of additional exercise is better sleep. Improving the quality of your sleep can boost your mood and bolster your physical health, too.
Try relaxation techniques. Forcing yourself to relax while super-stressed? It's possible. Give progressive muscle relaxation, a good stretching technique, a try.
Take a (deep) breath. Slow, deep breathing is simple, but effective. Try the 'cardiac coherence' approach, in which you inhale slowly for six seconds, then exhale for six seconds, focusing on breathing deeply to the bottom of your torso. (Put your hand on your belly to feel it move as you breathe.)
Meditate. Many people swear by a short period of calm, reflective meditation. Studies show that even 20-30 minutes of meditation a day over the course of just two weeks produces a measurable positive change in the brain, and improves mental health.
Practice appreciation. Adopt an 'attitude of gratitude' and cultivate appreciation for all the many, often-unnoticed, positives in your life. A mindful approach like this takes focus and effort, like spending 30 seconds thinking about each person or thing that you appreciate, but the results are worth it.
Be optimistic. This is related to being appreciative, as each tends to feed the other. Think about (or even write down) a future in which things are better, you are happier, or you've accomplished certain goals. Visualize this path and strive for optimism.
Smile and laugh. Is laughter really the best medicine? It's a long-held belief, so give it a try. Watch a funny movie or a stand-up comedy routine on YouTube. It'll take your mind off your anxiety and give you a reason to laugh.
Focus on the things you can change. The old 'prayer of serenity' suggests that we should have the serenity to accept the things we cannot change, courage to change the things we can, and wisdom to know the difference. This is a really important thing to learn: If we're wallowing in helplessness and hopelessness, oftentimes it's because we're fixated on things that either don't matter, or on things we simply cannot control. Shift the focus, and look to things (big and small) in life that you can control, or change. It will reinvigorate your sense of control and balance.
---
"ExpatGo welcomes and encourages comments, input, and divergent opinions. However, we kindly request that you use suitable language in your comments, and refrain from any sort of personal attack, hate speech, or disparaging rhetoric. Comments not in line with this are subject to removal from the site. "
Comments