Hidden in plain sight right there in the name is the key to sustainability's success: sustaining it. At one Malaysian hotel, it's not just a once-a-year PR stunt, but rather a call to arms that's in the brand's very DNA.
If you ask most people these days – this writer included, truth be told – what "sustainability" is, you're just as likely as not to get a vague, rambling answer that's long on sounding good and short on being specific.
Unfortunately, that's how too many companies are approaching it, too, a phenomenon known as "greenwashing." Oh, they're saying the right words, getting tangentially involved in the right causes, and adopting the right slogans, but beyond that, perhaps they're not translating enough of talking the talk into actually walking the walk.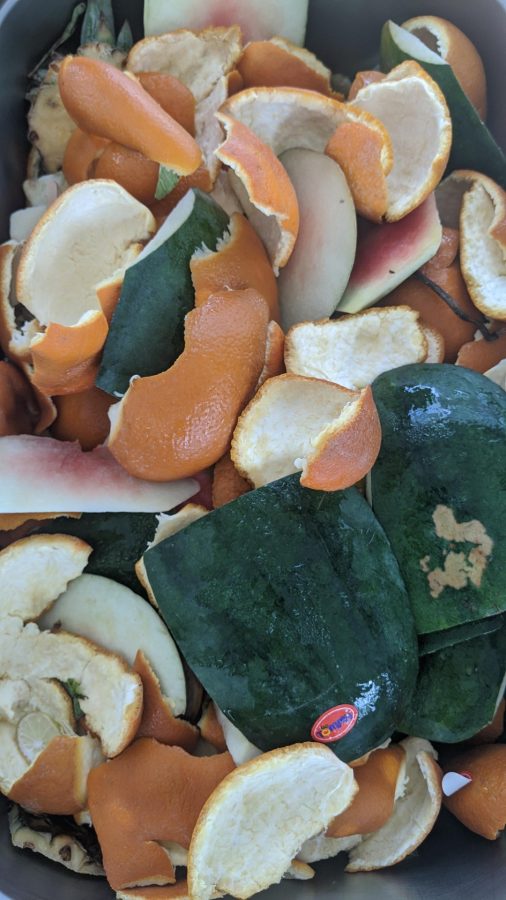 For the record, there actually is a straightforward, succinct definition of "sustainability" that accompanies the broader and more nuanced facets of the concept. Sustainability, at its most basic, means meeting our own needs now without compromising the ability of future generations to meet their needs.
More and more businesses, not least of which are hotels and resorts, are getting on board with the notion of sustainability, and some are putting ongoing action behind the concept, too.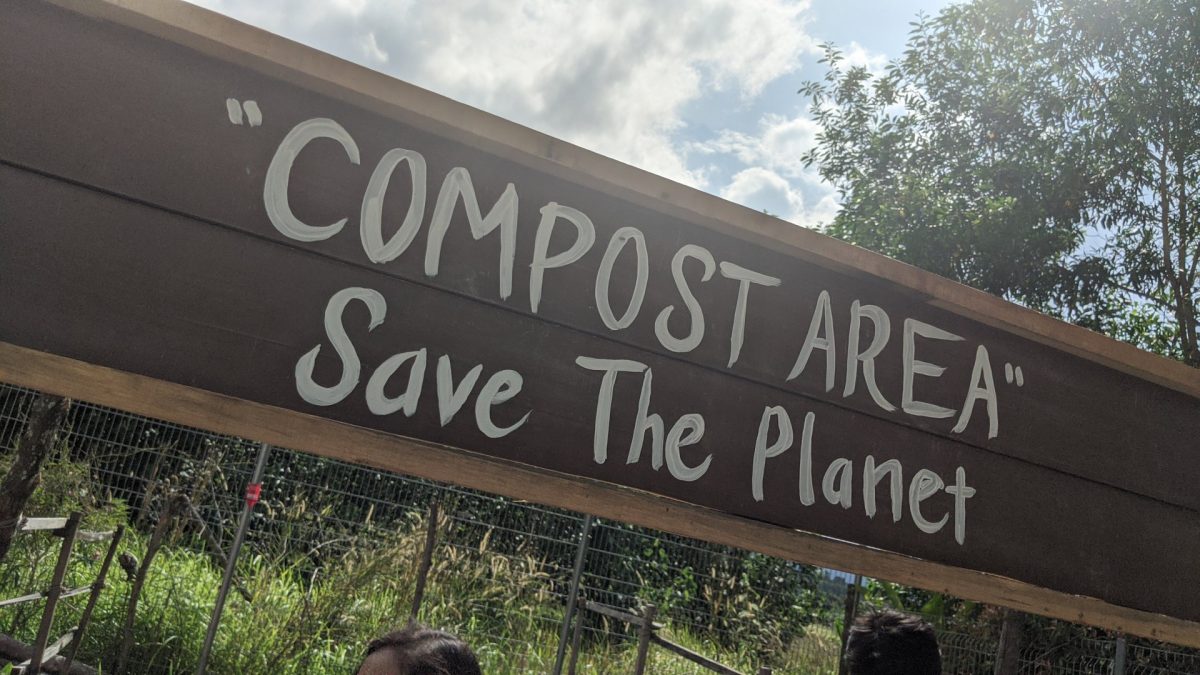 BETWEEN A ROCK AND A SUSTAINABLE PLACE
Founded in 1971, Hard Rock began as a café in London, quickly expanding in the '80s and becoming known for their displays of rock-n-roll memorabilia. In the following decade, they began opening Hard Rock Hotels, which are now scattered worldwide. However, there are only about two dozen hotels, while the famous Hard Rock Cafés number over 180.
Of the relatively few Hard Rock Hotels, four are in Southeast Asia – one in Pattaya, Thailand; one in Sentosa Island, Singapore; and two here in Malaysia – Batu Ferringhi, Penang and Desaru Coast, Johor.
We recently chatted with the team, led by General Manager Murray Aitken, at the Hard Rock Hotel Desaru Coast (HRHDC) about their efforts. Of course, the brand itself has long championed the ideas behind sustainability even before the word became popular, but the Desaru Coast property really takes the ethos to heart.
Remember the definition of 'sustainability' because we'll be coming back to it: Meeting our own needs now without compromising the ability of future generations to meet their needs.
BOTTLES AND BOTTLES
Among the most easily visible initiatives at HRHDC is also one of its most meaningful. Rather than stocking and restocking each of its 365 guestrooms and suites with a half-dozen disposable water bottles on a daily basis, the hotel invested in litre-sized insulated stainless steel bottles.
Guests refill these at any one of over two dozen installed Elkay dispensers around the hotel, giving them a steady supply of chilled, filtered drinking water with zero plastic waste resulting from it. (And to be clear, it's not that all plastics are inherently bad, but single-use disposable plastics are among the worst offenders and are an easy target in the fight to reduce waste.)
Each dispenser is sensor-activated, so guests just pop their sterilised stainless steel bottle under the spigot and in seconds, have a full bottle of cool, clean water. The dispenser also keeps count of how many refills it has dispensed. Assuming each refill is good for two 500-mL plastic bottles, it's no surprise to see that in the three-plus years since the property opened, well over three million plastic bottles have been kept out of landfills and waterways.
So does that fit the definition of sustainability? Well, the property is indeed meeting the needs of its guests today without compromising or imperiling the ability of future generations of hotel guests to meet their own needs. Consider this box easily checked!
Imagine if more hotels and resorts did this. Consider how many hundreds of millions of plastic bottles would never need to be manufactured, used once, and discarded.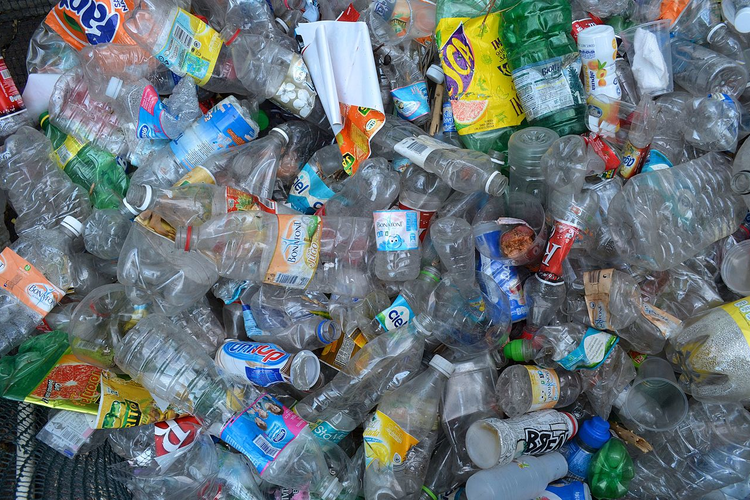 Another initiative that HRHDC has set forth – one that more and more hotels are adopting – is an ongoing transition away from disposable plastic tubes of bathroom amenities like shampoo and body wash, opting instead of refillable dispensers in guest bathrooms. As current stocks of the disposable amenity tubes are exhausted, they will be replaced with refillable dispensers – a far more environmentally friendly option.
A GROWING SOLUTION
Food waste is a serious problem in Malaysia, with some 17,000 tonnes of food – both leftover scraps and perfectly edible food – being thrown out here on average every single day. Though not a comprehensive solution, one piece of the puzzle lies in composting. Rather than just chucking all the scraps of food into the garbage can, composting them properly does two things. First, it keeps a whole lot of food waste out of landfills. You may think food in landfills is a negligible issue. After all, it breaks down, right? But food waste is a growing problem for landfills as not only does it take up a lot of space, it produces significant greenhouse gases during the breakdown process.
Properly composting food waste, on the other hand, solves this problem, and also (in time) produces nutrient-rich composted 'soil' for use to grow new food as a second benefit. It's a natural cycle, and is among the most basic examples of sustainable practices.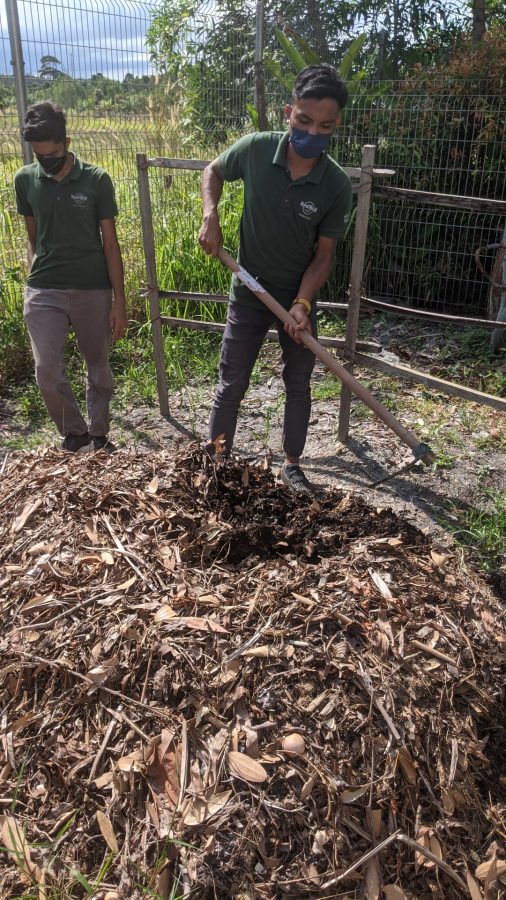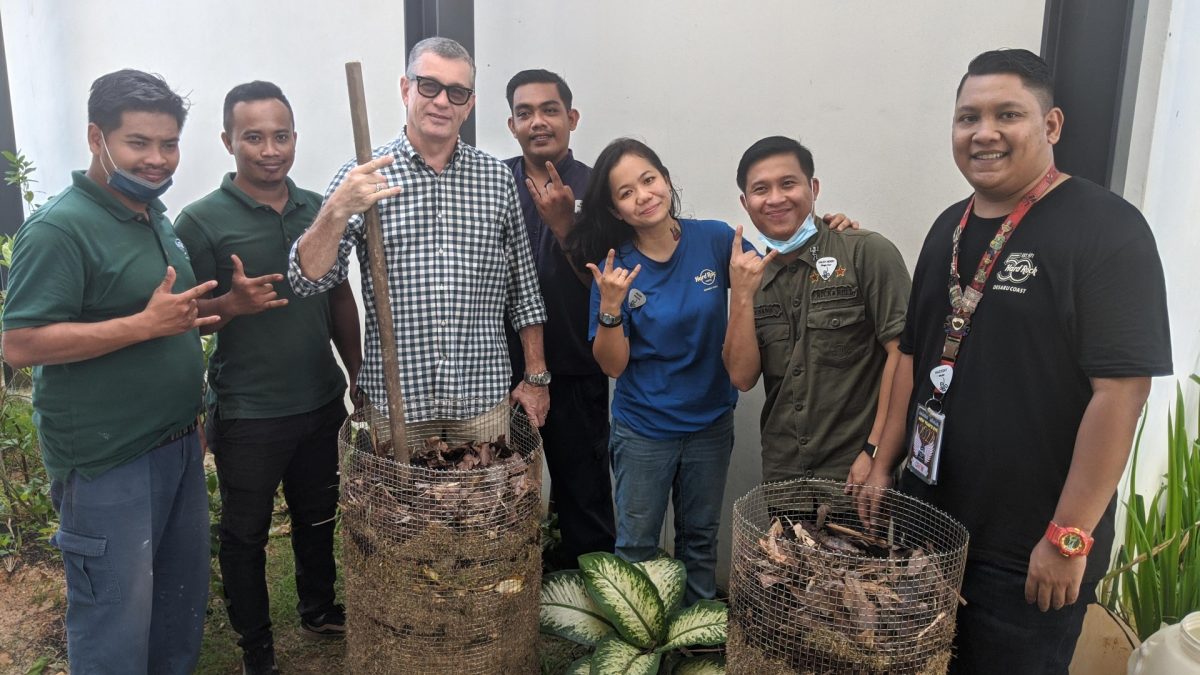 Hard Rock's Sustainability Manager, Chew Siew Moon, leads the eco-centred efforts at the property and makes composting a meaningful part of the hotel's daily practices.
On scales both small (little composting corrals not far from the restaurant) and large (several big piles of compost at the perimeter of the property's far side), HRHDC has made composting pay off by using the rich soil – produced at the composting sites over several months' time – in the hotel's large herb garden and in smaller spice gardens used by the restaurants and bars onsite.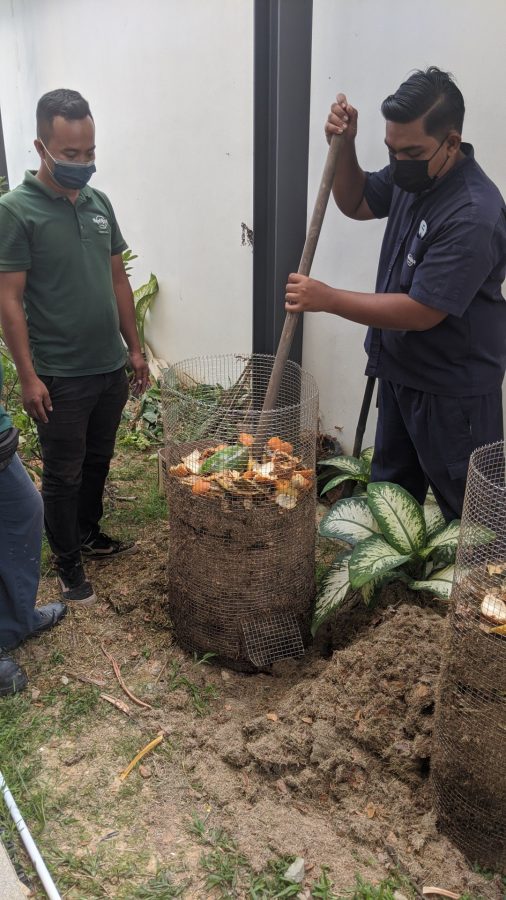 In addition to the composting project, HRHDC also uses the fruit peels and rinds (mostly generated by the bars at the hotel) as the base for a superb 'eco-enzyme' solution that can be used as both a fertilizer and a cleaner.
How does it work? Well, they take the rinds and peels – using waste from citrus fruits, watermelons, pineapples, and more – and put them in large containers with the appropriate amounts of sugar and water. It's all mixed well, and from that point, it's simply a waiting game. After about three months, the fermented solution (which smells a bit like a fresh, citrusy kombucha) is ready for use! Diluted with water, this enzyme-laden liquid works well as a natural liquid fertilizer or as an eco-friendly cleaner, too, Chalk up another 'win' for sustainability!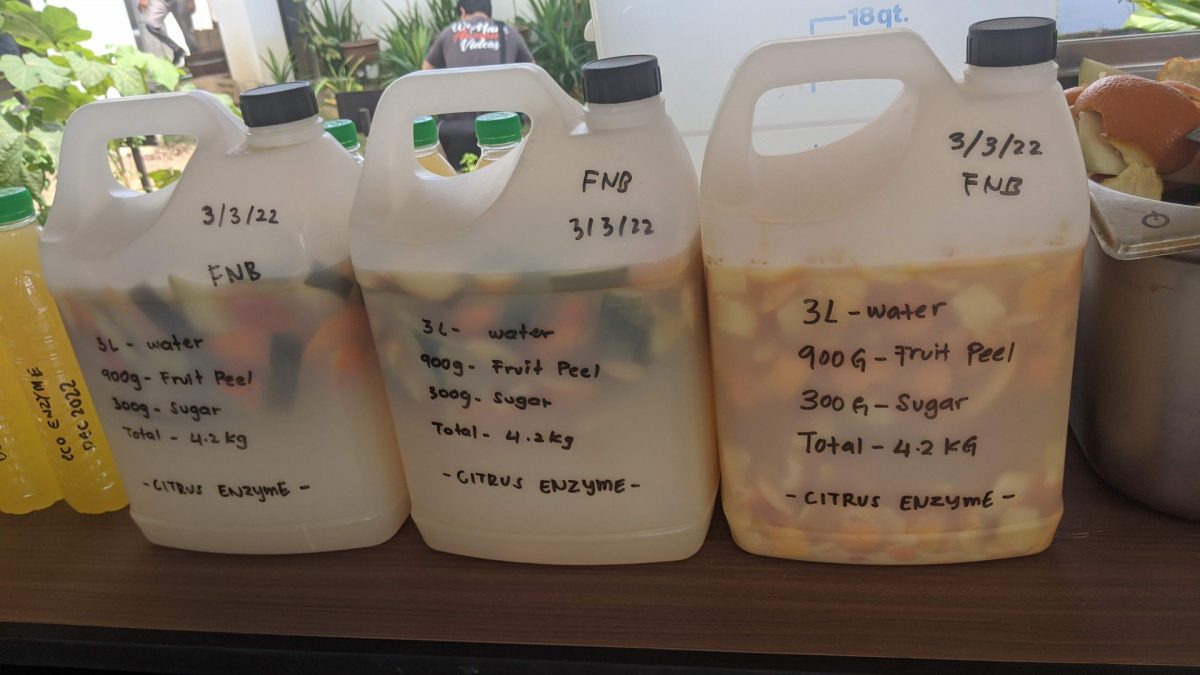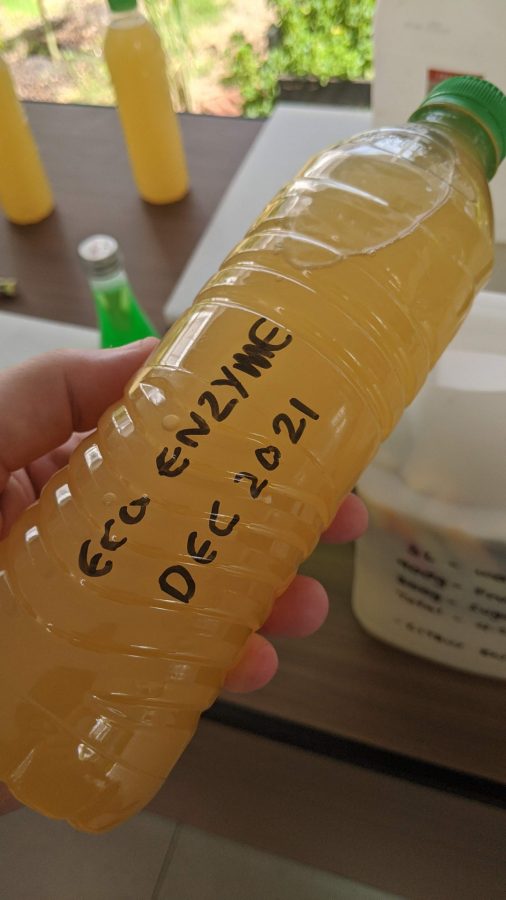 A HOME, A HABITAT
Another initiative at the hotel involved the engineering teams, under the guidance of HRHDC's in-house Naturalist Shahrool Anuar, using some scrap wood to build nesting homes for the Oriental pied hornbills that frequent the property. Among the smallest of the hornbill species in Malaysia, this attractive feathered resident at the Hard Rock will surely be happy to see safe, protected nesting sites custom-made for them.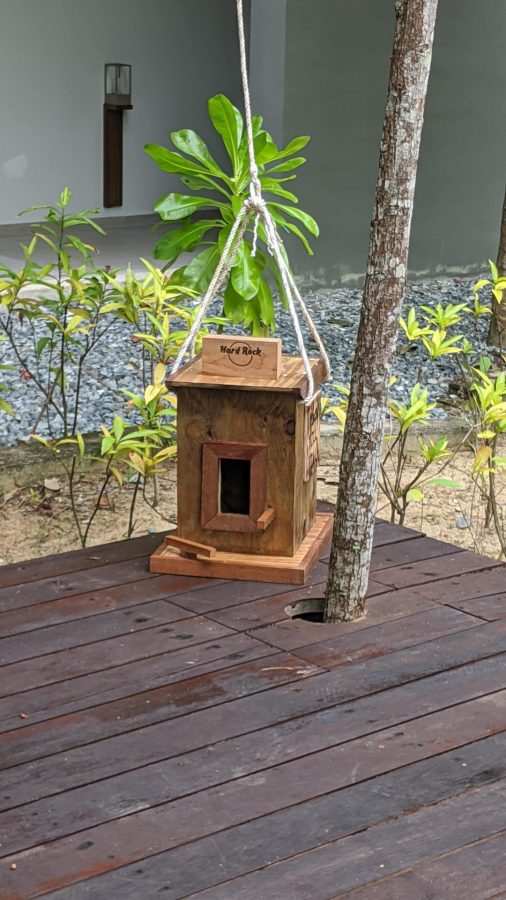 This isn't necessarily a project that's directly related to sustainability as defined above, but it's very much nature-focused – and an eco-friendly way to 'upcycle' scrap wood and put it to good use.
The HRHDC team uses ropes along with tree branches (which stand in for pulleys) to raise and secure the houses to a hornbill-approved height in quieter, low-traffic areas around the hotel property. Time will tell if these clever little hornbill hotels, cheekily dubbed 'Rock Bill Villas,' will be embraced by the birds, but we love the idea and applaud the initiative.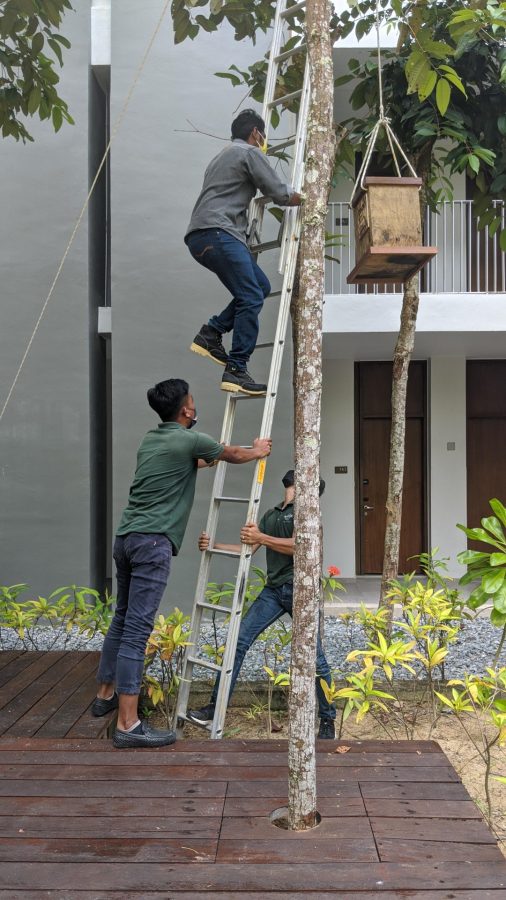 Implementing sustainable practices may not always be the easy route, but most initiatives really don't take that much extra effort, and as GM Murray Aitken explained, "Taking care of our resources and our home planet are ideas which are ingrained in Hard Rock's 'Do Well By Doing Good' ethos, which has been in place for the brand right from the beginning. We don't just do this for the media cameras once a year. Sustainability is something that you have to keep working at, so we do just that. But once the practices are established, many of them really do live up to their name and become almost self-sustaining." He then added with a smile, "Well, maybe with a little help from us."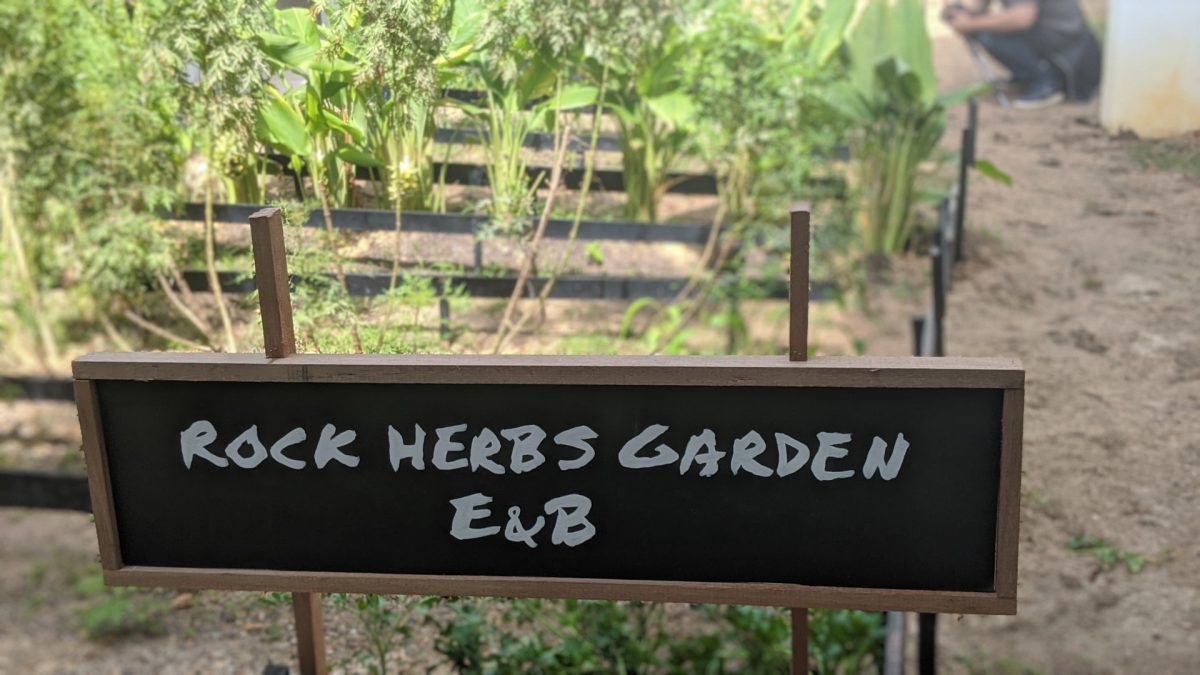 ---
"ExpatGo welcomes and encourages comments, input, and divergent opinions. However, we kindly request that you use suitable language in your comments, and refrain from any sort of personal attack, hate speech, or disparaging rhetoric. Comments not in line with this are subject to removal from the site. "
Comments