The US Speaker of the House lauded Taiwan's democratic ideals and reaffirmed America's unequivocal commitment to the self-governing island.
Drawing rare praise from even her political foes in Washington, the highest-ranking Member of Congress touched down with her delegation in Taiwan last night at 10:44 local time, defying a flurry of incendiary rhetoric from Beijing about the consequences of such a visit.
China sees Taiwan as its own territory, despite never having ruled it, and views any visits by foreign officials as a provocation, likely fearing such contacts will lend an air of international legitimacy to Taiwan's pro-independence movement.
Indeed, the highest-ranking visit by any US official in 25 years appears to have emboldened Taiwan's president, Tsai Ing-wen, to assert the island's sovereignty, something sure to enrage Beijing.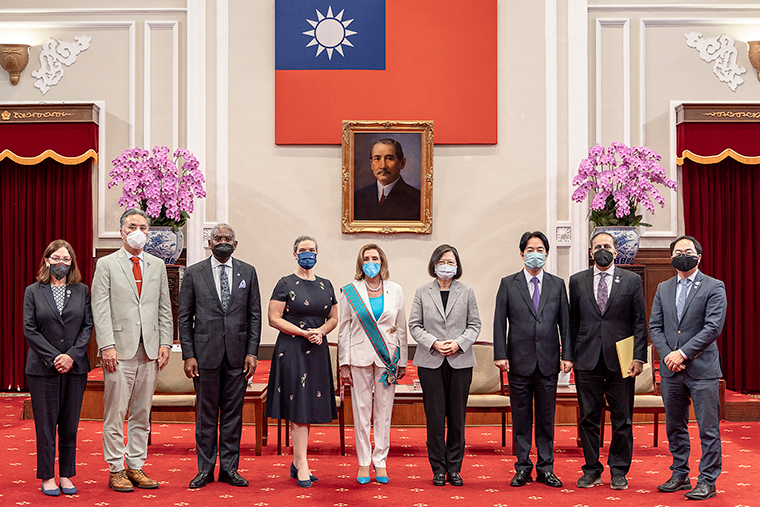 AMERICA'S COMMITMENT TO TAIWAN UNDERSCORED
"Today, our delegation … came to Taiwan to make it unequivocally clear we will not abandon our commitment to Taiwan and we are proud of our enduring friendship," Ms Pelosi said, standing beside President Tsai Ing-wen after receiving Taiwan's highest civilian honor.
"Now more than ever, America's solidarity with Taiwan is crucial and that is the message we are bringing here today," Ms Pelosi further remarked. Referring to the ceremonial sash she received, she added, "I look forward to displaying this award in the Speaker's Office, or wearing it there, at the Capitol as a symbol of our treasured friendship," she said of the civilian honor.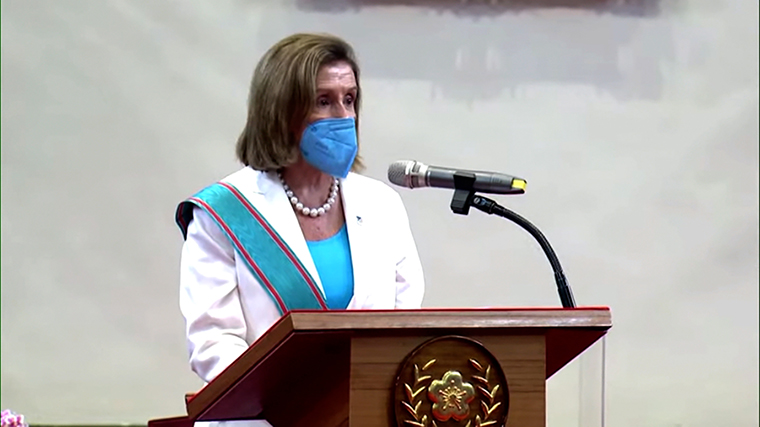 The US conducts its relationship with Taiwan largely under the terms and policies of the 1979 Taiwan Relations Act, which was passed around the same time as China and the United States establishing formal diplomatic relations. The Act authorises "the continuation of commercial, cultural, and other relations between the people of the United States and the people on Taiwan, and for other purposes."
It is through this Act that the US provides military hardware, weaponry, and field training to Taiwan. However, with regard to whether or not the US military would directly engage in the event of a Chinese invasion of Taiwan, the Americans operate under a policy of "strategic ambiguity," a deliberate smokescreen that has the aim of maintaining the status quo, neither provoking the Chinese nor unduly empowering the Taiwanese.
WHY IS THIS VISIT ANGERING BEIJING?
For a general overview on the overall situation, read our previous article here.
Nancy Pelosi is second in the line of succession to the US presidency, behind only Vice-President Kamala Harris. She is also the highest-ranking Member and thus leader of Congress. And it is this role that likely confuses many non-Americans, who may see Ms Pelosi as a representative of the Biden administration. She is not.
The United States has three separate, co-equal branches of government: Executive, Legislative, and Judicial. The powers conferred to each branch serve as a check and a balance on powers held by the other branches, and so these three branches are distinct.
Joe Biden, as the president, is of course the head of the overall government (and the most visible part of the government), but in the American system, also sits atop the Executive branch. Meanwhile, the Speaker of the House of Representatives, currently Nancy Pelosi, heads up the Legislative branch, which holds the US Congress. So Ms Pelosi, while part of the same Democratic Party as Joe Biden, is not part of his administration. They are each leaders of separate, co-equal branches of the US government.
This structure is why President Biden was unable to explicitly direct Ms Pelosi to refrain from visiting Taiwan (or conversely, to order to her to do so). As the head of the Legislative branch, the Speaker has the authority to make that decision.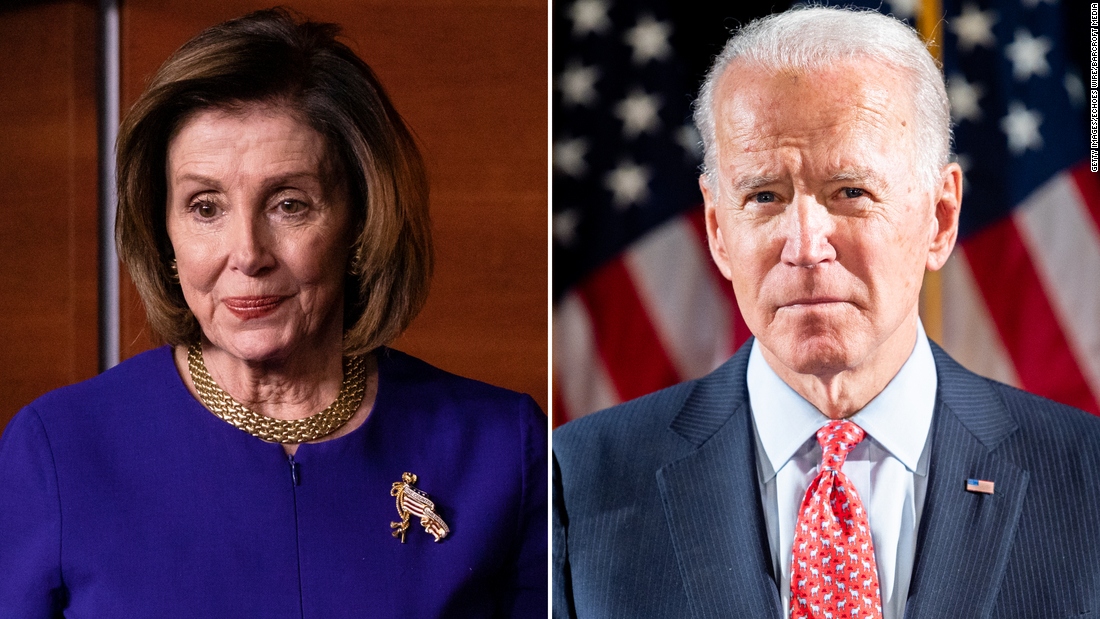 It is entirely possible that some in China — including those writing for state-run media outlets — erroneously view Ms Pelosi as a proxy or an official representative of the American president. (This propaganda-filled article from China's state-owned Global Times suggests that Mr Biden has the power to "arrange" Ms Pelosi's visit.) Such a view would hold true for the US Vice-President, but not for the Speaker of the House. The Speaker is simply a high-ranking Member of Congress, and congressional delegates from the US have a well-established precedent of visiting Taiwan, including earlier this year.
This fact has led some to paint Beijing's angry sabre-rattling as little more than a pretext for Chinese aggression. US Secretary of State Antony Blinken said as much a day before Ms Pelosi landed in Taiwan, calling on the Chinese government to "act responsibly" and not escalate matters unnecessarily. "If the Speaker does decide to visit, and China tries to create some kind of crisis or otherwise escalate tensions, that would be entirely on Beijing," Mr Blinken said.
Despite informally advising against the visit, the White House on Monday nevertheless decried Beijing's furious rhetoric, saying the US has no interest in deepening tensions with China and "will not take the bait or engage in sabre rattling."
White House National Security Council spokesperson Admiral John Kirby stressed that the decision on whether to visit the self-ruled island was ultimately Ms Pelosi's. He also noted that Members of Congress have routinely visited Taiwan over the years.
Mr Kirby said that Biden administration officials are concerned that Beijing could use the visit as an excuse to take provocative retaliatory steps, including military actions such as firing missiles in the Taiwan Strait or around Taiwan, or flying sorties into the island's airspace and carrying out large-scale naval exercises in the strait.
"Put simply, there is no reason for Beijing to turn a potential visit consistent with long-standing US policy into some sort of crisis or use it as a pretext to increase aggressive military activity in or around the Taiwan Strait," Mr Kirby said.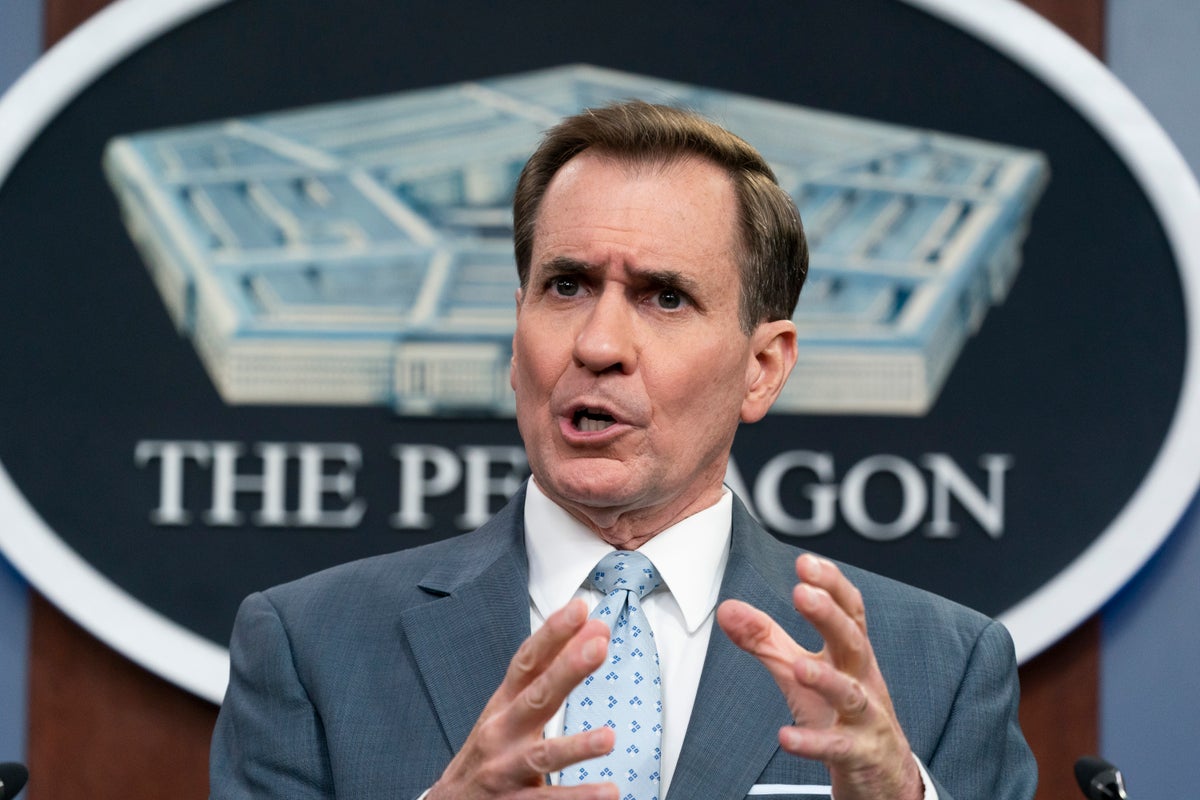 WHAT IS TAIWAN'S POSITION?
Recent surveys show that about two-thirds of the island's 23 million residents self-identify as Taiwanese rather than Chinese, so that's a pretty clear indication of the general thinking. However, most Taiwanese also favour maintaining the status quo and are not particularly keen to engage in a concerted push for independence. That said, they nevertheless maintain they are a sovereign nation.
This apparent paradox underscores why the Taiwan question is such a difficult one to properly answer. With the exception of China's government, everyone seems to either take no position or both positions when it comes to Taiwan. And for most, as long as Beijing is "all bark and no bite," they're perfectly content to let them bluster and insist that the island is part of China. How Taiwan would react if China actually tried to forcibly take the island, however, is another matter entirely.
The Taiwanese armed forces have been preparing for a potential conflict with China for about 70 years, and seem quite serious about defending their sovereignty if it ever came to that.
In fact, in the run-up to Ms Pelosi's arrival, China's planned military exercises around Taiwan were described by Taiwan's government as being tantamount to a "maritime and aerial blockade" and have "violated Taiwan's territorial waters and its contiguous zone." This statement came from the island's Defense Ministry on Wednesday, August 3.
Defense Ministry spokesperson Major General Sun Li-fang remarked that China's "irrational" planned live-fire drills "threaten international waterway, challenge the international order, undermines cross-strait status quo, and endangers regional security.
"Such an irrational move to undermine regional peace and stability will not help China's international image, but will also hurt the feelings of people on both sides of the Taiwan Strait."
Lobbing accusations weren't the salient part of the military statement, however. Mr Sun went on to say, "We will take countermeasures against any acts that violate our sovereignty," Sun said, adding that Taiwan's military does not seek a war but will always be prepared for it.
For her part, President Tsai decried China's military action as unnecessary.
"Taiwanese people are pragmatic," Ms Tsai remarked. "We have welcomed many congressional delegations to Taiwan over the years and a normal practice of friends visiting each other is inherent in our culture of hospitality. Military exercises are unnecessary responses.
"Facing deliberately heightened military threats, Taiwan will not back down. We will firmly uphold our nation's sovereignty and continue to hold the line of defense for democracy," Ms Tsai continued, speaking from the presidential office in Taipei. "At the same time, we wish to cooperate and work in unity with all democracies around the world to jointly safeguard democratic values."
Ms Tsai also thanked Ms Pelosi and the US Congressional delegation for its visit under "such challenging circumstances."
Ms Pelosi's visit attracted a small group of protesters outside the Grand Hyatt where she was staying, but the overwhelming sentiment in Taiwan appeared to be one of gratitude and respect for the decisive manner in which the 82-year-old American woman was defiant in the face of China's belligerence.
"I just hope that it's really clear," Ms Pelosi said in her speech, "that while China has stood in the way of Taiwan participating and going to certain meetings, that they understand that they will not stand in the way of people coming to Taiwan."
---
Reports from CNN Hong Kong, Reuters, CBS News, South China Morning Post, Global Times, and Al Jazeera contributed to this article.
---
"ExpatGo welcomes and encourages comments, input, and divergent opinions. However, we kindly request that you use suitable language in your comments, and refrain from any sort of personal attack, hate speech, or disparaging rhetoric. Comments not in line with this are subject to removal from the site. "
Comments