With Langkawi's International Regatta and its Aerospace and Maritime exhibition, the popular island is working overtime to tell the world Malaysia is back on the tourism menu.
Despite Malaysia's lackadaisical post-pandemic tourism recovery – at least relative to its regional neighbours – the island of Langkawi is doing its part to help spread the word that Malaysia's borders are open once again, and welcoming global visitors.
THE 19TH ROYAL LANGKAWI INTERNATIONAL REGATTA
The recently concluded five-day Royal Langkawi International Regatta (RLIR), the 19th edition of the popular sailing event, brought in dozens of yachts from countries near and far to compete in five classes in Langkawi's long-running regatta, the first entry on the annual Asian regatta calendar.
This year's RLIR, back after a two-year absence, had to contend with some very stingy winds. While "warm and sunny, with just a light breeze" is a superb weather forecast for island tourists, it's less than ideal for a regatta. Unfortunately, this was the theme for the entirety of the five-day event, with fickle winds, and more than one race scrubbed completely.
Principal Race Officer Simon James did his utmost to find some wind, but on most days, it was at best only a marginally successful exercise. January 14 was the final day of sailing – another beautiful sunny day in Langkawi, a dream day for all the tourists visiting the island, but without much wind, a disappointing day for the regatta participants.
In total, the RLIR had three racing days with five races for the Racing class, three races for Club Class, and all other classes raced four times each. The winning yachts for the overall regatta are shown below.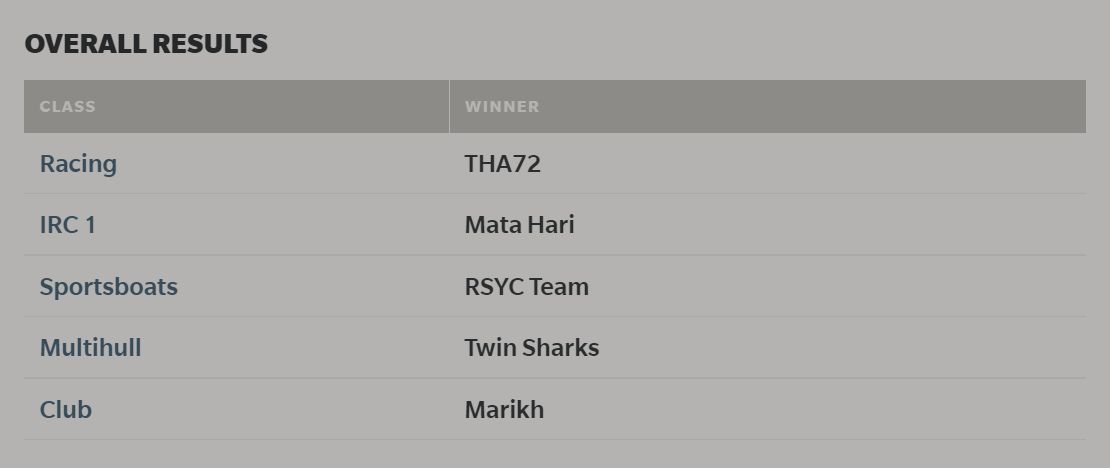 Although this year's regatta missed out on some exciting racing due to the variable and often anemic wind conditions during the week, the mood in general was still quite good, as the RLIR is a favourite event for 'yachties.' There is a great spirit of conviviality and laid-back fun at every regatta in Langkawi and this year's was no different. In resuming the RLIR for the first time since January 2020, there was plenty of joy in renewing old acquaintances, meeting new ones, and the anticipation of better weather next year for the big 20th edition of the event.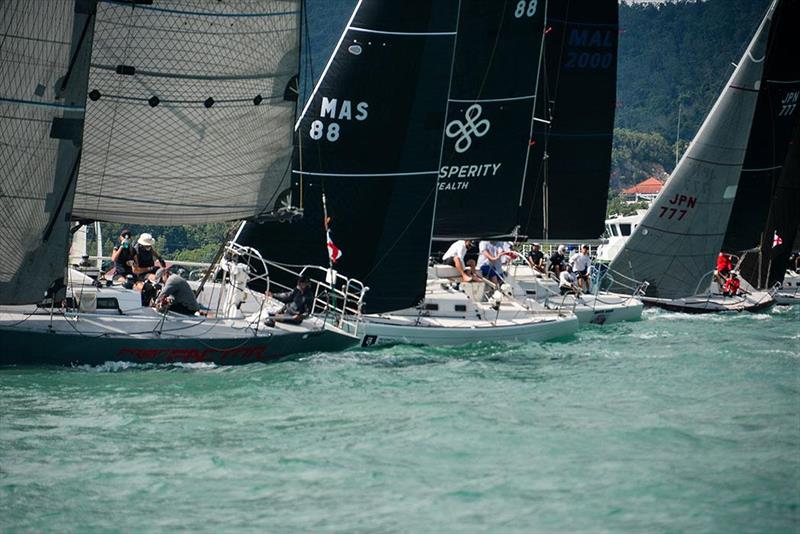 In the final news release for the 2023 RLIR, it was deemed appropriate to quote some classic poetry from Samuel Coleridge's famous poem "The Ancient Mariner"…
Down dropt the breeze, the sails dropt down,
Twas sad as sad could be;
And we did speak only to break
The silence of the sea!
All in a hot and copper sky,
The bloody Sun, at noon,
Right up above the mast did stand,
No bigger than the Moon.
Day after day, day after day,
We stuck, nor breath nor motion;
As idle as a painted ship
Upon a painted ocean.
Despite the uncooperative wind gods, everyone involved with the regatta – especially the team at the Royal Langkawi Yacht Club – did a terrific job, and it was yet another fun-filled entry in a long-running regatta that's eagerly anticipated each year by those who participate.
THE 16TH LANGKAWI INTERNATIONAL MARITIME AND AEROSPACE EXHIBITION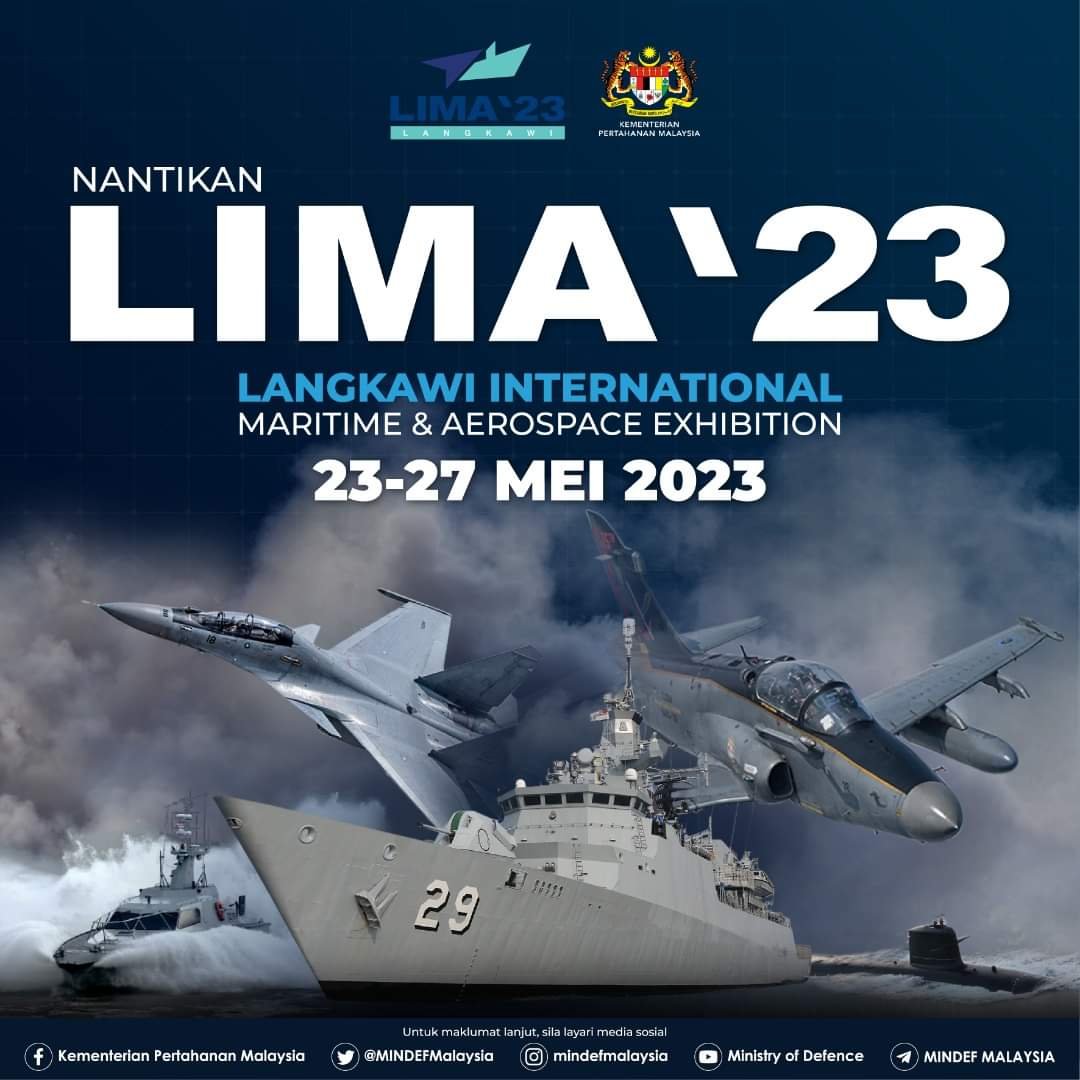 On the heels of the island's international regatta comes, after a four-year hiatus, the return of the Langkawi International Maritime and Aerospace exhibition (LIMA).
The 2023 edition, scheduled for May 23-27, is expected to be LIMA's biggest show yet, with some 600 exhibitors from 30 countries on hand. According to reports, various leaders from 59 countries are also expected to visit LIMA 2023, which, as in previous editions, will be open to the public on selected days.
With the tagline "The Nexus of Asia's Maritime and Aerospace Trade," the 16th edition of LIMA, which is a biannual exhibition, is slated to showcase a range of technological advancements and the latest innovations in these two important sectors.
At the January 16 press conference officially launching LIMA 2023, Defence Minister Datuk Seri Mohamad Hasan noted that of the 600 exhibitors, some 360 were from the defence industry.
"In a rapidly changing world, threats to national, regional and global security have become more complex," he said in his speech. "Not only do we need to contend with traditional security challenges but we also need to consider non-traditional threats such as extremism, terrorism and piracy.
"No country can face these threats alone. The regional security situation that has developed over the past year shows that enhancing cooperation is more important than ever.
"This has made LIMA 2023 all the more significant."
The aerospace and maritime industrial sectors are meaningful contributors to Malaysia's economy. Transport Minister Anthony Loke explained in his opening remarks, saying, "Malaysia has long been focused on uplifting the domestic aerospace and maritime sectors so that they can further contribute to national growth."
He noted that the Malaysian Aerospace Industry Blueprint 2030, launched at LIMA 2015, had set targets for Malaysia to capture at least 5% of the market share of the lucrative global maintenance, repair, and operations market in the aerospace sector, usually referred to as MRO.
"Ultimately, the national aerospace industry is expected to generate an annual revenue of RM55.2 billion and create 32,000 high-income jobs by 2030," he said.
Beyond MRO pursuits, special emphasis will also be given to drone and aerospace technology at LIMA 2023, according to Loke. "Domestically, the drone industry is set to contribute RM50.71 billion to Malaysia's GDP by 2030," he said, without elaborating.
LIMA 2023 will be open exclusively to trade visitors from May 23 to 25, and to both trade and public visitors on May 26 and 27. Typically, the large drawing power of the exhibition means accommodation in Langkawi is snapped up early, so if you are keen to attend, booking a room sooner rather than later is highly recommended.
---
"ExpatGo welcomes and encourages comments, input, and divergent opinions. However, we kindly request that you use suitable language in your comments, and refrain from any sort of personal attack, hate speech, or disparaging rhetoric. Comments not in line with this are subject to removal from the site. "
Comments