Last updated July 2018
Online shopping has taken the world by storm and Malaysia is a happy participant. The online retail experience has improved tremendously over the years with the addition of certified reviews, the ability to report a bad merchant and fake goods, as well as more secure payment methods. People in Malaysia are shopping online so much more now because of the convenience and availability of better deals online. Take a look at some of the popular shopping websites in Malaysia below, and let us know if we've missed anything out.
1. Zalora Malaysia


Categories: Fashion, Beauty
Website: www.zalora.com.my
Founded in early 2012, Zalora has become a Malaysian household name. It is present in Malaysia and Brunei, Singapore, the Philippines, Hong Kong, Taiwan, and Indonesia. Relatively easy to navigate, the website has clear tabs for men's and women's fashion. There is also a Zalora mobile app.
Clothes, shoes, fashion accessories, and even beauty products of various brands are sold on Zalora. The website also updates their catalogue regularly to bring the newest seasonal collections to Malaysia as soon as they are launched. Shoppers can find products from top international and local brands, like Nike, Adidas, Tom Abang Saufi, Jovian, and Coach. With more than 500 brands being offered, shoppers have many choices.
Discounts and bargains can be snagged all year round. Their items on sale, new arrivals, and trend-specific wares are labeled on the top bar, as are the general categories like clothing, accessories, watches, bags, beauty, and brands. Zalora offers free local shipping for orders over RM75, and there's also a 'fast shipping' option. For this 'flash' request, they try to send items out on the same day they were ordered. Should you need to return or exchange anything, they have a 30-days free returns policy.
Payment options:
PayPal
Boost Wallet
Cash on delivery (COD)
Visa/ MasterCard debit cards
Visa/ MasterCard credit cards
American Express cards via Maybank Ezypay (temporarily unavailable)
Online banking (CIMB Clicks, Maybank2u, RHBNow, AmBank, Hong Leong Bank, PBe Bank)
Returns policy: 30-days free returns policy
Shipping charges and times:
Shipping may take 1 to 10 business days.
Free shipping for orders above RM75.  
If you order less than RM75 worth of merchandise, there is a flat shipping fee of RM4.70 for KL, Putrajaya, and Selangor. The shipping fee for the rest of Peninsula Malaysia is RM7.60, while deliveries to Sabah and Sarawak are charged a flat shipping fee of RM9.50 for orders less than RM75. There is now an option to ship to Brunei, which has a flat shipping rate of RM30 (free shipping to Brunei for orders over RM150).
2. Lazada Malaysia
Categories: Electronics, TV and Home appliances, Health and Beauty, Babies and Toys, Groceries and Pets, Fashion, Sports and Travel, Automotive and Motorcycles
Website: www.lazada.com.my
Started in 2012 too, Lazada was founded as an electronics shopping site primarily. It has now evolved to include more than three million SKUs in 3,000 brands of various categories including health and beauty, babies and toys, and even sports and travel. In fact, in 2016, the best-selling product on Lazada was diapers.
Shoppers can naturally find products from almost any well-known tech brand here – Apple, Samsung, BlackBerry, Canon, Sony, HTC, Nokia, and Lenovo, to name a few. They offer discounts on almost all their products – even on those that are brand new. A fun sale option to watch is their 'Flash Sale' on the left side of the page (the fire icon), where items go for ridiculously low prices that you have to see to believe. There is also a Lazada mobile app.
Payment options:
PayPal
7-Eleven
Lazada Wallet

Cash on delivery (COD)

Visa/ MasterCard debit cards
Visa/ MasterCard credit cards
Instalment (Maybank credit cards only)
Online Banking (Maybank, CIMB, RHB, Public, Bank Islam, AmBank, Hong Leong Bank)
Returns policy: 7 or 14 day free returns policy (shipping and returns policies).
Shipping charges and times:
Shipping typically takes between 1 to 10 business days depending on your location and package weight.

Shipping charges are based on weight, dimensions, origin, and destination. Many items ship for free with a minimum spend with the merchant.
Any shipping fees for each item will be clearly stated before you check out your cart.
International delivery not available.
3. 11street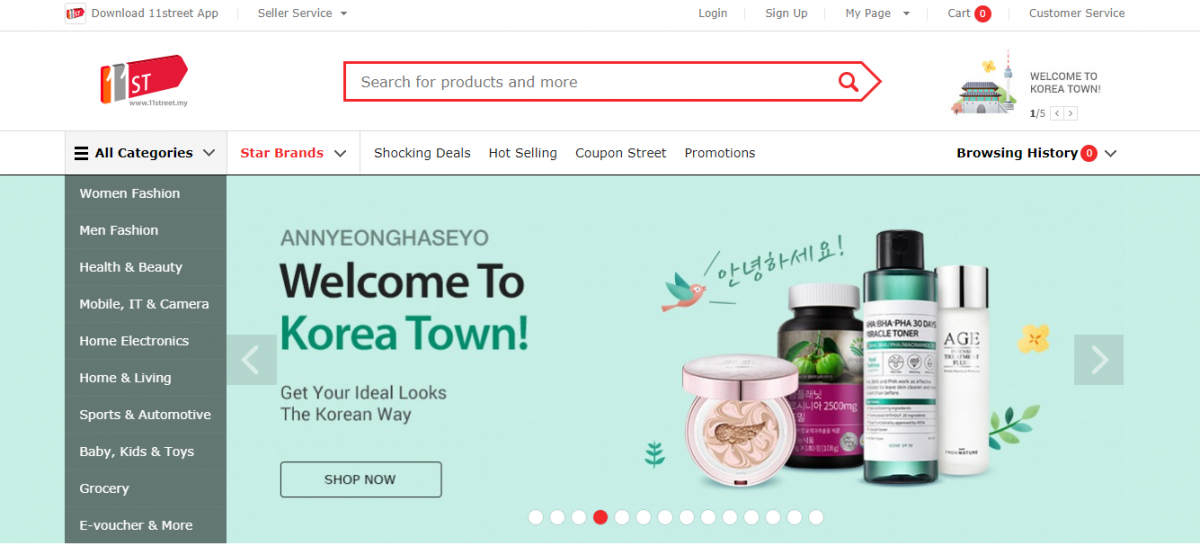 Categories: Fashion, Electronics, Groceries, Health and Beauty, Kids and Baby, Leisure and Sports, Home and Living, Books and Services
Website: 11street.my
It is an e-mall operated by Celcom Planet Sdn Bhd, a joint venture by Celcom Axiata Bhd and SK Planet Ltd and endorsed by Korean sensation Lee Min-ho, which adds to its credibility. The site utilises an escrow system to help ensure security for both sellers and buyers. This means that any payments made will only be transferred to the seller once the buyer receives the product and confirms that it is in good condition.
With over 400,000 sellers, 11street organises the site into eight distinct categories for easy browsing, including fashion, electronics, and groceries.  It even has a 'Korea Town' where you can buy various Korean products like cosmetics, home appliances, and skincare. Of course, you'll also be able to find some Kpop CDs on the site. Offers and discounts are categorised under Shocking Deals, Hot Selling, Coupon Street, and Promotions at the top of the page so you don't miss a good offer.
You have to be a member to buy anything, but they make it worth your while through a credit and points system. Basically, points can be exchanged for vouchers and credit can be stored and either used for future purchases or exchanged for vouchers.  They even have member benefits of varying degrees depending on the amount of purchases a member makes within a 6 month period.
The site also offers tutorials and workshops for sellers to provide them with knowledge on operating an as an online merchant. Registered sellers even have access to a Seller Zone located in Kuala Lumpur, equipped with photography studios and training rooms, which are designed to support sellers in their business.
Payment options:
Boost
7-Eleven
American Express
Visa/ MasterCard debit cards
Visa/ MasterCard credit cards
Online banking (CIMB Clicks, Maybank2u, RHBNow, AmBank)
Returns policy: The returns policy is determined by the seller and will be displayed on the product page.
Shipping charges and times: Shipping charges are calculated by weight, though some sellers might offer free shipping on certain items. The site explains that delivery would normally take 3-5 business days but times may vary depending on the courier company chosen by the seller.
4. FashionValet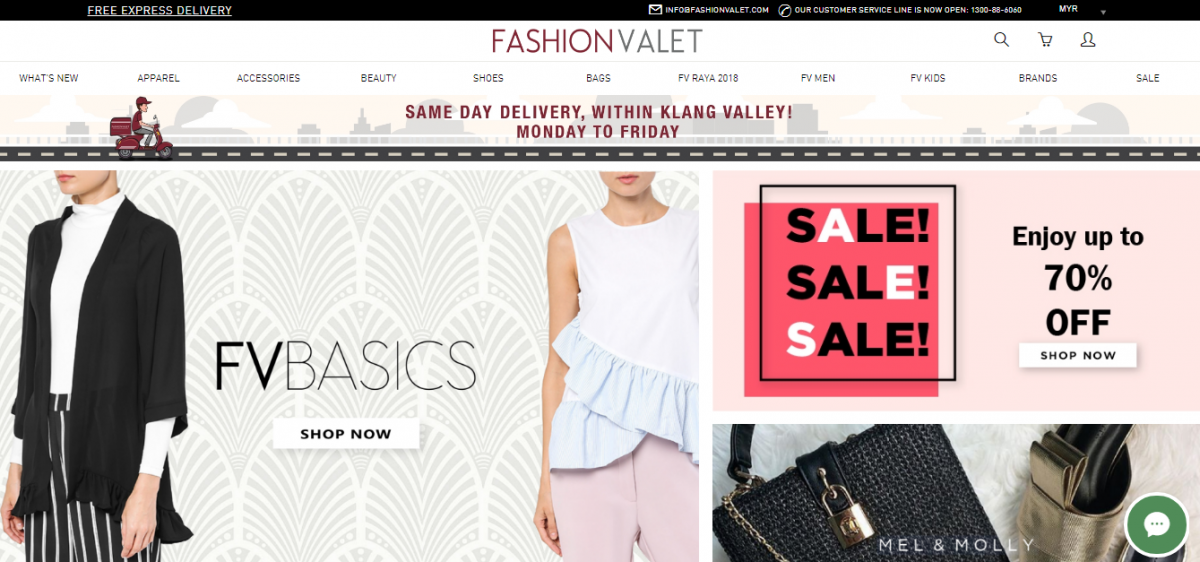 Category: Fashion
Website: www.fashionvalet.com
As its name suggests, FashionValet (FV) is a specialty Malaysian-born fashion shopping website. One of the reasons FV is so popular is because it has really committed to promoting local designers – the website offers clothing and accessories from a wide variety of local and Asian fashion designers.
Launched in 2010, this website offers a wide variety of accessories, handbags, shoes, and ready-to-wear apparel. FV also offers the latest pieces from local designers, and great bargains on many of their products. Loyal customers are rewarded with store credits on every purchase made on FV, which can then be used on future purchases.
The site is clean and easy on the eyes, with all the main categories displayed at the top of the home page. They also deliver products anywhere in the world. For customers who prefer an in-store experience, FashionValet currently has two physical stores – one in Bangsar Village and the other in Pavilion KL.
Payment options:
PayPal

Direct online bank transfer

MOLPay Gateway (Maybank2u, CIMB Clicks, RHB, Public Bank, AmBank, Bank Islam)
Returns policy: 30 days from receipt. Items must be be in original condition – not washed, worn, or altered, and bearing original tags. The exchange process will commence once the returned items have been received. If the requested exchange is unavailable, refunds are given in the form of store credit. See more about FashionValet's returns policy here.
Shipping charges and times:
Free local delivery in Malaysia.

Shipping takes 1 to 2 business days in Malaysia – delivered via PosLaju.
International delivery is available, but charges apply.
More details can be found on their website.
5. ASOS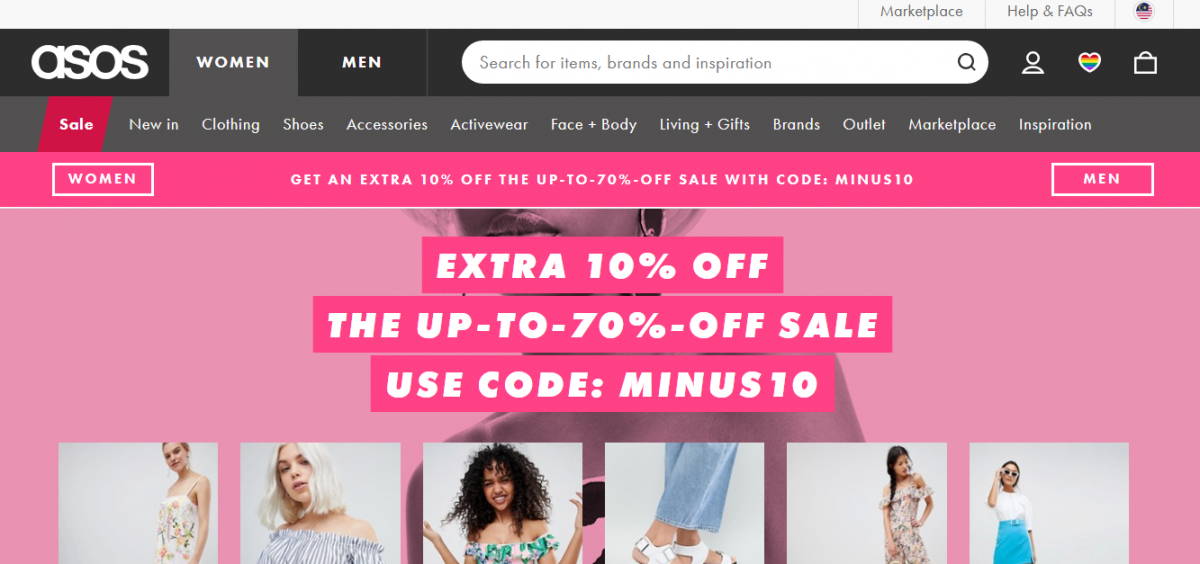 Category: Fashion, Beauty, Gifts
Website: www.asos.com
ASOS is one of the UK's largest online fashion websites, carrying over 850 brands. ASOS has an attractive website, comprising large, visually alluring pictures, and a clean user interface. You can search for products through the site's search engine, or browse by women's or men's products, fashion trends, or collections. ASOS also offers a marketplace where you can buy and sell pre-owned fashion wear.
ASOS delivers worldwide, so yes, that includes Malaysia. And here's even better news – if you accept the standard delivery option, shipping is free. You can also choose to get your items delivered within 5 days, but that would incur additional fees.
Payment options:
Paypal
Credit card (Visa, MasterCard, American Express, Visa Electron)
Returns policy: 
28-day free returns. Fill in returns note inside the parcel and send it back to Asos.
Shipping charges and times:
Standard Shipping: 9-28 days, free for orders over GBP20 (~RM106)
Express Shipping: 3-5 days, GBP20 (~RM106)
Read their Delivery FAQ here
6. Book Depository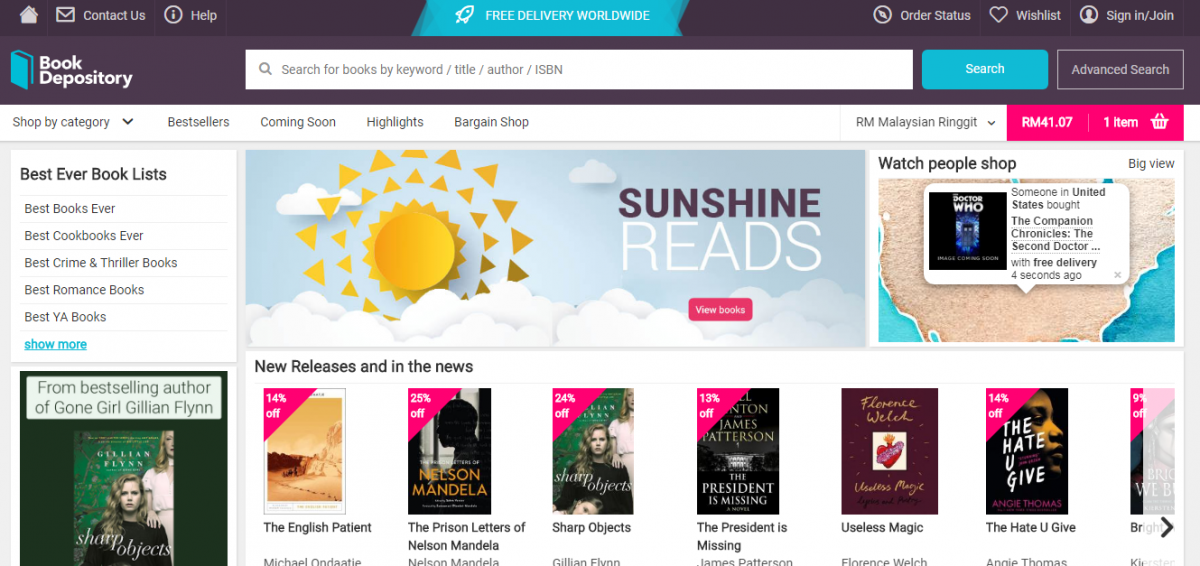 Category: Books
Website: bookdepository.com
Book Depository is a real gem. This online book store is based in the UK but delivers internationally for free. They offer over 19 million titles at low prices. You can search the website by keywords, best sellers, 'fast movers', 'book of the week' and more.
Payment options:
PayPal
Visa Debit, Maestro, Visa Electron
Credit card (Visa, MasterCard, American Express)
Returns policy: 
Within 30 days of receipt. Buyer needs to complete their online cancellation form, and send the parcel back to Book Depository within 14 days. The refund process will begin when Book Depository receives the items. Cost of returning items is borne by the buyer. Read more about their returns and cancellation process here.
Shipping charges and times: Free shipping. Depending on location of despatch (either UK or Australia) and delivery location. Average delivery time of 4 to 14 business days.
7. Hermo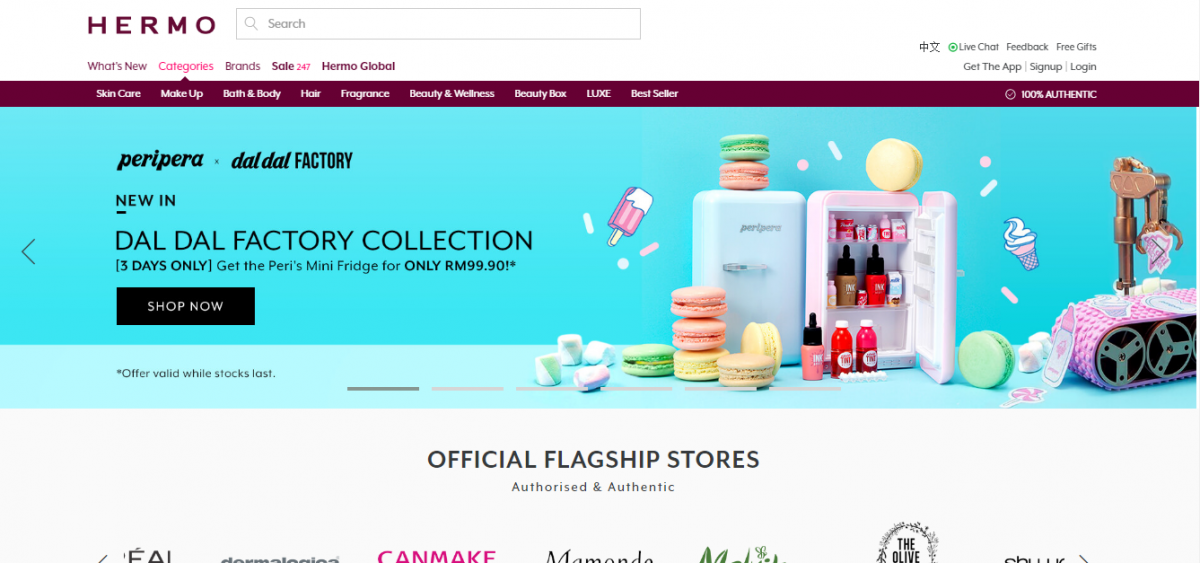 Categories: Beauty, Skincare, Fragrances
Website: hermo.my
Founded in 2012, Hermo is a Malaysian website that sells beauty and skincare products. There are familiar local and international brands on board, like Melvita, Benefit, Etude House, Anna Sui, Dermalogica, Jimmy Choo, and many more. Categories are divided into skin care, makeup, bath and body, hair, fragrance, and beauty and wellness. Shoppers can search for products by brand or category.
User reviews are a big part of the website's successful run, with more than 10,000 product reviews. There's also a section called Beauty Box, where you can pick three sample-sized items for RM36. Hermo offers a membership rewards programme, where the more you spend with them, the bigger the rewards discount you'll enjoy. For instance, spending above RM1,000 qualifies you as a Gold member and above RM2,000 as a Platinum member. Gold members enjoy additional 1.5% discount off their total bill, and Platinum members, 3%.
Payment options:
PayPal
Visa/ MasterCard cards
Online direct transfer (AmBank, RHB, CIMB, Public Bank, Maybank, Hong Leong Bank, Alliance Bank)
Returns policy: 14-days unconditional refund. See their Returns Policy.
Shipping charges and times: In a single order, purchase two or more items to enjoy free shipping to West Malaysia, and spend above RM150 for free shipping to East Malaysia. There's also the option to self-collect your items from the Hermo office in Johor. Hermo strives for a next-day despatch which can be longer during peak periods. Read more about it here.
8. Etsy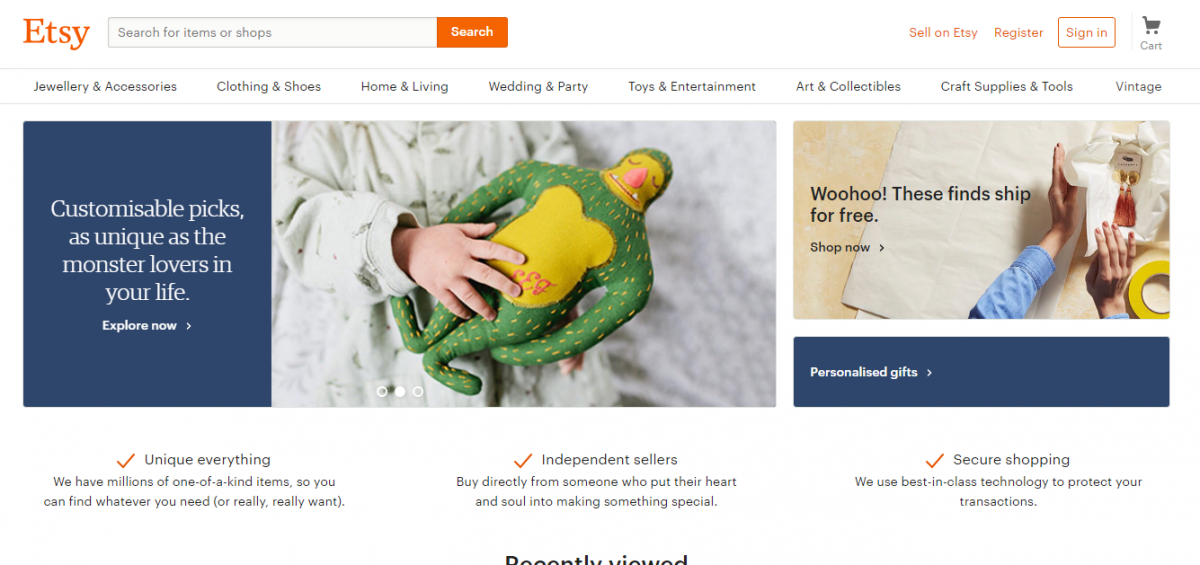 Categories: Jewellery and Accessories, Clothing and Shoes, Home and Living, Wedding and Party, Toys and Entertainment, Art and Collectibles, Craft supplies and Tools, Vintage goods
Website: www.etsy.com
Etsy is a haven of unique, creative goods that range from handcrafted pieces to vintage treasures. When gift-hunting to cater to a very specific interest, say, Meeseeks (from Rick and Morty) dolls, for instance, there will likely be a match on Etsy. The website functions as a global marketplace for sellers to create what they love, and helps buyers find what they love.
The unique selling point of Etsy is the availability of one-of-a-kind, handcrafted items made by real people. The website serves as a platform to connect buyer and seller, and helps preserve the human element in today's online retail world. Categories include:
Payment options: Depends on vendor.
Returns policy: Depends on vendor.
Shipping charges and times: Depends on vendor.
9. Lelong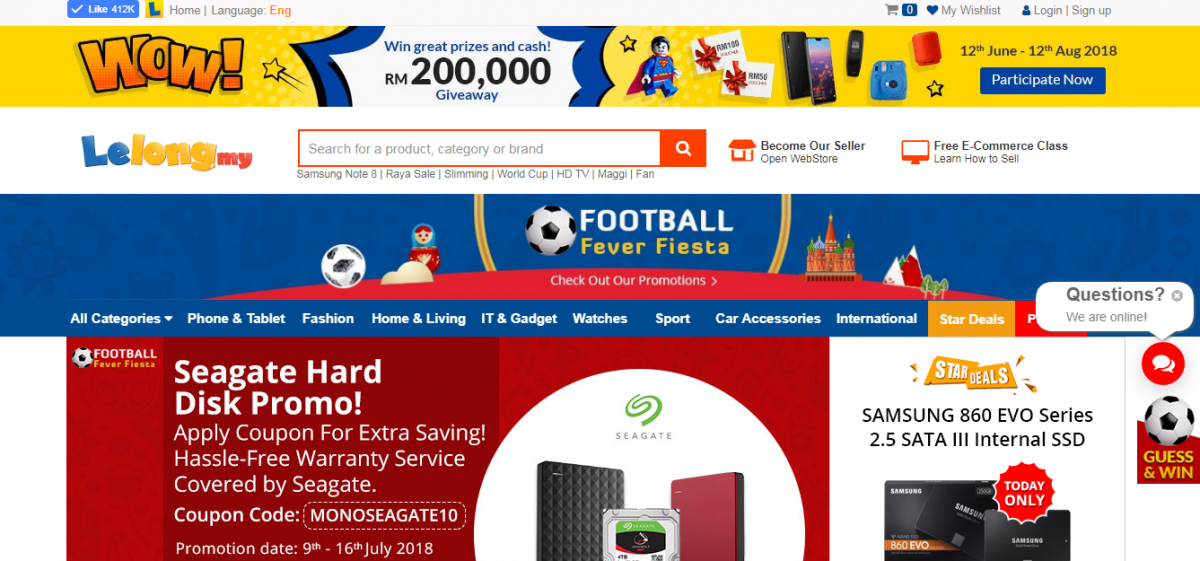 Categories: Phone and Tablet, Fashion, Home and Living, IT and Gadget, Car Accessories
Website: www.lelong.com.my
Lelong is the Malaysian version of eBay, and is an online auction and shopping website. As its name suggests, Lelong offers products at low prices and has over 10,000 active sellers. Although the website appears cluttered and confusing, on closer inspection you will see that all their items are carefully sorted into various distinct categories.
Unlike some other online shopping websites, you can find almost anything on Lelong.com.my – anything from computer accessories to houses. The site offers a search engine to help you find what you want; it's right at the top of the home page.
Offers and special items are categorized as Best Seller, Hot Bids, start RM1, Quick Grab, and Closing Today to ensure that shoppers never miss an exciting offer. The site offers products from well-known international and local brands at extremely discounted rates. Some of the brands that you can find on the website include Mango, Nike, HTC, Apple and Samsung. Lelong also offers tutorials to assist you in buying, selling, bidding on items, becoming a member, and paying for purchases. For those who are really interested, there's even a free e-commerce physical class conducted at the Lelong.my Education Centre in Puchong.
Payment options: Depends on vendor.
Returns policy: Depends on vendor.
Shipping charges and times: Depends on vendor.
10. HonestBee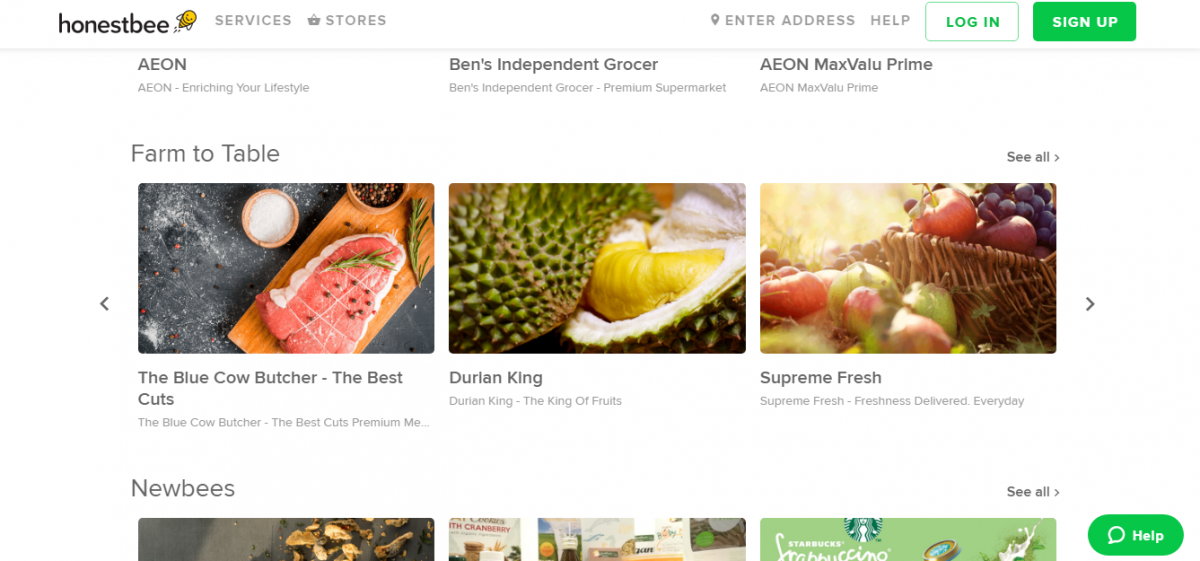 Categories: Food, Groceries, Babies and Maternity, Health and Beauty, Wellness, Flowers, Alcohol, Household
Website: www.honestbee.my
Honestbee was launched in Singapore first in July 2015. It has now grown to be present in eight countries and more than 90,000 products being offered. Honestbee aims to become the world's most convenient services marketplace, and with partners like Aeon, Ben's Independent Grocer, and a whole lot of restaurants and brands in Malaysia, they are well on their way.
Customers will be able to shop for groceries, ready-to-eat food, and a range of other products via this platform that will also deliver the goods. What started as a service to help homebound people get their grocery-shopping done, is now so much more than just that. One of their newest merchants is Durian King TTDI, so you can now get durian delivered to your door.
Payment options: 
Cash on delivery (COD) for honestbee Food only
Visa/ MasterCard debit and credit cards
Returns policy: Your card is charged only after delivery of items, unless they were bought from a pop-up store. In the second case, your card will be charged upon checkout, and any refund that needs to be made (if item is out of stock) can take from 3 to 10 days to be reflected in your account.
Shipping charges and times: Same day delivery is possible depending on the vendor, and there's hourly time slots to choose from. Delivery is possibly free during non-peak hours depending on the vendor's minimum spend requirements, however this only applies to certain locations at the moment. Contact their Concierge team for more information.
---
"ExpatGo welcomes and encourages comments, input, and divergent opinions. However, we kindly request that you use suitable language in your comments, and refrain from any sort of personal attack, hate speech, or disparaging rhetoric. Comments not in line with this are subject to removal from the site. "
Comments