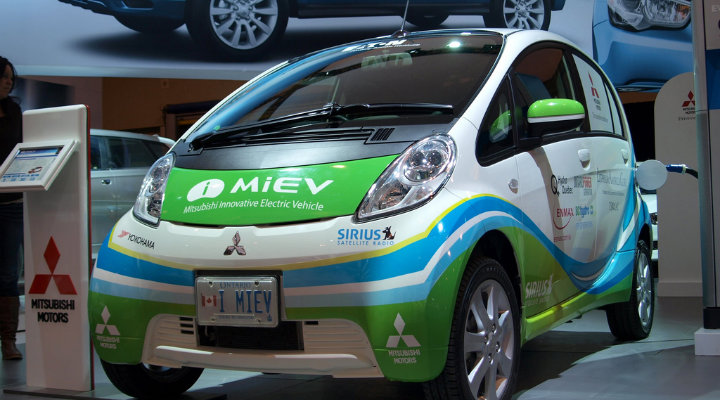 The Mitsubishi i-MiEV is the first electric vehicle to be sold in the Malaysian automotive market.  It was launched in March 2013.  The technology behind the i-MiEV is fascinating, partly because it operates differently from the majority of petroleum powered cars on the road. For example, because the car is electric, the gearbox transmission and power source is different from a traditional car's.
Below we've outlined some of the features and technology behind the i-MiEV.
Range per tank
One of the biggest concerns about electric vehicles is their driving range capability. According to Mitsubishi, the i-MiEV can go for a maximum of 160km, but real-world situations put its range more realistically around 100-120km. Malaysia's stop and go traffic conditions may well reduce the car's driving range.
Something that may further entice potential buyers is that the i-MiEV often returns more mileage than expected. This is because the batteries are constantly recharged during braking or at times when the driver eases on the throttle. This is called kinetic regeneration, in which kinetic energy converts into doses of electrical energy to be used by the i-MiEV's battery packs. This is more energy efficient than its gasoline counterparts. All in all, the i-MiEV is primarily built for city use, as the range suggests.
Altered performance
Because it runs purely on electricity, the i-MiEV also requires no tailpipe and thus releases no zero carbon emissions. Furthermore, being electric allows this electric vehicle to use all of its 196Nm worth of torque directly from 0 rpm, thanks to its all-electric motor relied for forward propulsion. It has a maximum output of 49kW (equivalent to 67hp) and is quiet as a cat, with no vibrations, unlike the traditional combustion engine cars. The i-MiEV makes for a more quietly pleasant driving experience as compared to non-electric vehicles.
The i-MiEV can also drive to a maximum speed of 130km/h. Its low-centre of gravity and small frame makes it agile around corners (although you wouldn't want to drive fast all the time unless you have no worries about quickly depleting your i-MiEV's batteries).
A different transmission
Gear transmission also operates very differently for this EV. Due to the fact that there is virtually no torque curve as compared to conventional engine, the need for multiple gears to shift through different torque ranges isn't applicable. As such, transmission in the i-MiEV comes in three different modes. The first mode is the standard "drive" mode, taking full advantage of the car's instant-on torque. The next mode is "eco", designed for optimum efficiency in order to get the most out of your battery pack. The last mode is "B" mode, selecting whenever conditions allow you to reclaim the most energy from regenerative brakes (a.k.a kinetic regeneration as discussed above).
Recharging your i-MiEV
As discussed in the previous article about the electric car scene in Malaysia, electric vehicle pilot programmes are still in its beginning cycle in Malaysia, meaning that the proper charging infrastructure will likely take a few more years. A few electric vehicle charging stations in Lot 10, Suria KLCC, Bangsar Shopping Centre, and a few others public places allow those that have an electric vehicle to give a quick charge if needed. The other option to charge your electric vehicle is through a standard power outlet, which is at most people's homes.
The car's battery pack takes 8 hours for a full charge through a wall socket, as using extension cables will essentially fry them useless and might even damage your car's charging cable. Before purchase, Mitsubishi would actually assess a potential buyer's residence in order to determine the feasibility of charging. If there are no power outlets that allow for you to charge your i-MiEV on a regular basis, Mitsubishi will discourage the sale.
That being said, if you do manage to purchase one, the cost of fully charging your car is extremely affordable albeit taking a long time. According to Top Gear Malaysia, TNB's (Tenaga Nasional Berhad) bill for a full charge costs RM3.49 by current tariffs, calculating to around RM3.50 for 150km, assuming Mitsubishi's claims are correct.
The tech and other specs
The i-MiEV's battery packs are a combination of 330V 16kWh lithium-ion batteries.
Charging time for a regular full charge takes approximately 8 hours using an AC 230V, while a quick charge takes 30 minutes and is said to harness around 80% energy.
Acceleration: 15.9 second for 0-100 km/h
Top speed of 130 km/h
Energy consumption of 135Wh/km
Safety features: Acoustic vehicle alerting system (AVAS), Anti-lock brake system (ABS) with electronic brake-force distribution (EBD), active stability control (ASC) with traction control (TCL), reinforced impact safety evolution (RISE) safety body, and six SRS airbags.
Price: RM136,180.50 (OTR without insurance)
What are your thoughts about the i-MiEV? Post a thought in the comments below.
SEE ALSO:
---
"ExpatGo welcomes and encourages comments, input, and divergent opinions. However, we kindly request that you use suitable language in your comments, and refrain from any sort of personal attack, hate speech, or disparaging rhetoric. Comments not in line with this are subject to removal from the site. "
Comments