Sarawak
Sarawak is one of the two states that comprises of East Malaysia. Nicknamed 'The Land of the Hornbills', Sarawak is known for its unique wild adventures and blend of cultures.
The indigenous Iban folk claim the largest population chunk, while Chinese and Malay communities take second and third place. Sarawak commands a vast collection of wildlife and natural gems, making it an ideal place for nature enthusiasts. Sampling the local food, mixing with the local cultures, and taking part in exciting adventures form the core requirements to fully explore and appreciate this distinctive East Malaysian state.
1) Eat Sarawak Laksa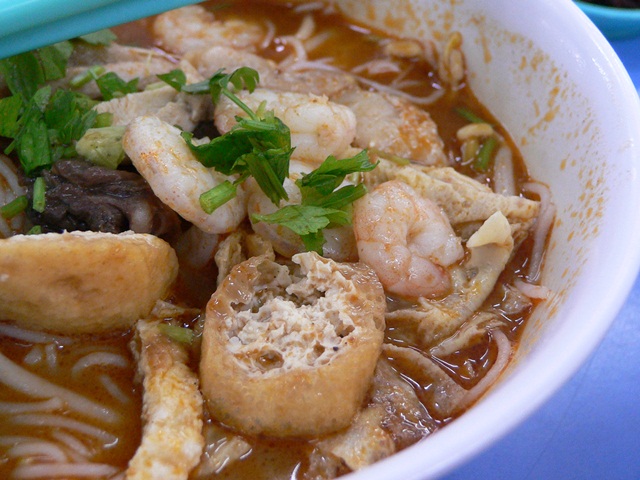 The most famous dish from the region is Sarawak Laksa, which is a thick shrimp based laksa served with prawns, shredded chicken, bean sprouts, shredded egg omelette and a dollop of sambal chilli for an extra kick. It comes with a lime wedge as well to add a citrus twist to the spicy broth. It is well known throughout the nation and should be one of the first things to try on any foodie's list when in Sarawak.
See Also: Seafood Curry Laksa, a Must Try Malaysia Dish
2) Try Indigenous Foods: Ayam Pansuh & Midin Belacan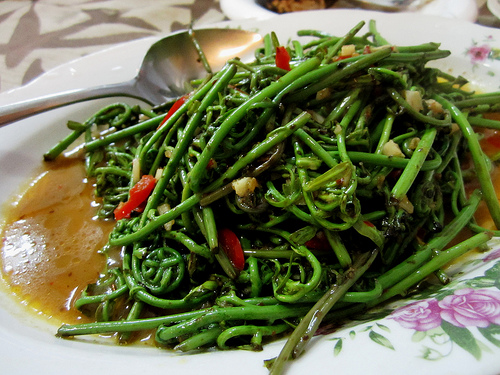 Photo credit: Midin Belacan from suituapui.blogspot.com
Ayam Pansuh is an Ibanese styled grilled chicken cooked with mushrooms, lemongrass, and tapioca leaves in a bamboo. Cooking it this way seals in the flavor and the result is a succulent and juicy tender chicken, with the gravy hinting of lemongrass and bamboo.
Midin belacan on the other hand, is a local delicacy consisting of edible fern and paku leaves stir fried with spicy sambal belacan to give it a crunchy and moderately spicy kick.
3) Go to the Bario Food Festival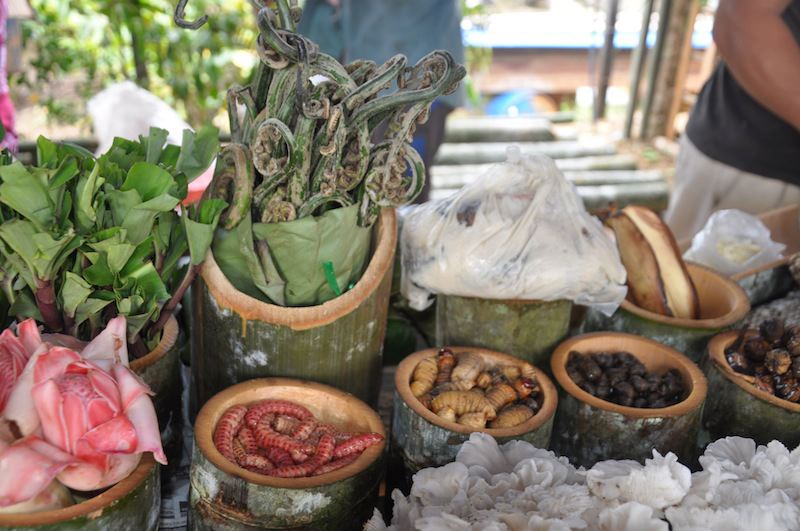 Photo credit: Sarawak Tourism.com
The Bario food festival is a community event celebrating the unique food, farming, forest and cultural heritage of the Kelabit Highlands. Kelabit locals even have access to a "jungle supermarket", which boasts everything from wild boar to fruits and exotic vegetables with the best part being that they are all free. The catch is that you have to get it yourself and that you can only take what you need. Bario is known for their locally grown world-famous organic rice. The food festival has jungle ingredients and dishes of all kinds and shouldn't be missed for those who love delicious exotic foods.
4) Embrace the Local Nightlife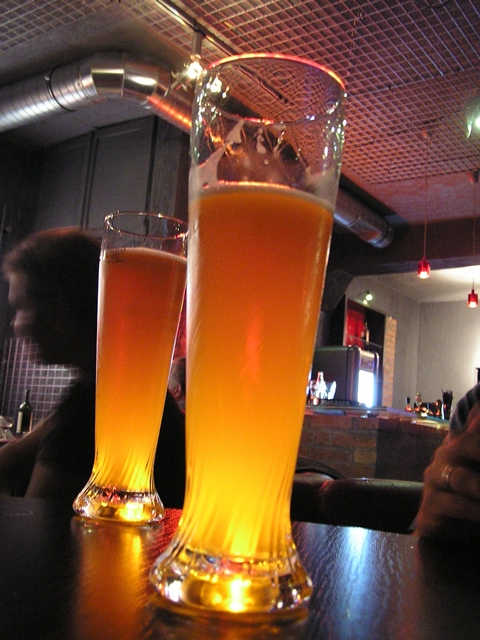 Sarawakians enjoy nightlife just as much as the next guy. Miri and Kuching may not have a party scene that rivals Kuala Lumpur, but it does have a vibrant nightlife. Beer can be found at cheap prices in local coffee shops while those wishing for something fancier can visit the pubs, bars, and clubs scattered throughout the cities. Entertainment outlets in Miri can mostly be found in the city centre and around the Pelita Commercial Centre. In Kuching, watering holes can be found mainly throughout city centre areas such as Taman Sri Sarawak, Padungan Road, Jalan Petanak (Travillion Mall), and Jalan Bukit Mata.
5) Do Some Spelunking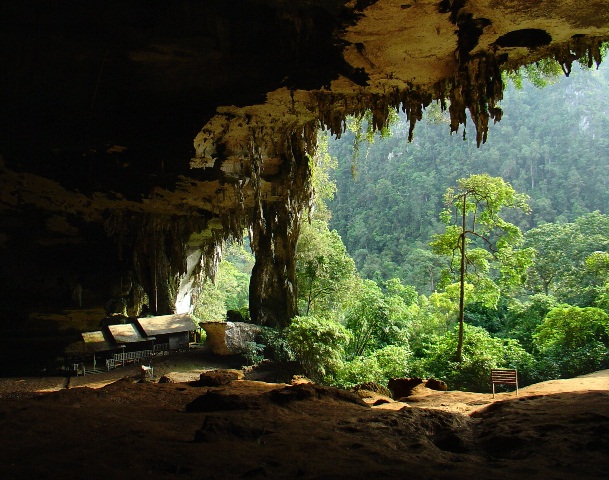 Cave exploration in Sarawak is a popular way to explore the natural geographical splendours throughout the state. Spelunking allows those interested to go on an adventure to witness unique limestone formations and cave-dwelling wildlife. Here, in Sarawak, there are more than a few caves that offer excellent tours and caving treks. Fairy cave is well known to harbour magnificent sights and sounds, while Gunung Mulu National park in Miri similarly offers stunning caver with different types of caving challenges based on your experience and desires. With dozens of entrances and pathways to explore throughout the cave systems around Sarawak, intrepid explorers will surely be dazzled.
See Also: Cats, Caves and Culture – Touring Sarawak
6) Strolling through Kuching Waterfront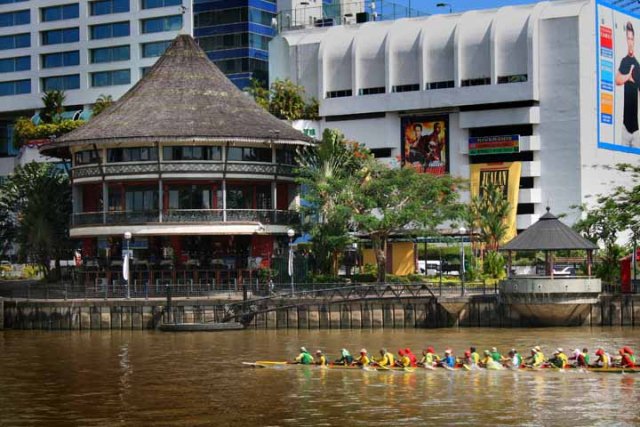 Taking a stroll through Kuching Waterfront, which lines the south bank of Sarawak River, is the prime place to seep in the city's vibes. The 900m long esplanade is littered with wooden benches, food stalls, restaurants, and entertainment facilities to take full advantage of the majestic landscape scenery. Great to shoot the breeze or witness cosmopolitan Sarawak life, this place is ideal for taking it easy, be it day or night.
7) Wreck Diving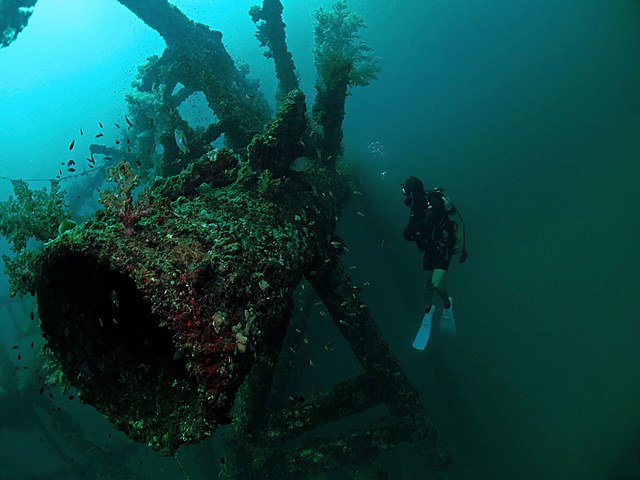 Off the coast of Kuching lie several shipwrecks that date back to World War II. While a majority of them are Japanese war boats, such as the Sagiri (a WWII Japanese destroyer), there is one artificial and commercial shipwreck. These shipwrecks allow the chance for underwater adventures, enabling divers to explore historic shipwrecks and ocean biodiversity. Nonetheless, this open water adventure is only suited for advanced divers and feature hazards such as low visibility and strong currants. While the diving risk is high, so too are the rewards, featuring wholly intact warship structures rife with stingrays, barracudas, lobsters, turtles, and many other underwater life forms.
See also: Want to Dive Wrecks? Head to Brunei!
8) Visit the Sarawak Cultural Village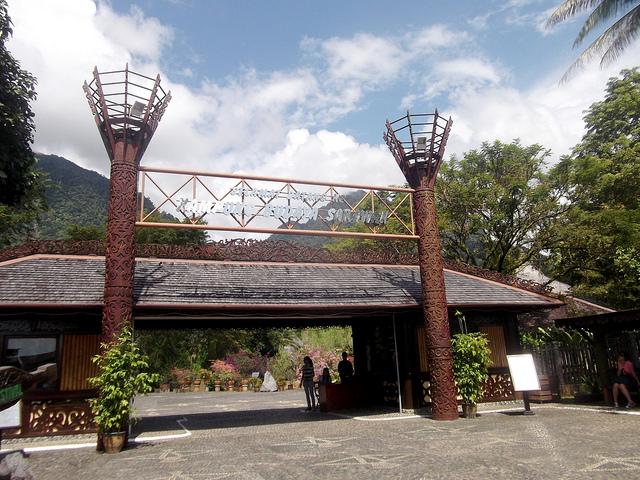 Photo credit: travelustful, Flickr
The Sarawak Cultural Village is an award winning living museum dedicated to introducing the various local cultures and lifestyles. The museum claims that you can "See Sarawak in Half a day", with replica buildings representing major ethnic groups in the state: Bidayuh, Iban, and Orang Ulu longhouses, a Penang jungle settlement, a Melanau tall-house, a Malay town house with adjacent top-spinning court, a Chinese farm house and a Chinese Pagoda. Each replica building comes complete with a storyteller to describe and interpret traditional cultures and lifestyles. The museum also has a multi-cultural dance performance along with a restaurant and a handicrafts shop.
Homepage highlight photo credit: paulwhitepics, Flickr
Read more:
---
"ExpatGo welcomes and encourages comments, input, and divergent opinions. However, we kindly request that you use suitable language in your comments, and refrain from any sort of personal attack, hate speech, or disparaging rhetoric. Comments not in line with this are subject to removal from the site. "
Comments