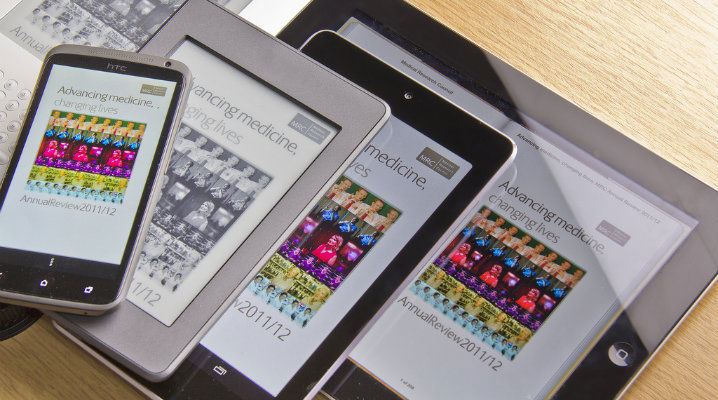 We need the news to keep us informed and up-to-date on the latest political, financial, and general going-ons that allow us to make educated, rational everyday decisions. That being said, some of us don't make a habit of picking up a physical copy of the daily newspaper to keep ourselves informed, whether due to laziness or inconvenience. With technology, however, we can now get Malaysian news on our smartphones and tablets. 
Here are a few perks to reading the newspaper on your mobile device:
Most are available for a quick download every morning.
You can share articles.
You will be able to read most newspapers in either a newspaper layout or a text-based format.
You can also zoom in on news stories for better reading.
Further features include: bookmarks, search, and article-ranking.
You'll also be saving paper, making the Earth a greener place.
Not yet convinced? Below are a few Malaysian news apps that you should check out. Remember you can typically download these apps directly onto your device from the Google Play store or the Apple App Store.
SEE ALSO: 6 Free News Apps Available in Malaysia 
The Star ePaper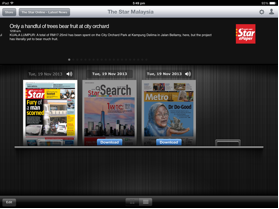 Free app available for Apple, Android, and Windows devices. ePapers can then be purchased for a yearly subscription of RM 360 or a monthly subscription of RM 30.
The Star is a popular newspaper choice for Malaysians. Those who own a mobile device and who read The Star on a daily basis should consider making the transition from paper to digital, due to the benefits mentioned above. This app basically allows you to read digital copies of The Star's paper editions in high definition, complete with quick links to different sections within the newspaper. This feature ultimately makes the paper easier and quicker to browse than its physical counterpart.
Upon firing up the app, you will be greeted with a library of all your downloaded issues, complete with a headline that can be swiped away to reveal other important headlines. The text is clear and sharp, but some images have a low resolution, which makes them unclear when you try to zoom in. There is also a toolbar at the bottom that allows for quick navigation to other sections. Additionally, there is an option for readers to activate the voice over feature, which gets the app to read you the news rather than you having to read it yourself. All in all, this app does a pretty great job at providing readers with a digital edition of The Star.
New Straits Times Digital
Free download for Apple and Android users. One copy costs RM 0.99 while subscriptions cost RM 4.99 per week and RM 12.99 per month.
The New Straits Times (NST) app has a few similarities to The Star's, in that they both feature a "breaking news" tab for users to quickly glance through the top stories. However, the app does include multimedia options in certain articles, even adding video and photo gallery options to some select stories.

The font is clear and crisp, even when zoomed in. But just like The Star's ePaper, low-resolution pictures spoil your viewing experience, as any attempt at a closer look leaves you with a pixelated image. Readers can also share stories via email, Twitter, or Facebook, by adding a small social networking component to the app. Other functions of the app include a video section to view NST made video content, your own personal NST profile, and a favourite articles tab, allowing readers to save articles for future reference. 
The Malaysian Insider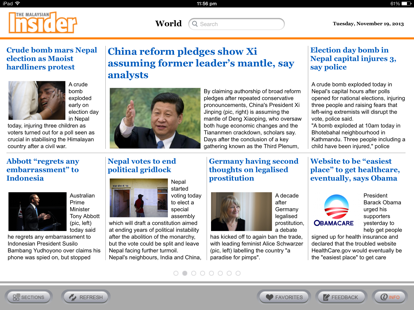 Free for Apple and Android users. Free content.
The Malaysian Insider covers issues of the day, politics, business, lifestyle, sports, and entertainment. The downloadable app gives mobile device owners free access to this online news portal. Navigation is simple and easy to use; swipe vertically to switch to a different news section, and swipe horizontally for the next story available in the current section. The bottom sidebar includes a "refresh" button and also has a favourites section—this allows readers to save articles for future reference.
Berita Harian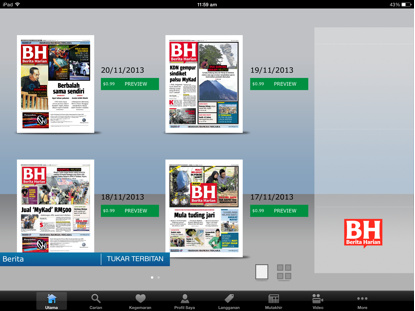 Free download for Apple and Android users. One copy costs RM 0.99 and a subscription costs either RM 4.99 per week or RM 12.99 per month. Note that this is a Malay-language newspaper.
As the paper, and therefore the app, is owned by the New Straits Times group, the Berita Harian app is virtually identical to the NST app. It features the same user interface, the same bottom navigation bar, and even the same pricing scheme. However, the similarities end with the actual news content, as Berita Harian is a Malay-language newspaper. The bottom bar includes these sections: Utama (home), Carian (search), Kegemaran (favourites), Profil Saya (my profile), Langganan (store), Mutakhir (breaking news), and Video. Again, this app is identical to the NST app, except for the language distinction.
Sin Chew Daily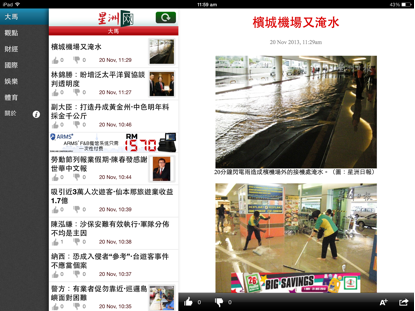 Free for Apple and Android users. Offers free content pulled from the newspaper's website.
Sin Chew Daily is one of Malaysia's leading Chinese-language newspapers, and their app offers free content pulled straight from their website. The topics offered range from national and international to sports and entertainment news. This app is good for those who wish to receive their daily dose of Malaysian news in Chinese.
The app also features a simple like/dislike rating system, which allows readers to express their opinion on all published articles. Other tools include a refresh button, an option to increase font size, as well as the ability to share articles on most social networking sites. The app is also integrated with 'save-for-later' apps, so if you use Pocket or Instapaper, you can save Sin Chew Daily articles for offline reading.
MYSG News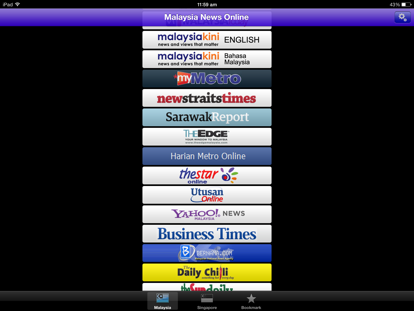 Free for Apple and Android users. Content is also free.
The MYSG News app is a basic news aggregator that works by pooling RSS feeds from a large number of Malaysian news sources,  English, Bahasa Malaysia, and Chinese sources. Although its user interface is rather simplistic and unattractive, it gets the job done. The app features both Malaysian and Singaporean news sources, adding up to over forty local and international news sources for Malaysian readers. Clicking on a source will bring users to a topic section, which after selecting a topic, will bring users to curated headlines for reading. The app is good for gathering a wide range of Malaysian news, although it does not feature a search option and only features current news headlines. Additionally, articles do not feature any multimedia elements, only text.
MalaysiaNews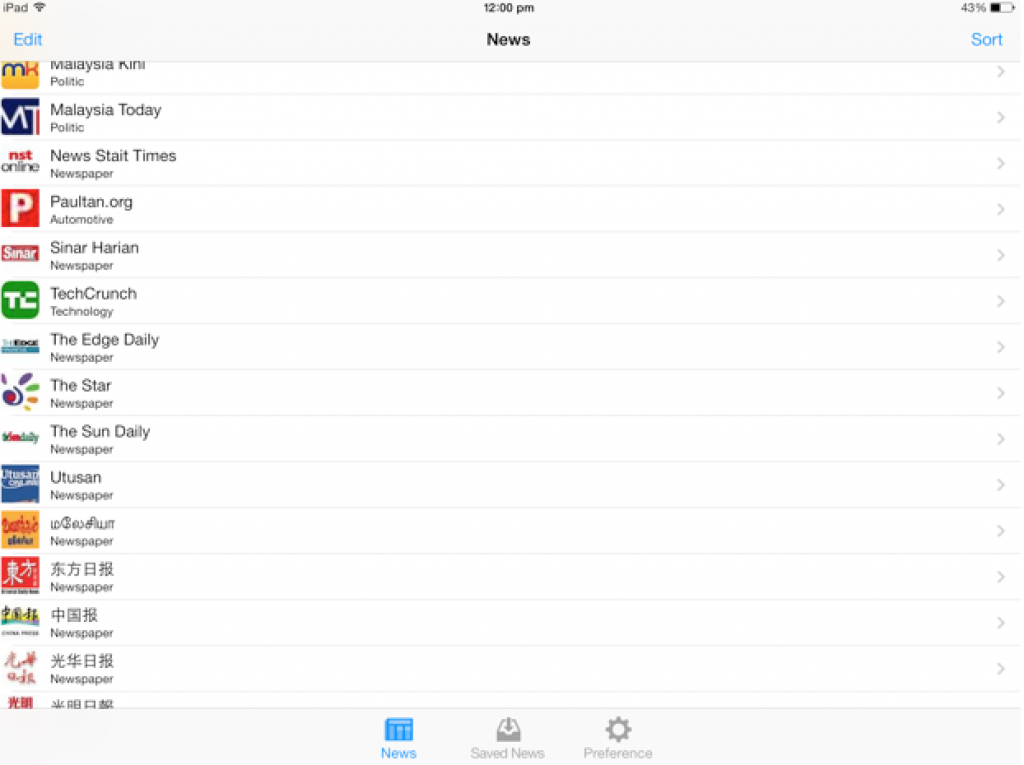 Free content and download for Apple and Android users
Like MYSG News, MalaysiaNews is a news aggregator app that pools news articles from a large database of local and international news sources. It's extremely straightforward: you simply choose your news source (e.g. CNN, Malay Mail, The Star), choose a topic, choose a story, and next thing you know you've got an article ready for your reading pleasure. They are text-based, however, and there are no pictures or videos featured on this app. Where the app shines is in its wide range of news source offerings. Those wishing for a more engaging or immersive reading experience might be disappointed.
The Edge Malaysia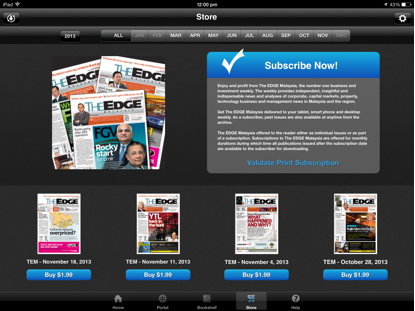 Free download for Apple and Android users. Subscription-based format for downloading issues. A yearly subscription costs RM 288 while the cost per issue is RM 1.99.

The Edge Malaysia focuses on business and political news in the country. It is a weekly newspaper that prides itself on being a reliable go-to source for businessmen and political figures. As for the app itself, navigation is rather simple. The bottom navigation bar features a news portal that draws its news from The Edge's website, a bookshelf to keep all your downloaded issues, and a store that allows readers to purchase individual issues.
The Edge's sections include Corporate, Capital, A Forum, City & Country, and a lifestyle section called 'Options'. Purchasing a yearly subscription will grant you full access to The Edge on both tablets and smartphones on Apple and Android, plus you'll get the downloadable desktop app.
Conclusion
The news apps mentioned here are split into two types: digital editions of physical newspapers, and news aggregators, which draw news from a wide range of news sources. Different people have different reading habits, so  we provided you with a number of great apps to pick and choose from. If you're more interested in international news apps, you should take a look at our other article. Reading on a mobile device like a tablet really enriches the reading experience—you get additional info (videos, photos, and social networking capabilities) as compared to physical copies and as another plus point, you get the powerful capabilities of the Internet right at your fingertips.
SEE ALSO: 
---
"ExpatGo welcomes and encourages comments, input, and divergent opinions. However, we kindly request that you use suitable language in your comments, and refrain from any sort of personal attack, hate speech, or disparaging rhetoric. Comments not in line with this are subject to removal from the site. "
Comments