In today's fast-paced modern world, most of us now get our news on the go. For many, newspapers are no longer the go-to source for commentary on current affairs, due to the advancement of mobile computing.
Most of us own mobile gadgets that enrich our lives with information, and a huge portion of those reading this article probably have either a smartphone or tablet computer. So if you've got a smartphone or a tablet, how do you stay in touch with current affairs around the globe? Easy. Just download some of the these great, free news apps mentioned here, which are available in Malaysia.
SEE ALSO: 8 Malaysian News Apps You Should Know
1.     Flipboard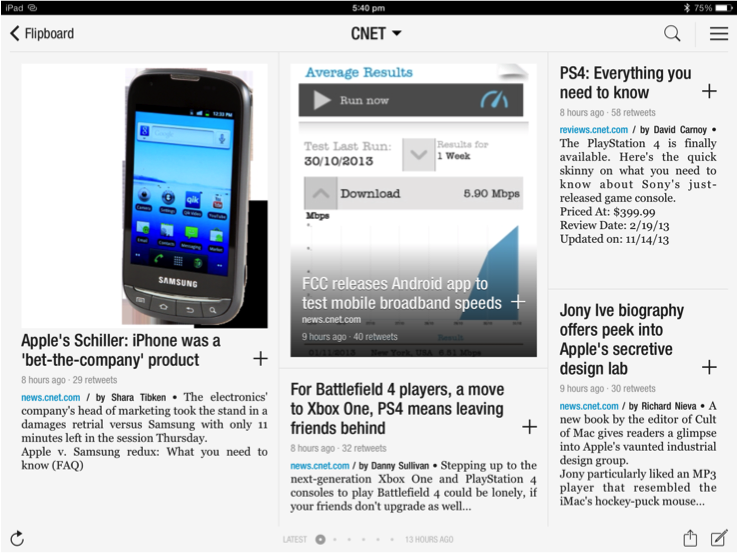 This extremely powerful and immersive app is one of my longtime favourites and has been ever since I picked up an iPad back in 2010. Plus, it's free! It's minimalistic, stylistic, and feature-rich user interface was a hit right from the get-go. Where Flipboard shines is in its ability to curate a wide variety of content based on your personal selections, ranging from news, entertainment, and film, to social networks, photography, and fashion. Everything is presented it in an engaging way, complete with videos, photos, and hyperlinks.
New to Flipboard this year is the additional option for users to make their very own magazines, allowing others to subscribe to and read handpicked content. Users can then share their magazines with other users through the app itself, or through social networking sites, thus adding a social element . In essence, Flipboard is your very own social magazine, repackaging the best content on the web for mobile users in a beautiful way. It should also be mentioned that Flipboard was named one of TIME magazine's "50 Best Inventions of 2010". 
Price: Free
Compatibility: Apple, Android, Windows, & Blackberry devices
2. LinkedIn Pulse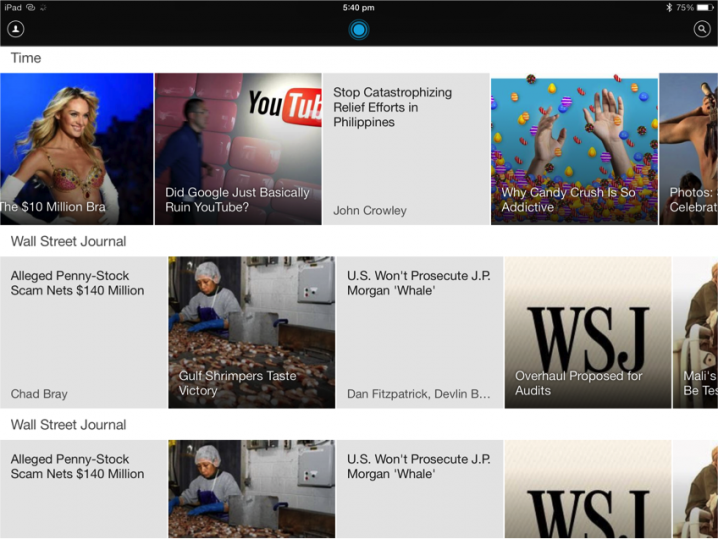 Pulse is very similar to Flipboard.  It provides you with a wealth of content that can be curated based on your interests. The way the content is packaged however, is altogether different from Flipboard. Selected content sources, such as the Wall Street Journal, for example, is presented on the left sidebar, while further news stories from this same source will then be presented in a horizontal fashion. This allows you to quickly browse through potential reading material with a quick swipe, as opposed to how you read articles on Flipboard, where articles are presented in a more magazine-like fashion.
Key Takeaways: Clean interface, good amount of news sources, recommendations based on social networking
Price: Free
Compatibility: Apple & Android Devices
3. Digg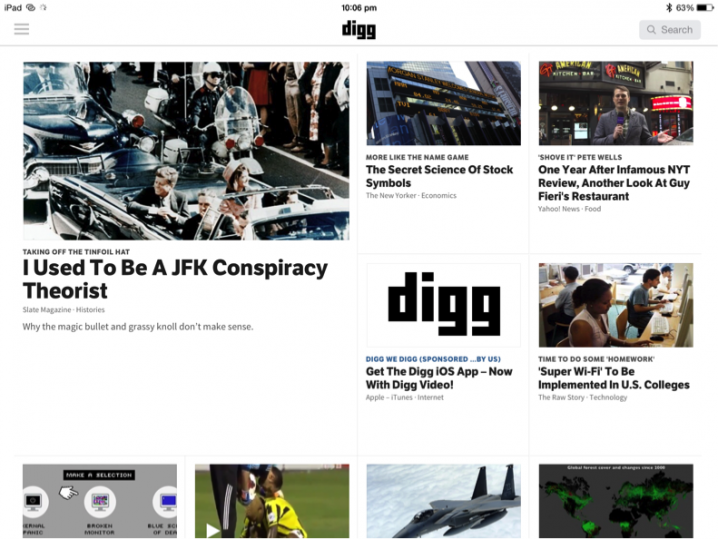 Digg is a popular social news aggregator website and acts as a reliable source of news, gathering all sorts of stories from across the web. Powerful and simple, Digg pools articles through the use of a general search bar. This differentiates Digg from Pulse and Flipboard (both of which provide you with multiple news sources across a range of topics). Pop in any topic into the top search bar and Digg does the rest, providing multiple stories chosen based on their popularity across the Internet as well as some curated by Digg's editors. The app also provides something that Flipboard and Pulse doesn't – an RSS reader, which allows RSS subscribers to receive constant updates on the latest news.
Key Takeaways: The web is your news source instead of topic-specific curated content, an RSS reader, edited content to filter out unwanted news 
Price: Free
Compatibility: Apple & Android-based devices
4. Pocket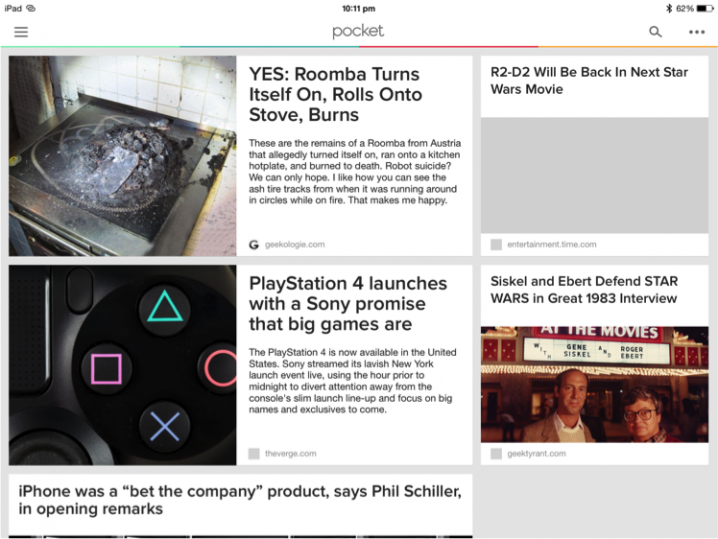 Pocket is a handy little app to have, well, in your pocket. It's an app that allows you to save articles from a wide range of sources (Twitter, web pages, email, etc.), for convenient offline access. It does so by downloading your chosen article. The user interface is extremely simple, with a white on black/black on white layout to let you focus on reading. There are no recommendations given, as you are in control of choosing the articles. Just add articles and let Pocket do the rest for you. Should you ever want to view an article in all its original web splendour, there's an option for that too.
Key Takeaways: You can save articles for offline browsing, easy to use, easily integrated with other news apps
Price: Free
Compatibility: Apple, Android, Kobo and most popular browsers
5. Circa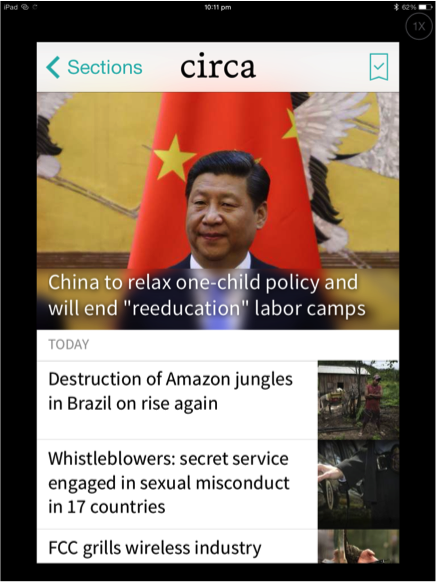 Circa is relatively new to the news app scene, as it was only released in 2012. It is only available for Apple and Android, and unfortunately there isn't a native version for tablets. Nonetheless, what it lacks in platform breadth, it makes up for in news quality. What separates Circa from the rest of the pack is that it has an in-house group of editors to create tailored, bite-sized news articles, with all the essential quotes, photos, and facts intact. This allows users to sift through news articles faster and more efficiently, saving lots of time. News stories can be easily located thanks to a simple user interface. While their topic selection isn't as vast as the other news aggregator apps, expect that to change with time as the Circa team expands.
Key Takeaways: Bite-sized content, important news, edited news content that doesn't omit important data
Price: Free
Compatibility: Apple and Android users
6. Zite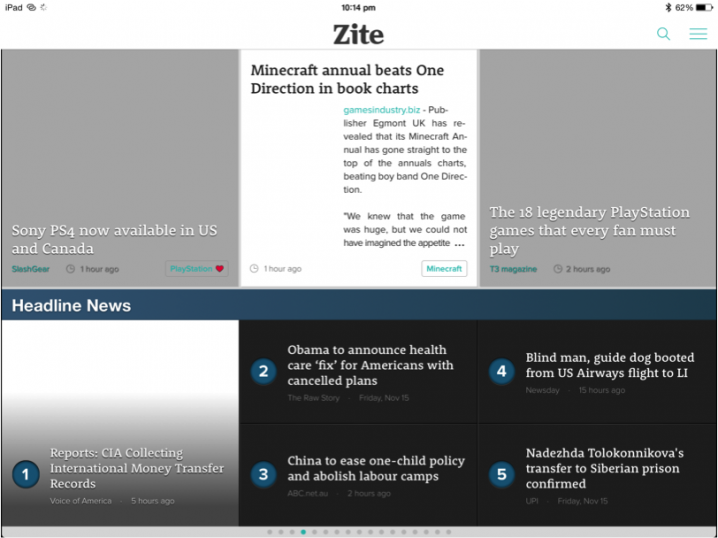 Zite prides itself on being uniquely customizable, and it should rightfully be proud of this feature. I've found many interesting articles on Zite simply by using keywords. Searching for things like Guinness, Hard Rock, and Playstation have all brought up plenty of interesting, relevant articles. Furthermore, Zite allows you to integrate social networking elements to provide you with recommended topics of interest, articles, and selections.
Additionally, the app gets better the more you use it. As it learns your interests, it will curate content that is better suited to you. Its layout is easy to navigate and is similar to Flipboard. It also has a 'Top Stories' section that curates the most popular articles from your chosen topics, which is similar to Flipboard's 'Cover Stories' front page.
Key Takeaways: Find content across a wide range of topics, the more you use it the more it learns, topic and article recommendations
Price: Free
Compatibility: Apple and Android users
Final Thoughts
All the news apps mentioned here have their own merits, so it simply comes down to what your exact needs and requirements are. The seven news apps mentioned here are some of the best currently available for your Apple or Android mobile device. Once you commit yourself to one app, your invested time and effort will soon pay off as you find yourself reaching for your tablet or phone instead of a newspaper every time you want to read something newsworthy
---
"ExpatGo welcomes and encourages comments, input, and divergent opinions. However, we kindly request that you use suitable language in your comments, and refrain from any sort of personal attack, hate speech, or disparaging rhetoric. Comments not in line with this are subject to removal from the site. "
Comments