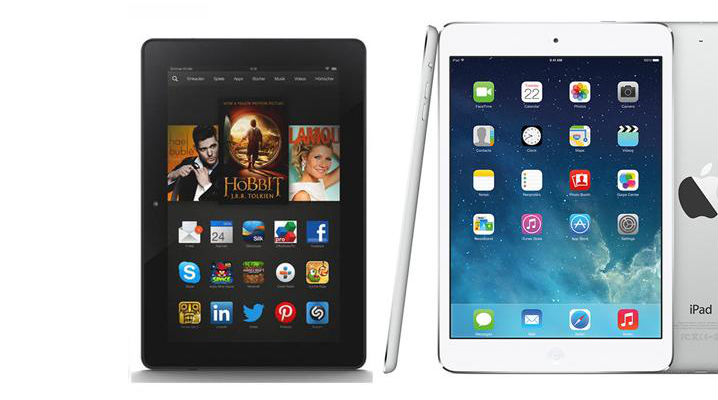 Tablets are fast becoming viable alternatives to laptops and desktops, thanks to a combination of their portable yet powerful capabilities. You can use tablets to watch movies, browse the web, play games, read books, check the weather, send emails, create music; the list is truly endless. However, when you decide that you want get a tablet, how would you know which one would suit you the best? This guide will help you determine the best tablet for you in Malaysia.
1. What you want to use a tablet for?
When buying a tablet, one of the first things you need to decide is for why you want a tablet – what do you plan to use it for.
For playing games: Tablets today come packed with excellent graphic processors, letting you play games that make the best use of a tablet's resources. Some games are simple, fun, and charming (Cut The Rope, Plants Vs. Zombies, Angry Birds) while other games on the tablet can offer more engaging, console-like experiences (Infinity Blade, Grand Theft Auto, The Walking Dead). If you want to get a tablet for on-the-go gaming, then consider the iPad Air. The Apple App Store offers the best games on the market, whether it's for casual or hardcore gaming. That being said, Google Play store's selection of games is fast catching up.
For doing work: When it comes to work purposes, you need a full sized tablet. One of those 'mini' tablets will just not be good enough. The iPad Air, Surface Pro 2, or even Xperia Z (Xperia Tablet Z2 will be out soon) are all viable work-friendly tablets that come with large displays, fast processors, powerful apps and incredible graphics. iPad users can take advantage of Apple's free iWork suite (Pages, Numbers, and Keynote). The Surface Pro 2 gives you all the power of a Windows computer in a tablet, including Microsoft Office.
For the kids: When it comes to using a tablet as a toy/entertainment device for your kids, it's all about durability, ease of use and great parental controls. There have been cases when kids have accidentally spent hundreds of dollars on in-app purchases. So having great parental controls on the tablet is definitely a must. Amazon's Kindle has great parenting controls, while the iPad Mini makes for an excellent device for youngsters. Also, Apple's App Store has many apps that will make your kids smile and giggle. Just make sure you get a tough case to protect the tablet from accidents.
For media consumption: I use my iPad Air for consuming a ton of media. Books, movies, music, games, reading the news, you name it, and it performs terrifically. If you want a tablet like that but smaller, choose the Mini. If you want to consider alternative, get Google's Nexus 7 or 10 (iPad Mini and Air equivalent).
2. Size matters
In the world of tablets, size matters. Get a tablet too big for your hands and you'll soon feel the strain while using it one-handed for prolonged periods of time. Get a tablet too small for your needs, and you just won't have enough screen space to work with. There are currently three sizes that seem to be successful with consumers, the standard full size made popular by the first iPad (10.1"), and two scaled down version (Android tablets 7" vs iPad mini 8") of the full size. With a 10.1", you get more screen space, but with the mini versions, you get better one-handed capabilities. Another rule of thumb, the bigger the tablet, the heavier it is.
3. OS Type: Clean, customizable, or a little bit of both
Behind every great car is a great engine, and behind every great tablet is a great operating system! After choosing a tablet that is both pleasing to your eye and hands, it's time to move beyond technical specifications and examine a tablet's operating system. The three most popular operating systems available in the market are Apple's long running iOS, Google's Android, and Microsoft's Windows 8. All three have their strengths and weaknesses.
iOS 7: The latest iteration of Apple's OS, iOS 7, continues to pay tribute to the Cupertino company's design philosophies with its clean, fluid and modern look. Most people use the popular OS because it works harmoniously. One downfall is the lack of user customisability. You can't set the OS's theme, user interface, or even keyboards, as it's all controlled by Apple in hopes of delivering what the company feels is the best for its users. Despite that fact, iOS continues to be one of the most popular platforms for developers, with plenty of apps designed natively for the iPad.
Android: Android is Google's answer to iOS. It is a different breed than its main rival, Apple. Instead of following Apple's approach to having an a closed ecosystem, Android has an open system, which allows developers to customise the platform. Android is to iOS what Windows is to Mac OS X. The Android also comes with Google Play, its version of the Apple app store. While Google Play has a healthy selection of apps, it still does not offer the same wide selection of native tablet apps as the iOS.
Windows 8: With Windows 8, you get a full Windows desktop experience on a tablet, allowing you to use programs that can be utilised for a PC. There are three versions of Windows, 8, 8 Pro, and 8 RT. Windows 8/Pro gives you the option to use a tablet in the traditional Windows desktop experience, while the RT version is essentially a stripped down ARM-friendly version of 8. The RT version feels more like a tablet OS, but it loses its desktop functionality along with certain app functionalities that its counterpart has. One thing that every version has in common, however, is Microsoft's Live Tile interface, which is customisable and a delight to operate, thanks to its colourful and engaging interface.
4. The App-mosphere
Each OS uses their own specific app store to give users access to a third-party software tools and features. iOS has over 500,000 apps (according to Apple) designed for the iPad, making sure that iOS users have access to some of the best apps available. Additionally, iPad users can download apps to access other media stores, such as Amazon or Barnes & Noble books.
On the Android front, the Google Play Store has a wide selection of apps too, offering plenty of game, utilities, entertainment, along with other helpful apps. But when it comes to having more tablet optimized apps, the Play Store isn't quite at the same level as the Apple App Store. According to how-to geek, while tablet-optimized apps on the Android have improved over the years, they still don't offer as many popular tablet-optimized apps as Apple's App Store does.
Using a Kindle would require you to use Amazon's Appstore, with the only downfall for Malaysians being the troublesome process of downloading content for the Kindle. To get a Kindle in Malaysia, you'd have to purchase the tablet from a reseller such as Kindle Malaysia. To get resources for your Kindle you'd have to go through quite a hassle.
On Windows 8.1, many popular apps, like Google's apps (e.g. YouTube), seem to be missing for Windows tablets. However, just like how iOS allows you to download apps like Amazon or Barnes & Noble to purchase content from other vendors, Windows 8.1 allows users to do the very same thing. That being said, Windows is severely lacking that "wow" factor when it comes to having a plethora of tablet-optimized apps.
5. Tech specs: the raw numbers
Processor: There are many mobile processors out there, with popular ones including Apple's powerful 64-bit A7 chip, Samsung's Octa-core Exynos chip, Qualcomm's Snapdragon 800 chip and Nvidia's Tegra 4 processor. Tablets with these chips often work incredibly well with the hardware they come paired with. You can't go wrong with performance when a tablet comes packed with these latest chips.
RAM: Most good tablets carry at least 1GB of RAM, but it wouldn't hurt to have more if it doesn't come at the cost of a reduced battery life. The iPad Air comes with 1GB worth of RAM, but still manages to be extremely responsive, while Samsung's Galaxy Note 10.1 comes with three times that amount of RAM. The more RAM a tablet has, the more responsive it will be when handling performance-intensive apps.
Storage space: The memory of most Android and Windows tablets come with a combination of 12/32/64 GB worth of internal memory that can be expanded with a microSD card. On the iPad front, users have a choice of the usual 12/32/64 GB option plus an additional 128 GB option for heavy-duty users. Either way, I recommend getting a tablet with at least 32GB worth of space if you'd like to store much content on it, particularly rich media likes photos or video.
Camera: Most good tablets, like Google's Nexus 10 or the iPad Air, come equipped with at least 5MP rear camera and an HD front camera for video chats. Some tablets, like the Galaxy Note 10.1, come with an 8MP camera to take better shots.
6. Longevity
An electronic device is only as good as how long its charge last. Good tablets should bring in at least 10 hours worth of juice. The iPad Air offers an excellent lifespan, bringing in about 10+ hours or so. Apple alternatives such as Amazon's Kindle Fire HDX also pack in 13+ hours worth of battery, while the ASUS Transformer Book T100 offers about 12+ worth of battery life. Both the Kindle and the iPad offer incredible lifespans while being light weight at the same time.
7. Price
The last determining factor is always the price and tablet prices can vary widely.
The 32GB, Wi-Fi onlyiPad Air costs about RM1,929, while a 32GB Wi-Fi only Nexus 10 goes for about RM1,355. Samsung fans can pick up the latest 16GB Galaxy Note 10.1 for about RM2,064. Those who do not want to shell out big bucks can pick up a Lenovo IdeaTab for about RM429, or even an Asus MeMO Pad 8GB Wi-Fi version for RM440. For a premium 7" tablet (the mini size), you can check out the Nexus 7 or the iPad Mini, both offering quality in a smaller packaging, starting at RM919 and RM1,279 respectively.
With range of tablets available, you should be able to find one that fits your preferences and budget. Share a thought in the comments below.
Source: Laptop Magazine
Photo credit: melenita2012 / Foter / Creative Commons Attribution 2.0 Generic (CC BY 2.0)
MALAYSIA GUIDES:
---
"ExpatGo welcomes and encourages comments, input, and divergent opinions. However, we kindly request that you use suitable language in your comments, and refrain from any sort of personal attack, hate speech, or disparaging rhetoric. Comments not in line with this are subject to removal from the site. "
Comments