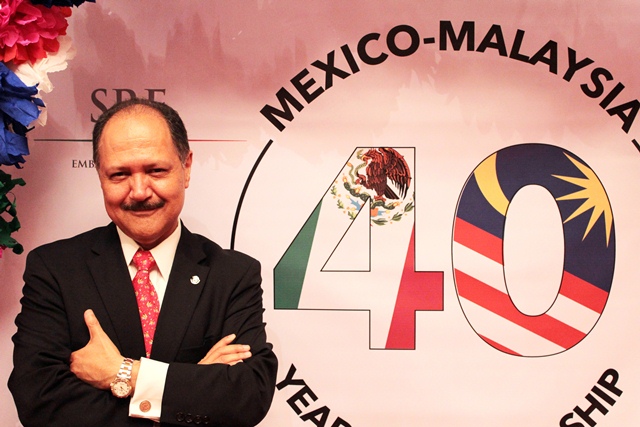 The Latin American world is often perceived to be a passionate one, and this couldn't be truer in the case of the Mexican ambassador to Malaysia. His Excellency Carlos Félix Corona arrived in the country eight months ago and hit the ground running, voraciously learning about the culture, society, and languages spoken in Malaysia. "It's so important to understand how a society works, what makes them tick, and how their unique culture is achieved," he says enthusiastically. "Only with this attitude can you really progress."
It is this zealous attitude that has resulted in an impressive 33-year career in the Foreign Service, and has also equipped Félix with the stamina to keep learning in all his postings. "Over the years, I've discovered that the world is more similar than it appears to be," he explains. "My first posting was to South Korea in 1987, and even though it was a completely different environment where a different language was spoken, with different customs, I learnt that the Asian world and the Latin American one are bound by the same core values."
The importance of family, education, and hard work are noble tenets to live by, so it's not surprising that all three played an important role in the shaping of Félix's career. "I actually studied music at university," he says. "However, my mother insisted on me pursuing a 'proper' course, so in order to keep the peace, I chose diplomacy. As it turns out, she was right all those years ago!"
Initially falling prey to popular misconceptions of the diplomatic world, Félix quickly discovered it wasn't all fun, travel and cocktail parties. "Once I passed the Foreign Service exam, my life changed completely," he recalls. "I spent my first seven years in Mexico before going to South Korea. From there, I moved to what was then the Socialist Republic of Yugoslavia."
Being there during a time of civil unrest was an eye-opener. "What you see on television is completely different to what it's really like on the ground," he explains. "It's the kind of posting I feel all diplomats should go through; not every job can be in Paris, New York, or Rome."
A life without basic amenties, including electricity, gas, or cars, showed Félix what he was capable of achieving despite being thrown way out of his comfort zone. "There was no heating, so we wore everything we owned, and there was a sense of fear as gunfire doesn't discriminate between diplomats and the rest of the country," he states, matterof- factly. "I was there for two and a half years and to this day, I still maintain it was one of the most humbling experiences of my life. It proves that you don't know what you're capable of, until you're under that amount of pressure and adverse circumstances."
Upon completing that posting, Félix was faced with a different set of issues to deal with – this time in the form of first world problems. A late night trip to the supermarket in Los Angeles showed Félix just how different the world can be. "I was able to go to the supermarket at 11pm, which was a luxury," he says, smiling at the recollection. "I needed to get some milk and when I got to the dairy section, there were 20 different kinds of milk to choose from! At that point, it was clearer than ever that you live in your circumstances."
Luckily, Félix quickly settled into life in a globalised world easily, with his South Korean wife and two children in tow.
"I'm so passionate about this career, that even my personal life was determined by my professional one!" he quips. Having met his wife while working in Asia, Félix recounts global development in the last 25 years. "Right now, it's unthinkable to function without the Internet and smartphones," he says. "Back then we had to communicate through writing letters! Even the newspapers we received from Mexico were a month old by the time they reached us, so marrying a foreigner was not common practice at the time."
Thankfully, the world has become much smaller since then, and Félix is determined to make that work to his advantage. "Mexico doesn't have the hugest profile in Malaysia, so it is my job to fix that," he stresses. "We do more trade with Malaysia than with France or the United Kingdom, so we have come a long way in our 40 years of working with each other. I certainly hope to continue this great relationship."
And he plans on doing this, much like he always has – with hard work and passion. "There is a huge difference between being a bureaucrat and being a public servant. My aim is to be the latter, and the satisfaction derived from it is priceless. Sometimes you don't get to see the results of your work, but the experience itself is rewarding. It's that recognition that makes a difference."
Read more:
What are your thoughts on this article? Let us know by commenting below. No registration needed.
Source: The Expat Magazine October 2014
---
"ExpatGo welcomes and encourages comments, input, and divergent opinions. However, we kindly request that you use suitable language in your comments, and refrain from any sort of personal attack, hate speech, or disparaging rhetoric. Comments not in line with this are subject to removal from the site. "
Comments