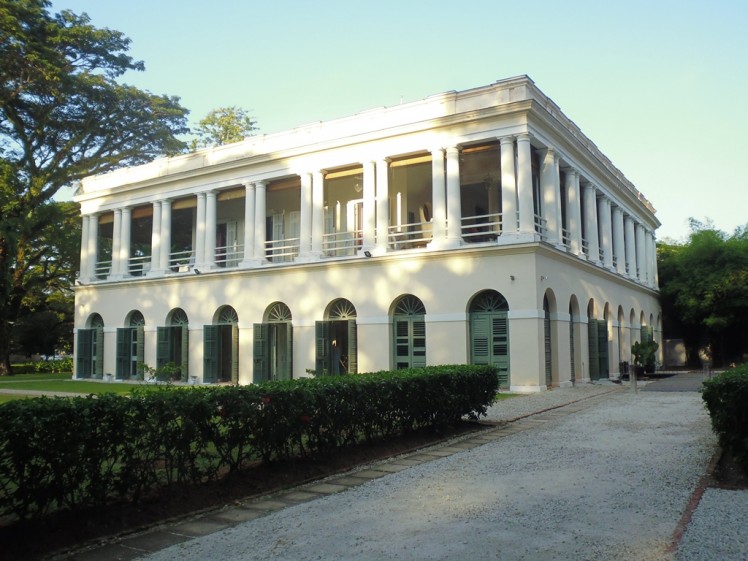 Frances Wilks explores the evolution of Suffolk House from Governor's Mansion to heritage dining venue and describes the latest Expat Penang/IWA mingle there.
Colonial Beginnings
Penang's most impressive and historical mansion is called by the name of an English county – Suffolk in East Anglia. Built on a vast pepper estate originally owned by Francis Light, the house as we know it was not constructed until the early years of the 19th century. It's likely that there was some sort of dwelling there as Light bequeathed his common-law wife Martina Rozells, "The pepper gardens with my Garden house plantation and all the Land cleared in that part of the island called Suffolk." Shamefully, the executors of Light's will betrayed his intentions, cheated Martina of her inheritance, and transferred the land to themselves.
In 1805, the estate was sold to William Edward Philips (1769-1850), who was one of the early governors of Penang and it is thought that he built Suffolk House. In 1818 Stamford Raffles was a guest at the mansion and he may well have discussed the founding of Singapore within these walls or on one of the airy verandas that envelop the upper storey. It's considered the finest example of an Anglo-Indian house outside India.
Restoration and Renovation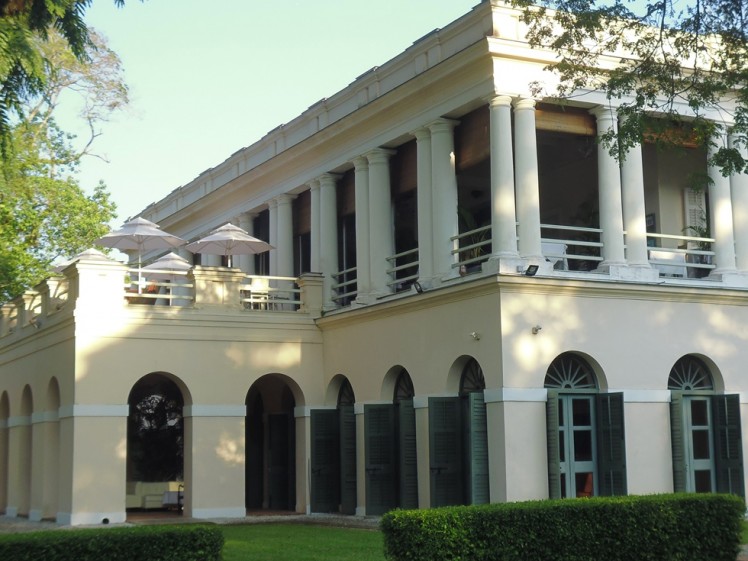 Over the years the house fell into disrepair. There are some old photographs dating perhaps from the mid-20th century that show a rather large shabby bungalow to which has been added a tiled roof totally destroying the classical proportions of the original design. The garden was overgrown and the whole effect very sad. The building and the land were taken over by the Methodist Boys' School and part of the downstairs served as the school's tuck shop for a period during that time.
As far back as 1956, there were moves to save Suffolk House but a full restoration wasn't completed until 2007 thanks to a collaboration between the Penang State Government, the Penang Heritage Trust, and the HSBC Bank Malaysia Berhad. There were also many generous donations from private individuals. After the restoration Suffolk House opened as a restaurant and a museum. Several of the rooms were decked out with the furniture of the period and the downstairs was used as a grand dining room.
Fine Dining and Catering for "Indian Summers"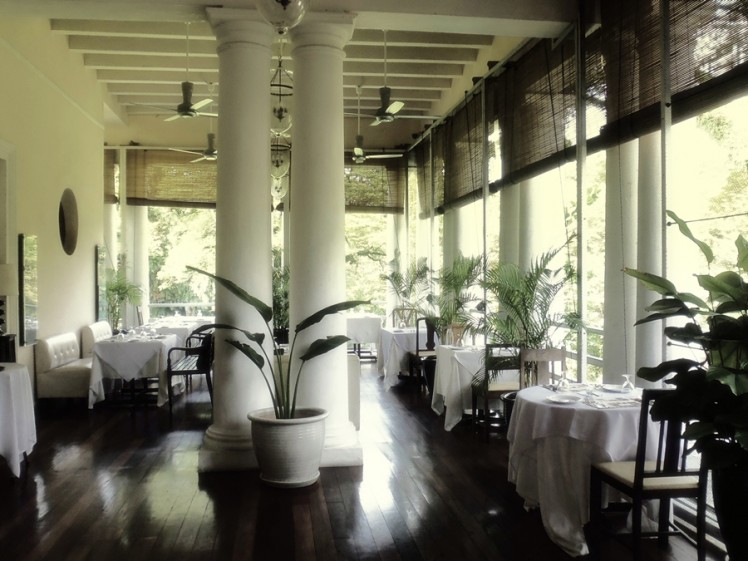 In 2013, it was decided that Suffolk House should take a slightly new direction – as a focus for events and also fine dining. Gordon Robertson, who's from England but who grew up as an expat kid in Hong Kong, Kuwait, and Nigeria, was brought in as the new director. Gordon's got a background as a chef having cooked for the British Royal Family and for many private events where clients wouldn't blanch at a million pound plus tab for a luncheon. "Of course, it had to be very special," he said. "Once I had to drive from London to Geneva for some romanescu cauliflowers with their distinctive pointed shape that weren't available in England at that time. I've also arranged for sage aromatisers to recreate the scents of Sardinia at a private function, aided I might add by the downdrafts of the helicopters of the arriving guests! I've created a play on smoked salmon dish where when you lifted the cloche, you found that the salmon was still smoking." He loves creating novel combinations of food, such as batik salmon with coffee oil, or banana and parsley. "Food has a DNA," he explains. "If you understand this 'language', then you can find the things that work together, however unlikely it may seem on the surface."
With his feeling for drama in the presentation of food, it was almost a foregone conclusion that when the Channel 4 series Indian Summers came to film a period drama in Penang, Gordon would be asked to cater for the crew, stars, and many extras, including some of Penang's most well-known expats. Suffolk House played an important role in the drama a Gordon Robertson s the setting for some of the scenes. A lot of the filming also took place on Penang Hill where the food for twelve hour days was sent up by jeep. They pitched tents and served breakfast, lunch, and dinner. "My background as head chef at the Royal Albert Hall came in really handy," said Gordon. "I learnt how to feed artists there with dishes that would nourish them but not put them to sleep during their performance. You need to focus on non-fine dining things like lasagne and fresh fruit, with slow release sugars and starches."
Expat Mingle
Gordon has moved the restaurant upstairs and so guests can enjoy the magnificent deep verandas which surround the upper floor. The Expat Penang/IWA Mingle took place there on 10 December and on the balcony that overlooks the immaculately restored grounds. In fact, the parkland that goes down to the Sungai Pinang is a gem in itself, and recalls the gracious landscape of the early days of Suffolk House.
Minglers were treated to a taster menu of truffled macaroni cheese, Cambodian chicken salad with watercress, ranch chilli with nachos, and beef rendang. There were even little pots of rhubarb and custard with biscuits and cream. It's always worth remembering that Mingle evenings are not about providing a full dinner but giving people a chance to sample a restaurant's offerings so that they can come and eat there later. It was good to see so many familiar faces and also some people new to Penang, who had heard that the Expat Mingle is a good way to meet new friends. We will begin Penang mingling again after Chinese New Year.
Source: The Expat Magazine January 2015
---
"ExpatGo welcomes and encourages comments, input, and divergent opinions. However, we kindly request that you use suitable language in your comments, and refrain from any sort of personal attack, hate speech, or disparaging rhetoric. Comments not in line with this are subject to removal from the site. "
Comments