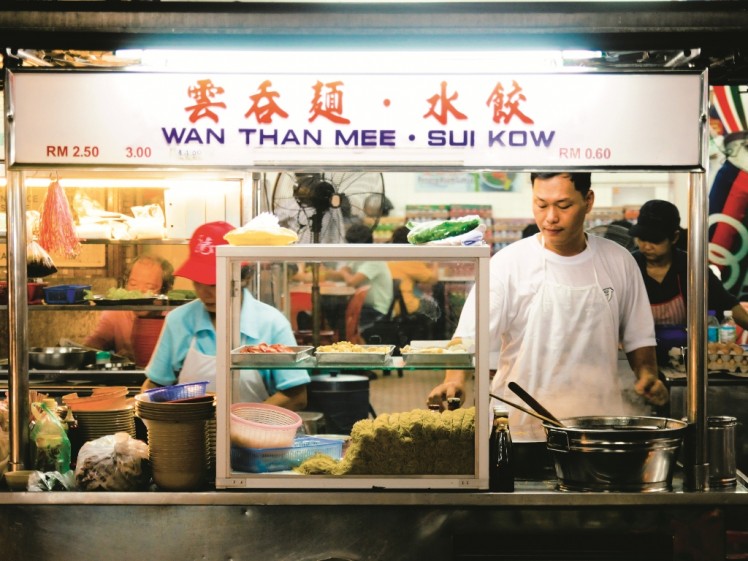 Informal, irresistible, and inexpensive, Penang food is renowned around the world. Here, local culinary expert Helen Ong provides a tasty introduction.
One of the many wonderful things about Penang is the great food. Penang is the culinary centre of Malaysia. Penangites love eating, and Penang apparently has over 10,000 eateries, proof indeed, were it required.
Of course we're most famous for our hawker food, and there's a stall, kopitiam (coffee shop), or food court offering all manner of Penang delights at practically every street corner, day or night. In fact, our street food is so popular that it has spread all over not just Malaysia but the world, and in many major cities you will see signs for "Penang Food" or some such.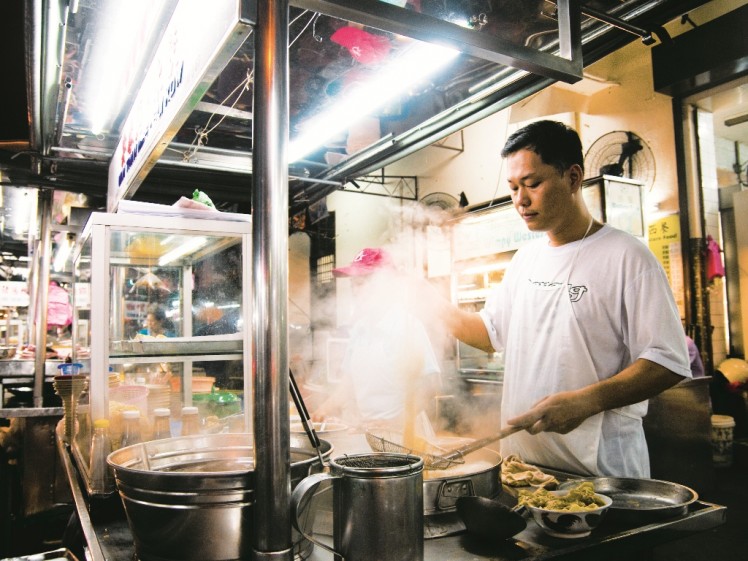 The hawker centre in Gurney Drive must be one of the most popular, packed as it is with tourists every night, and there are also the Northam Beach Cafe in Jalan Sultan Ahmad Shah and the Sin Kim San in Burmah Road. Some kopitiams have become part of Penang's heritage in their own right: amongst others, the Kek Seng in Penang Road, Seng Thor in Carnarvon Street and Sin Se Kai in Swatow Lane have been around for more than six decades, and the Wantan Noodle Stall in Chulia Street has been going nigh on 80 years.
As always, there are dissenters who claim that our hawker food has lost its lead, and of course, compared to before, even I, the Penang State Government's official "foodie" (www.visitpenang.gov.my) would agree that yes, certain standards have dropped. However, before die-hard Penangites dip their pens into vitriol or bring out their knives to sharpen in readiness for hanging, drawing, and quartering me, let me explain: Whereas KL, for example,might have a really good char kuey teow (fried flat rice noodles) stall or two, here it's the norm; on top of that, we have others that are much better, although admittedly there are also some which are not quite up to standard.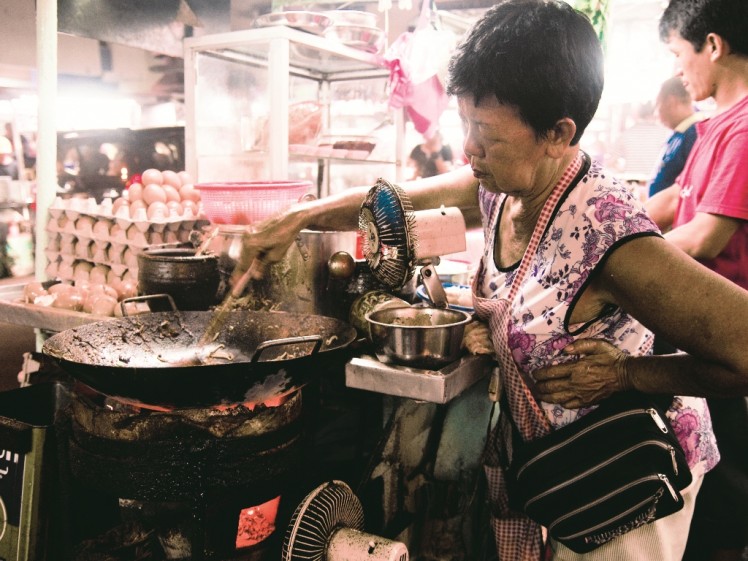 Ditto the other favourites: Hokkien Mee (noodles in a spicy, prawn-based stock), Curry Mee (speaks for itself), Kuey Teow T'ng (flat rice noodles in a clear soup), Penang Laksa (thick rice noodles in a spicy fish gravy) and many others.Yes, you've probably gathered – we love our noodles! Rather like Samwise Gamgee in The Lord of the Rings and his potatoes (boil 'em,mash 'em, stick 'em in a stew), with noodles, we boil 'em, fry 'em, stick 'em in a soup.
Having said that, we're lucky here – Penang offers more than just good hawker food. Amongst the many different types of international cuisines (we have great seafood, Chinese, Sichuanese, Cantonese, steamboat, northern and southern Indian, Korean, Japanese, Italian, etc), there are a few which stand out, including world class haute cuisine from our hotels.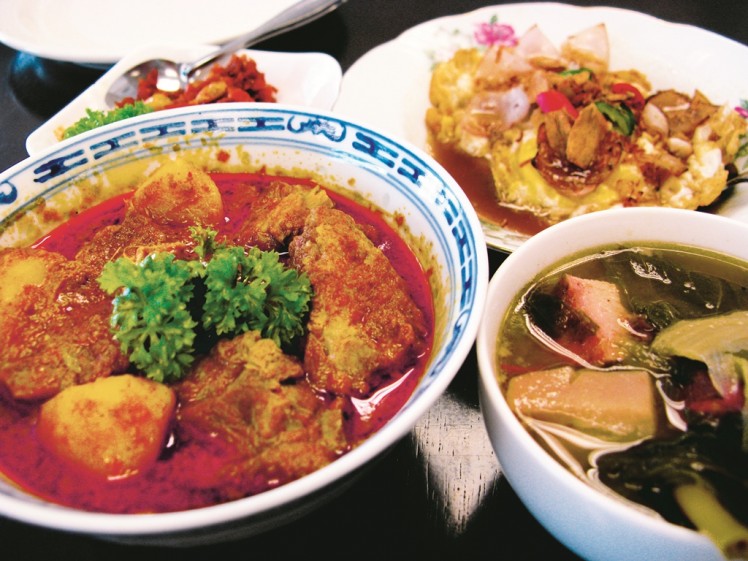 There's Penang nyonya food, that unique hot and spicy cuisine that evolved over time and which has incorporated many local and Thai ingredients into its dishes. Our Assam Pedas (hot and sour fish curry), Perut Ikan (pickled fish cooked in a hot gravy), and Tau Eu Bak (Soya Pork), to name but a few, are second to none. Although this is the sort of food which is eaten in Chinese households in the state every day, it was dying a death outside the home, as the younger generation were being swept away in a wave ofWestern fast food trend. Fortunately, in recent years there has been a revival of sorts for it, and more restaurants have opened up which offer
good nyonya cuisine.
Apart from the so-called "Economy Food" where you can choose from a dozen or more local favourites, there are quite a few restaurants around. Auntie Rosie is a typical nyonya who takes pride in offering popular dishes in Nyonya Breeze in Abu Siti Lane. Further up the road Mama's is run by three sisters and overseen by, as you can imagine, their elderly mother, who keeps an eagle eye on everything that goes out the kitchen, and there's the Baba Nyonya in Nagore Road. Although recipes were traditionally passed down from mothers to daughters, times have changed, and it's good to see men getting involved now: Sri Batik Nyonya Cafe in New World Park is run by Kenneth Yip, the Perut Rumah by Nick Lee and his brother Peng Kok, and at the HotWok in Burmah Road, proprietor Sally Thor's sons have taken on the mettle.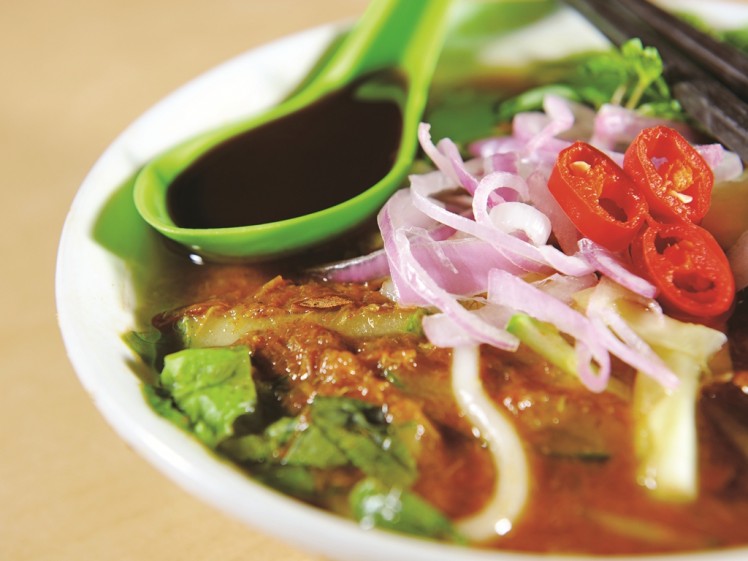 Another very popular Penang staple which has been successfully exported to the rest of Malaysia is our famous Nasi Kandar, so-called because of the pole (kandar) which was carried on the shoulder of the vendor, with a basket balanced either side. These contained typically Mamak (Indian Muslim) food: rice, spicy curries and vegetables, which would be laid out for hungry patrons to select from. Nowadays they no longer do that; instead, people go to the many stalls and restaurants which have mushroomed (and continue to do so) in every part of town.
There are also some chains about – there's Kayu, Subaidah, and Pelita Nasi Kandar's huge 750sqm outlet in Jury Auto City is the biggest in Malaysia, offering 24-hour curries and tandooris. Other well-known local institutions are the Hameediyah in Campbell Street, which celebrated its 100th anniversary in 2007; the Line Clear (so called because they used to bring out large pots of curries with boiling hot sauces, shouting out to people to keep the line clear), and Kapitan in Chulia Street, although exactly where Mamak food ends and Indian begins is a line that's actually sometimes blurred!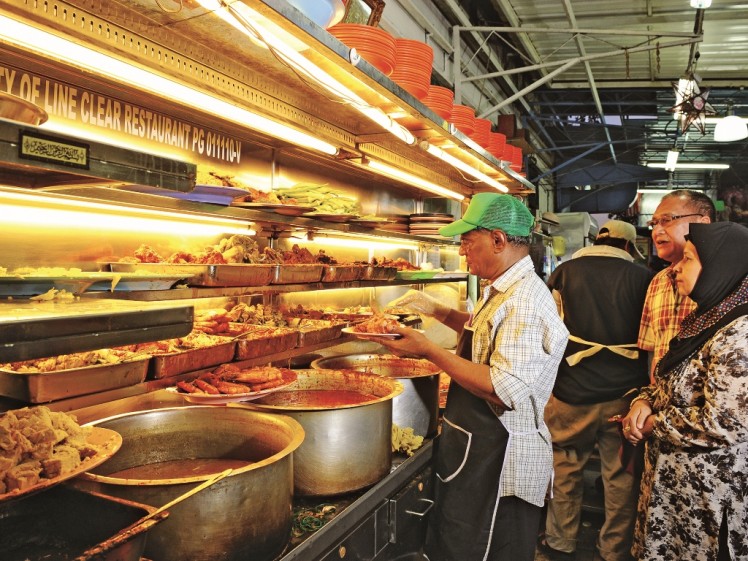 Something which is similar to but not quite the same is Malay cooking: it's less spicy than Indian or Mamak food, but has delicious sambals and curries nevertheless. Much use is made of santan (coconut milk), chillies, and belacan (fermented prawn paste), and is also eaten with rice.
A well-made beef rendang (dry beef curry) is unforgettable (either here in Malaysia or in its native home of Sumatra, Indonesia), and it is often accompanied by an ulam (salad) of raw vegetables eaten with a sambal belacan condiment. Most Malay food is served at stalls, although the number of restaurants seems at times to be growing by the day.
So there you have it, a whirlwind tour of the various cuisines we are lucky enough to have access to in Penang. This is just the tip of the iceberg though – you really have to come here to try it out. According to Dato' Kee Phaik Cheen, Chairman of the Penang TourismAction Council (PTAC), Singaporeans make an average of three trips to Malaysia every year. Of those, at least one will be a "food pilgrimage" to Penang. They can't all be wrong!
Source: Senses of Malaysia March April 2015
---
"ExpatGo welcomes and encourages comments, input, and divergent opinions. However, we kindly request that you use suitable language in your comments, and refrain from any sort of personal attack, hate speech, or disparaging rhetoric. Comments not in line with this are subject to removal from the site. "
Comments