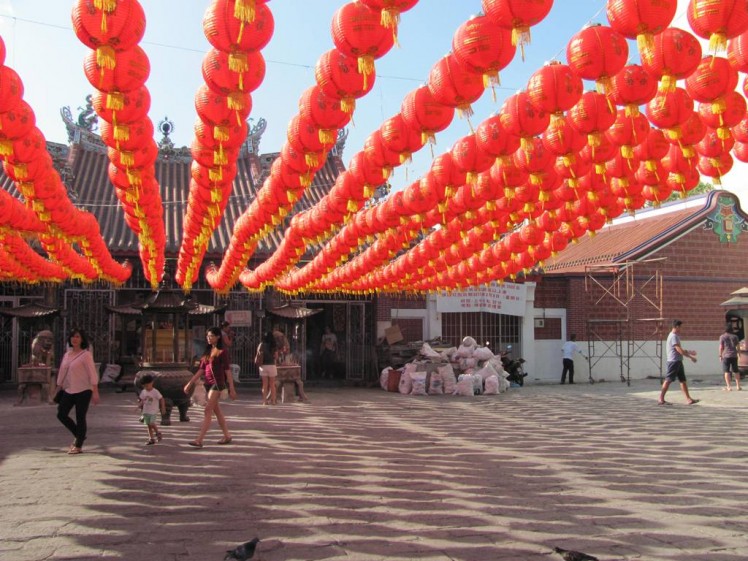 Goddess of Mercy Temple
Penang is a charming blend of heritage and modernity, of culture and commerce and of delights both Eastern and Western. A favoured island that both retains its exotic charms and celebrates its colonial history, Petra O'Neill finds herself being lured back time and time again.
My impressions of George Town, Penang's vibrant island capital, have remain unchanged since my first visit with trishaws, burning joss sticks, hawker stalls with sizzling woks, and an eclectic mixture of architectural styles from rows of candy-coloured shop houses, Buddhist and Hindu temples, mosques, colonial churches, and civic buildings that reflect a melting pot of cultural influences. The locals are just as diverse: of Malay, Chinese, Arab, Indian, Burmese, Indonesian, and Armenian heritages, fitting given Penang's legacy of years as a trading port.
History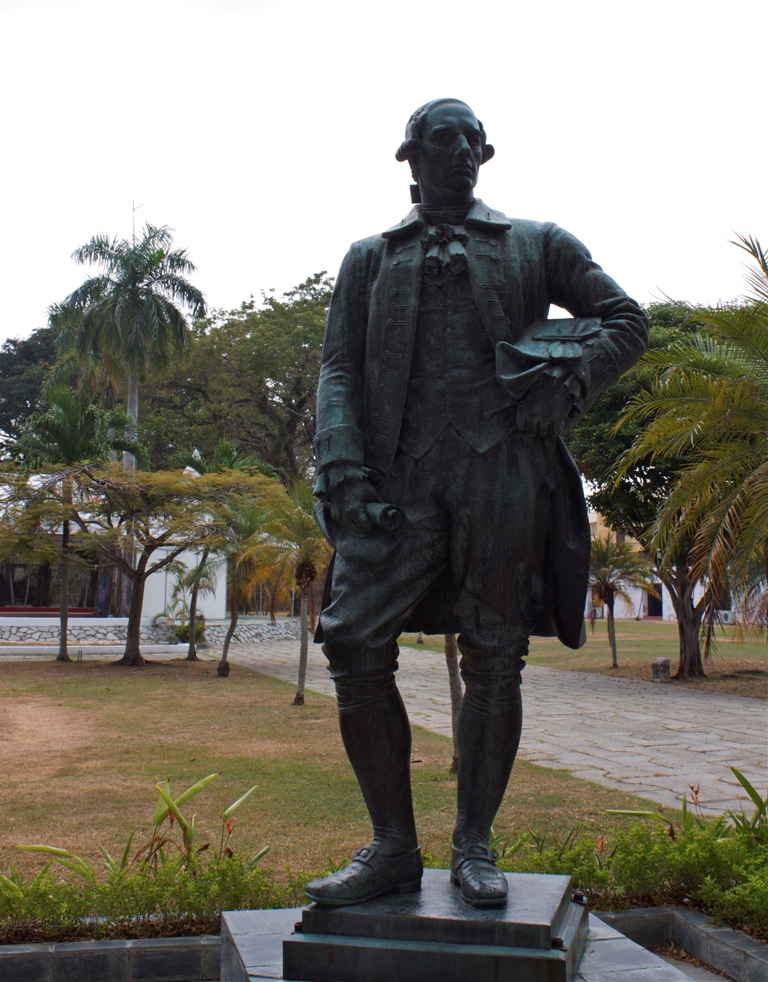 Captain Francis Light. Photo credit: seafaringwoman / Foter / CC BY
Before the arrival of Captain Francis Light, Penang was ruled by the Sultan of Kedah who agreed to lease it to the British in return for military protection. In 1786, Captain Light formally took possession for the British East India Company, and Penang grew in importance. In 1819, Sir Stamford Raffles founded the British colony in Singapore, and in 1826, Penang, Melaka, and Singapore were incorporated into the Straits Settlements. By the end of the 19th century, Penang prospered from the lucrative trade of tin, rubber, and spices before misfortune hit including the Great Depression, Japanese occupation during World War II, and a slow decline that saw many of George Town's shop houses on the verge of collapse brought on by the loss of free-port status in 1969, the development of a rival port near Kuala Lumpur and a population exodus to high-rise apartment blocks. I recall a time when shop houses stood derelict and crumbling, and the streets were too unsafe to wander in after dark.
But then in 2008, George Town was granted World Heritage status and, subsequently, underwent a dramatic transformation. Shop houses which had long been consigned to neglect and decay found themselves being restored and converted to art galleries, boutique hotels, and cafés by locals passionate about preserving their island's past.
Sights and Sounds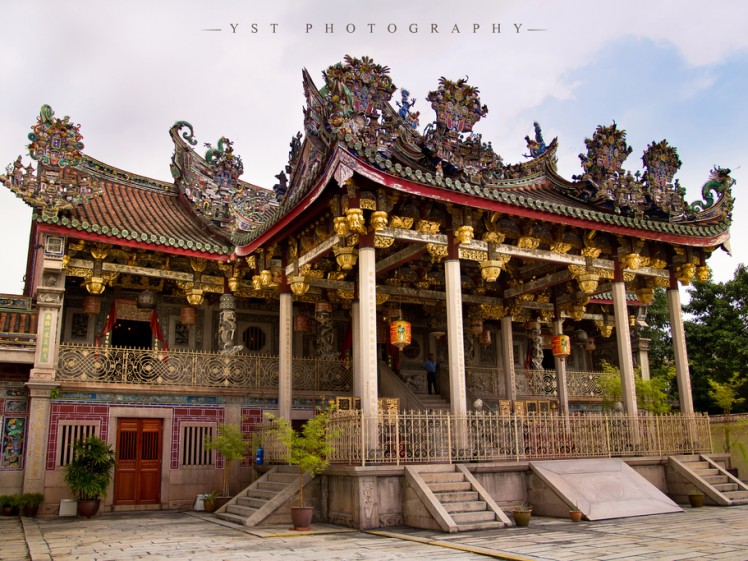 Khoo Kongsi. Photo credit: YST (aka kryptos5) / Foter / CC BY-NC-ND
To fully appreciate all the gems that the city offers, you will need several days and a good map. Perhaps the most significant site is Khoo Kongsi, the most important Chinese clan house in Malaysia with intricate elaborate carved and gilded decorations.The complex boasts a magnificent hall embellished with intricate carvings and richly ornamented beams – and not a single nail was used in its construction. The saddle-shaped roof reportedly weighs more than 25 tonnes, an elaborate example of chien nien, or cut and paste, a technique in which shards of colourful porcelain are used to create decorative patterns. A secret tunnel once led to an adjoining clan house to provide a means of escape for the Hokkien clan members. There are also other kongsis in George Town including the Chung Keng Kwee Kongsi and the Tua Peh Kong Kongsi.
Other must-sees include the majestic Kapitan Keling Mosque – the island's oldest – built in 1801 and the smaller Masjid Melayu Lebuh Acheh, dating from 1808. Kong Hock Keong temple, the first temple built by Penang's early Chinese settlers, is dedicated to the Goddess of Mercy, its courtyard always filled with joss sticks and wafts of burning incense.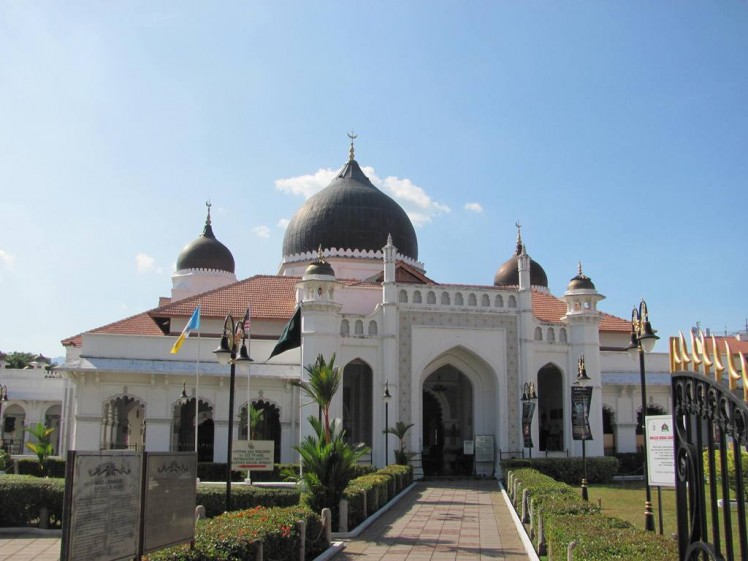 Kapitan Keling Mosque
The Sri Mahamariamman Temple on Lebuh Queen, the site dating back to 1801, is the oldest Hindu temple in Penang, built for the Tamil community of traders and stevedores who originated from southern India with banana leaf restaurants nearby along the narrow streets of Little India. On Leith Street is the Bengali Mosque, founded in 1803 for farmers brought from Kolkata by the East India Company to encourage agricultural enterprise on the island.
To appreciate the architecture of the Chinese shop houses, head for the area around Armenian and Acheh Streets. To view the interiors, visit the Edelweiss Café with a small museum or China House, a row of shop houses turned into a gallery, along with shops, bars, and restaurants. On a more lavish scale, the Pinang Peranakan Mansion is a restored 1894 mansion filled with antiques collected by the owner, and the Cheong Fatt Tze Mansion, a striking indigo-blue mansion built in the 1890s by a rags-to-riches Chinese businessman with ornate cast-iron columns and art nouveau stained glass. Not to be overlooked, the Syed Alatas Mansion, built by a wealthy Achenese businessman in 1860, combines Indian, Malay, and European influences.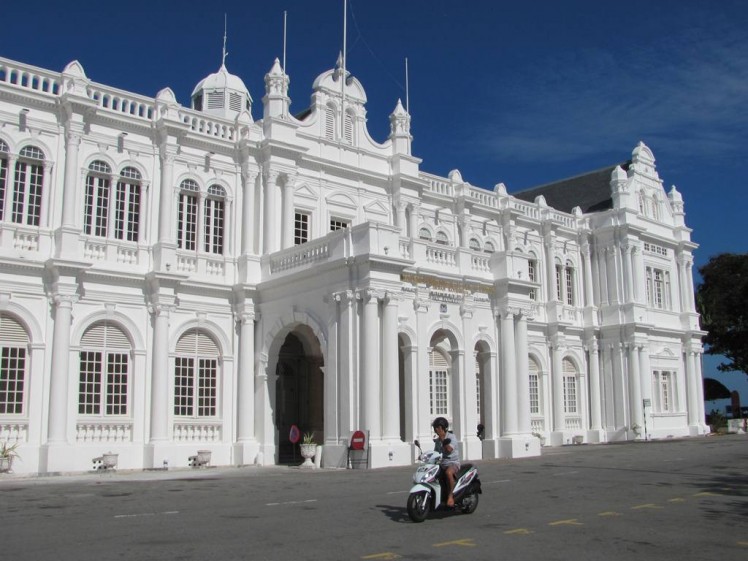 City Hall
For an introduction to the culture and social history of the island, the Penang Museum offers informative exhibits in a historic building and former school that opened in 1816. In the vicinity you will also see the Queen Victoria Memorial Clock Tower, commissioned in 1897 by a local millionaire, Cheah Chen Eok, to commemorate Queen Victoria's Diamond Jubilee. Nearby are several noteworthy buildings including St. George's Church (dating from 1818, the oldest Anglican Church in Southeast Asia), Fort Cornwallis, the imposing City Hall, Town Hall, and State Assembly Building.
Another of the more fascinating sights to be found in Penang is the Weld Quay Clan Piers, dating back to the 19th century, a time in which much of Penang's heritage originated. Along a long wooden boardwalk live the descendants of the many Chinese clans that settled here.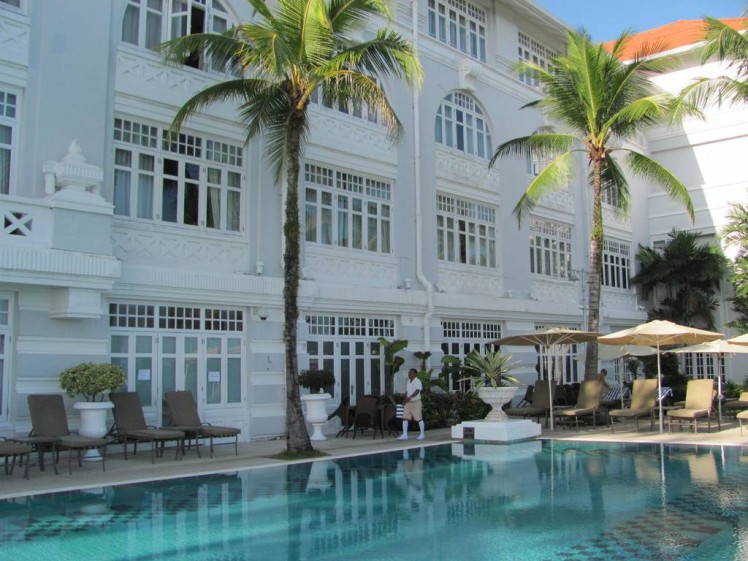 Eastern and Oriental Hotel
After long days of exploring, I returned to the grand Eastern & Oriental Hotel, opened in 1884 and one of three legendary hotels owned by the Armenian Sarkie brothers, which included the Raffles in Singapore and the Strand in Yangon. In the black-and-white marble-tiled lobby, the history of the hotel is retold in old photos. The hotel was a social centre for Penang's famous guests, including Rudyard Kipling, William Somerset Maugham, and Joseph Conrad. As the sun set over the Straits of Malacca, I enjoyed reading Maugham's short stories, several of which were set here, while sipping on a Pims poolside.
In the mornings, I would stroll along Jalan Sultan Ahmed Shah, wandering past faded mansions and hotels, perhaps waiting to be restored back to their former glory. In the Protestant Cemetery, among gnarled frangipani trees, are the crumbling tombstones of British settlers, including Francis Light,many of whom died of jungle fever, malaria, and other maladies of that era.
The transformation of Penang has been all the more remarkable since it retains an old world feel by having sympathetically restored its architectural heritage that is without parallel anywhere else in Southeast Asia, while simultaneously emerging with renewed momentum as one of its most vibrant cities.With such a rich heritage and so many delights to discover with each new visit, it's little wonder that I find myself drawn here over and over here.
FACT FILE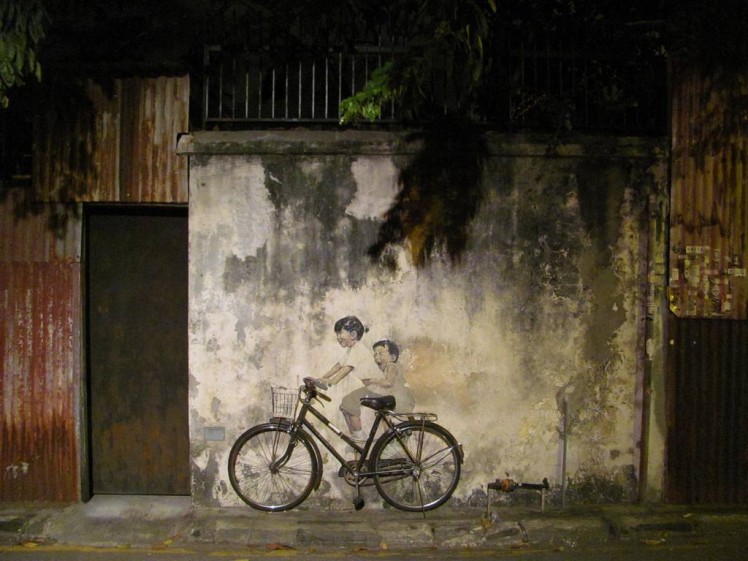 Armenian Street
Getting around
The best way to explore the historic centre is on foot, though a pleasant way to sightsee is also by trishaw. The CAT Free Shuttle Bus makes 19 stops covering the main tourist sites and a hop on-hop off bus also operates.You can hire a taxi or catch a public bus to explore the island, including the 101 to beach resorts at Batu Ferringhi.
Accommodation and More
The legendary Eastern & Oriental Hotel, one of Asia's grand old hotels, offers opulent suites with glorious views overlooking the Straits of Malacca. Your stay here will be one of refined elegance, hearkening back to another era. www.e-o-hotel.com
Among the growing number of boutique hotels, The Straits Collection comprise 4 residences ideal for longer stays in a row of former shop houses that display owner Narelle McMurtrie's considerable retro chic designer flair, with colourful furnishings and antiques. www.straitscollection.com.my
Clove Hall, an Edwardian Anglo-Malay bungalow built in 1910 on the original Sarkie brother's coconut plantation, has been transformed into an elegant six-suite boutique hotel brimming with silk fabrics and antiques. www.clovehall.com
7Terraces, in the centre of the historic district, has a serene courtyard and an excellent restaurant, Kebaya, onsite. www.7terraces.com
You'll find flash-packer accommodation at Muntri Mews, www.muntrimews.com, or Stewart Houze, email: [email protected]. Ren i Tang is a sympathetic restoration of a heritage building. www.renitang.com
Dining
The choices are endless and many swear it's the best food in Asia, a feast of Malay, Indian, Peranakan, and Chinese. Highly recommended are the roadside hawker stalls. Must-tries are Char Kuey Teow, a dish that, along with Asam Laksa, vies for Penang's best-known culinary export. For Chinese, head for Tek Sen Restaurant, Sri Ananda Bahwan and Veloo Villas for south Indian food, and China House for great dining and an extraordinary selection of cakes and ice cream. There are numerous fun and funky cafés, too, including Tea Home with a vast selection of teas.
Information
Penang's bookshops offer a great selection of books on local cuisine and history. Gareth Richards from Gerak Budaya Bookshop is a wealth of local knowledge. Visit the Penang Heritage Trust for maps, www.pht.org.my, or for general information, you can visit www.tourismpenang.gov.my.
Source: Senses of Malaysia March-April 2015
---
"ExpatGo welcomes and encourages comments, input, and divergent opinions. However, we kindly request that you use suitable language in your comments, and refrain from any sort of personal attack, hate speech, or disparaging rhetoric. Comments not in line with this are subject to removal from the site. "
Comments