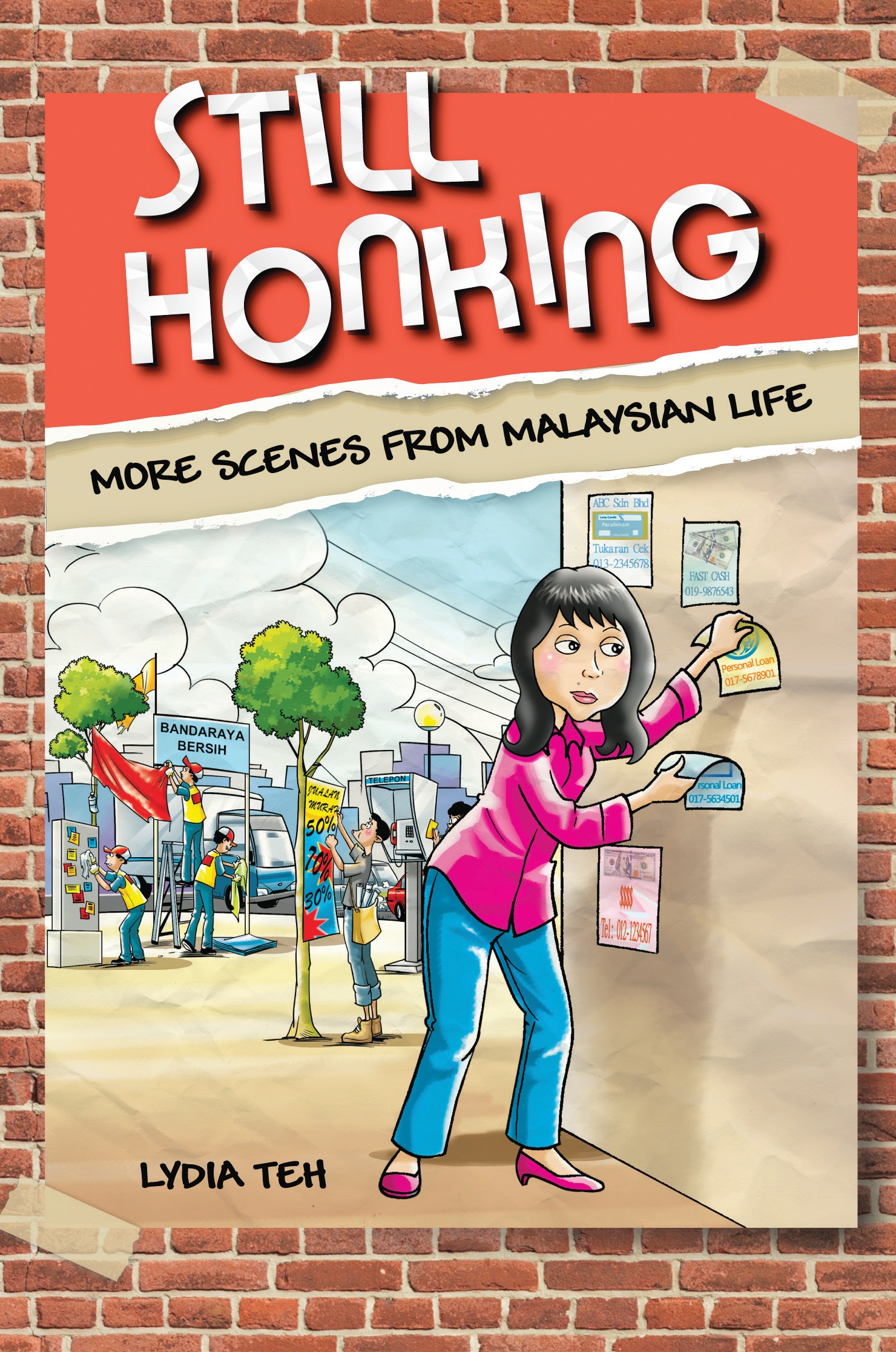 Alexander Lim reviews  Lydia Teh's third book; Still Honking: More Scenes from Malaysian Life.
Expats aren't the only ones occasionally bemused, befuddled, and bewildered by the day-today idiosyncrasies of Malaysian living. Malaysians themselves often feel much the same, as evidenced by the collection of bite-sized anecdotes Klang-born author Lydia Teh has assembled in her light-hearted book, Still Honking: More Scenes from Malaysian Life.
In the book, written in a wry, almost Erma Bombeck-style narrative, author and The Sun newspaper columnist Teh holds the baffling nature of life in Malaysia up to a mirror as perhaps only a local can. Her witty anecdotes – never bitter, but rather full of humour – capture the essence of daily living in this country we call home. Over seven years have passed since Teh penned her well-received and award-winning Honk! If You're Malaysian book – which followed up on her initial collection of observations, Life's Like That: Scenes from Malaysian Life – but she laughably laments that in the intervening years, very little has changed, perhaps despite some
fervent hopes to the contrary.
Chapters are dedicated to such prized topics as the Malaysian versions of maintenance (or the lack thereof), service (or the absence thereof), and the curious nature of Manglish. Naturally, no book about Malaysian life would be complete without a nod to food (and the Hobbit-like frequency with which Malaysians eat) and driving. Think it's just expats who get exasperated by the antics of motorcyclists? Think again. Teh's "Ten Commandments for Motorcyclists" are something many of us will want to pass along to every rider we encounter on the road!
The witty stories Teh presents are entertaining, insightful, and even informative. Follow the chronology of a typical piece of world-class infrastructure via a series of acronyms. Pick up some ideas on how to deal with pesky sparrows, handling garbage can theft, saving electricity, and even promoting your book – should you decide to write one. Find out what you can use instead of a warning triangle when your car breaks down on the highway. Get acquainted with some common archetypes of salespeople,
queue-jumpers, "actors" and people who stare into mirrors – have you encountered one or more of these in your time in Malaysia? Also, learn how to get your fussy children to take their medicine, brush their teeth, and eat their vegetables – maybe.
Closer to home, you'll learn why a beloved pet's demise made the author swear off roti canai for a while, laugh at her anxiety over her teens taking the wheel, and gawk at what happened when actor Phua Chu Kang a.k.a. Gurmit Singh and Company arrived at her sister's place for a location shoot. True-blue Malaysians and foreigners alike will still recognise the characters and situations in these snippets of what happens in the average (and not-so-average) Malaysian backyard and laugh (or maybe cry) at memories of something similar. Some might be sad at the realisation that little has changed in this multicultural peculiarity of a nation, but others, perhaps, wouldn't want it any other way.
Still Honking: More Scenes from Malaysian Life from MPH Publishing is available at bookstores in Malaysia, and the author's website can be found at www.lydiateh.com.
Source: The Expat Magazine March 2015



" ExpatGo welcomes and encourages comments, input, and divergent opinions. However, we kindly request that you use suitable language in your comments, and refrain from any sort of personal attack, hate speech, or disparaging rhetoric. Comments not in line with this are subject to removal from the site. "



Comments