Tucked away at the border of Kuala Lumpur and Selangor lies FRIM (Forest Research Institute Malaysia), a well-known 'green lung' in the city. Sharuna Segaren highlights some of the forest reserve and recreational park's main attractions.
If you've been in Malaysia for some time, as a visitor or resident you may have heard of FRIM, located in Kepong, approximately 16km northwest of Kuala Lumpur.You may have heard that it's a great, shady place not far from the city to go for a jog, cycle, or picnic.
But did you know that besides being a recreational park, the forest reserve is also one of the leading institutions in the world when it comes to tropical forestry research? For visitors to Malaysia who may never hear of this forested retreat, as well as residents who might just not be in the know, FRIM is a worthwhile place to put on your weekend escapes list.
A brief history
Currently, FRIM is under the purview of the Ministry of Natural Resources and Environment, encompassing 1,528 hectares of land, adjacent to the Bukit Lagong Forest Reserve.
It was officially declared a National Heritage site in 2012. The research activities carried out by FRIM fall under a number of divisions, such as Forestry and Environment, Forestry Biotechnology, Forest Products, Forest Biodiversity, and Natural Products.
Way back in 1925, the project which has become FRIM today was approved by the Regent of Selangor, and the degrading area was stripped of its original forest cover for farming and mining.
The next year, Dr F.W. Foxworthy began the setup of a forest nursery as well as an experimental plantation.
After a plane-table survey of 1,500 acres was done, the area was suggested as a possible and viable site for a forest school and further experimental plantation. The trials covered around 100 indigenous and exotic species.
During the Japanese occupation in Malaysia from 1942-45, FRIM was known as a Forestry Experimental Station. Unfortunately, during World War II, 37 staff in the Forest Department lost their lives.
Their names were recorded in the form of a War Memorial Headstone, installed on the ground at FRIM in 1954. In 1985, FRIM became autonomous under the Malaysian Forestry Research and Development Board act, and Tan Sri Dr Salleh Mohd Nor was appointed as the first Director-General.
Natural splendour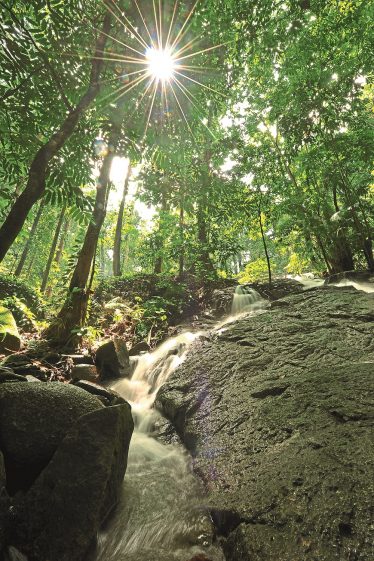 Lao Tzu once said, "Nature does not hurry, yet everything is accomplished."
For the average person who enjoys nature and may not be into forest research study, there's still plenty to appreciate at FRIM.
While it is in the midst of bustling, industrial Kepong, once you get past the gates you'll be completely spirited away to a back-to-nature experience, as the grounds at FRIM even hold the remains of an old Orang Asli (indigenous people) settlement.
The great thing about FRIM is that it's perfect for people of all fitness levels.
There are easier walks and paths ideal for children, and also more challenging jungle tracks for the more adventurous.
Many active people choose FRIM to train, not just because of the great trails, but also because it's one of the most cooling and shady places you can go during the daytime, as exercising outdoors in the humid afternoons here can be exhausting.
These are just some of the activities and trails available at FRIM. Don't forget a good pair of walking shoes, insect repellent, comfortable clothing, and drinking water.
Keruing Trail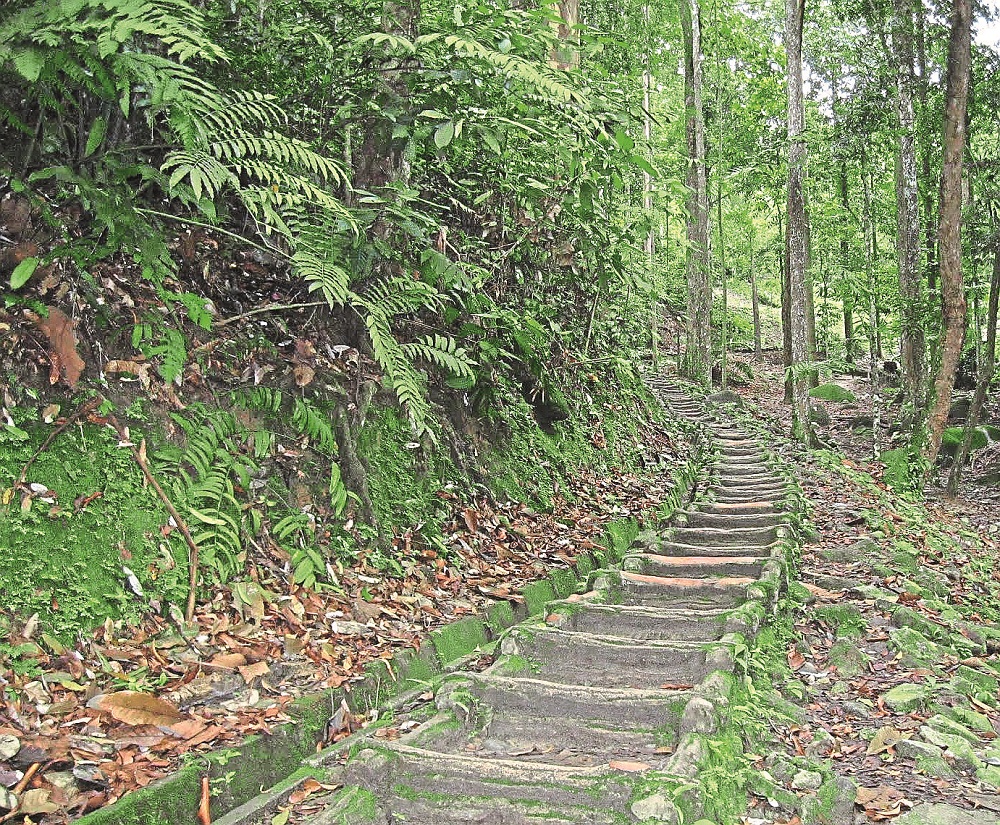 The oldest trail available to the public starts from the giant bamboo clumps near the fish pond. It takes an average of 30 minutes and is roughly 1.5km long. The word keruing is Malay for the timber species Dipterocarpus, which are seen in abundance along the trail.
Another interesting view along this trail is a canopy cover called 'Crown Shyness', where clusters of camphor tree branches and leaves refuse to touch, resulting in a fascinating canopy pattern (above).
Salleh Nature Trail
This trail was named after the first Director General, Tan Sri Dr Salleh Mohd Nor, who was a nature-lover and environmental awareness advocate.
This slightly winding trail takes about an hour. Along the way, the history of the FRIM plantation forests is highlighted, and many species of trees are able to be seen. The canopy views are also popular along this trail, so make sure you look up from time to time!
Canopy Walkway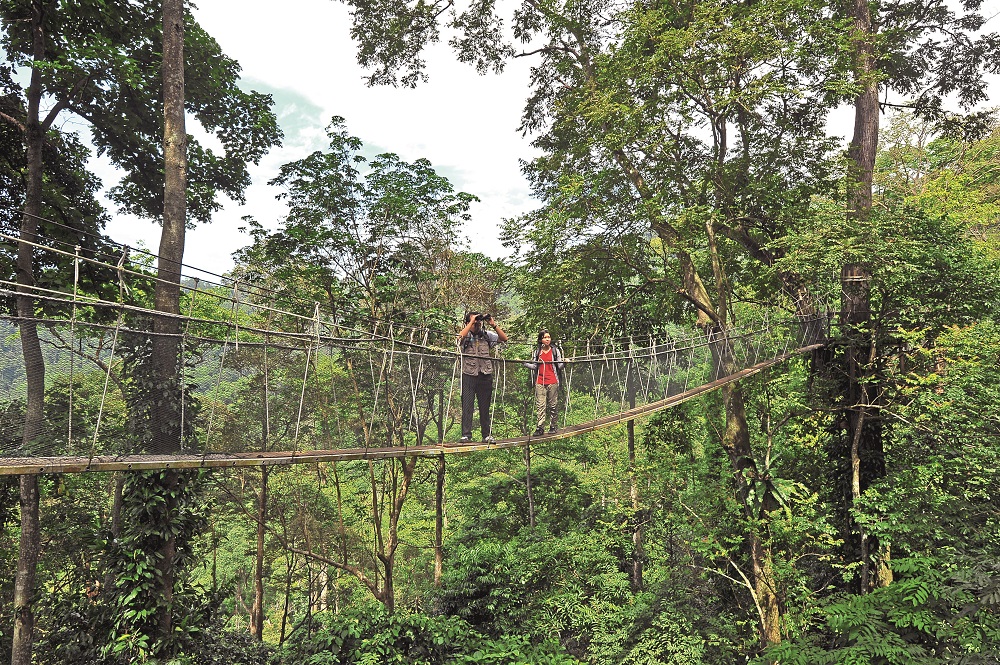 This is one of FRIM's top attractions. The walkway is around 30 metres above the ground, and is made of long metal ladders covered with wooden planks, cradled by nylon ropes and grounded by steel cables which have been wrapped around the trees.
There is also netting to ensure your possessions don't get lost in the forest. Only four people are allowed at each time, and it can be slightly wobbly, but you'll be rewarded with splendid views and and a great lookout point to picturesque, natural scenery.
Inexpensive tickets must be bought to get on the walkway. It is open from 9:30am to 2:30pm, and is closed on Mondays and Fridays. Only 250 people are allowed on the bridge per day, so plan ahead to avoid disappointment!
Ethnobotanic Garden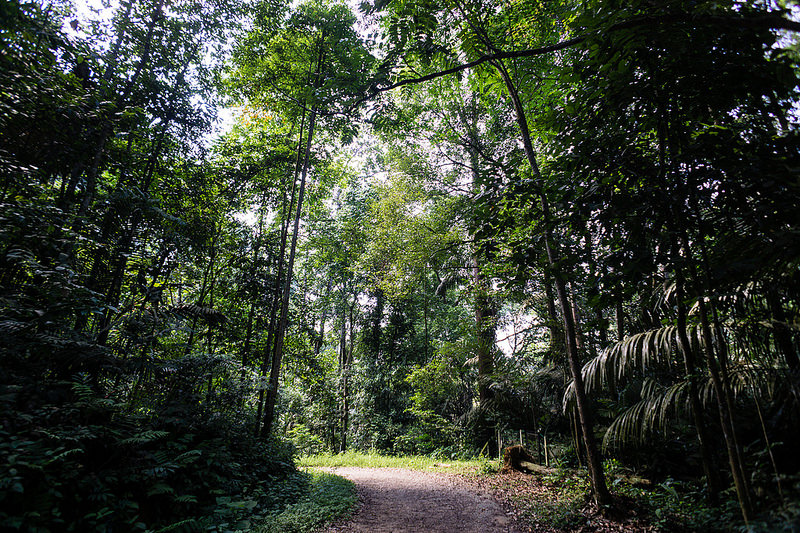 Established in 1995, this attraction houses a plant repository and domestication of medicinal and aromatic plants traditionally used by different ethnic communities, particularly the Orang Asli. Most of the plants were collected from other forest reserves in the country. Several other colourful and vibrant plants were also cultivated to add to the scenic atmosphere.
Perah campsite
This is a great place to hold group activities, built in a secluded area which can accommodate up to 80 people at a time. There are also facilities such as restrooms, obstacle courses, kitchen, and chalets.
Camping equipment such as tents and sleeping bags can be rented at the camp site (fees apply), making FRIM an ideal location to enjoy an outdoor camping experience without going too far out from the city.
Birdwatching
Though forestry takes top billing at FRIM, it's not all about the trees. There are approximately 180 diverse species of birds at FRIM, and many can be seen from certain spots such as the wetland, Kepong botanical garden, fruits arboretum, and several other places.
A day spent at FRIM is a great chance to enjoy nature and introduce kids to an enjoyable educational experience.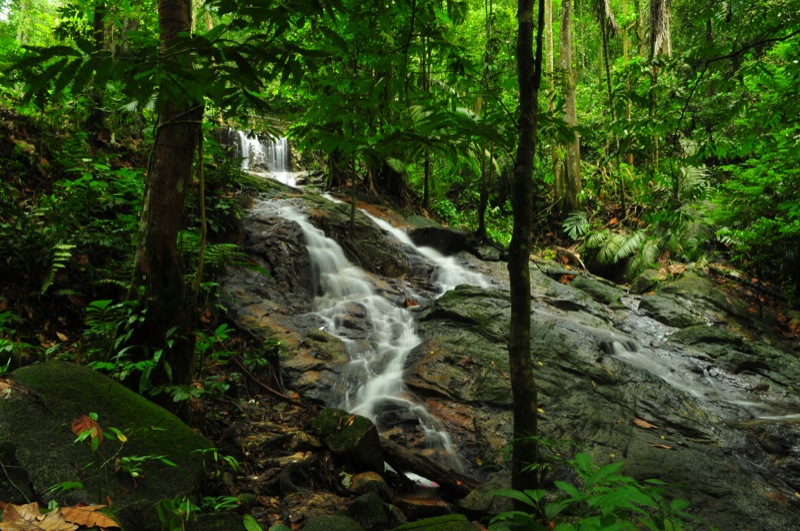 FRIM is open daily from 8:00am to 6:00pm daily, and charges an entrance fee of RM5 per car. If you're not driving in, the charge is RM1 per person. There are several other things you can view and enjoy in this huge park, such as picnics, mountain biking (bike rentals are available), or just taking a relaxing walk.There is also a spectacular waterfall where you can take a refreshing dip as well.
So, if you have a short trip in Kuala Lumpur, but would still like to take in some greenery and fresh air, or if you're a resident in need of a break from the hustle and bustle of city life, consider FRIM for a convenient back-to nature day trip.
For more information about FRIM, please visit www.frim.gov.my.
Source: The Expat magazine, January 2017
---
"ExpatGo welcomes and encourages comments, input, and divergent opinions. However, we kindly request that you use suitable language in your comments, and refrain from any sort of personal attack, hate speech, or disparaging rhetoric. Comments not in line with this are subject to removal from the site. "
Comments