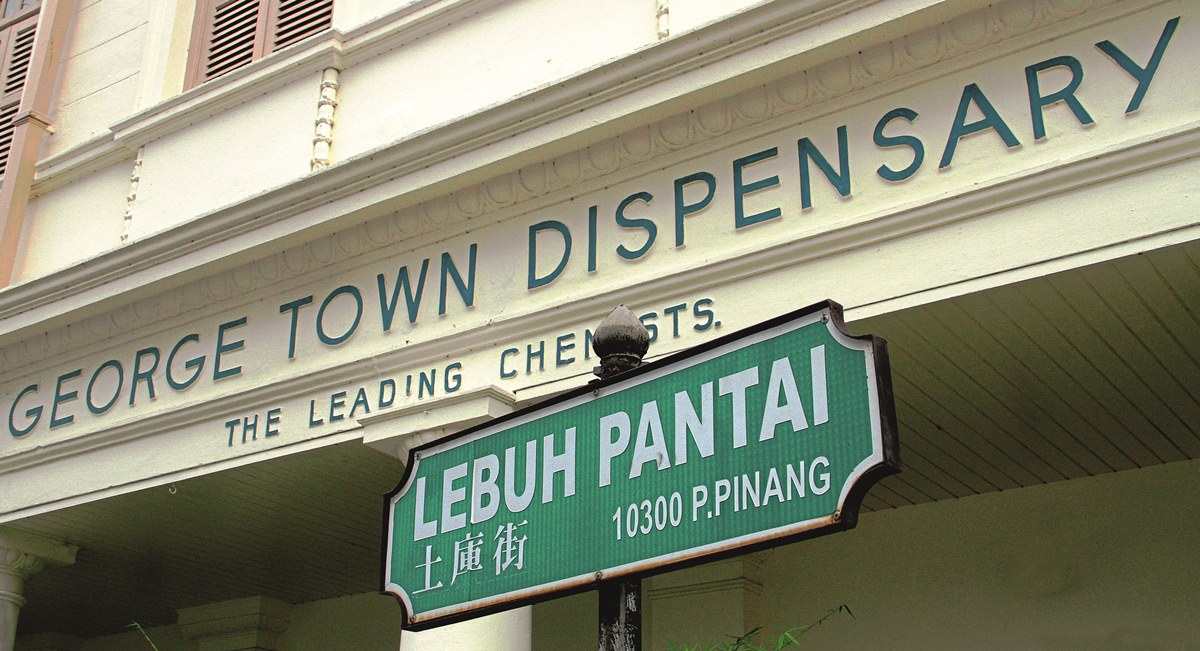 Once a beachfront street along the shores of Penang, reclamation's added land eventually made Lebuh Pantai a beach street no more, and a wave of commerce brought in a host of banks and shops to line the street. Photojournalist David Bowden strolls the historic street and finds it a marvellous repository of George Town history.
Lebuh Pantai (Beach Street) Penang was one of the first streets to be established in George Town on the island of Penang. Those who walk the two-kilometre long street from the Queen Victoria Memorial Clocktower in the northeast of the UNESCO World Heritage Site to the junction with Gat Lebuh Prangin in the southwest, will no doubt wonder where the beach is. Like Beach Street in Singapore (in front of Raffles Hotel), the street no longer fronts the 'beach' (from all accounts,more a mud bank that was mostly dry at low tide) and sea due to reclamation that has pushed the coastline back at least 100m.
The street that once fronted the beach along the Straits of Malacca also takes a few twists in turns as it was originally aligned to the beachfront. Reclamation now means that the street closest to the waterfront is Jalan PangkalanWeld where the Penang-Butterworth Ferry Terminal, Swettenham Pier and The Clan Jetties are located.The FMSR Building along this street, when viewed from the water, gives some indication of just how the waterfront was reclaimed.
Historic Street
OCBC Building
Under Captain Francis Light, the British East India Company took control of King George Island (the original name for Penang) in August 1786 and the island developed rapidly as a free trade port. Light's laizzez-faire management style encouraged entrepreneurship and trading soon flourished and infrastructure began to be put into place. Fort Cornwallis was established to protect the port and the remains of the fort are visible from the northeastern end of Lebuh Pantai. Not surprisingly, the British residence occupied the best land near the fort and all the important piers while the Chinese and Malay communities initially occupied land further down Lebuh Pantai to the southwest.
Because of its central location and the port developing as an entrepôt, it's not surprising that Lebuh Beach became the commercial centre of Penang. Initially the buildings were attap and wood with many taking on the role of godowns or warehouses. Commerce was their main function and overtime, especially during Penang's glorious years of trade from 1850 to 1900,more substantive and even grand buildings replaced the smaller structures.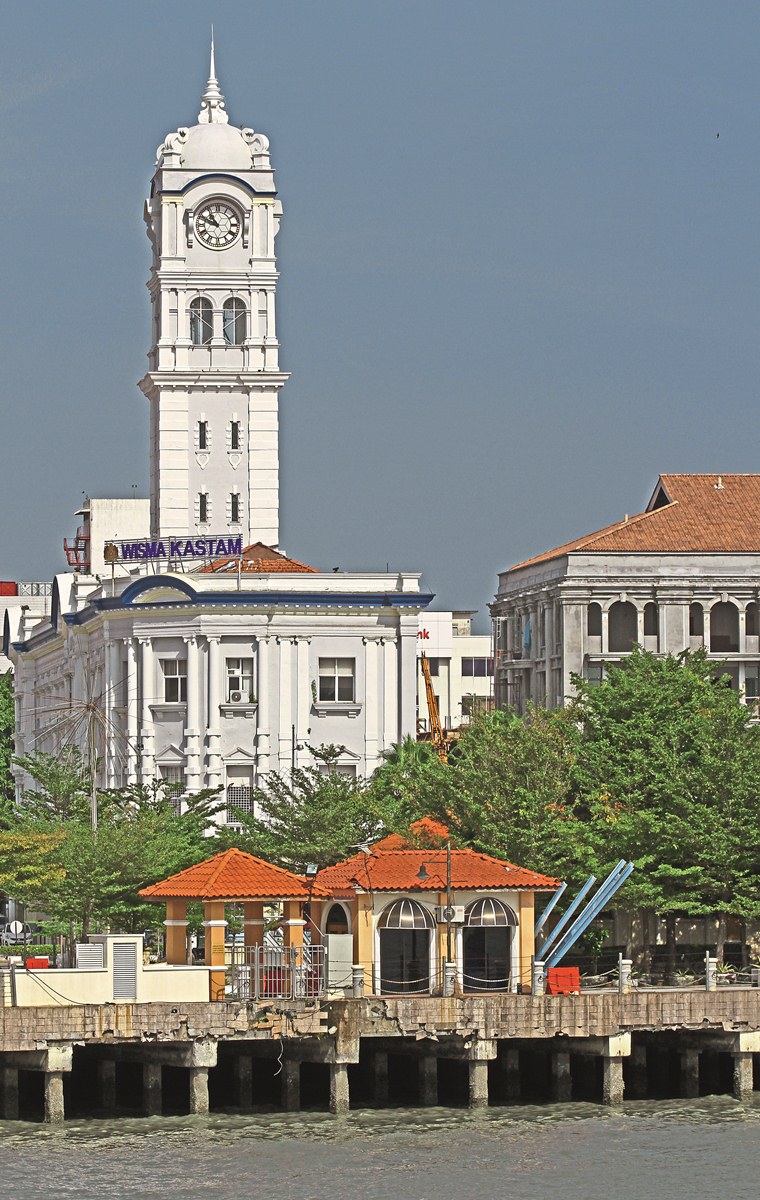 FMSR Building
Several impressive commercial buildings now line the wide street.The street was widened over time, but for those who walk southwest down the street, they will notice it becomes narrower around Ghee Hiang Biscuit Company and historians suggest that the Chinese shop owners from here down the street were reluctant to have their buildings knocked down to enable the road to be widened. Many commercial buildings remain at the far northeastern end with the grandest still operating as banks. Some have been retained as historic buildings while others have been renovated over the decades, often with jarring consequences for the historic streetscape.
Some of these bank buildings include Ban Hin Lee Bank (while the bank no longer exists, it was started in 1935 and was the only Penang-based bank), ABN-AMBRO Bank (this Dutch-based bank started business in Penang in 1888 although the building only dates to 1905), The Standard Chartered Bank (originally opened as the Chartered Bank of India, China and Australia in 1875 although the current building dates to 1930), and HSBC (current building dates to 1948 and is Art Deco in style).
Architecturally, the OCBC building and the adjoining buildings are the most interesting.The bank was born during the Great Depression with three banks – Ho Hong Bank (opened in 1917) merging with the Oversea-Chinese Bank Ltd to become the Chinese Commercial Bank Ltd and then OCBC in 1932. While the bank's main six-storey building is situated at 36 Lebuh Beach, it's the adjoining Premier Banking Division that is located in a delightfully restored heritage building.The bank's original logo featuring a Chinese junk is located on the façade of the building next door.
Walking Tour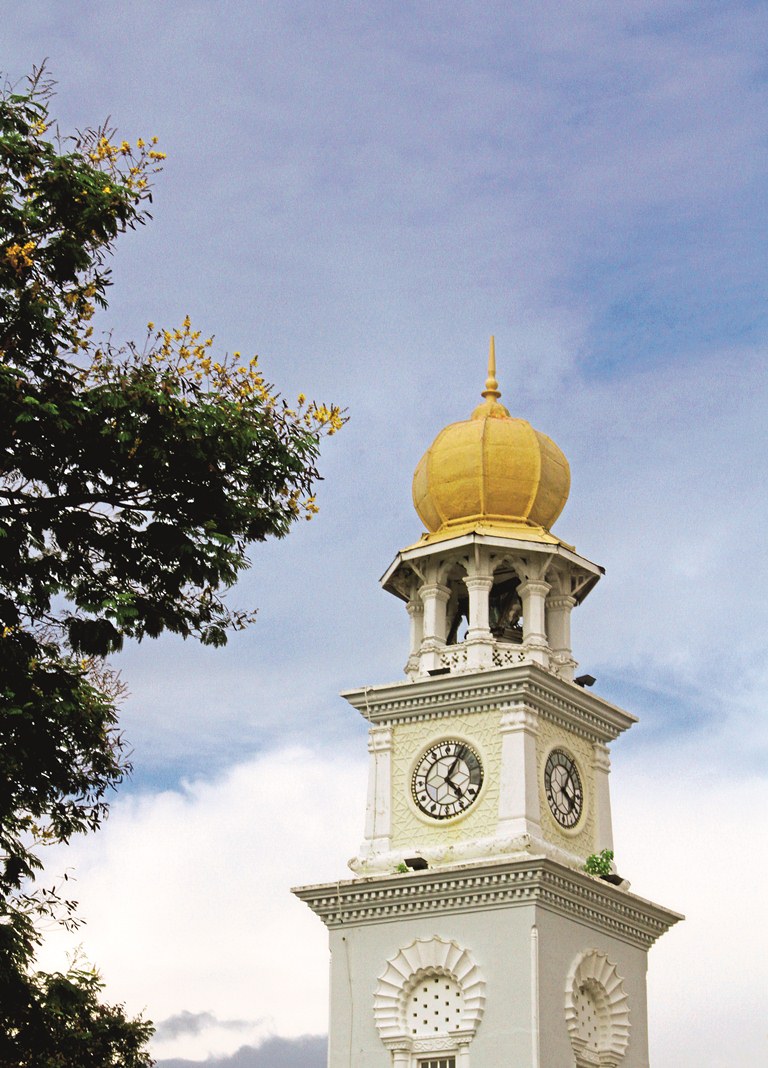 Queen Victoria Memorial Clock tower
Like many streets in Malaysia, Lebuh Pantai is best explored on foot starting at the Queen Victoria Memorial Clock tower. The tower is located in a roundabout and was commissioned in 1897 by a local Chinese millionaire to commemorate the Queen's 60-year reign. It stands 48m tall and is topped with a yellow Moorish-styled dome.
Che Em Lane, one of Penang's narrowest lanes, heads to the north from the main road. It is named after one of the earliest Chinese settlers who became one of Penang's largest owners of real estate. It is also the first thorough fare to be named after a non-European.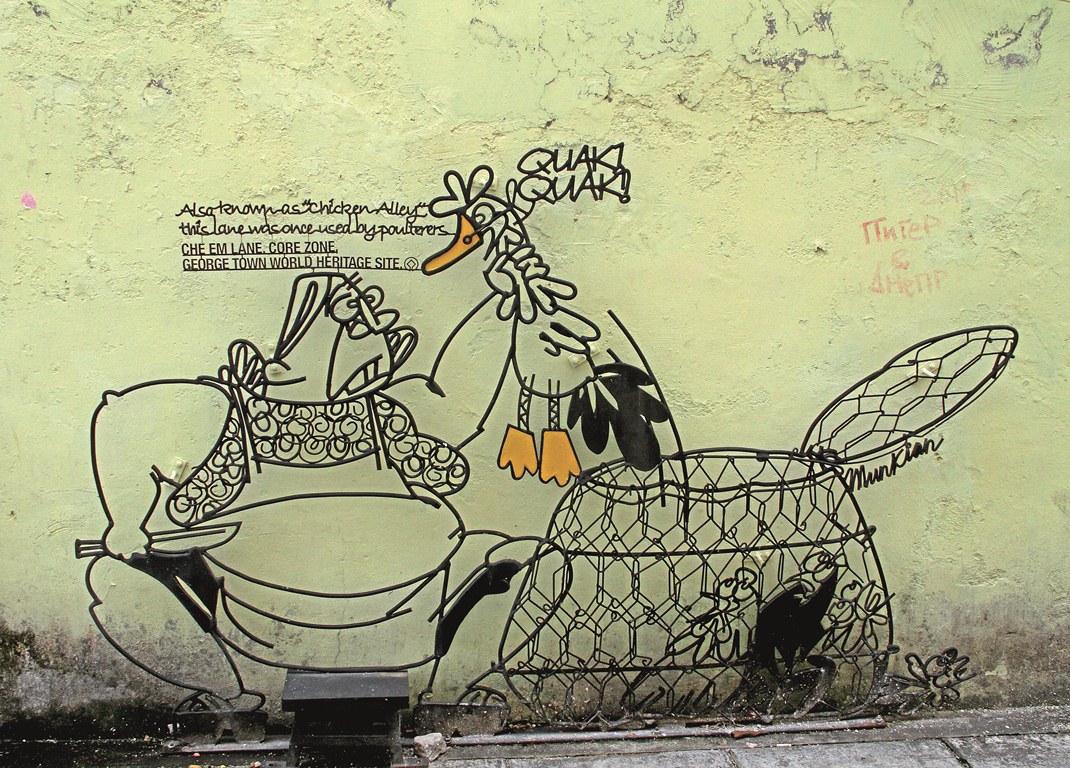 Che Em Lane (Chicken Alley)
Penang is now famous for its street art and ornate interpretative signs with one being mounted on the wall as the head of the lane. This explains in graphic detail that a market was once located here and it became famous as a place to buy fresh chickens which were killed on the spot here.
The epicentre of street art and activity is Armenian Street which crosses Lebuh Pantai. Interactive art including the famous 'children on the bicycle' graphic is situated just around the corner in Armenian Street – simply look for the crowds which congregate here. There are bicycle hire shops and generally a lively buzz around this intersection.
Fuelling Up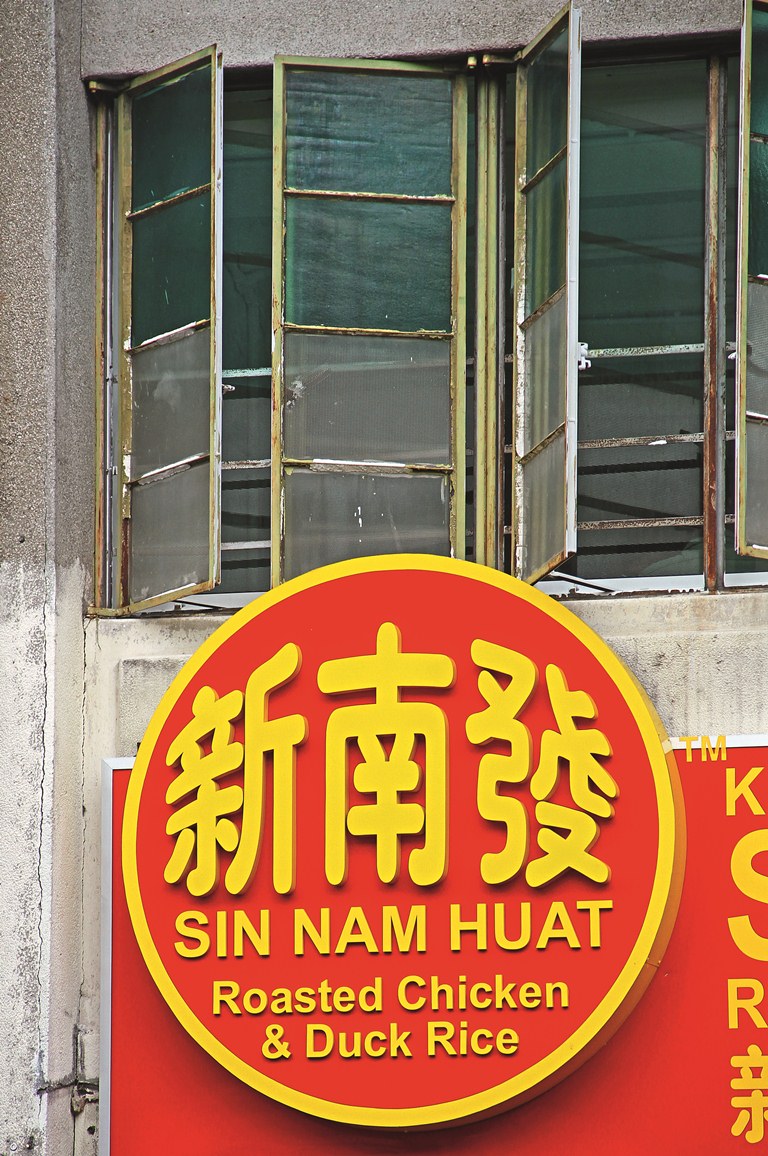 It wouldn't be Penang if there weren't a few places to eat along the street. Sin Nam Huat roasted chicken and duck rice is a brightly light outlet serving up delicious roasted poultry. Lam Ah Coffee shop at the corner of Lebuh Pantai and Lebuh Chulia is home to a famous beef kway teow outlet. Bowls of steaming broth with flat rice noodles and various types of beef accompaniments including innards are considered some of Penang's best. The coffee shop is immediately adjacent to the brilliant maroon and white heritage fire station.
ChinaHouse extends between Lebuh Beach and Victoria Street to make not only Penang's longest café but also the most happening place in the heritage zone. Covering three shop lots, ChinaHouse includes an art gallery, open courtyard, restaurants, café, bars, wine cellar, shop and evening entertainment in The Canteen. Diners can enjoy full 'West meets spice' dishes, cakes (over 30 varieties), serious coffee and superb wines. Music is performed in the Canteen Bar from Thursday to Sunday with the bar attracting an eclectic and absorbing crowd. They even have the occasional night of comedy.While there are several funky bars and cafés in the UNESCO heritage precinct, ChinaHouse is the all encompassing one-stop complex to visit.
There are several other food and beverage outlets along the street including The Bank Pub, Jing-si Books and Café (for those who take their tea seriously), Ten Yee Tea Trading (next to Jing-si and also a purveyor of fine teas) and some India restaurants near where Little India starts (intersection with Lebuh Pasar).
Free Wheeling Penang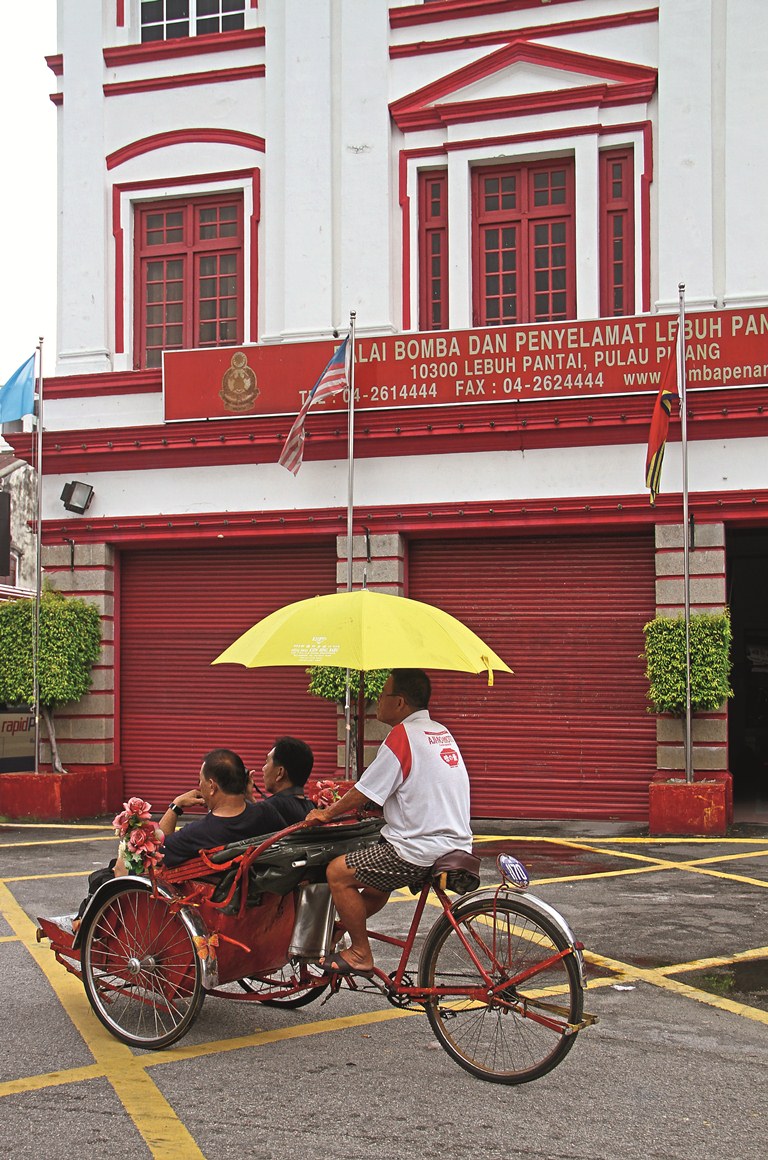 Many visitors to Penang walk or use a rickshaw while others are taking to the streets on bicycles with a whole new industry in bike hire having emerged over the past few years. Project Occupy Beach Street is a state government initiative to create a six-hour, car-free zone in downtown Penang and to help create a pedestrian-only zone. Free hop on buses around various parts of downtown George Town provide access to the city's historic heart. Lebuh Pantai becomes an eco-friendly zone every Sunday morning where healthy food is made available, residents can set up car boot sales, recycling stations are established and a street market unfolds.
Several side streets take on a theme with Lebuh Bishop being a sports zone for zumba, street football and basketball, Lebuh Gereja for live street performance and Gat Lebuh Gereja, a play zone for children.
Always an interesting book for students of history to consult is Andrew Barber's Penang Under the East India Company 1786-1858 which is available in all good bookshops.
Source: Senses of Malaysia July/August 2015
---
"ExpatGo welcomes and encourages comments, input, and divergent opinions. However, we kindly request that you use suitable language in your comments, and refrain from any sort of personal attack, hate speech, or disparaging rhetoric. Comments not in line with this are subject to removal from the site. "
Comments