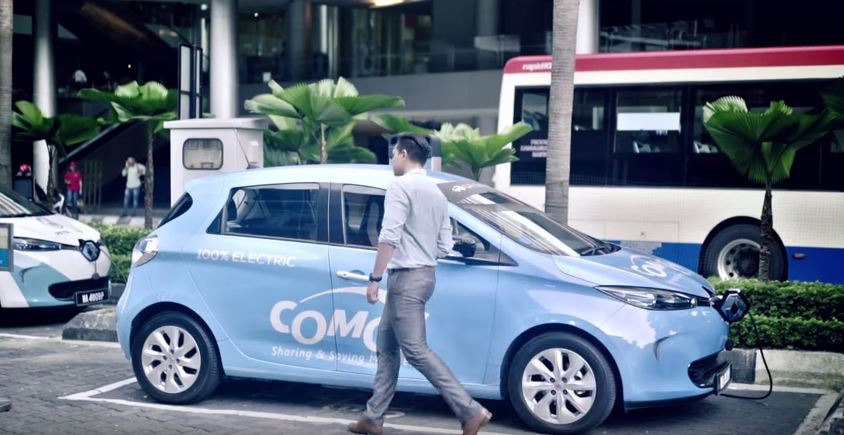 This post was written by Samantha Ho and was originally published on edGY.my
Need to borrow a car for a few hours or a few days? Don't ask your friends.
If you're in the Klang Valley, COMOS has recently rolled out an electric vehicle car sharing service that you can book online. This is in the same vein as popular car-sharing services like Zipcar in the US.
Malaysia's COMOS owns a fleet of ten electric vehicles, the Renault ZOE, that registered members can rent. It's a bit like a traditional car rental service, except you book everything online and pick up at convenient locations.
These cars can be picked up by users at eleven locations around the Klang Valley, mostly at LRT stations. Users need only register as members with COMOS for a fee, either collect their key card from the office in Bangsar or have it mailed to them, and book the car online to use the cars.
According to Azman Abdullah, CEO of CMS Consortium Sdn Bhd, the plan is to add two more by the end of the year. "We are currently working together with Renault, so all our cars are Renault ZOEs imported from France," Azman said.
COMOS charges RM6 for every 15 minutes or RM24. After six hours, a flat rate of RM144 is charged.
Though it may seem quite pricey, Azman argues that the rental price includes guaranteed parking at their stations, insurance and absence of fuel charges.
"If you're taking a car rental, you're paying about RM120 a day. And that's excluding fuel [which] you need to fill up at the end of the day.
"Whereas for us it's including fuel, and it's clean. You're helping out with the environment as well, so that's an added advantage."
Considering the rarity of electric vehicles on Malaysian roads and even more so of charging stations, most people have "range anxiety" or concerns about how far the vehicle can go before it runs out of battery.
Azman notes that the range you get out of an electric vehicle depends on how you drive it.
"If you drive it hard, then the battery usage is faster. But if you drive it normal, stable, city driving, you can get 200km. I'd say the range is between 150km and 200km," Azman said.
Regenerative braking plays a part in this. COMOS has taken the cars as far as Genting Highlands and found they had 30% left of battery power by the time they reached the peak.
"Some get anxious. They think 'Do I have enough to get back down?' But coming down there's a lot of braking. When you brake, you regenerate the battery.
"So we've gone up to Genting, come back down, made a couple of rounds around KL, come back to Bangsar, and it's still okay," he said.
According to their data, customers have taken the cars as far as Ulu Yam, Dengkil and even Nilai and Serdang, where there are charging stations.
Additionally, COMOS monitors the battery usage of their cars and has a ground team that they can mobilise in case of emergency.
"We can take measures to call the user to warn them that they're running out of battery and advise them where the nearest charging point is," Azman said.
Unfortunately, Renault ZOEs cannot be charged via typical three-pin sockets. Though only four out of eleven COMOS stations are currently equipped with charging ports, the plan is to make chargers available at every station.
"The infrastructure cost is quite expensive but that's where our partners come in," Azman said, referring to partners like Malaysia Green Tech Corp. With added charging stations in other cities and even along the PLUS highway, inter-city travel should not be an issue with their EVs.
However, COMOS's primary focus is still to make car-sharing work in KL. So far, they've applied for an additional ten locations away from the LRT lines and plan on populating the upcoming MRT lines.
Azman noted that more had to be done to raise awareness on going green in the city. For that reason, the expat group seems like an ideal target as there is more awareness of car-sharing and clean energy depending on where they come from. However, they currently only make up 10% of COMOS's customer base of about 800 members.
"The current hindrance would be the payments because our system is limited to local credit or debit cards. But these are the things that we are improving. Hopefully by the end of the year we will be able to take physical cash or even e-Wallet, PayPal, and foreign credit cards."
Even so, COMOS believes that Malaysians will slowly be able to get used to life without owning cars.
"Every household in Malaysia has on average two cars, or maybe more depending on the household size. But [paying loans for] two cars on a monthly basis? Today Malaysia has one of the highest debt-to-GDP in the world.
"We are trying to promote to take away one of the commitments – instead of having two or three, own one, and the rest use car sharing."
Azman cites an example of a COMOS customer that has since sold her car and is using COMOS and public transport to get around.
"These are the people that we want, those that actually see or appreciate how this car-sharing works, because it's meant to be convenient and also takes away that burden of owning a car.
To date, about RM5 million has been invested in COMOS from conceptualisation, developing its backend and investing in infrastructure. This has mainly come from private equity and loans, but Azman voiced hopes that following increased awareness about COMOS's contribution to furthering the green agenda, the government will show more support.
"Once we've fully populated it, we've added more cars here and it's a success then we'll replicate it to bigger cities like Penang and the Johor Bahru Iskandar region."
Watch this video showing how to use a COMOS Car:
Would you rent an electric car through this programme?
Read more:
Note: This article has was updated on 25 September 2015 with a new image.
Photo Credit: COMOS
---
"ExpatGo welcomes and encourages comments, input, and divergent opinions. However, we kindly request that you use suitable language in your comments, and refrain from any sort of personal attack, hate speech, or disparaging rhetoric. Comments not in line with this are subject to removal from the site. "
Comments