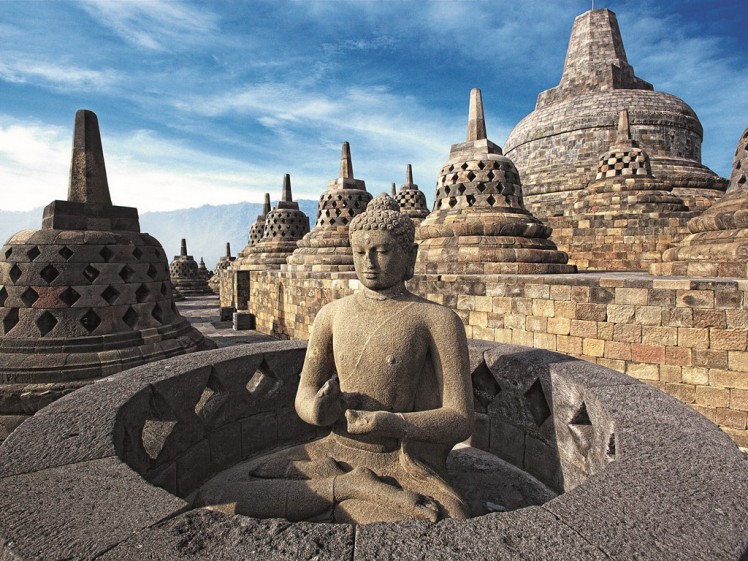 With the often-tempestuous Mount Merapi looming vigilantly nearby, the ancient city of Yogyakarta is Java's undisputed centre of culture and heritage. Travel photojournalist David Bowden spent a few days in the area and returned with cherished memories and experiences of Indonesia's second-most popular tourist destination.
Yogyakarta (Jogja to the locals) in Central Java is considered to be Indonesia's heartland for fine arts and culture. While there are attractions in the city itself, it's the nearby Borobudur Temple dating back to the ninth century that most travellers come to discover. This ancient temple, listed on the UNESCO World Heritage Site registrar, is the most visited tourist attraction in the country and is located just a one-hour's drive from Yogyakarta.
Borobudur is distinctive with its top storey having 72 Buddha statues enclosed within large bell-shaped stone stupas. Ornate bas-reliefs have been carved along the walls of the lower levels and portray life as it was centuries ago when the temple were built.
Sunrise and sunset are always the best times for photography anywhere and Borobudur doesn't disappoint especially from its highest level with commanding views over the surrounding area. The view is made more special as the sun rises between the two perfectly-shaped volcanic peaks of Merapi (2,930m) and Merbabu (3,145m). Merapi (known as the 'mountain of fire') is Indonesia's most active peak with volcanic activity being last recorded in 2013.
I arranged with staff in the Amanjiwo Resort where I was staying to visit Borobudur for the sunrise, not only because it was the coolest part of the day (about 5.30am) but also because of the opportunity to photograph the sun rising between the two volcanoes. I sat with 50 other adventurous souls for the sun to appear between the bold blue outlines of the volcanic peaks that dominate the Kedu Plains. While it was a rewarding wait, I kept imagining the scene at sunset and left with the opinion that the end of the day could even be better for photography. If you have the luxury of time, take in both and report back to me later.
Village People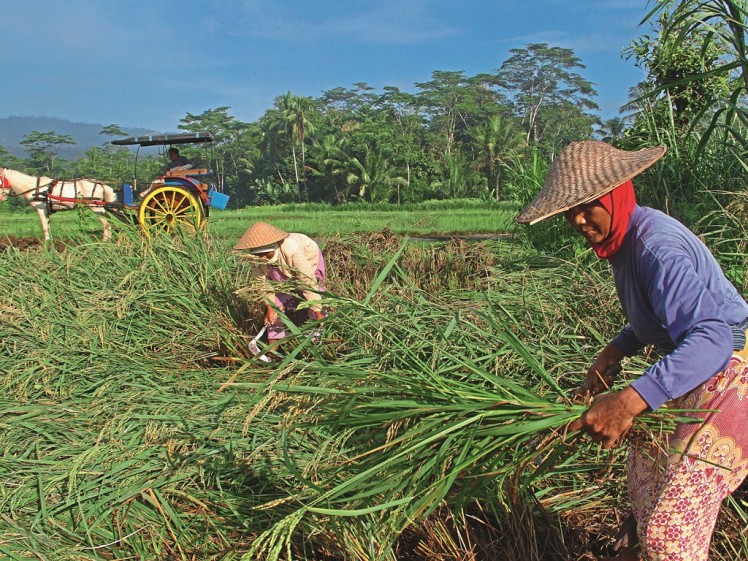 Located in Magelang, Borobudur is surrounded by rural villages and padi fields and I also arranged with Amanjiwo for a horse and cart ride (called an andong) after sunrise through some villages to see the locals getting organised for their day's activities. The horse slowly plodding around under my weight and the journey provided an excellent opportunity for me to see villagers working in the rice fields and the children making their way to school.
It's advisable for those who want to see the sunrise at Borobudur to stay overnight in Magelang at nearby resorts, as I did at Amanjiwo. Those who choose to admire it from a Yogyakarta base will have to rise early for the hour-long journey to the temple.
Hindu Highlight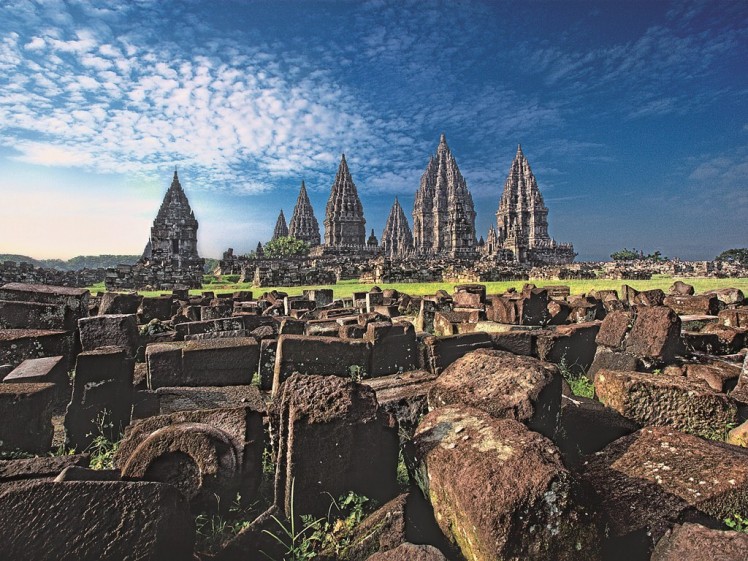 Another UNESCO site is located in the area, and while it doesn't receive the same attention as Borobudur, it's well worth adding it to your Central Java itinerary. Known as Prambanan, it is the world's tallest Hindu temple and also dates back to the ninth century. Dedicated to Shiva, the temple grounds consist of three yards which are laid out in a concentric pattern.
The temple's rebuilding appears to be a work in progress as piles of displaced stone surround the temple's perimeter. The task wasn't made any easier when in 2006, an earthquake did additional damage to the site with one large piece of stone from one of the spires remaining in the forecourt where it fell to remind visitors of the upper hand nature will always have.
City Stay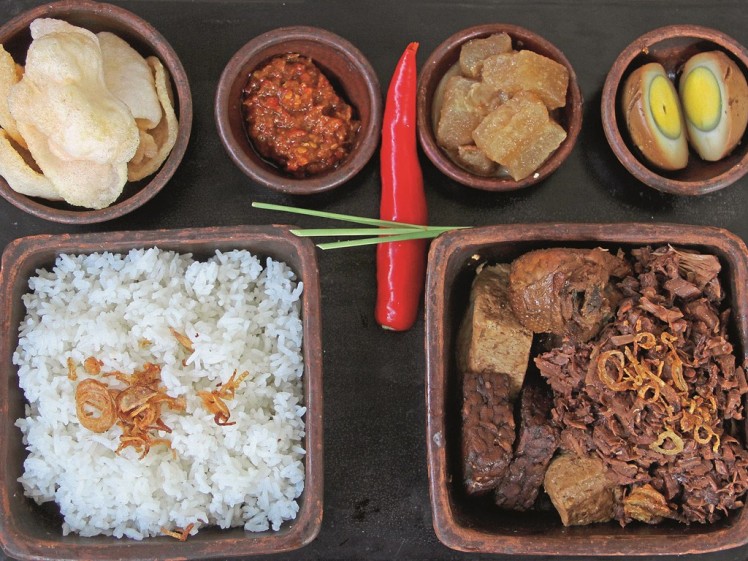 Yogyakarta is well worth visiting for several days as they are a few attractions in the city as well as shopping, dining and entertainment options. Visiting the Sultan's Palace known as the Kraton and the royal bathing pools of Taman Sari are the main attractions. Wayang kulit accompanied by gamelan musicians is regularly performed in the Kraton. Many visit to shop for batik with the many stores along the raucous, colourful main street of Jalan Malioboro being a good place to start bartering.
There are several local treats to try including gudeg (based upon green jackfruit and served in several different ways) and bakpia (Chinese-style flaky pastry with sweet mung bean paste on the inside). The local beer is Bintang, and kopi luwak (civet cat coffee) can be purchased in several locations near Borobudur. Don't expect any bargains, however, as the gourmet coffee is now very expensive compared to the normal Arabica and Robusta Java coffee beans that are also sold.
Restful Retreats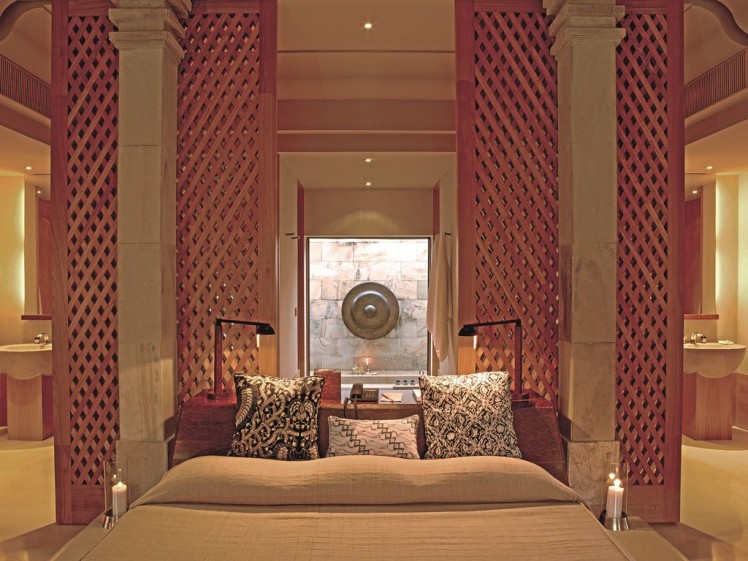 The name Amanjiwo (which translates as peaceful soul) is certainly the most exclusive address around Borobudur. This serene retreat has architectural elements that are similar to Borobudur and staying here to admire these features and to soak up the personalised service is the stuff of aspirational travellers. With just 36 suites, guests feel like that have the resort to themselves and the only time I noticed other guests was at meal times but even then, the tables were discreetly positioned so that you take in the surrounding more so than your fellow diners. Signature soursop and vodka martinis were served before my makan malam, a 10-course feast of local specialities. Suite rooms are spacious with high domed ceilings, outdoor bathtubs, and everything guests need to make them feel very special indeed. My garden suite was even more spacious as it included a large patio with a pavilion covered in soft pillows for a relaxing afternoon rest in the cool mountainous air.
In Yogyakarta, the finest accommodation is the MGallery The Phoenix Yogyakarta Hotel, a delightful five-star heritage hotel. This deluxe property was built in 1918 and provides rooms with a harmonious blend of European flair and Asian style in the centre of the city. Both hotels can arrange golf at the 18-hole, 5,722m-long Borobudur International Golf and Country Club in Magelang, 45km from Yogyakarta and 20km from Borobudur. Golfers are able to admire the golf course with the perfect volcanic shape of Mount Tidar creating a panoramic backdrop, just another enjoyable way to spend your time in Indonesia's cultural capital, Yogyakarta.
Getting There
There are direct daily flights from Kuala Lumpur to Yogyakarta, with another alternative being to fly into Jakarta on airlines such as KLM (www.klm.com), explore the capital, and then fly domestically to Yogyakarta. Overland travel is also an option for the more adventurous souls.
Getting About
While it's possible to do your own thing and arrange visits to all that Yogyakarta has to offer, it's also a destination that travellers may want to seek professional assistance. Arrange your complete travel plans with ETN Travel in Kuala Lumpur (+603 2144-0009, www.etn.my).
Where to Stay
Borobudur (Amanjiwo, www.amanresorts.com) and in Yogyakarta (MGallery The Phoenix Yogyakarta (www.mgallery.com).
Visas
Visas upon arrival are issued for a fee and it's best to check with the Indonesian Embassy before departure.
Contacts
Borobudur Park (www.borobudurpark.co.id), Borobudur International Golf and Country Club
(www.borobudur-golf.com), and Indonesia Tourism (www.indonesia.travel).
David Bowden is the author of Enchanting Indonesia, a travel book published by John Beaufoy, UK (www.johnbeaufoy.com).
Read More:
Source: The Expat magazine August 2015



" ExpatGo welcomes and encourages comments, input, and divergent opinions. However, we kindly request that you use suitable language in your comments, and refrain from any sort of personal attack, hate speech, or disparaging rhetoric. Comments not in line with this are subject to removal from the site. "



Comments