This post was written by Desmond Lim Zhengs.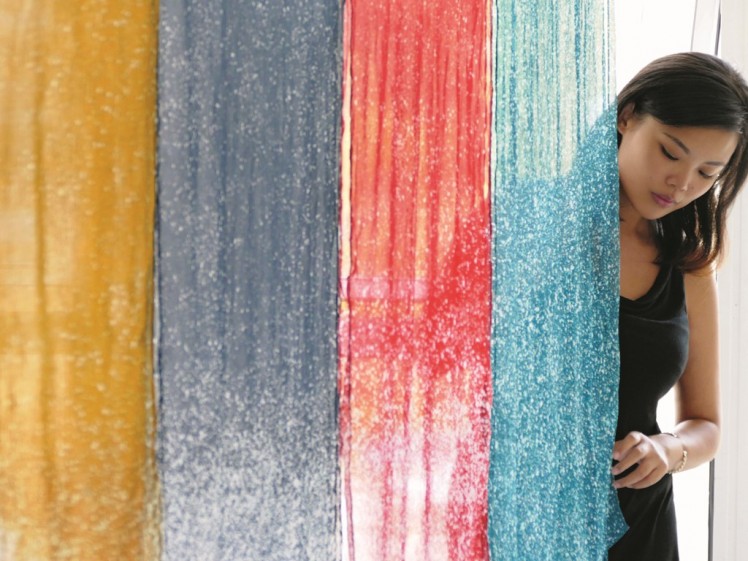 Batik, traditionally associated with formal attire, has evolved into a niche contemporary segment of the local fashion industry where designers aim to clothe a millennial generation that appreciates the fusion of tradition and modernity. Desmond Lim Zhengs talks to one such designer who both embraces and defines a movement called "The New Batik."
The wax-resist dyeing technique known as batik has long been synonymous with Southeast Asian culture. The process of making patterns on a fabric that involves covering parts of the cloth with wax is popularly believed to have originated in Java, Indonesia. Since then, different types of batik have emerged and are distinctively specific to certain regions. For example, Indonesian batik has a darker colour palette, while Malaysian batik is more vibrant and often depicts flowers and leaves.
A Different Side to Malaysian Batik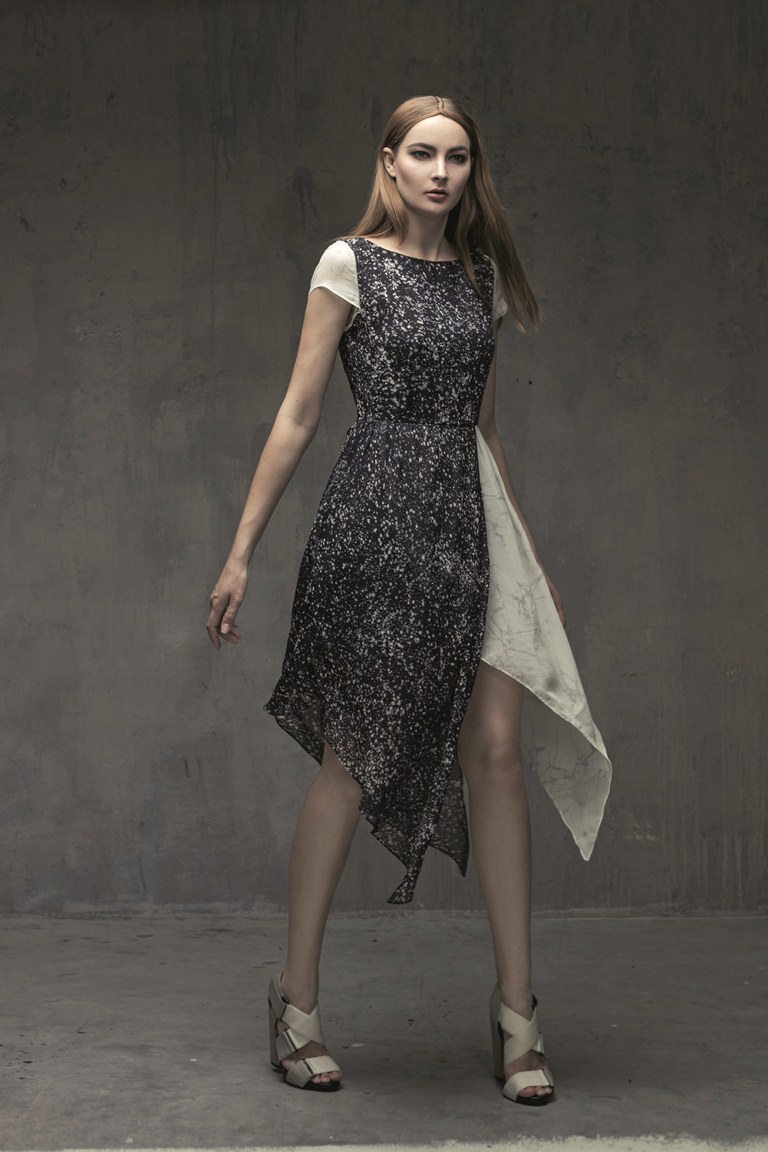 Although batik is a traditional garment that has been widely donned as evening wear or formal attire, no longer is it reserved just for such occasions. Designer Fern Chua founded a batik design house that is geared towards a casual audience. Aptly named FERN, the design philosophy eschews traditional motifs of flora and fauna and opts for those that are current and trendy instead.
"I would like to present a different side of Malaysian batik and hopefully take it to the international fashion platform," said Chua, whose point of view is stunningly refreshing. The collection captures a casual elegance that resonates with contemporary fashion. Vibrant strokes mingle delicately with abstract nature prints on jumpsuits, flowing blouses, and elegant dresses, along with a dazzling pantsuit printed in an ombré pattern strikingly reminiscent of snowfall.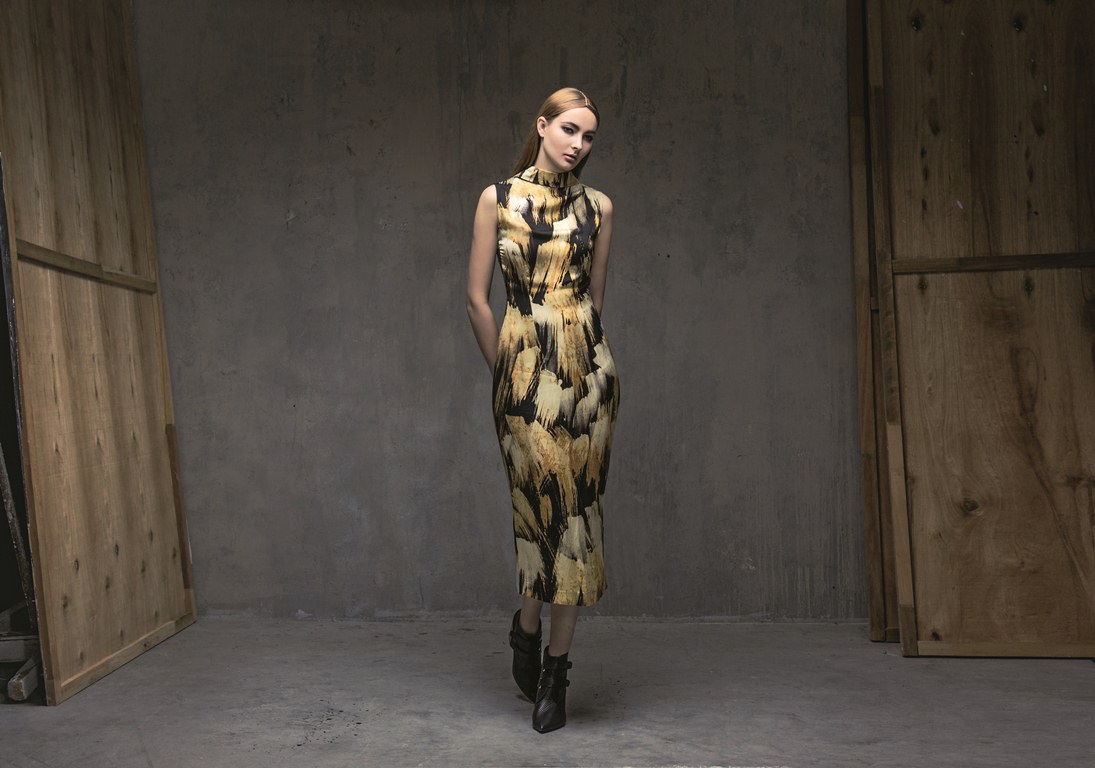 "My autumn/winter 2015 collection was based on my trip to Nagano in Japan with my family," Chua explained. "Experiencing a blizzard for the first time on New Year's Eve really inspired me. The colours, the trees, the snowy mountains, and the winter scenery drove that inspiration into my designs." She continued, "I used the pictures I took to develop my own batik patterns. That takes a pretty long time, and there are many trial and error moments. I spent months experimenting working on colours, patterns, and different materials to determine what is to be used for the collection. It is a lot of hard work, especially because there's double the amount of work from developing the prints to design and working on the garment patterns."
Her Background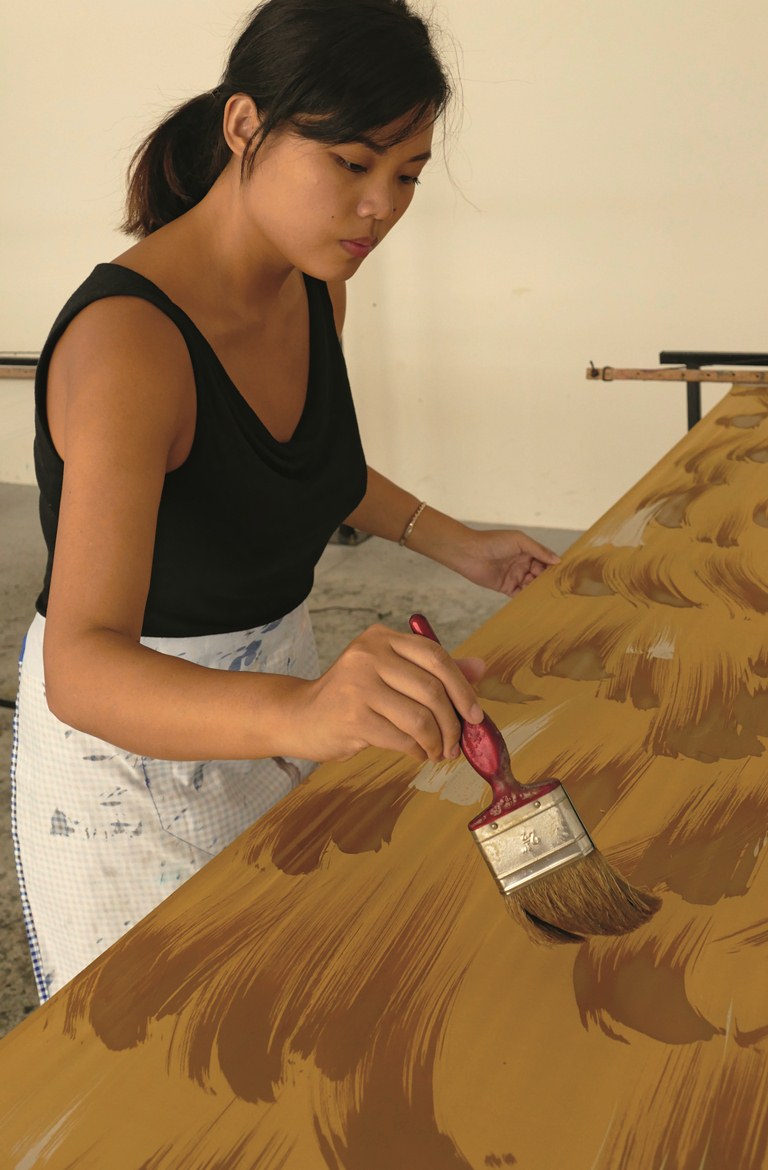 Brought up by traditional Chinese parents who were skeptical of their child immersing in the art scene, Chua graduated from college with a Mass Communication degree, majoring in filming and minoring in PR. However, a difficult experience led Chua to pursue her true passion, which is a career in fashion. "I was in a bad car accident four years ago, and it was a blessing in disguise. I had a huge slit diagonally from my palm to my wrist, which resulted in a split tendon and a severed median nerve. It was pretty serious and my left hand was paralyzed for about six months. In order to recover, I had to undergo intense physiotherapy every single day. But it was in this time that I realized I should pursue my dreams, as life is too short and fragile to waste. Before I knew it, I was learning how to sew in order to improve my hand skills and from there I approached a tailor to teach me pattern making.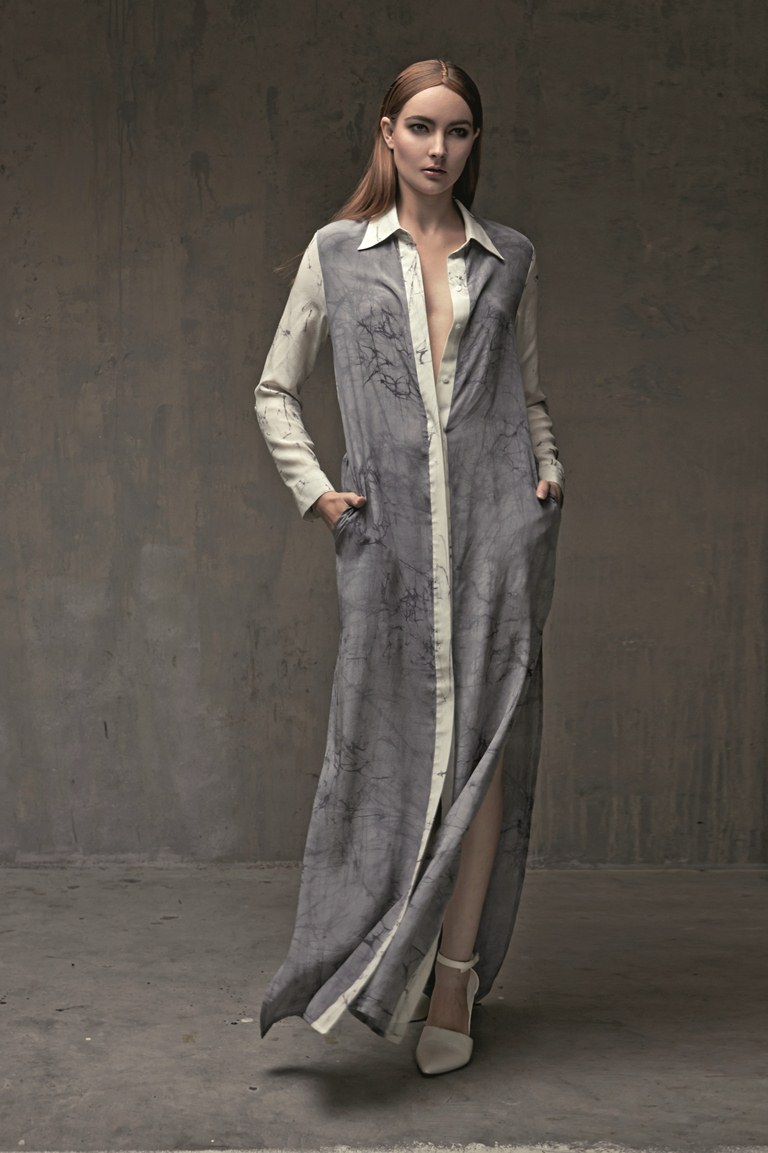 "Knowing that I wanted to pursue fashion after the car accident, I went searching and exploring trying to find my own identity. That is where I stumbled upon a piece of batik fabric which I made into a sundress. I fell completely in love with it and I made quite a few more afterwards. That was the moment when I realized that there is so much potential in batik which I could explore, and that it shouldn't be limited to only traditional costumes. I grew more curious, wanting to understand more, and so I went around doing all kinds of research about batik, from reading books to travelling to the east coast of Malaysia to see how batik was made. The more I discovered, the more my interest and passion grew for this traditional heritage of ours."
Collaboration with Ruzz Gahara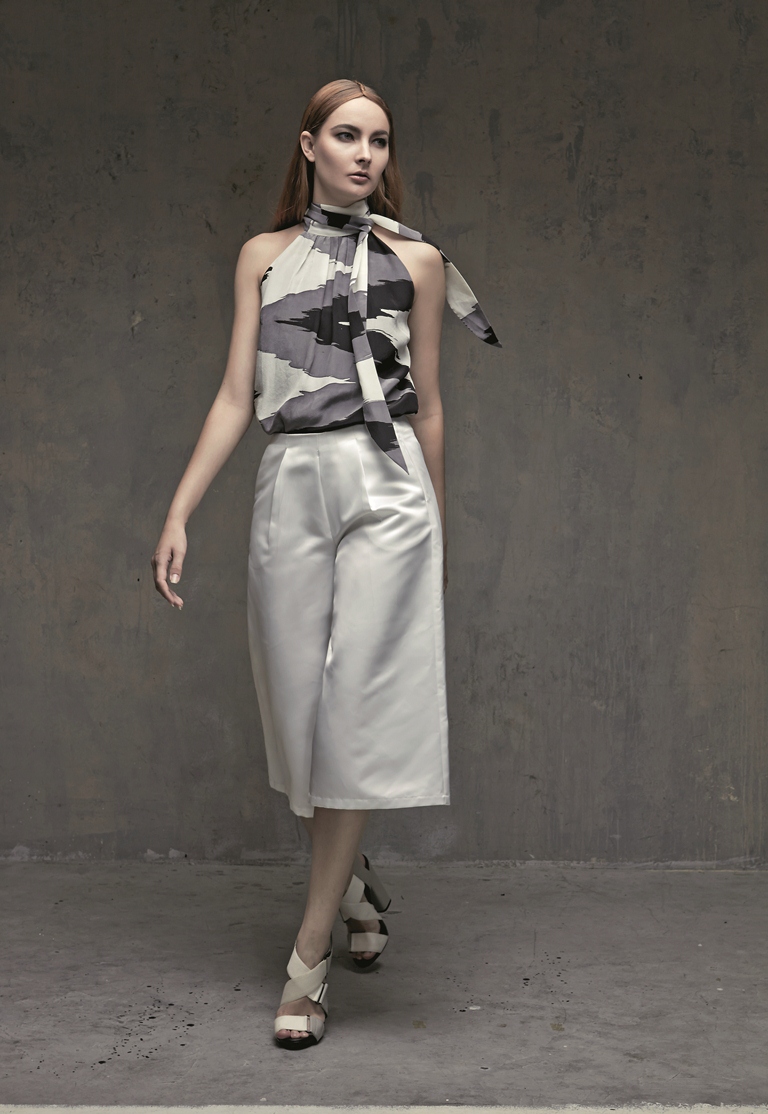 Her discoveries led her to Ruzz Gahara, a local batik fashion label. Attracted to their intricate prints based on the famous Kelantanese folklore of Che Siti Wan Kembang, as well as their environmentally friendly approach, she went on to collaborate on a nine-piece capsule collection. The experience proved to be invaluable. "We participated in trade shows in Paris and Taipei, and also presented another collection for KL Fashion Week as a guest designer for Ruzz Gahara. It was definitely an eye opener for me having to experience of what this collaboration had offered me. It was also a base ground for how to run my business and to have my own production going for both batik and garments," said the designer.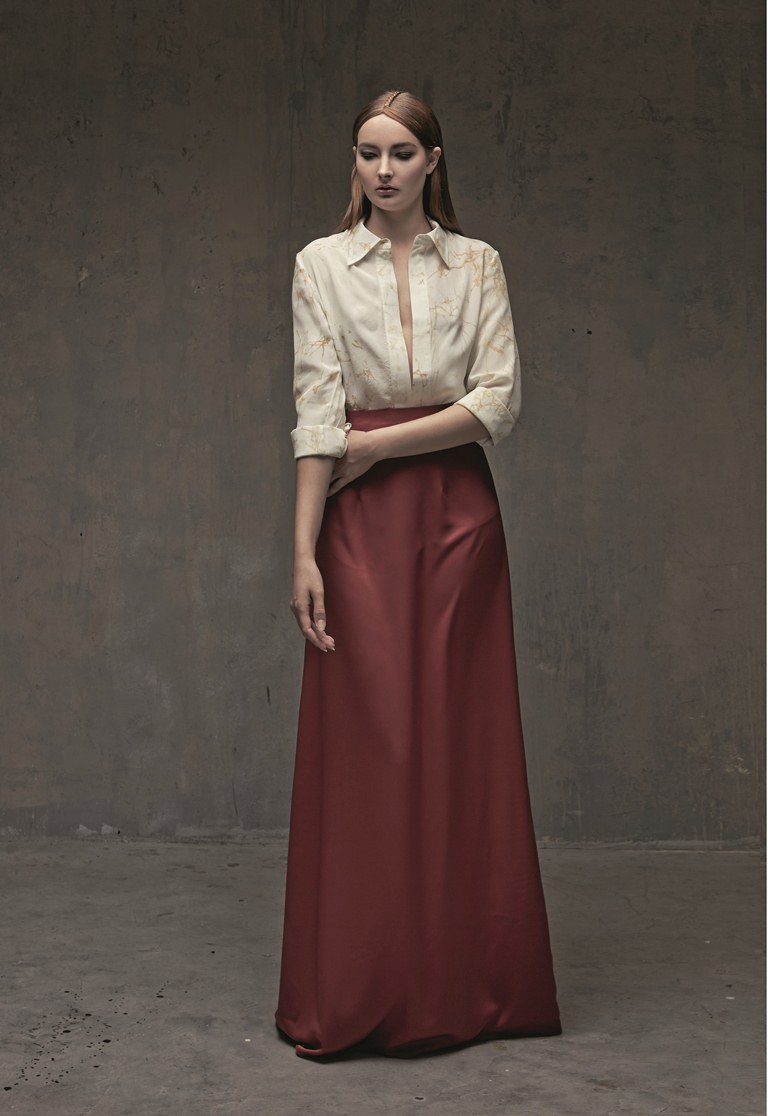 Following the successful collaboration with Ruzz Gahara, Chua decided to design a full collection of her own. Armed with passion and desire, she pursued a plan for Fashion Pitch 2013 by MyCreative Ventures and subsequently emerged as the winner. "I could definitely say that it made me realize the path I took was the right one. I also saw a clearer path of where and how I would like to develop my brand in the next five years. Building a fashion brand is definitely very challenging as it is not only design, but other aspects like marketing, sales, business development, and finance to be taken care of all at the same time."
Getting Into Business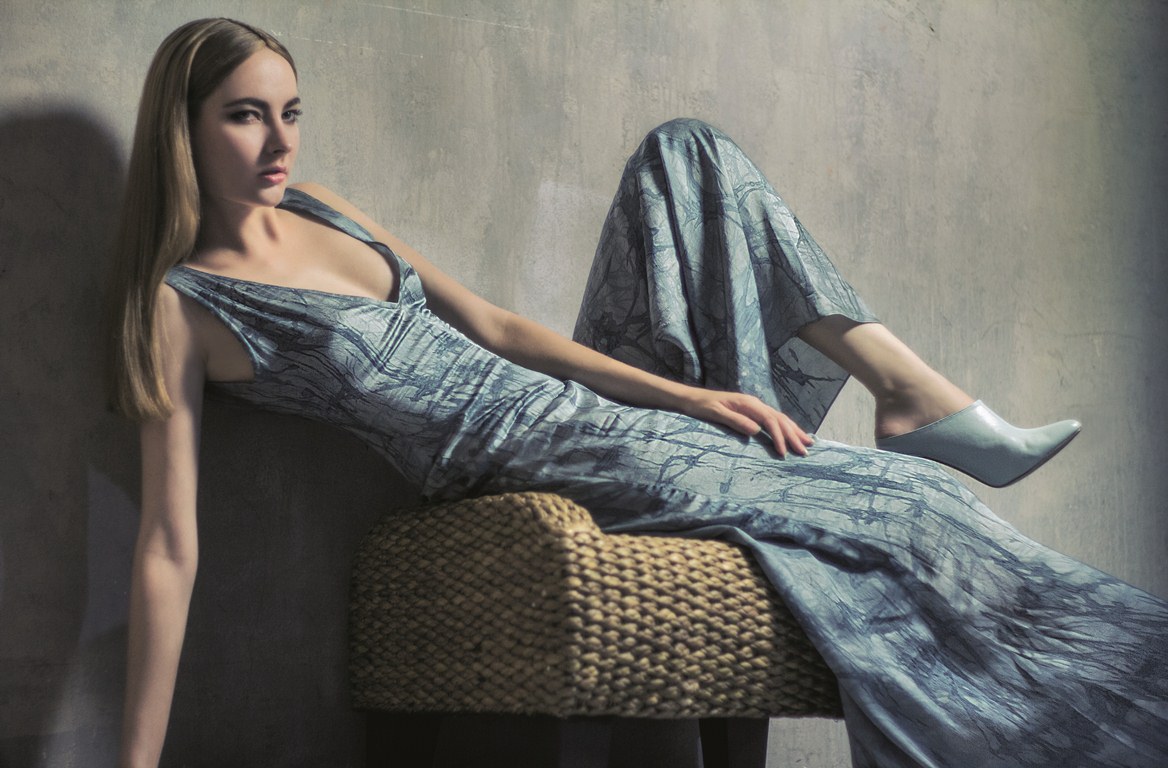 The win allowed Chua to fund operations and kick start her batik business, even going as far as building a batik studio. "For the past few years I've been looking for batik producers to work with in order to scale my production. Going through all sorts of problems from developing my own prints to having problems with the production were just some of the issues. Due to the fact that it is handcrafted, it is very difficult to monitor the high quality standards that I was seeking." Inspired by Ruzz Gahara's practice of the Clean Batik Initiative, she too adopted the same practice for her own studio. "The Clean Batik Initiative is a good approach to be more environmentally friendly," she explained of the initiative established by the German Chamber of Commerce. The dyeing process produces chemical waste that must be properly disposed to curb environmental pollution. The key to the Clean Batik Initiative is to conserve water and dispose of chemical waste efficiently during the batik making process.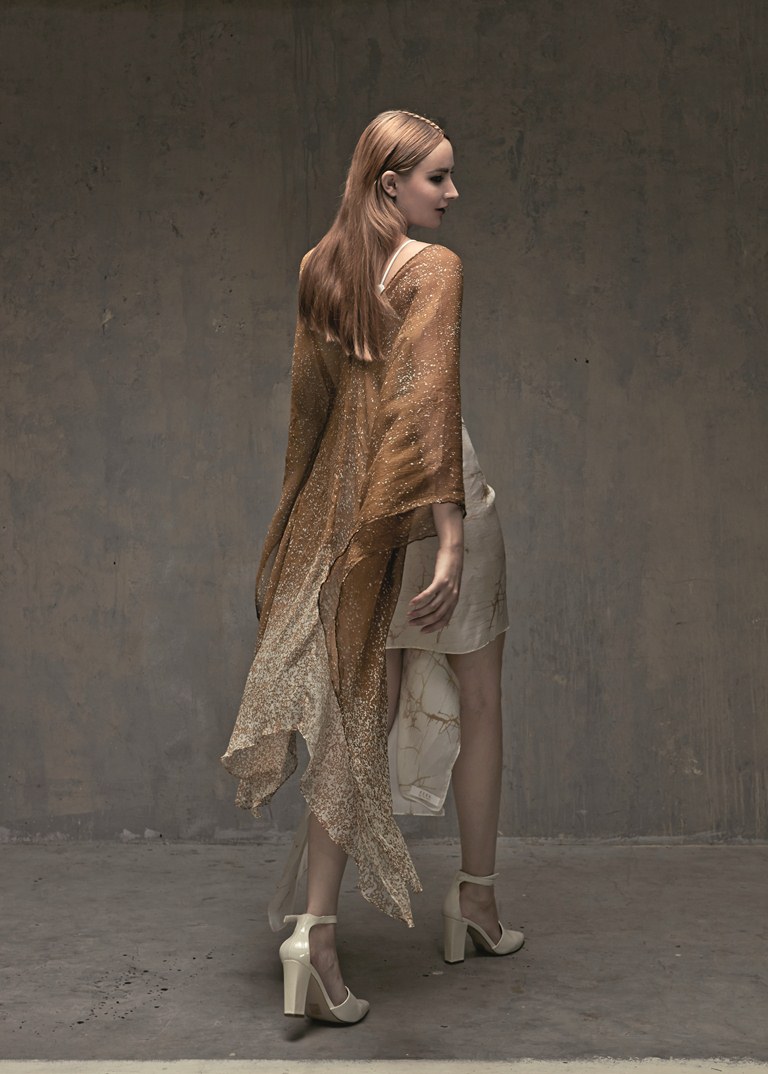 In the past, local fashion designers have incorporated batik into contemporary design; however, it was mostly on the higher end spectrum. For batik to be modernized at an affordable price point is still a rare occurrence, as employing batik craftsman – with the commensurate exquisite artisanal skills – naturally incurs high costs. This seems to resonate with Chua as she describes the challenges she has faced from local audiences. "There is great appreciation by the locals for what has been offered, but price is definitely one of the issues, and still many Malaysians do not seem to be overly supportive towards the local fashion industry. Ironically enough, it is the complete opposite in the international market. They have great appreciation for exotic and handmade artisanal goods. Also, they like the idea of being unique or different. The one-of-a-kind nature of batik pieces is very appealing to them."
FERN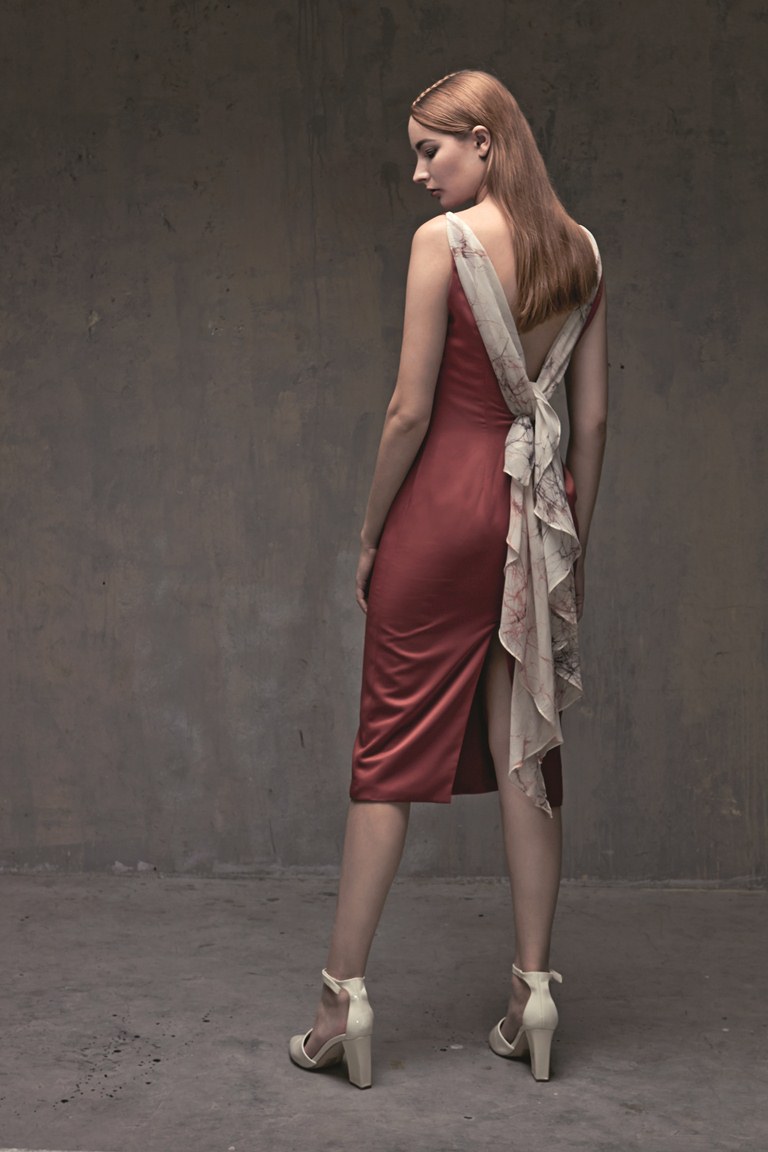 One of the focuses of the FERN brand is to make the local batik industry be relevant to the international market, appealing to a wider audience beyond Malaysia. "I was told that the quality should be up to the international standard requirement," Chua mentioned, "which I'm currently working towards to ensure that that standard is maintained for all of my pieces."
Having journeys from building a dedicated batik studio and assembling a production team to launching her first eponymous collection and e-commerce website, Chua has achieved plenty within a short period of time. As she continues to develop her distinct design style and seize opportunities to take the brand onto an international platform, her testament to "the new batik" stands true and alive. "It is my vision to dress for the modern women of today. To be able to make them feel unique and confident when wearing batik and admiring it as a kind of wearable art."
Read more:
Source: Senses of Malaysia September-October 2015



" ExpatGo welcomes and encourages comments, input, and divergent opinions. However, we kindly request that you use suitable language in your comments, and refrain from any sort of personal attack, hate speech, or disparaging rhetoric. Comments not in line with this are subject to removal from the site. "



Comments