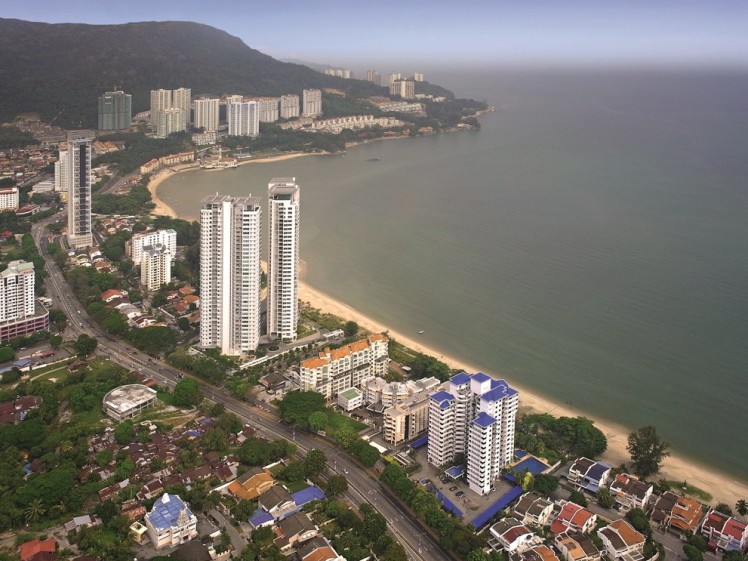 Join David Bowden as he strolls along a kilometer of road in Penang's Batu Ferringhi prime beachfront area, taking in resorts, restaurants, tourist attractions, and more, all fronting the island's most popular stretch of beaches.
One of Penang's most popular destinations is Batu Ferringhi or 'foreigner's rock' on the northern shores of the island. A narrow road twists and turns as it weaves around the small inlets until it hits the relatively straight stretch of road along the main beach of Batu Ferringhi. Heading out of the heritage centre of George Town the same road is named Jalan Tanjung Bungah, then becomes Jalan Batu Ferringhi and then to Jalan Teluk Bahang at its western-most stretch, but the divisions between the roads are not distinguishable. Actually, the name Jalan Batu Ferringhi is not very clear at all (many resorts don't even include it in their address; Batu Ferringhi suffices for most), but the hotels and resorts that front the road make this one of Malaysia's most famous beach side destinations. Penang's northern shoreline is mostly lined with hotels, resorts, restaurants, and luxury condominiums and might just be the most densely concentrated stretch of hotels in the country.
Seaside Serenity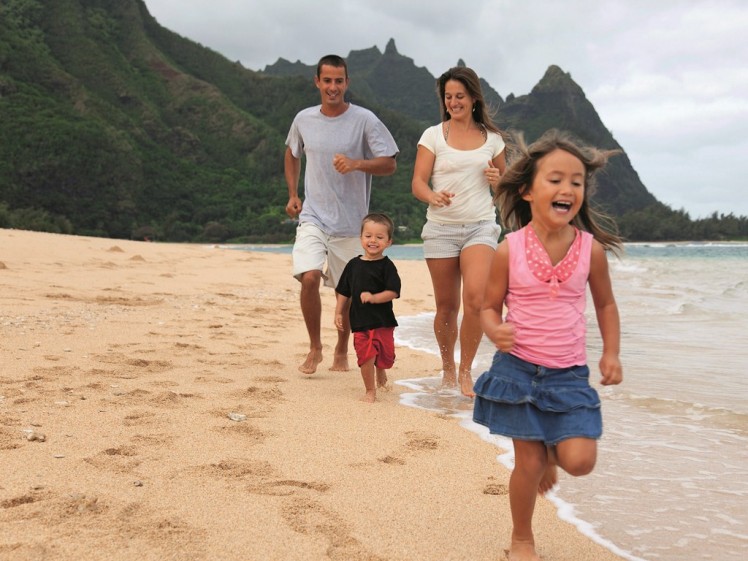 Most tourists come to Batu Ferringhi to check in and chill out in the spacious gardens fronting the beachfront of their resort of choice. While not Malaysia's best beach, it's the total package that has always appealed, with many visitors being regular returnees. An overseas visitor who fi rst started visiting Batu Ferringhi in the 1970s told me that the area was then a real tropical paradise and very popular with those on the 'hippie trail' of discovery through Southeast Asia.
In addition, Malaysia's colonial ties and the air force base at Butterworth on the Penang mainland have ensured that many foreign visitors discovered the beach probably well before other Malaysians, apart from those who live in Penang. These days, however, Batu Ferringhi is now popular with both local and international tourists from around the globe.
Like many regional beachfront destinations, progress has taken its toll, but with this development has come new resorts, restaurants, markets, and tourist attractions. Any development anywhere usually means that it is difficult to retain the pristine state of the beaches, but Penang has fared reasonably well compared to some other beach side destinations. It now means that most tourists will probably swim in their resort pool rather than the waters off the resort, but not too many tourists appear to be complaining about this, as the pools are a very good alternative. Guests can enjoy the long sandy beachfront and a range of watersports and resort-based activities that will especially appeal to children.
The resorts along this road start in the east around Tanjung Bungah with properties such as Four Points by Sheraton and Copthorne Orchid. Malaysia's first Doubletree Resort will open at the end of the year along the northeastern beach area. The existing Hydro Hotel is undergoing an extensive refurbishment of public areas plus all the 318 rooms and suites. The new hillside Doubletree property (a short walk to Miami Beach) features rooms with impressive sea views. It will also house Malaysia's first teddy bear museum, called TeddyVille.
For those awaiting the opening of TeddyVille, the Toy Museum in Tanjung Bungah (in front of the Copthorne Orchid) provides a commendable alternative. Billed as Asia's first toy museum – and with the world's largest collection of 100,000 exhibits – it understandably appeals to young children.
The main resort strip along Jalan Batu Ferringhi starts with the most luxurious property of all, the Shangri-La Rasa Sayang. Immediately next door is its sister property, the four-star Golden Sands Resort, then the Holiday Inn, PARKROYAL Penang Resort, Lone Pine, Bayview Beach Resort and finally, Hard Rock Hotel. All are beachfront properties, although the Holiday Inn extends on either side of the road with an over-the-road walkway.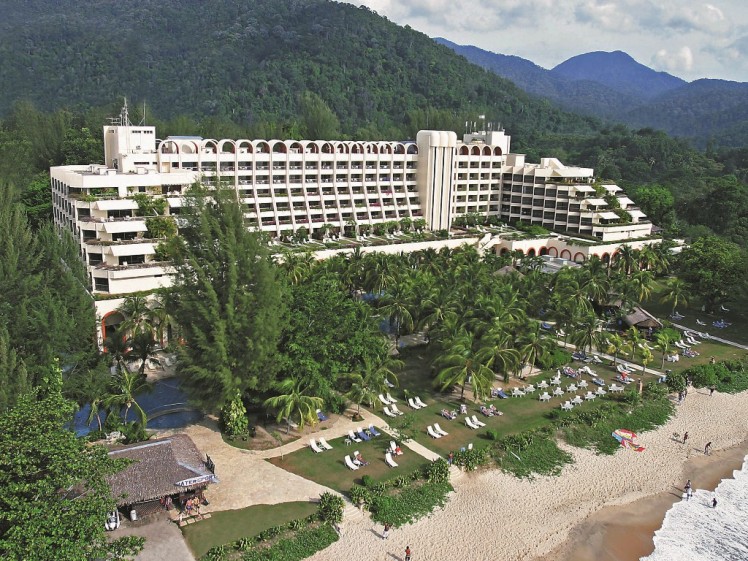 PARKROYAL Penang Resort
PARKROYAL Penang Resort is one of the well-established resorts along this popular stretch on the northern side of the island and a superb place to relax in semi-natural surroundings. Rooms include a spacious verandah to enable guests to be absorbed in the natural surroundings of beachfront coconut palms and tall casaurina trees.
Typical of the resorts along the beachfront strip, the PARKROYAL has a gym, kids' club, spa, pool, pool slide, resort shop and several food and beverage outlets, including the open-air Uncle Zack by the Beach. Some resorts have their own water sports centre while private operators along the beach offer everything from Hobie cats to parasailing. Afterwards, guests can easily walk out onto the main road and dine or drink in any number of restaurants and cafés.
Most of the resorts especially appeal to families as they can check in and stay put using the resort facilities and dining in-house or walking out to the night market activity along the main road. This also applies to the luxurious Shangri-La Rasa Sayang although different sections of the hotel appeal to different guests with those seeking more a couple's experience being equally catered to with different room selections including some with a private Jacuzzi on the verandah.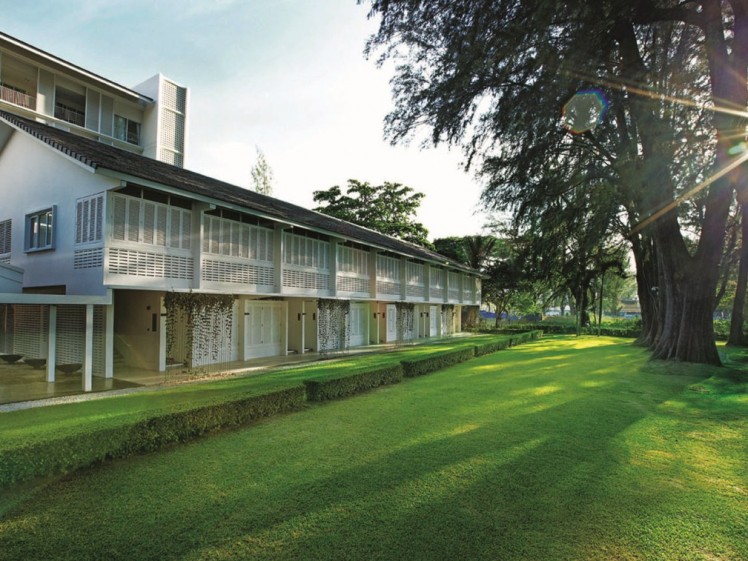 Lone Pine Penang
The smallest resort along Jalan Batu Ferringhi is the Lone Pine, which is the sister property of Penang's most famous hotel, the Eastern and Oriental. Lone Pine was one of the first properties established to cater to the growing need for holiday places along the beach. In the property's early days, Australian owner Dr. Albert S. McKern mistook a casaurina tree growing here for a pine tree, so Lone Pine it became. He converted the bungalow to a 10-room hotel, which has grown over time. There have been various renovations and additions, but the colonial charm has been retained throughout this 90-room boutique property. Now a whole forest of tall casaurina trees lines the beachfront to provide a unique aural experience when the wind whistles through them.
Immediately at the front entrance to this property and along the Batu Ferringhi strip of just over a kilometre is the night market or pasar malam. In fact, it is more a mish-mash of retail outlets offering very similar souvenirs, beach attire, and beach equipment that has some appeal on first inspection, but perhaps less so on return visits. Everyone to their own and no doubt many visitors will find something of interest here. Others will want to seek out bars and restaurants or stock up at 7-Eleven on cheaper minibar supplies. One of the interesting restaurant bars along the strip is within Hard Rock Hotel. The Hard Rock Café delivers an energetic  combination of food, beverages, and live music to make it the most popular entertainment venue in Batu Ferringhi.
Road to the West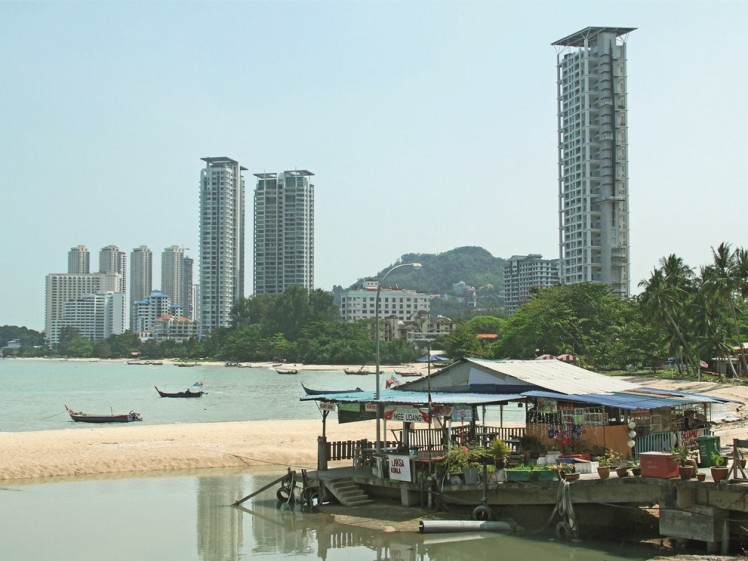 Jalan Batu Ferringhi ceases to be just that seemingly at the Hard Rock Hotel. There is nothing to suggest it ends and Jalan Teluk Bahang starts but the long straight beach strip does end and the road starts to twist and turn as it grips the base of the steeps hills. For those who want to extend their Jalan Batu Ferringhi journey – and I highly recommend you do – continue westward to explore the Tropical Spice Garden, an old traditional Malay fishing village at Teluk Bahang, and several attractions along the west coast.
The main road takes a sharp left turn at Teluk Bahang and heads southward all the way down the west coast where some of Penang's best attractions are located. Seek out ESCAPE Adventureland, Penang Butterfly Farm, and the Tropical Fruit Farm.
Jalan Batu Ferringhi is not that long and can be walked by really enthusiastic visitors. However, the aggregate journey along the three beachfront roads – from basically George Town to the far northwest coast of Teluk Bahang – would only be attempted on foot by the foolhardy. Taxis are available, but negotiate a fare beforehand or use the services of Rapid Transit buses, which are very efficient and comfortable if not a tad slow because of frequent stopping. I have done the journey all the way from Teluk Bahang to the ferry terminus in George Town and can highly recommend it as it is cheap and only takes about 35 minutes.
Read more:
Source: Senses of Malaysia September-October 2015
---
"ExpatGo welcomes and encourages comments, input, and divergent opinions. However, we kindly request that you use suitable language in your comments, and refrain from any sort of personal attack, hate speech, or disparaging rhetoric. Comments not in line with this are subject to removal from the site. "
Comments