Food & Drink
10 unique concept restaurants in Johor Bahru that you need to visit
Monica Cisneros, an American woman living in Johor Bahru, takes a look at some of the best eateries in Malaysia's southern city.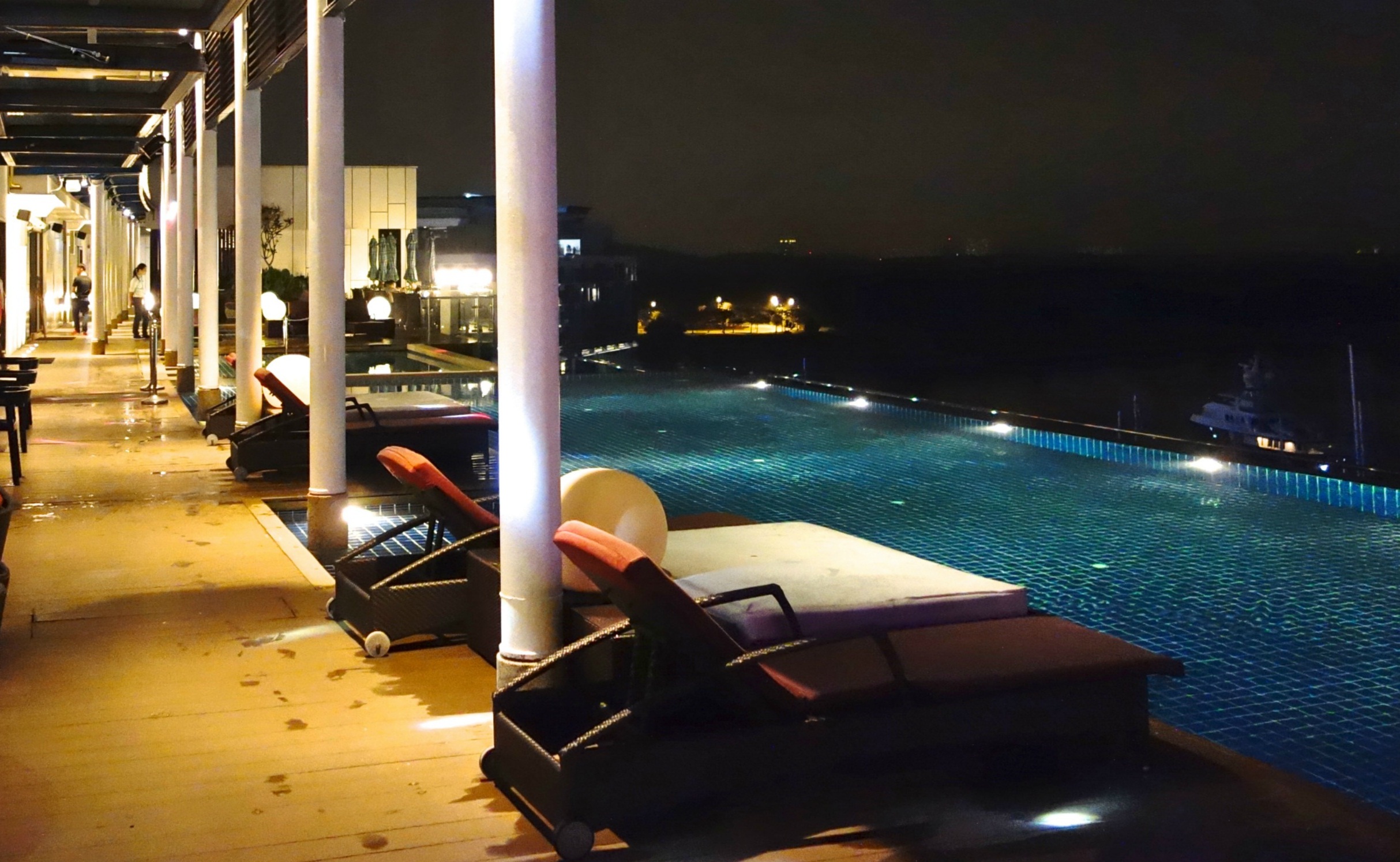 Nowadays, going out to eat isn't just about satiating appetites, it's about having a memorable experience. Luckily for Johor Bahru, an emergence of concept forward eateries have opened up – with the food and feel to match.
Recent growth and an emergence of impressive restaurants with tastefully executed concepts has caught the attention of serious foodies, and if the growing food scene is any indication of what's to come for JB, it's truly a welcomed and delicious change.
These spots bring a range of Asian, western and fusion cuisines to the table, while showcasing unique design and memorable ambiance. We've taken note of the coolest concepts to light up the dining scene in JB, so give them a taste.
For serious food and wine aficionados 
Any hunch people had about JB's burgeoning gourmet scene was confirmed when Sprout came on the scene and JJ's upscale wine bar has transformed after-work lounging in the city.
1. Sprout
On the city's main artery of Jalan Tebrau leading into City Square, Sprout is nestled in a nondescript shoplot just under a walkway overpass, which is easy to miss if you're flying by at high speed. Despite its low-key location, word has gotten out that this modern restaurant is unlike anything that's debuted in JB before.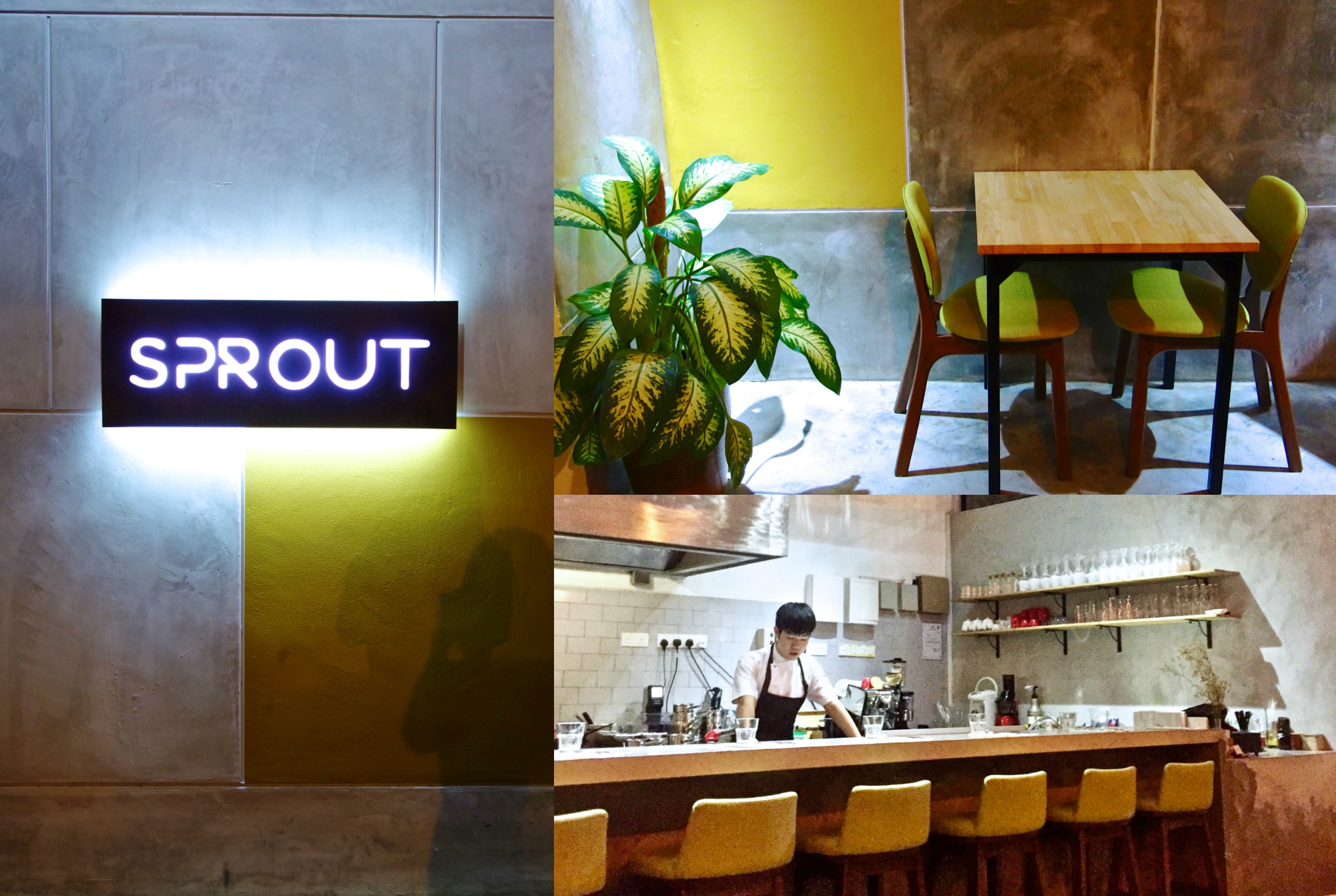 Upon entering Sprout, it feels like you're in northern Europe for an evening. The modern concept is warm and minimalist, creating an intimate setting no matter how packed the place is. This cosy spot has single-handedly set the bar for unpretentious fine dining in the city.
The chefs at this establishment bring passion and presentation to their creations with truly artful dishes and a symphony of flavour pairings. Unique to Sprout, the staff carefully explains each course so diners can really immerse themselves and their taste buds. With the best executed menu in JB and the most visually stunning presentation to boot, Sprout should be around for a very long time.
Hours: Tues-Sun: 6:00pm – 10:00pm
Address: 61 Jalan Tebrau, 80200
Tel: +6011-2181 6118
2. JJ's Tapas 
Fine wine bars are a rarity in JB, but JJ's is a top notch addition to the bar scene for patrons and wine lovers to unwind after work. From first glance, the selection of liquor and wine lines the walls like trophies. This is a stylish dining bar with an upscale, quiet feel. Private rooms add to the exclusive potential.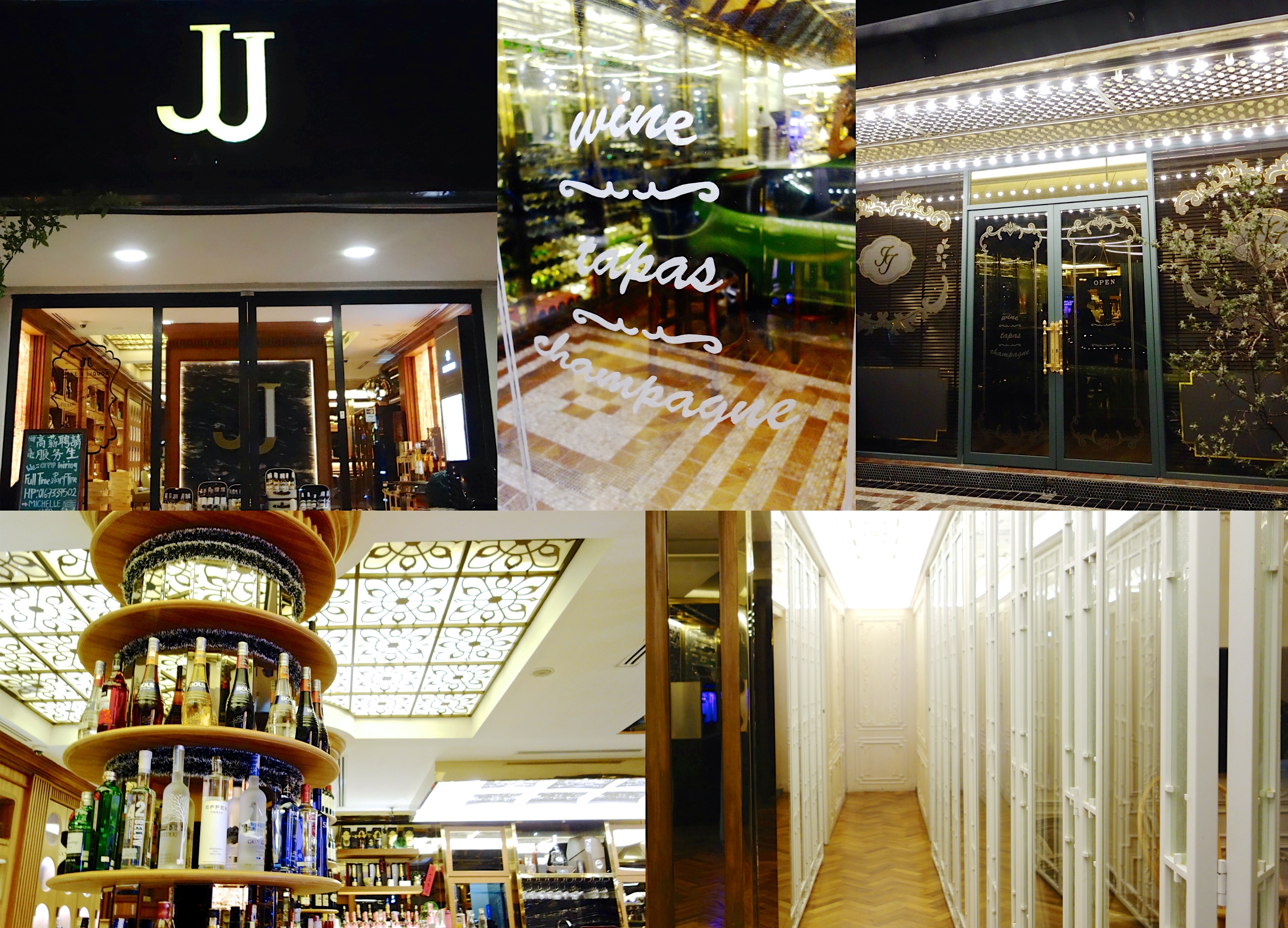 The décor is refined and decadent with a glitzy mosaic tile entrance. Come for light tapas and a cheese plate or a full dinner while sipping on some of the best wines and liquors in town. Equally impressive is the late night menu offered until midnight. Decadent menu offerings include duck confit, kobe beef, foie gras, and more.
JJ's parent company takes its passion for wine and liquor seriously and provides wine appreciation workshops.
Hours: Mon-Sat: 11am – 2:00am / Dining from 6pm – 11am
Address: 58 Jalan Pingai, Taman Pelangi, 81400
Tel: +607 331 5461
For plant to plate experiences
These restaurants take fresh food seriously, redefining how green a café can really be.
3. Rowan & Parsley Food Atelier
What a pleasant surprise to find a sanctuary like this in an industrial complex. For a quiet and tasty retreat, step into the tall cast-iron gates of Rowan & Parsley into what feels like a trendy secret garden. Arriving here is peaceful respite from the hot city surroundings.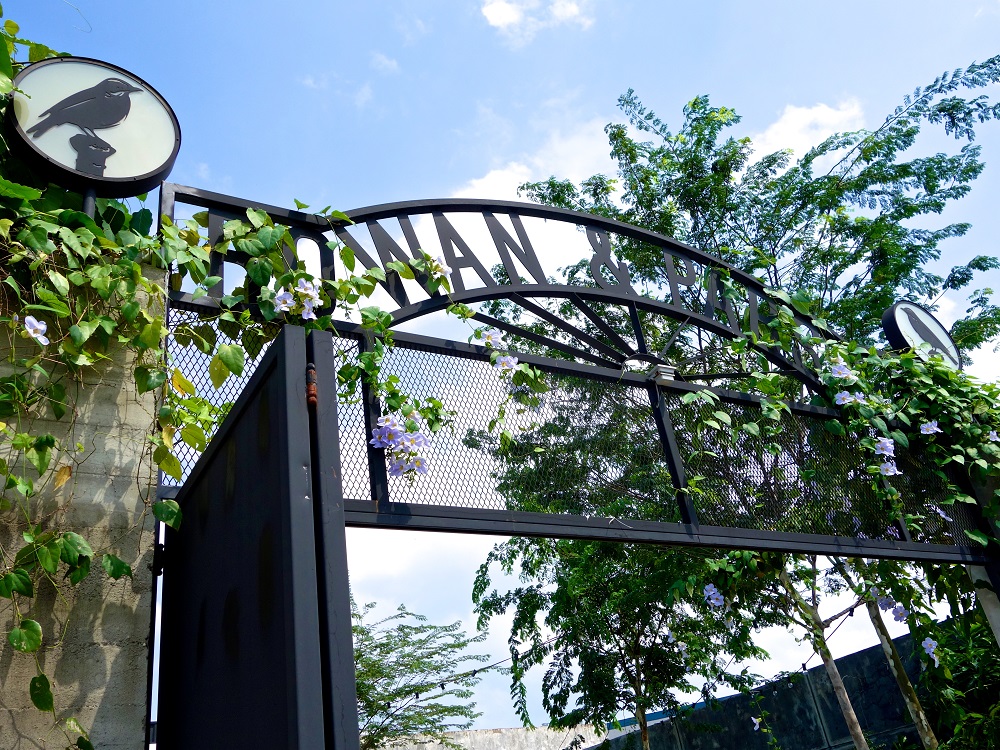 By day, Rowan is a happy spot with natural light pouring in through its large glass windows covered in vines. The outdoors landscaped garden is the source of many ingredients that go into the carefully crafted plates. From lounging around on afternoon coffee dates to enjoying a dim, intimate dinner by night, it's a versatile space complete with a mezzanine for parties.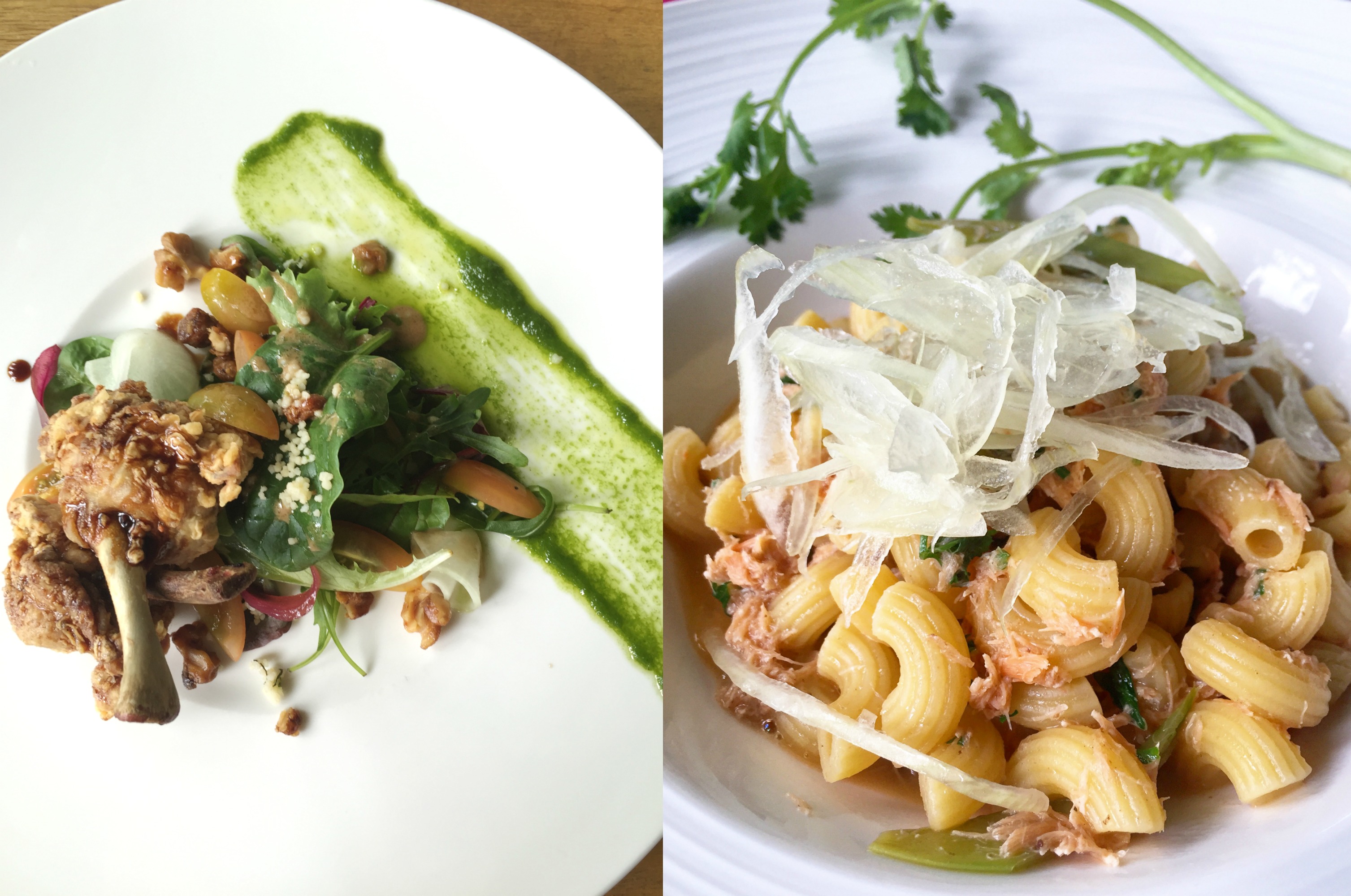 The menu is more sophisticated than most in JB with even its lunch sets going above and beyond the norm. The kitchen takes risks with local flavours and western fusion while holding fresh ingredients in high regard.
Hours: Tues-Thurs: 11:30am – 11:00pm / Fri & Sat: 11:30am – 11:30pm / Sun 11:30am – 11:00pm
Address: No. 17, Jalan Cenderai 20, Kawasan Perindustrial Kota Putri, 81750
Tel: +607 382 1760
4. Sea & Saw
At first glance, this renovated heritage Spanish bungalow looks just like a house on a hill facing the Singaporean-Johor straits. Way more than that, this residence turned restaurant is a lovely house redefining horticulture chic while maintaining a bar and grill feel.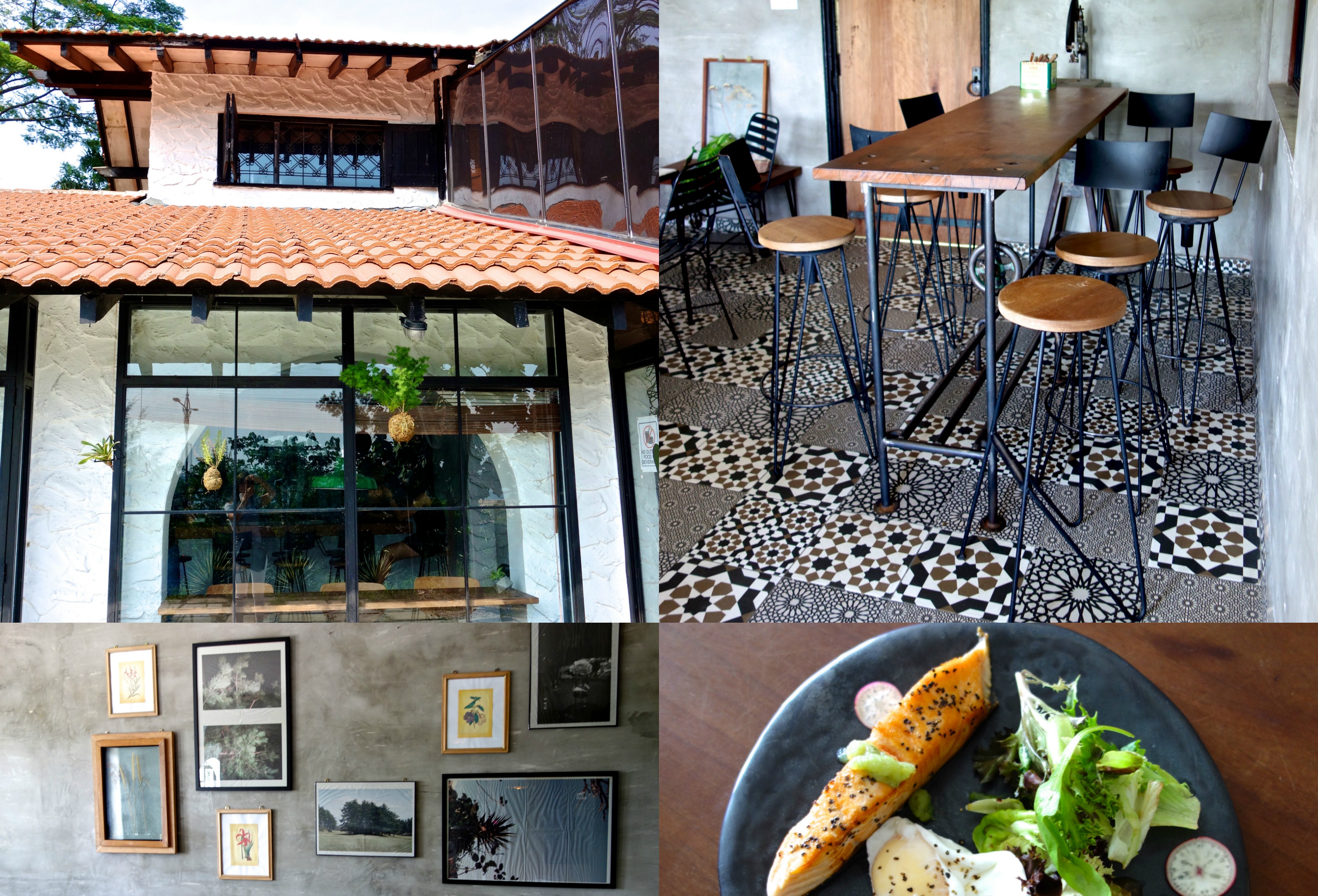 Evidence of garden cultivation on the premises can be found in the most surprising, rustic ways: One of the windows reads, "Keep a green tree in your heart and perhaps a singing bird will come." High ceilings, wood and steel furnishings contribute the natural theme.
Succulents, hydroponics and other greenery display nicely throughout and café hoppers and food lovers convene at this versatile hangout spot. Café days transform into lively nights and once the sun goes down nightlife goes into full swing featuring live music and DJ's. Eating and drinking here are both solid experiences and the house is definitely one of the most memorable and quirky venues to hang out in JB.
Hours: Wed-Mon: 3:00pm – 1:00am
Address: 6B, Jalan Skudai, Straits View, 80200
Tel: +607-222 9888
*Cash Only
5. Flowers in the Window
This two storey café  is a whimsical find and flower power dream. Located on the trendiest street in Old JB, FITW has the location and buzz to keep it at the top café lover's lists.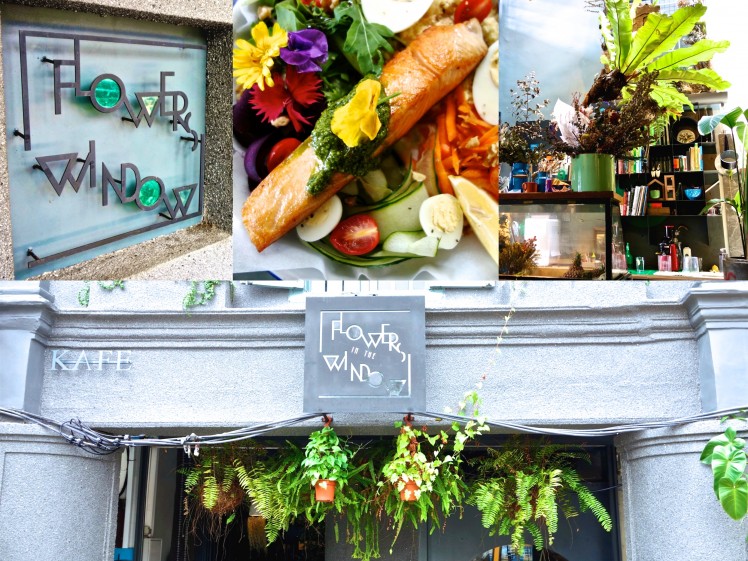 FITW is more than a café: imagine the bright smell of a flower shop welcoming you as you walk in, with the allure of healthy artisanal foods. A metal lattice covered in dry flowers climbs up the wall proclaiming its earthy personality; this is hands down the prettiest café in the area.
Sitting downstairs has a warm, homely feel like a superbly decorated kitchen. The impeccable décor and design of this place is no mistake – the owners of this entity are also furniture designers with great taste.
Brunch, lunch and dinner are served here where flora and food fuse together perfectly. With fresh ingredients and satisfying portions, edible flowers are even featured on some plates.
Hours: Wed-Mon: 10am – 10:00pm
Address: 9, Jalan Dhoby, Bandar Johor Bahru, 80000
*Cash Only 
For meals that transport you to another place
Step inside these restaurants to feel like you've travelled the world over if just for an evening.
6. Café Racer by Grillbar
This spunky spirited two story restaurant is the coolest spot on the list. It's sister restaurant Grill Bar is located nearby in the dense Taman Pelangi area, but Café Racer enjoys its own loyal clientèle of locals and Singaporeans coming to recharge in between their café hopping and shopping outings.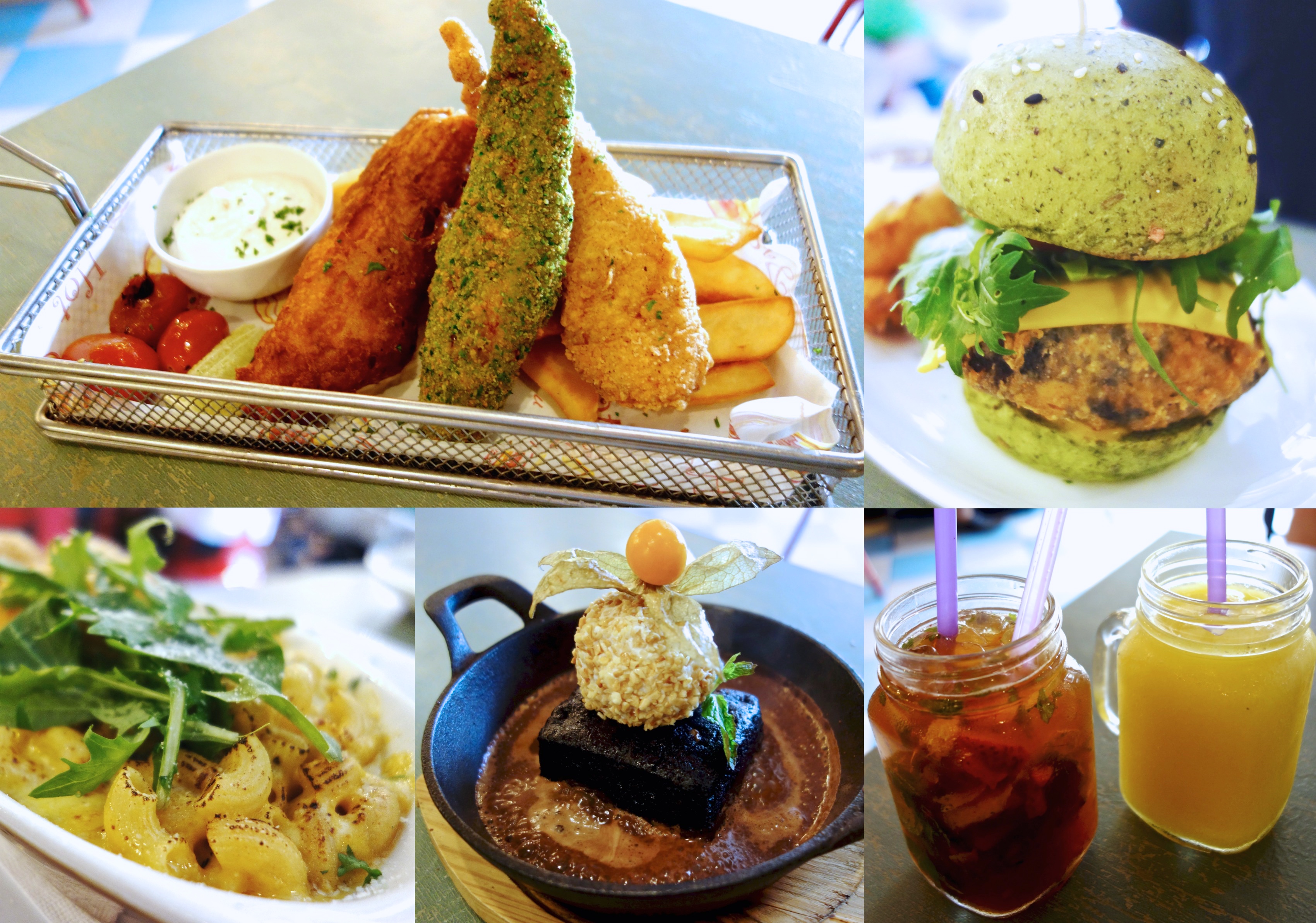 Since the owner is an avid biker, the interior is a motorcyclist's dream: several motors in mint condition are propped up along the walls and tires and helmets make their way tastefully into the design.
Coming here is a jovial affair with smiling servers and great music to lift your spirits. The menu offers a slight local twist on hearty American foods as well as offering standard sweets like sizzling brownies and cold milkshakes. Café Racer really delivers fun flair with affordable prices and hearty portions.
 Hours: Mon-Sun: 12:00 am – 12:00 pm
Address: 72, Jalan Pingai, Taman Pelangi, 80400
Tel: +607 335 0000
7. Naughty Nuri's Warung
A bit of Bali and all its pork glory has graced JB much to the delight of meat lovers. It's hard to miss this restaurant and its prime piece of real estate with the red façade and big sign on the corner of busy Jalan Serampang.
At the entrance, Ubud garden style takes over with plenty of plants and a small pond suddenly disguising the main road just yards away.
From warung to chain, Naughty's Nuri's founder has ensured the cooking process holds true to the Balinese original. Long lines and waits are an afterthought when tender and succulent pork meat falls off the bone and onto your plate. It's definitely a lively and fast-paced dining experience; order a house cocktail and you might just get serenaded by singing servers.
Hours: Mon-Sun: 3:00pm – 1:00am
Address: 1, Jalan Serampang, Taman Sri Tebrau, 80050
Tel: +6016 717 4628
8. Piedra Negra
Finding good Mexican food in Malaysia can be like stumbling upon an oasis in a desert. Instead, at this oasis replace water for cold Coronas and strong margaritas.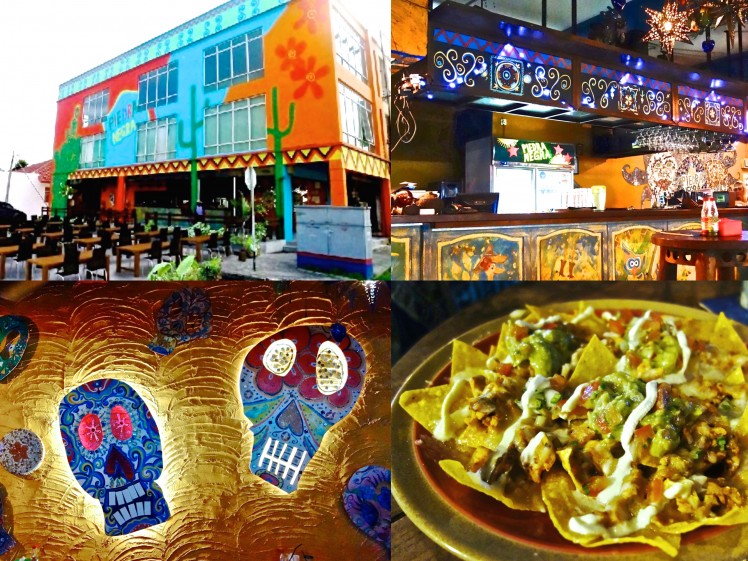 Lucky for JB, Piedra Negra is the only locale in the whole city to serve up authentic Mexican favourites while holding true to the vibrant and festive Mexican spirit. The first branch opened in Singapore's famous Haji Lane.
The open air set-up lends itself to chatting way for hours with friends and often, large parties convene here for fun and carefree nights. Colourful cacti are painted on the building, and funky mounted calavera light fixtures help the place glow late into the night.
Hours: Mon-Sat: 4:00pm – 1:00am
Address: 107, Jalan NB2 2/2 Taman Nusa Bestari 2, Skudai
Tel: +607 557 9018
Elevated dining for elevated tastes
Marina side dining is classy, cosy and so stylish.
9. Spice Grill
 For an all around sophisticated experience, Spice Grill brings it all – beautiful dining areas, attentive service and stellar food. Perched on the upstairs corner of the Puteri Harbor promenade is a fusion restaurant that's easily the most inviting of the options at the marina.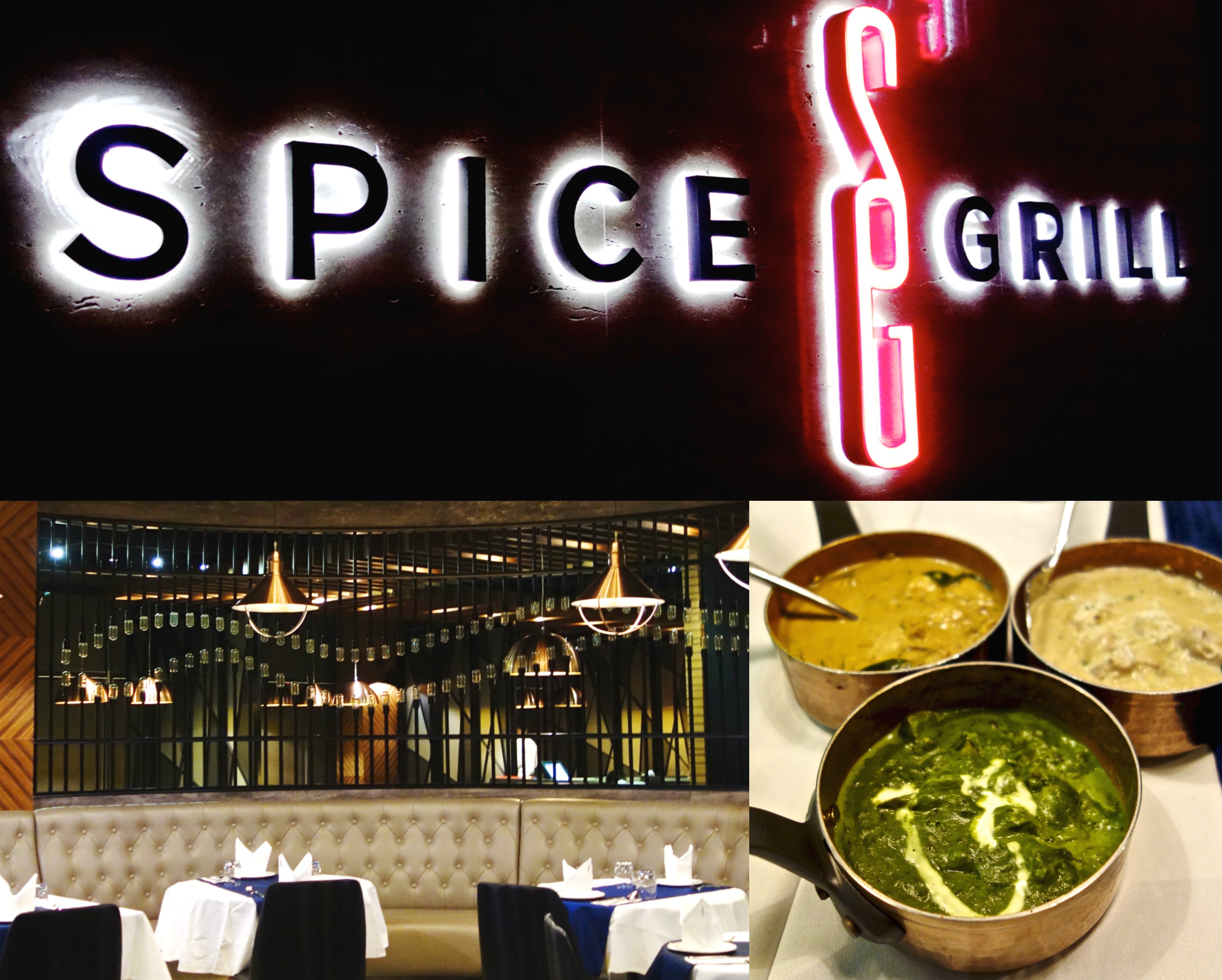 The class and style of the interior is made clear with the wavy wall of lightbulbs and stunning light fixtures. Cushy booths and luxe private rooms make for a versatile experience both casual and refined. The best area is the spacious balcony overlooking the marina where people and yacht watching is a pastime.
What's even better? The food is a level higher than the atmosphere and consistently delicious. The Indian fare is the main stunner, but their impressively extensive menus can satisfy even the pickiest in your party.
Hours: Mon: Mon-Sun: 12:00pm – 10:00pm
Address: Lot 1B & 4B, Ground Floor of Little Red Cube, Persiaran Puteri Selatan, Puteri Harbour, Nusajaya, 81300
Tel: +607 509 6644
10. Skybar
Getting perspective with intoxicating views has never been more appetizing. Singapore looks like a stone's throw away from the deck and below is a perfect view of docked yachts at the marina.
No ugly buildings blemish the panorama and it's easy to feel like you're dining at the most serene corner of JB. Since Sky Bar is situated at the top of Jen Hotel, it would make sense that it feels so much like an easy, breezy vacation.
You can choose to eat near the infinity pool deck or inside the cosy dining room, but Sky Bar has the best views outside. As is to be expected from the Sky Bar brand, the stunning lounge atmosphere turns into a great dining option after sunset. Cocktails are great and the surf and turf options are consistent and delightful.
Hours: Mon-Sun: 6:30pm – 10:30 pm
Address: Persiaran Puteri Selatan, 79100 Nusajaya
Tel: +607 560 8888
---
"ExpatGo welcomes and encourages comments, input, and divergent opinions. However, we kindly request that you use suitable language in your comments, and refrain from any sort of personal attack, hate speech, or disparaging rhetoric. Comments not in line with this are subject to removal from the site. "
Comments