Langkawi is trying to balance its desire for more tourism with the need to maintain some of the charm that gives the island its appeal, all while trying to ensure that the voices of residents, business owners, and visitors are equally considered. Expat Langkawi resident TC Gerrard takes a look at the changes that are both improving and bedevilling the island's most popular beach.
Many people have memories of Pantai Cenang as a little sleepy seaside village, with its long expanse of pristine beach. These fondly remembered visions are now clouded with the constant dust of construction and snarled traffic along the main road caused by offloading tour buses and taxis and the ever-present barriers for road improvements or repairs.
The ambitious redevelopment plan, introduced in 2010 by The Langkawi Development Authority (LADA), was envisioned to transform the Cenang area into a pedestrian-friendly environment and open up a large swath of beach access. To accomplish this, there were several key elements that needed to be implemented. The beach area from the Underwater World all the way north to the Casa del Mar resort was to be cleared and the road broadened to offer an unrestricted view of the entire beachfront. Existing restaurants and hotels were to be demolished and cleared, and then rebuilt on the inland side of the beach road. A large bypass road with connecting access spurs was to be built to allow improved traffic flow and additional satellite parking areas.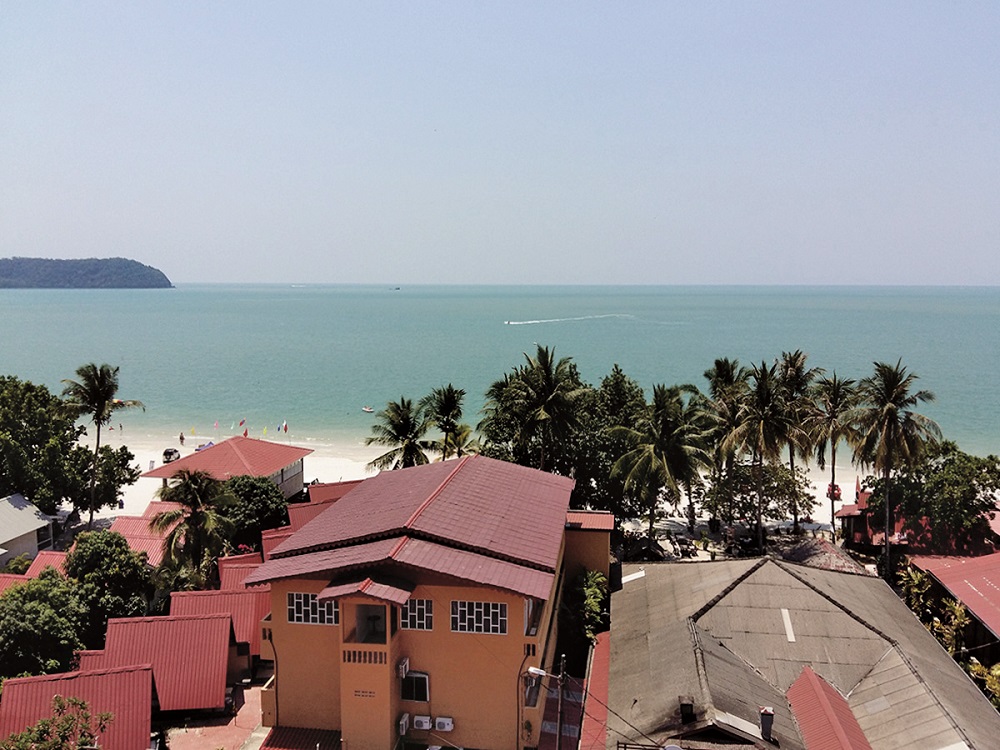 The immediate reaction, upon announcement of this proposal, from the larger beachside hotels was to expand both outward and upward, and currently some of these expansion projects are still ongoing. Two new hotels have also been completed on the beachfront in apparent defiance of the original plan.
In addition, new hotels on the inland side of the road were built, with some still under construction today, further restricting the availability of land to widen the main thoroughfare. This has only increased congestion and limited options to improve traffic flow and parking.
Selective closing and demolition of many of the eclectic beach bars and restaurants removed the classic driftwood and thatch structures that provided those iconic postcard moments of the 'simple' island life. Babylon, Little Lylia's, and Raffi's are no longer, and with their disappearance there are no longer places to sit with your feet in the sand and an exotic drink in your hand, listen to reggae music, and watch the surf crash on the shore. That is not to say that there are no beachfront options in Cenang today.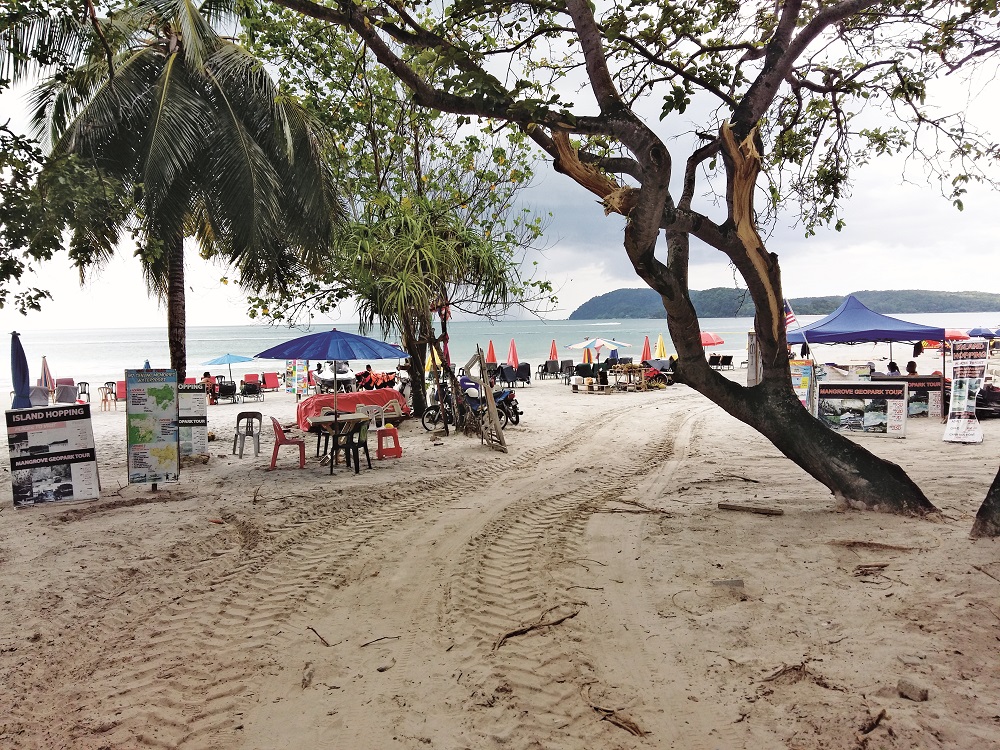 Yellow Café, which has been a watering hole and restaurant for years, has slowly morphed into a more sophisticated but still casual establishment with relaxed lounge seating under the soft breeze of ceiling fans. Nice, but not quite "toes in sand and thatch roofing."
The new kid on the block is Thirstday, sitting on the beach behind the well-known Orchid Rhia Restaurant. With its contemporary long bar and high bar stools and low table seating, it offers beautiful sunset views from its elevated brick veranda. The more upscale style of both Yellow and Thirstday may be setting the trend for future bars along the beach.
So what does the future have in store for Pantai Cenang and Pantai Tengah?
Progress, Pitfalls and Potential
A four-lane divided bypass road is under construction across the paddy fields just to the East of Cenang. There are two feeder roads to allow traffic into both the north and south end of Jalan Pantai Cenang, as well as access to satellite parking areas. The public beach access is being expanded in front of the Cenang Mall providing vendor stalls in container like structures which have replaced the original and quaint awnings and umbrellas of haphazardly scattered food vendors and tour operators.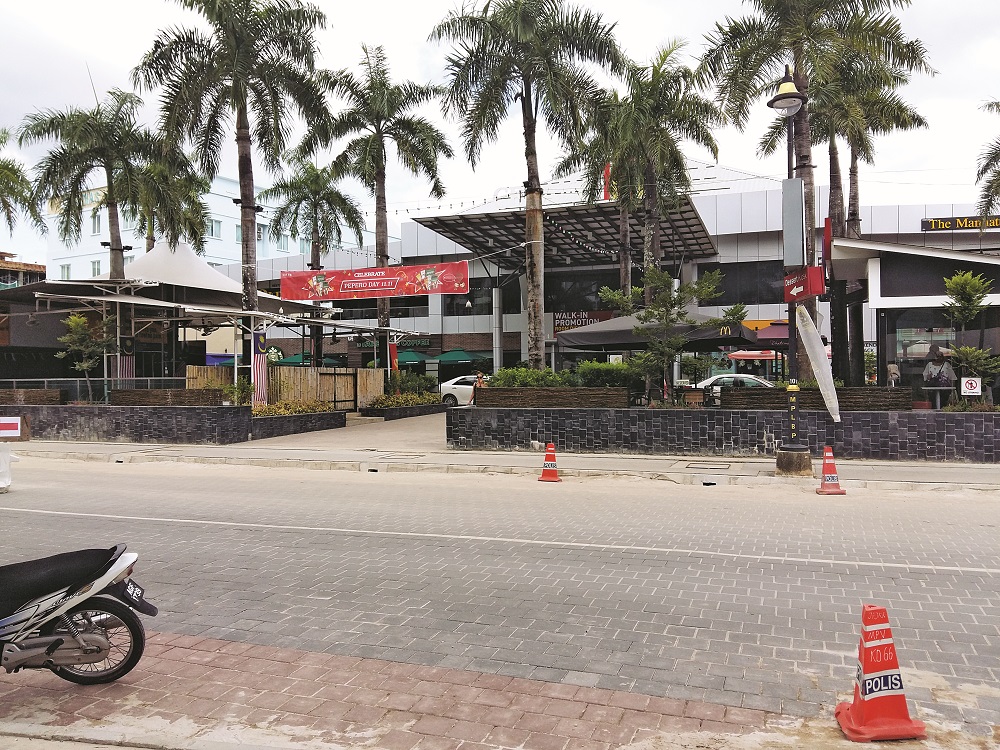 A paved 'boardwalk' has been completed along some areas of the beachfront not far above the high tide mark. Depending on your point of view, this is a much desired modern improvement or another design concept which erodes the romantic swaying palms and coconut hut simplicity of Langkawi's perceived 'island life'.
In interviewing a number of restaurant, shop, and hotel owners there is still a wait-and-see attitude as to what the end result will be. While the original LADA development plan called for one-way traffic along Jalan Pantai Cenang, there is a developer's concept plan posted in front of the public beachfront area still depicting two-way traffic. Up and down Jalan Pantai Cenang, the road width varies as individual developers either move the curbs inward to expand the roadway for parking or, as in one instance, move the curbs out over two metres to allow a larger entry area for a hotel whose expansion is still under construction.
The Cenang Mall is a nicely conceived and popular addition to the mix. The one possible drawback, again depending on your perspective, is that the mall has also encouraged the proliferation of chain restaurants to invade the beach town: Starbucks, Old TownWhite Coffee, and Pizza Hut, to mention a few. However, with the ever-expanding availability of shop space, there is also a greater diversity of higher end shopping options up and down the main thoroughfare, as well as more diverse dining options.
Beyond Cenang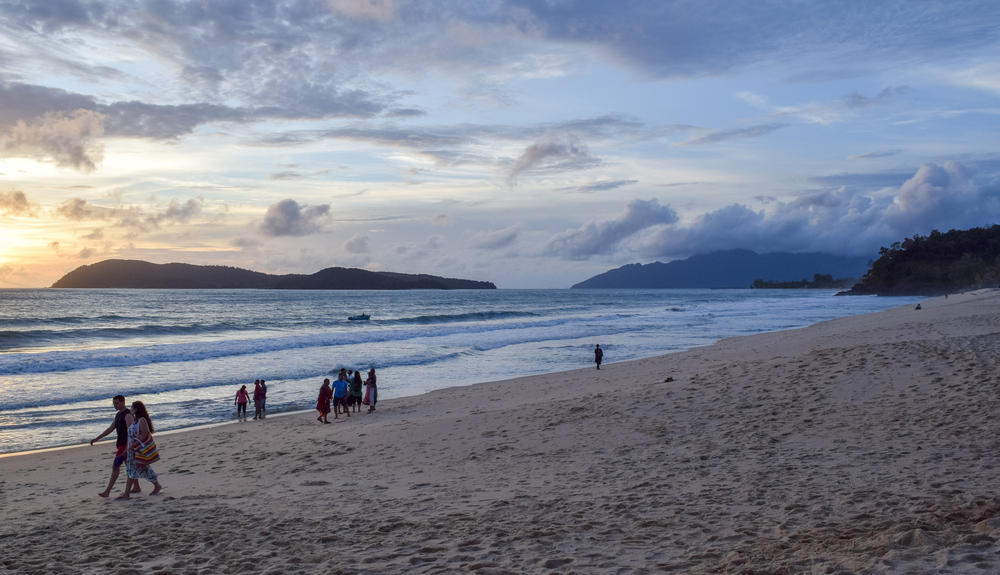 Pantai Tengah is also seeing a boom in new construction as well, but without the ill effects of increased congestion. The Berjaya Resort Group and The Parkroyal are building new hotels with direct beach access and five-star amenities, and will infuse new life to this rather sleepy end of Jalan Pantai Cenang.
Further up towards Porto Awana, the Lavanya Residences development has broken ground and is making smooth progress towards its completion in 2018. This property offers private villas on 6.8 acres of lushly landscaped grounds with a service apartment tower planned in the future. The Seaview Langkawi Hotel Group also has a new hotel well underway to completion tucked on the inland side of the road and backed into the jungle-clad hillside.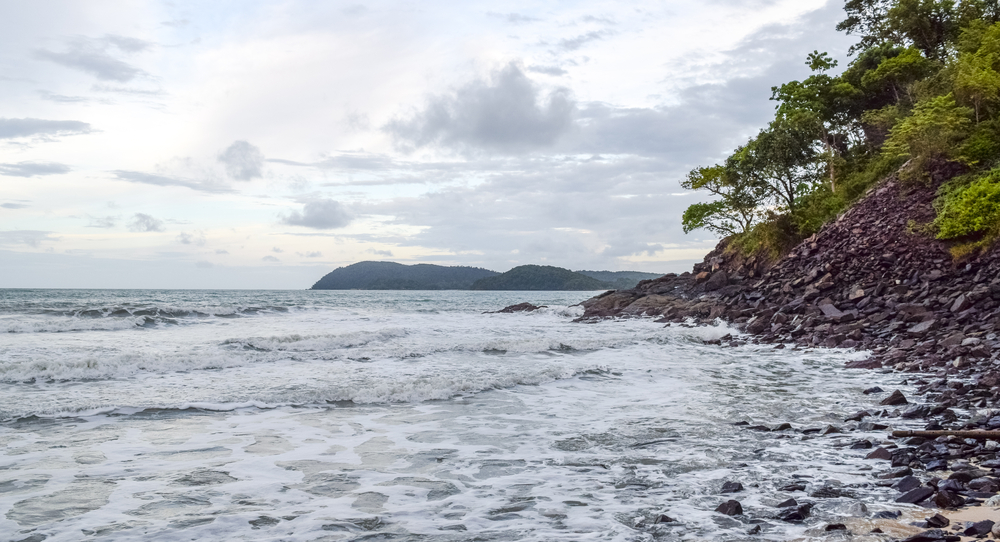 With its broad tree-lined thoroughfare, Pantai Tengah has been slow to develop, but indeed has the existing infrastructure in place. The new developments will complement the existing ambience of the area and offer a less hectic environment for visitors and residents than the bustling Pantai Cenang, just a stone's throw away.
The beaches of both Tengah and Cenang are still beautiful and not crowded, even during high season. The availability of water sports and activities has only increased, offering more options.With the completion of the bypass road and the implementation of a limited access, one-way, pedestrian friendly main thoroughfare, road congestion will be alleviated. Change always brings positives and negatives, depending on individual perception, and how that change is carried out and managed. As is the opinion of many resident business owners in Langkawi, we will all just have to wait and see… once the dust finally settles.
This article was originally published in The Expat magazine (December 2016), which is available online or in print via a free subscription.
---
"ExpatGo welcomes and encourages comments, input, and divergent opinions. However, we kindly request that you use suitable language in your comments, and refrain from any sort of personal attack, hate speech, or disparaging rhetoric. Comments not in line with this are subject to removal from the site. "
Comments