Malaysian designer Alia Bastamam is a strong influence in the local fashion scene, having grown her label over the past seven years. Sharuna Segaren catches up with her in the midst of preparing for a busy Raya season.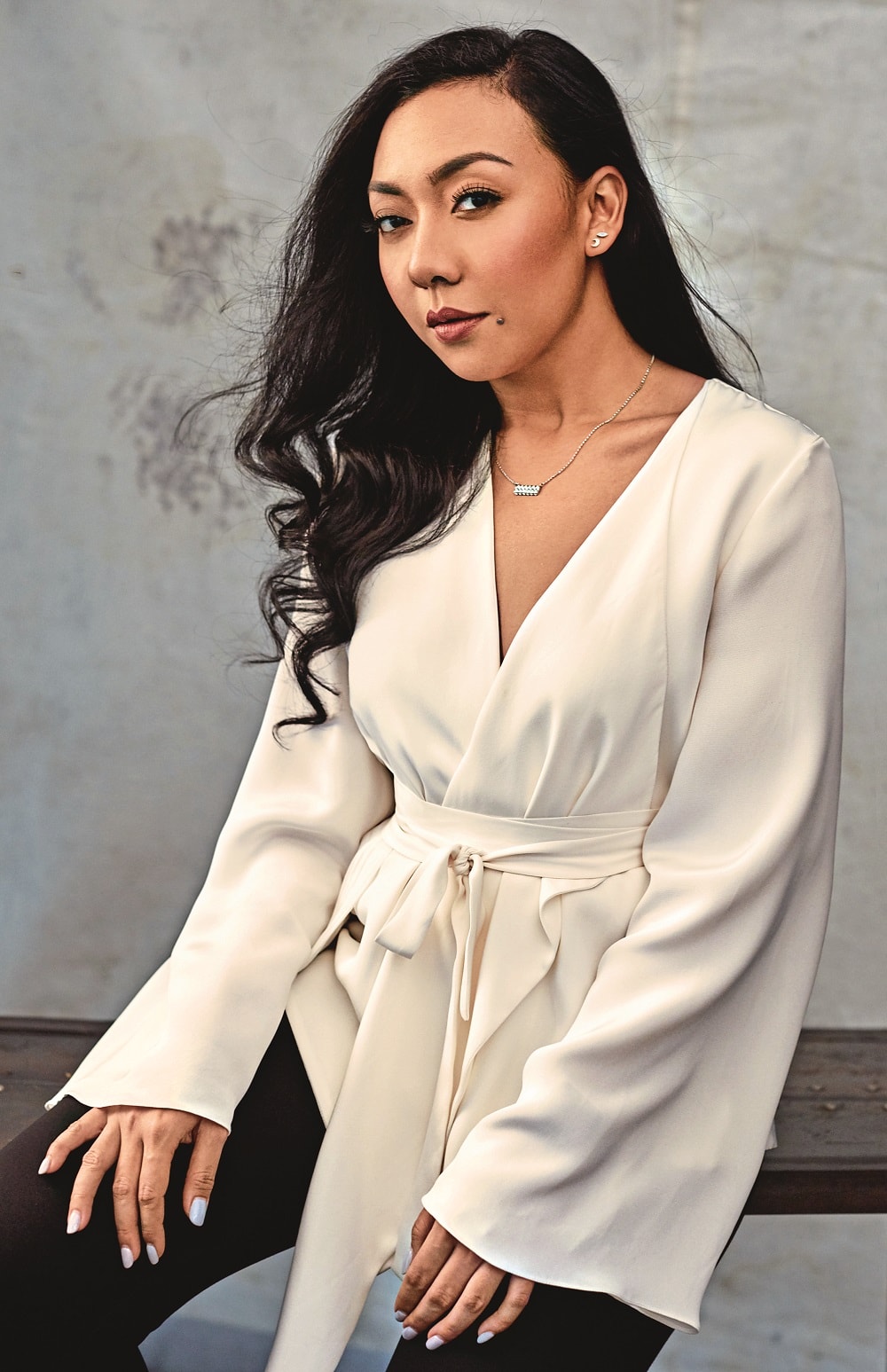 Alia Bastamam's passion has always been fashion, even from a young age. She said, "I've always been interested in making things, even since I was very young. I studied architecture after high school, but I moved to fashion design because it was an urge I had to fulfil. So with the support of my family and friends, I dropped out of architecture to pursue fashion design. The rest, as they say, is history."
Hailing from Subang Jaya, Selangor, Alia Bastamam's designs started off in a small workshop where she started off with custom and bridal orders. Her work quickly gained attention for its effortless and quality style. Since her humble beginnings, her garments have been donned by countless celebrities and personalities on the runway and red carpet, and also captivated the mass market.
From there, the Alia Bastamam brand has expanded to include the diffusion label Alia B., skewing more focus on the expansive ready-to-wear market and the high-end Atelier line which focuses on a private clientele , while the Bridal line still remains.
Creating timeless fashion
Alia said, "Alia Bastamam is the main line, which focuses on high-end ready-to-wear – this is for the urban market, mostly ladies aged 25 onwards, who have a sharp eye for fabric and finishing. This is mostly available at our showroom. Alia Bastamam Atelier and Alia Bastamam Bridal focuses on custom designs, but we've recently become more selective of our clientele for custom designs only because we've been focusing more into our ready-to-wear. ALIA B. is the secondary ready-to-wear line, which is affordable, younger, more trend-driven, and only available in Malaysia and the region."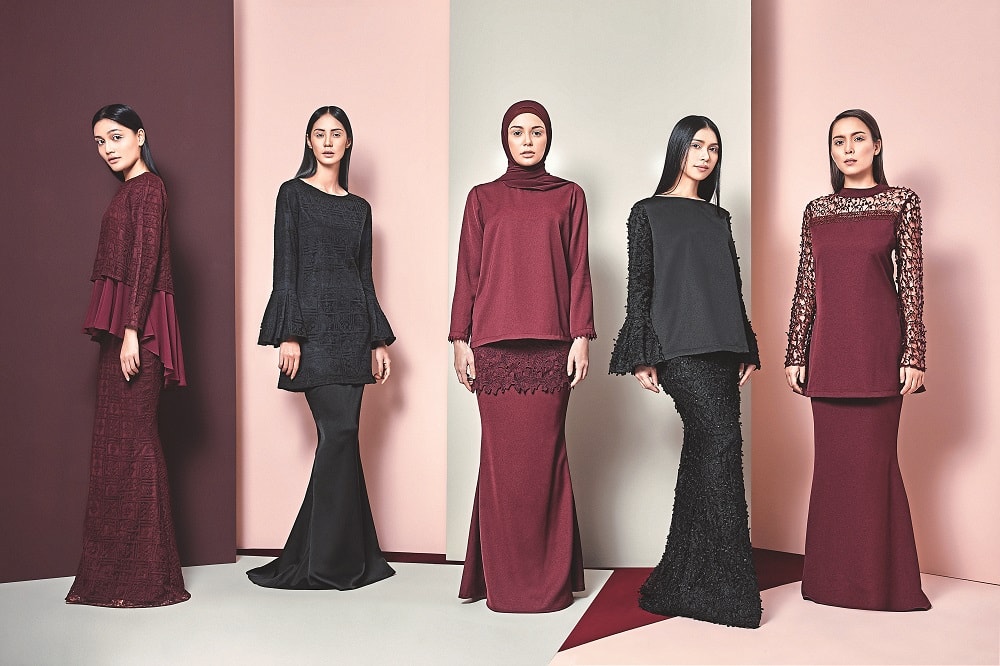 The ability to connect with Malaysian females and their fashion sense is what keeps the brand alive, as she says, she creates pieces that she would want to wear herself. The fashion industry in Malaysia is still somewhat young, and people want trendy pieces that are also minimalist and comfortable instead of over-the-top designs. "Timelessness is what I want my designs to exude. Above all, I keep in mind ease and comfort."
The designs also exude elegant sensuality, with feminine and classy touches such as a backless scoop, plunging neckline, or a towering slit. Yet Alia keeps modesty in mind due to the diversity in the brand's customer base. She said,"Over the years, we have garnered a wider customer base and it's our responsibility to offer something for everyone. So I also keep the modest woman in mind. I love how they make modest fashion so chic and I want our brand to be part of that for them because they've been so supportive of Alia Bastamam."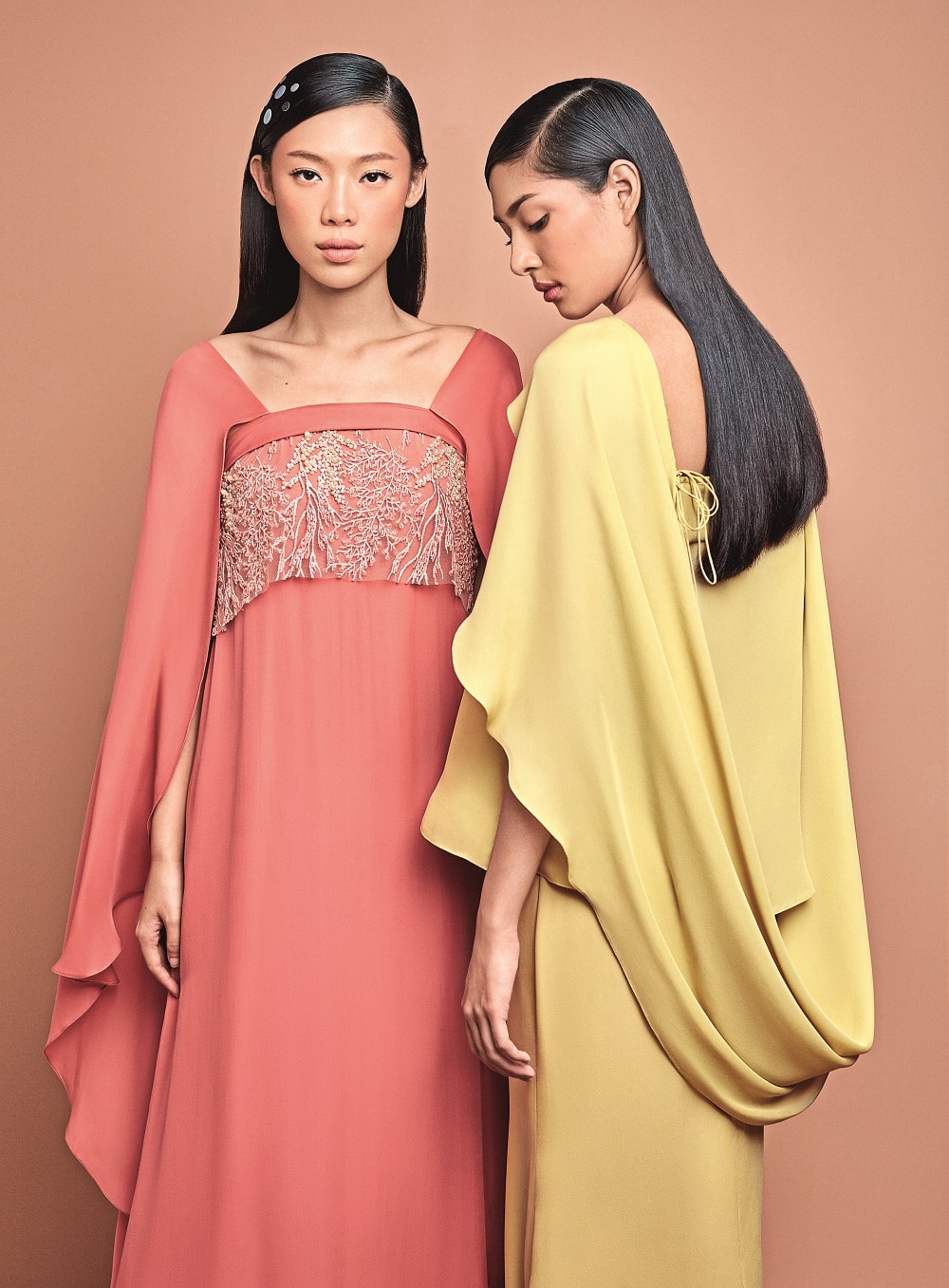 Being a multi-cultural country, traditional attire is still popular in Malaysia especially around festive seasons. So how does Alia blend the modern with the traditional when it comes to Malay clothing such as the baju kurung and baju kebaya?
She explained, "I would find a way to simplifying it for a contemporary translation that would be more apt for my label. Playing around with fabric and colour, which I love, would also give traditional designs a more modern aspect. But when a traditional design is already perfect, like the clean lines of a baju kurung, I would leave it as is."
While the brand keeps up with what the local women want in terms of fashion, she mentions that fashion trends are moving so fast in this era that it's not vital to focus solely on what's hot and what's not. "In the era we're in now, fashion moves so fast that trends tend to become a blur between seasons actually. Are there really trends anymore? Fashion is at everyone's fingertips and it's possible for everyone to have a good sense of style these days.
But if we really need to talk trends, here are some I can list out. Statement pieces and full statement looks are definitely going to be upcoming trends, straight-up streetwear with strong sporty influence, and the weird, wacky individualistic style where anything goes with everything and more is more, which has been mainly influenced by the new Gucci image."
She gets inspired for the designs by different things. "Sometimes it's a certain girl or woman. I've been inspired by single images – once it was an image of flamingoes I photographed at the bird park. Other times it's as simple as a fabric that catches my eye, and the collection grows from that one single fabric. My creative team also compiles a library of visuals ranging from moods to campaign references and these also act as a catalyst to be inspired. We have juniors in the team, but like any team member including myself we each do a little of everything. So when it comes time to work on a new collection, I involve our juniors in the creative team to suggest designs for me to develop from. It's imperative to include different ideas and fresh points of view."
Understanding the industry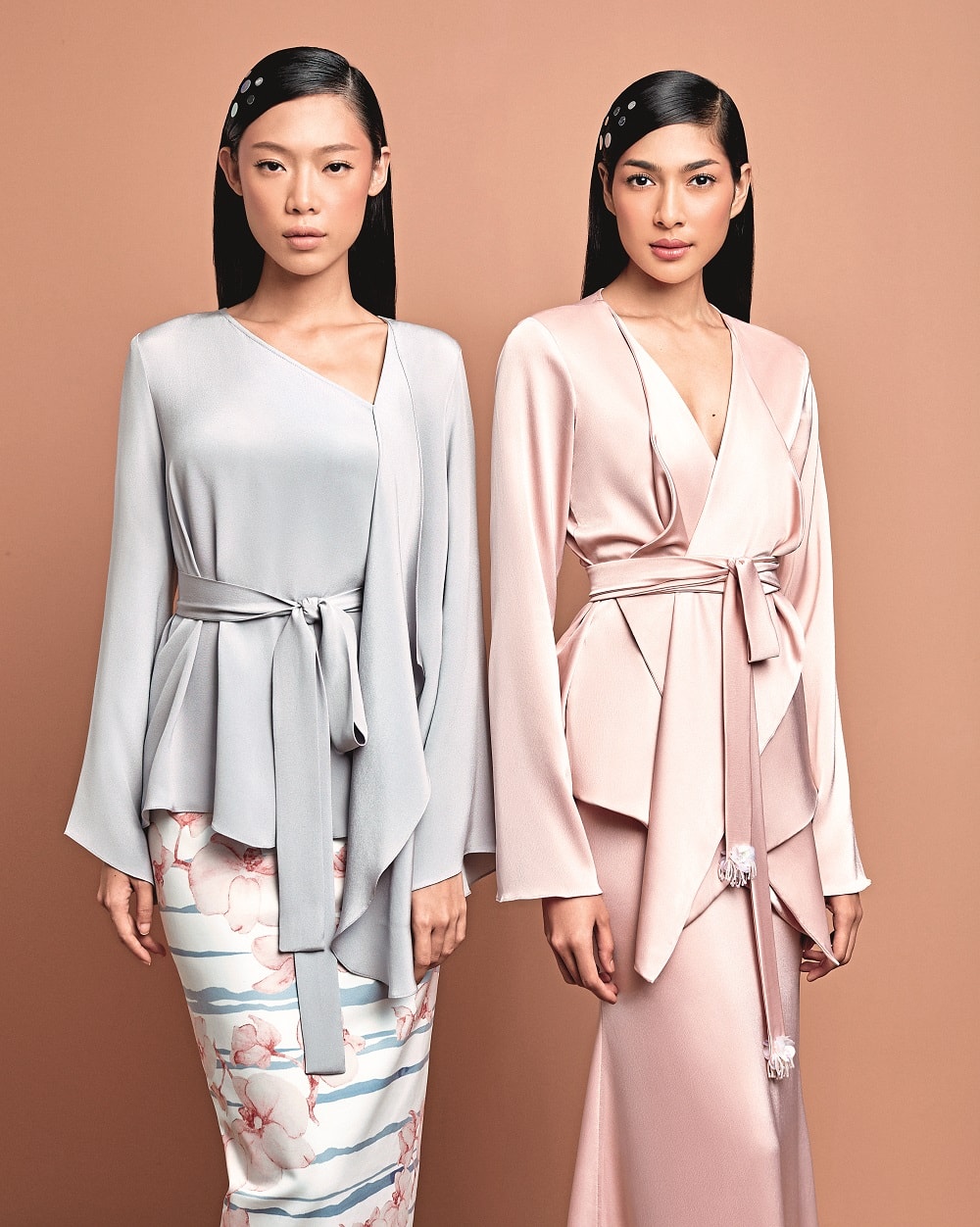 She stays connected to the local culture and trends by understanding the need to keep a finger on the pulse of things.  "It's really not just about reading magazines, or keeping up with social media. It's having a keen eye on people, music, television, weekend events – it's really a whole list of things to keep abreast with to understand trends and in turn, fashion trends."
Although Alia has been in the field for several years, she says it's still a learning process. "The industry, as it is anywhere in the world, all boils right down to the business of it. That is a main chunk of what I've learned and it has, in turn, affected how I design. Budgeting, keeping in mind how much people spend to shop, how well is this economy doing, so many things that I've taken advantage of so that there's a synergy between what I design and what sells to keep this business running."
Alia said that the fashion industry in Malaysia is very unique and you can't keep up with it or even understanding it by simply flipping the pages of a fashion magazine. "The fashion industry in Malaysia specifically, you don't learn and understand it from what you read or see in a Vogue magazine. Each country to its own, and Malaysia is a very different fashion market. Since coming into this industry, I've come to learn that if my creative team and I really like a design, it won't necessarily mean the market likes it too. And it's not just one market, which is the fashionable urban market we usually have in mind, but more importantly there's the mass market. It's a huge market with a completely different textbook to learn – it's not the easiest market to understand and we are still learning about it each season."
Alia also explains how she as person, as well as her label, has evolved over the years. "Over the course of seven years, I wouldn't say that my aesthetic has established, instead it has developed and become more refined. I have a better understanding and clearer vision of what I'm making, what I want to make, and what people want. With all the ups and downs in my career, I've become a stronger person. I've met and talked to more people in seven years than I have in my whole life, and that has contributed to my confidence as a person."
Her latest collection
Preparing for the busy Raya season is always a hectic one, and even after all these years it's still a challenge which she still hasn't fully gotten used to. "It's funny that even after being in this business for seven years, it still isn't easy getting used to the madness of Raya season, which for us lasts a good six to seven months! This includes the timeframe for research and development, the production of ALIA B. and Alia Bastamam, planning two campaign shoots, two fashion shows, miscellaneous Raya presentations and events, as well as regional visits. And all while releasing a Fall/Winter collection, working on SS18 and Resort 2018 and juggling business trips for sourcing and production in between. Raya season wouldn't end until a month after the festivities."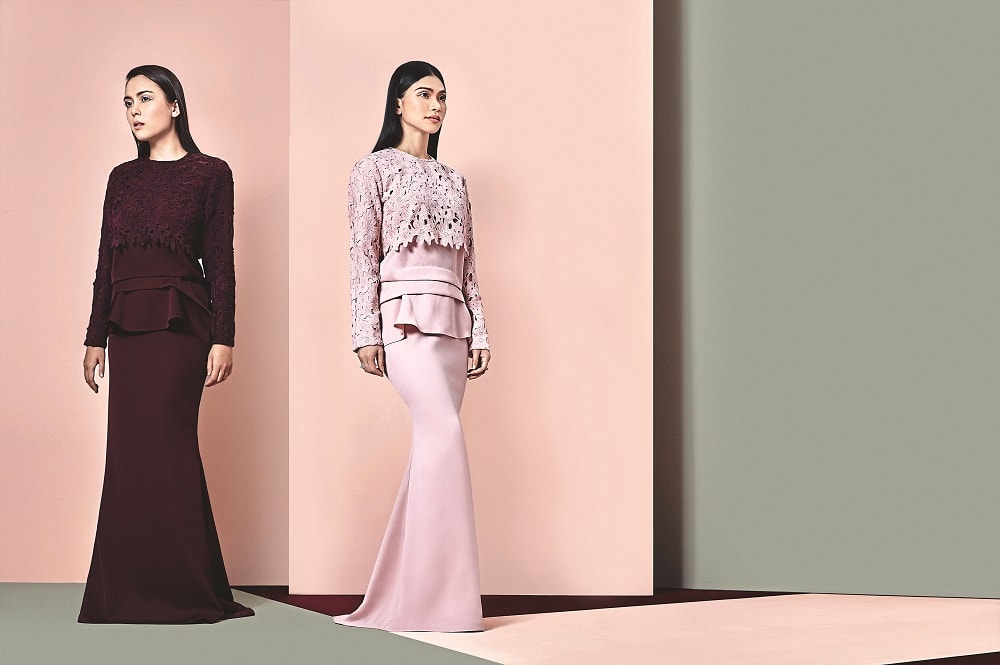 Inspired by flora and geometry, the ALIA B. Raya 2017 collection introduces a new selection of various laces, named after the elements of our imagined garden, Tiger Lily, a dense foliage lace, Ivy, a lush three-dimensional lace, Sakura, delicately embroidered on organza, Dahlia, the most feminine of all, and Mandala, made of geometric, cross-stitch-like patterns. The colour palette includes Rose, Sand and Cream, while Burgundy and Black are approved to give ideas of Raya as eveningwear. The collection will also include certain silhouettes such as the bell-shaped Kurung, the classic peplum Kurung, and the modern layered Kurung Kedah.
When asked how she keeps herself from burning out with such a full life, Alia said, "I allocate a certain amount of hours a day for work. I try not to involve work outside those hours. Unless of course it's during a busy season or when we're in 'Project Runway mode' as we call it. When we first started this label, everything revolved around work, and that's all we talked about as the founding team, even when we're on holiday! But we've learned to not do that, and practically weaned ourselves off talking about work outside work hours."
So what's the next for the dynamic brand? Alia said, "Having already been in this business for a substantial amount of time, we've already reached a point of a new set of goals. At this moment, short-term goals would be to expand internationally, which would have been our long-term goal when we started. Long-term – to see the brands under the Alia Bastamam umbrella in shopping malls worldwide, and with expansions in not just apparel, but also shoes, bags, accessories, perfume, cosmetics… who knows!"
This article was originally published in Sense of Malaysia (July/August 2017) which is available online or in print.



" ExpatGo welcomes and encourages comments, input, and divergent opinions. However, we kindly request that you use suitable language in your comments, and refrain from any sort of personal attack, hate speech, or disparaging rhetoric. Comments not in line with this are subject to removal from the site. "



Comments