The move, which went into effect on September 7, initially included all long-term Malaysian pass holders, as well.
This story was updated on September 10.
Following the report of a surge in cases in the three South Asian/Southeast Asian countries, and on the advice of the Ministry of Health, Malaysia made the surprising decision to completely bar entry into the country for any nationals from India, Indonesia, and the Philippines, a move that, given the large populations of these countries, impacts nearly 1.8 billion individuals. Then they almost immediately went even further, expanding the list of countries from three to 23.
Now they've changed it again. That's three significant policy shifts in less than a week for those of you counting.
Visiting tourists (from anywhere) were already barred from entering Malaysia, but the first new policy implementation effectively prohibited entry for all citizens and residents of the named countries. A slight and near-immediate revision of the policy then seemed to take into account the traveller's residency and/or travel history. The official travel advisory, which details the second new policy, is reproduced below: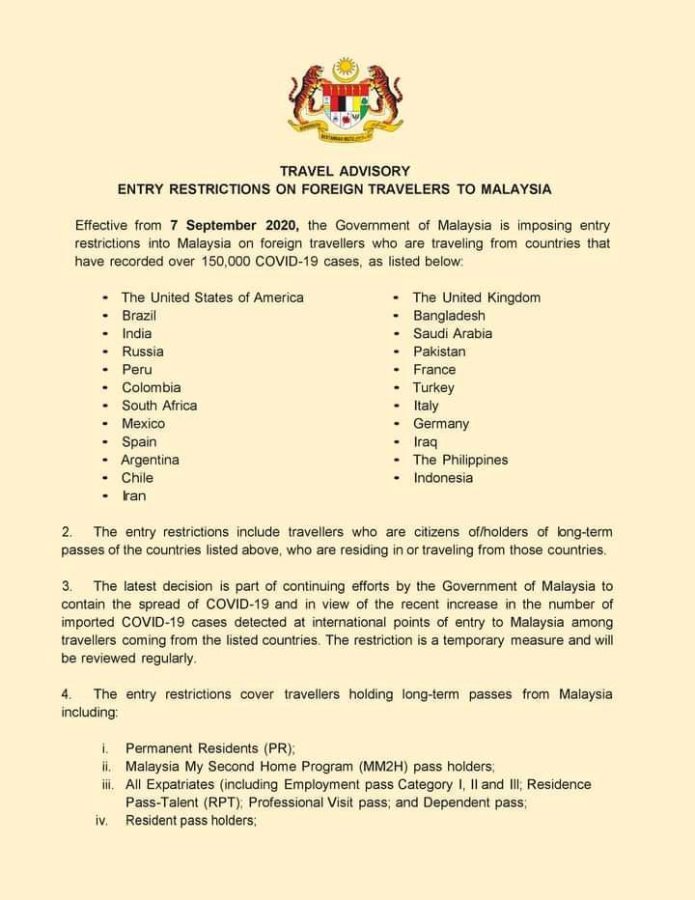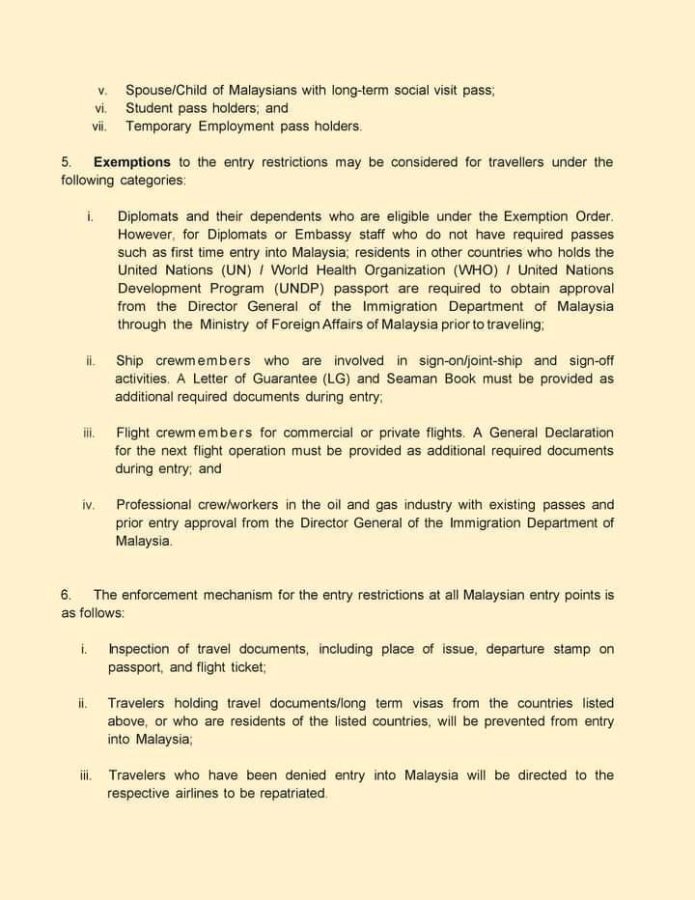 The new restriction, which went into effect on September 7, also included all long-term pass holders, with no exceptions. That's the part that's now seemingly changed, but only to a limited extent.
Following a significant outcry from GLCs, trade groups, Chambers of Commerce, and even some MPs, along with a slew of negative media coverage, Malaysia has now amended the policy yet again.
According to reports issued late Thursday afternoon (September 10), authorities seemed to recognise both the immediate and long-term damage to the country's reputation and its ability to attract foreign investment by this open-ended policy and have subsequently relaxed it slightly, so that expatriates, professional visit pass holders, permanent residents, and spouses of Malaysians will be able to enter the country, even from the 23 noted countries. Of course, there's a catch, and it's not as simple as it sounds.
Senior Minister (Security) Datuk Seri Ismail Sabri Yaakob explained that expatriates and professionals with visit passes from the listed countries are now allowed to enter Malaysia, but only with the Immigration Department's approval.
"[They] will have to obtain approval from the Immigration Department before they can enter the country. Their application must [also] have a support letter from the Malaysian Investment Development Authority or related agencies," he said at a press conference on Thursday.
Ismail said the government has also decided to allow permanent residents and foreign spouses of Malaysian citizens to enter the country, but only on the condition that it is a one-way trip.
"[Besides them], student pass holders from the affected countries will also be allowed into Malaysia. All categories mentioned must get approval from Immigration [Department] beforehand," he added.
The changes in the policy will undoubtedly cause more confusion and misunderstanding. It's worth noting that MM2H visa holders were not specifically addressed on Thursday, and our follow-up communication with the Ministry of Tourism confirmed that MM2Hers were not included on the list of expats who would be allowed entry with prior permission, a baffling decision that almost defies belief. We expect an official statement to be issued, as before, hopefully soon, along with a comprehensive list of all categories of expats and foreign residents impacted, as well as the requirements and procedures to follow for re-entry.
Despite the rapidly changing decisions being made by Malaysian authorities, if you are currently in the country, and your home country is on the list, the best approach at this time is to not leave Malaysia. (This is likely sound advice for anyone.)
The expanded list of 23 countries whose nationals were initially barred from entry is predicated on how many Covid-19 cases have been reported in the respective countries, with 150,000 appearing to be the trigger number.
This blanket ban was met earlier this week with a surprisingly vocal pushback in Malaysia. Many, including trade groups, editorial boards, and even Members of Parliament, had urged Malaysian authorities to reconsider and revise this draconian policy, based on both economic and humanitarian principles, as critics said it was unfair and unwarranted to lock residents who hold valid visas to live in Malaysia, simply because of the passport they hold. Current SOPs requiring Covid-19 tests and quarantine ensure that new arrivals cannot spread the virus throughout the country. Any traveller testing positive for Covid-19 would be sent directly to a hospital.
It seems the insistence for a relaxation of this policy was, to some extent, successful.
What's less clear is how much damage is being done to Malaysia's reputation by these seemingly haphazard and dramatic policy changes. The decision initially made international news, and has once again painted Malaysia in an unflattering light with its apparent disdain for foreign residents. Though the country has done an admirable job in handling the coronavirus crisis, many of the recent decisions involving foreign residents could cause long-term damage to the country's reputation and negatively impact foreign investment as efforts continue to rebuild a pandemic-devastated economy.
Winter Woes Coming?
Separately, Sabri mentioned that Malaysia is also grappling with the issue of how to deal with Malaysian citizens returning from cold-weather countries as winter approaches. Some experts are predicting additional spikes in cases as cold weather drives more people indoors for longer periods. (Respiratory illnesses, such as the common cold and influenza, do tend to increase during the winter in cold-weather countries,)
"We have asked the Health Ministry to make detailed planning on how Malaysia should face threats and challenges in view of the possibility of an increase in cases during winter," he said, adding that the government is addressing the challenge of how to prepare for the return of Malaysian citizens from countries which experience winter.
Whose Citizens are Banned?
For reference, the countries whose nationals/residents were initially barred from entering Malaysia, from September 7 are as follows. Under the newly relaxed measure, it appears that some citizens (as noted above) from these countries can enter Malaysia, but only with prior permission.
India
Indonesia
Philippines
United States
United Kingdom
Brazil
Saudi Arabia
Russia
France
Italy
Spain
Bangladesh
Germany
Peru
Colombia
South Africa
Iran
Chile
Pakistan
Turkey
Iraq
Mexico
Argentina
This is a developing story and will be updated as new information becomes available.



" ExpatGo welcomes and encourages comments, input, and divergent opinions. However, we kindly request that you use suitable language in your comments, and refrain from any sort of personal attack, hate speech, or disparaging rhetoric. Comments not in line with this are subject to removal from the site. "



Comments