In Malaysia, June brought a month-long lockdown, eroding quality of life, and very little progress being made in the reopening process, setting the country's international ranking up for a steep plunge.
The Covid Resilience Ranking is published monthly by Bloomberg, and its June 28 edition forms the basis of this article.
"Almost a year and a half into the pandemic," Bloomberg's latest report states, "the best and worst places to be in the Covid-19 era are increasingly defined by one thing: normalisation."
The biggest and most ambitious vaccination drive in human history is enabling parts of the world to abolish mask mandates, relax restrictions, and do away with border closures, making the magnitude of reopening key to quality of life. Taming cases and deaths was once paramount, along with ensuring a robust healthcare system. Now, at least for countries who have learned to live with the virus, the ability to essentially turn back the clock and return to something resembling pre-pandemic times is taking on an even greater significance.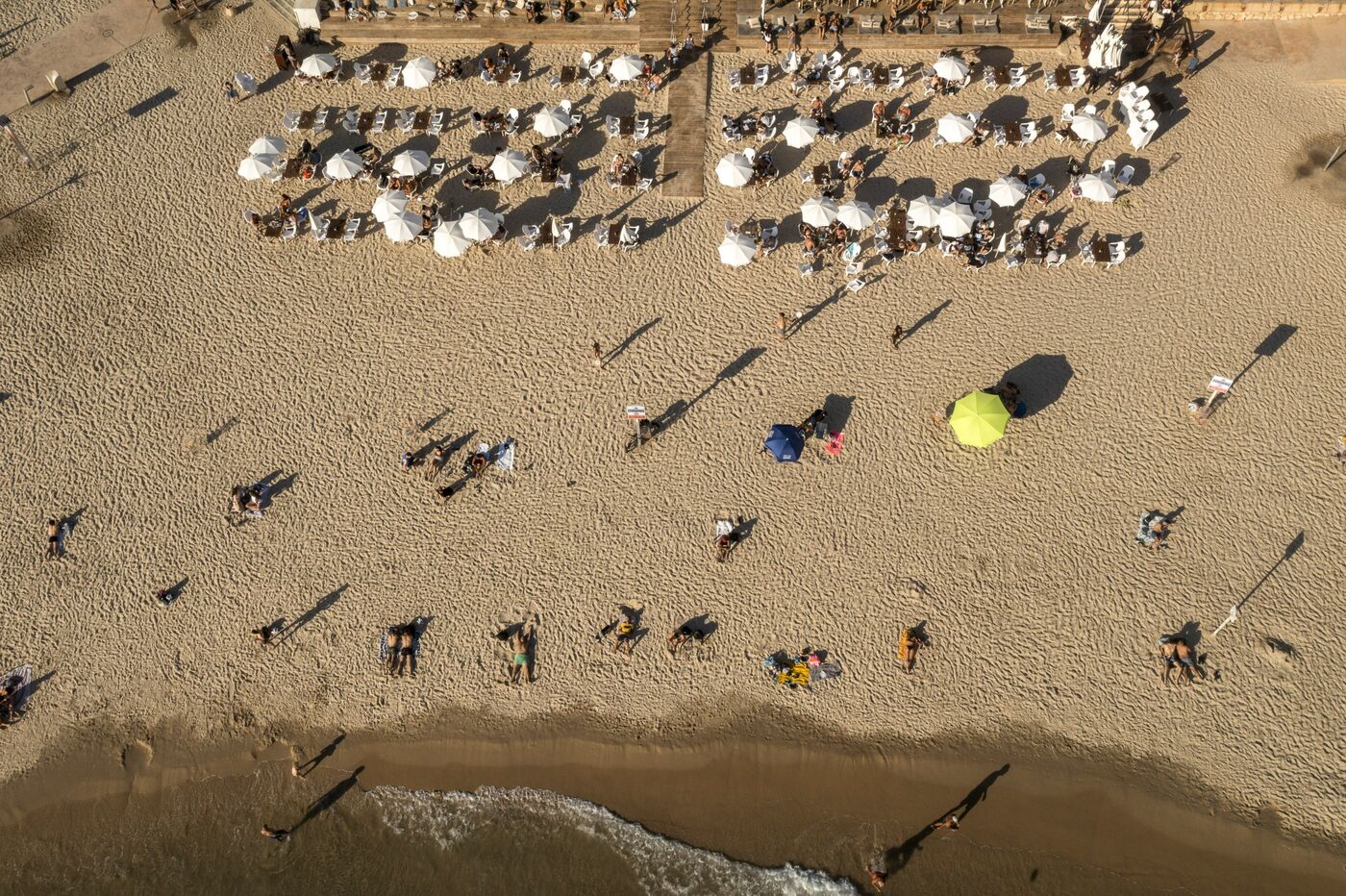 Central to that is an economy's openness to the world, and that's why Bloomberg introduced a new element – Reopening Progress – to its Covid Resilience Ranking. Two new metrics capture the ease of moving in and out of a place and how much air travel has recovered, alongside 10 other measures tracking mortality rates to infection counts, freedom of movement to economic growth.
While the early failure of powerful, developed economies to curb the spread of the coronavirus remains a lasting legacy of the pandemic and leaves a deep scar – the US, UK, and parts of Europe recorded some of the highest mortality-per-capita rates in the world – these places have seen a significant reversal of fortunes, and are proving to be faster and better at exiting the Covid era, mostly thanks to a domination of vaccine supplies.
FROM WORST TO FIRST
This pivot has ushered in dramatic changes to the ranks. The United States is now No. 1, with its fast and expansive vaccine rollout, dominated by the highly effective Messenger RNA (mRNA) shots, stemming what was once the world's worst outbreak. The remarkable turnaround has been nothing short of stunning.
Restaurants are packed, masks are no longer required for vaccinated people, and Americans are going on vacation again, emboldened by a vaccination rate that already covers half of the population. The US is set for blistering economic growth this year thanks to a $1.9 trillion stimulus package and vaccine-driven consumer confidence.
AND AT THE OTHER END OF THE SPECTRUM…
Malaysia, which was once doing relatively, if not spectacularly, well in the Ranking, has plunged to a near-bottom 51st place, with only the Philippines and Argentina faring worse, at 52nd and 53rd, respectively.
Some of the big changes in the rankings are clearly owed to the inclusion of two significant and new data points, as noted. According to Bloomberg, "Parts of the Asia-Pacific region that performed well in the Ranking until now – like Singapore, Hong Kong, and Australia – drop as strict border curbs remain in place and a zero-tolerance approach to small virus flare-ups limit their ability to reopen; Taiwan plunges into the bottom half of the Ranking for the same reasons, accentuated by a lagging vaccination drive and a resurgent outbreak."
The three countries noted (Singapore, Hong Kong, Australia) are now ranked 13th, 30th, and 7th, respectively.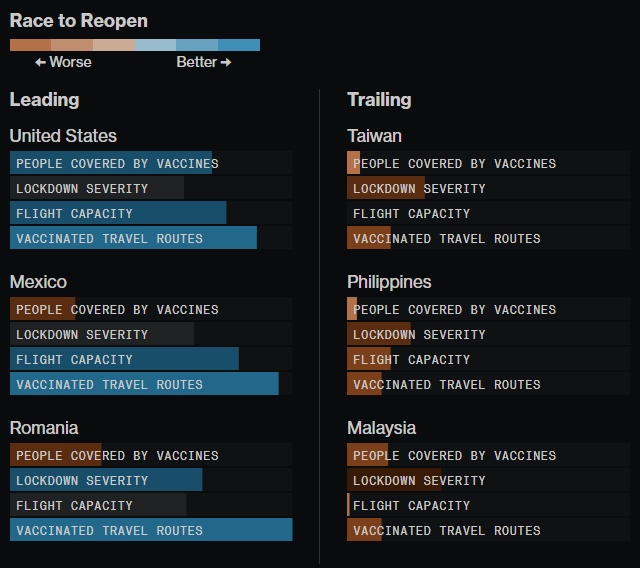 However, the drops seen by some countries are owed to a poor approach to reopening as well, a point that seriously hurt Malaysia, as did its renewed embrace of widescale lockdowns.
Malaysia scored dead last in community mobility, defined as "movement of people to offices and retail spaces compared to a pre-pandemic baseline." The smaller the drop, the less disruption people are experiencing. Out of 53 countries ranked, Malaysia's drop was the largest – nearly 50% of all mobility has been negatively impacted.
Malaysia's flight capacity, defined as the percentage change in the country's flight capacity scheduled in the last four weeks compared to the same period in 2019, was second-to-last, barely being nudged out by Taiwan. Malaysia has shed an astonishing 90.7% of its flight capacity compared to June 2019, while last-place Taiwan has lost 91.5%.
On a relatively positive note, Malaysia scored somewhat more favourably on its positive test rate, or the percentage of Covid tests that come back positive. A high score indicates that only the sickest patients are being tested and that there are large numbers of undetected infection in the country. Malaysia's rate of 7.3% is not great (ranked 40th of 53 countries), but it's far better than the cluster of countries at the bottom, all of which have positive test rates of 20% or higher.
It's mostly the reopening metrics that doomed Malaysia, although some of the Covid status and quality of life metrics didn't help much, either.
India, Malaysia, the Philippines, and Argentina are at the bottom of the Ranking, and in noting that, one comment in the Bloomberg report stands out in its harsh accuracy: "As others accept that Covid is endemic and move on, these places are at risk of being stuck in cycles of lockdowns, a particular blow for smaller travel-reliant economies."
GOVERNMENTS MUST INSPIRE AND FOSTER TRUST
The early under-performance of some of the world's most prominent democracies in containing the coronavirus, contrasted with the success of authoritarian countries like China, had understandably raised questions in 2020 over whether democratic societies are cut out for tackling pandemics.
Bloomberg's Covid Resilience Ranking, however, tells a different story: "Democracies have made up the majority of the top 10 since the measure's debut in November. Success in containing Covid with the least disruption appears to rely less on being able to order people into submission and more on governments fostering a high degree of trust and societal compliance."
When citizens have faith in the authorities and their leadership, lockdowns may not be needed at all, as Japan and South Korea showed through most of 2020, though it's fair to say a couple of fierce winter surges definitely posed some challenges to those more open approaches.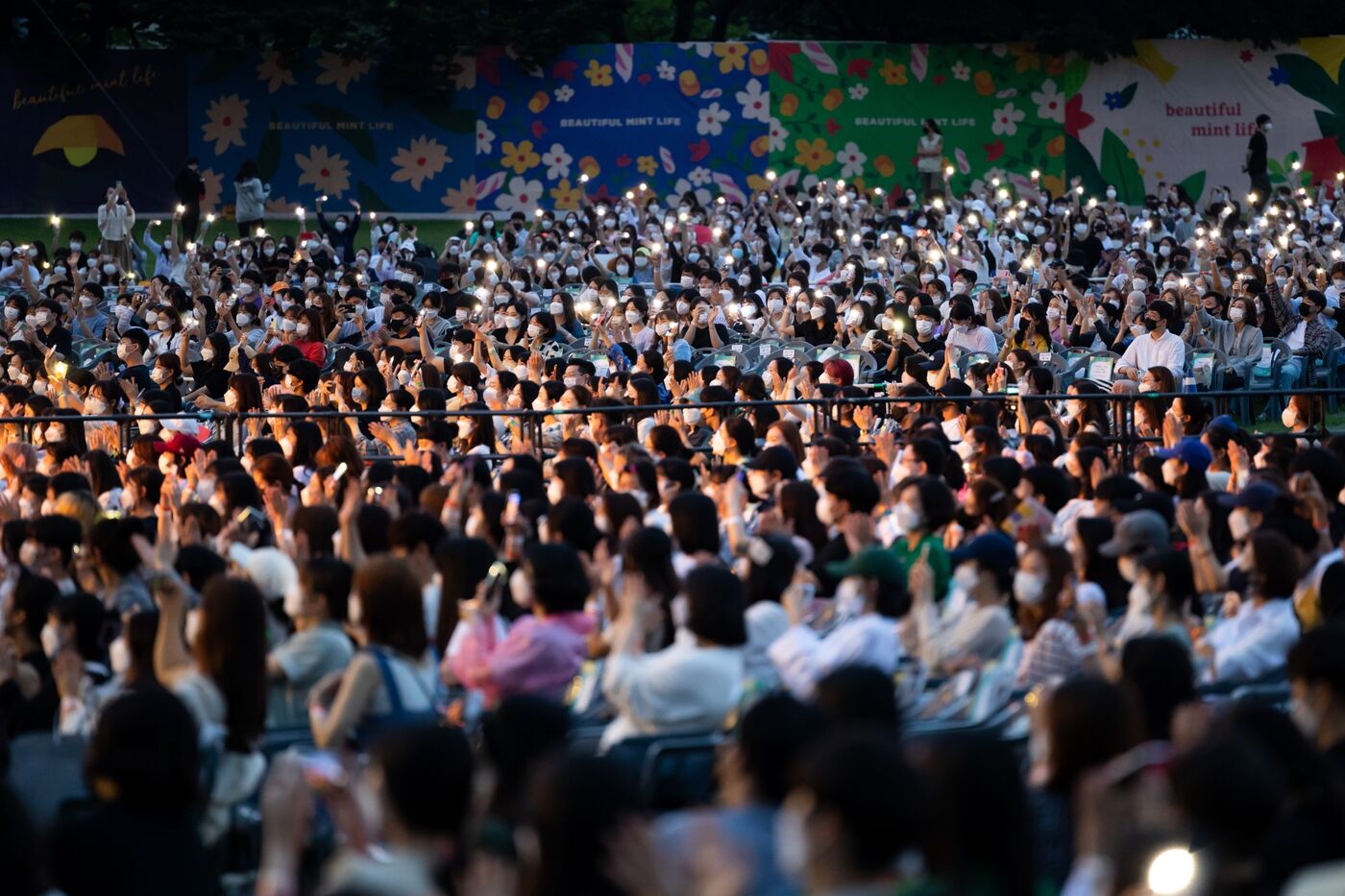 One important caveat noted by Bloomberg in the Ranking report: "The Covid Resilience Ranking captures a snapshot in time. There's no guarantee that the turnarounds pulled off by the US and Europe will hold, as outbreaks in the developing world continue to throw up fearsome mutations. Due to the spread of the Delta variant, the UK has delayed reopening plans for a month while Israel, ranked No. 4 thanks to its enviable vaccination rate, has reinstated indoor mask mandates."
So it certainly seems that with Covid, as with life, there are no sure things… and the only constant is change.
To learn more about the methodology used for Bloomberg's Covid Resilience Ranking, CLICK HERE.
---
"ExpatGo welcomes and encourages comments, input, and divergent opinions. However, we kindly request that you use suitable language in your comments, and refrain from any sort of personal attack, hate speech, or disparaging rhetoric. Comments not in line with this are subject to removal from the site. "
Comments