Rising new daily case numbers don't mean the vaccines aren't effective and shouldn't be a reason to doubt the urgent need for everyone who's eligible to get immunised.
With records being broken over and over, Malaysians have doubtlessly noted the skyrocketing cases over the past few weeks, despite a massive vaccination effort and two months of general stay-at-home directives. It's perhaps hard to understand why new cases are soaring – and even ICU cases and deaths are remaining stubbornly high when – logically, we think they should all be in decline.
Here are some things to consider, as well as an explainer on "breakthrough cases" and why we will continue seeing high numbers of new cases – perhaps even rising – as more and more people get vaccinated.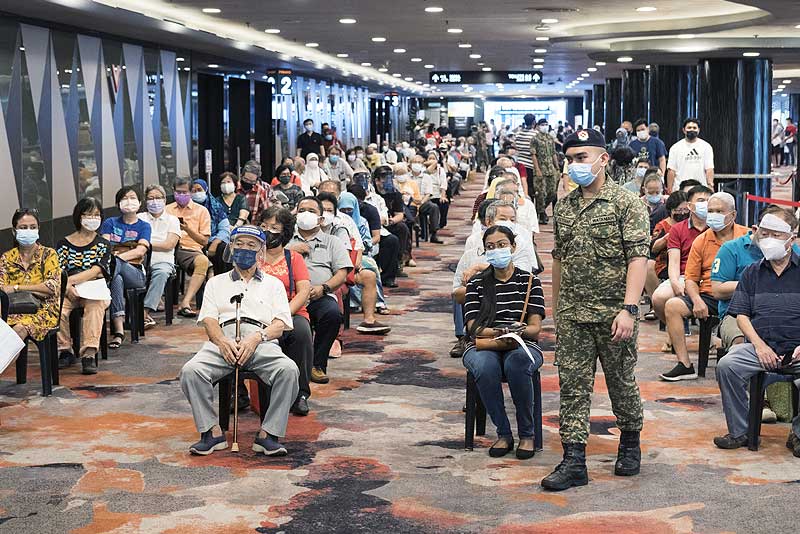 WHY AREN'T THE NUMBERS COMING DOWN?
For now, Malaysian authorities remain rather fixated on daily new cases, a Covid metric of limited usefulness, though there are signs the country is beginning to move away from the emphasis placed on this number.
It's important to realise that the detection of new cases is directly linked to testing – both the scale of the testing and where it's being deployed. If testing is increased in areas of known spread (such as KL and urbanised pockets of Selangor), you can be sure that more cases will be picked up.
The only way that daily new cases can be properly interpreted is if testing is done at the same rate throughout a given area; that is, the same number of tests per 1,000 people, whether it's in Selangor, Kedah, Sabah, etc. And that rate must be consistent on an ongoing basis. Only then can true trends be identified and interpreted. Otherwise, you're going to have daily spikes and area-specific surges. Even looking at a moving seven-day average of daily new cases – which 'smooths out' those daily spikes – offers more meaningful data than looking just at the number each day.
So if daily new cases are 13,000 yesterday, 16,000 today, and 14,000 tomorrow, what does that mean? Taken on its own, not much.
Looking closer certainly helps, and the Ministry of Health has begun offering more granular details of cases of late. When 95-98% of all new cases are reported as either asymptomatic or have only mild symptoms, it offers a much more useful context with which to view the data.
Also important is to watch the trend of serious cases (hospitalisations and ICU cases) and deaths.
If you consider the United Kingdom's data, their cases are rising significantly now despite widespread vaccination. Much of this is being driven by the much more contagious Delta variant of the virus.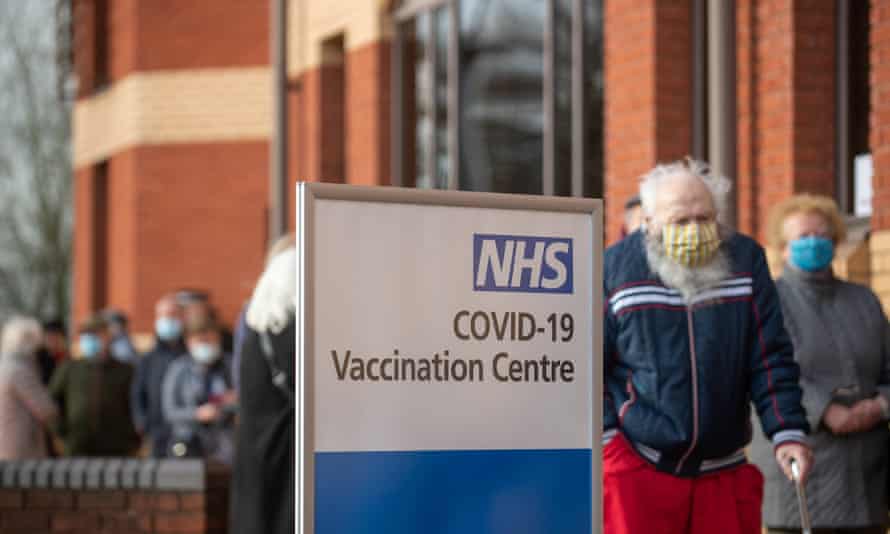 However, deaths in the UK plummeted once the vaccinations reached a certain threshold (around 30%), and continued to decline as more and more residents were fully inoculated.
When comparing the two graphs below, you can see a clear correlation between cases and deaths in the long surge from October 2020 to about March 2021. A distressing correlation was even evident in the early days of the pandemic in April and May 2020. With no vaccines and only the beginning of our knowledge and understanding of the disease at that time, even a relatively low number of cases resulted in thousands of deaths.
But as the vaccines became increasingly widespread in the UK, both the cases and the deaths declined dramatically. Then, as the Delta variant emerged and became the dominant strain of the virus there just as people were beginning to resume freely moving around, cases once again soared.
But deaths didn't. A similar phenomenon played out in the United States, as well.
That's what the vaccines are meant to do, and this dramatically showcases just how incredibly effective they are.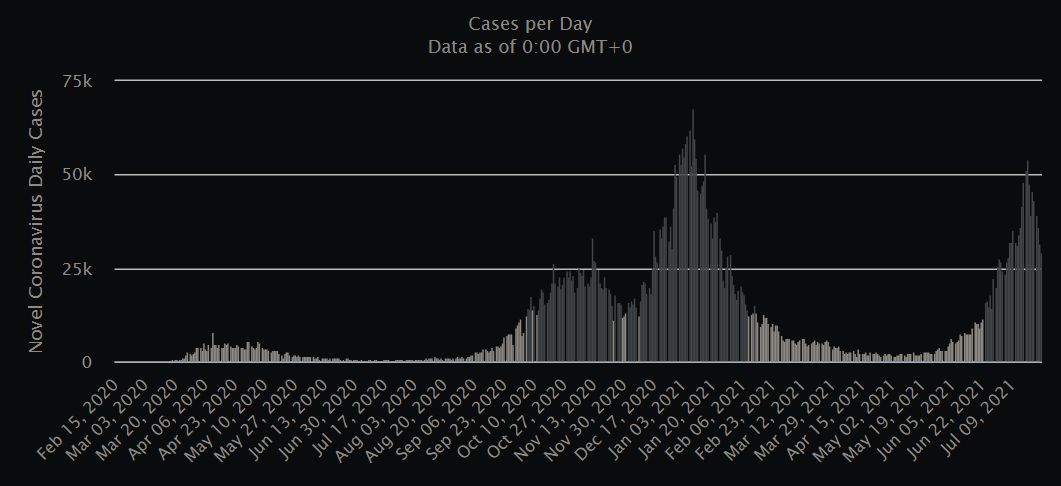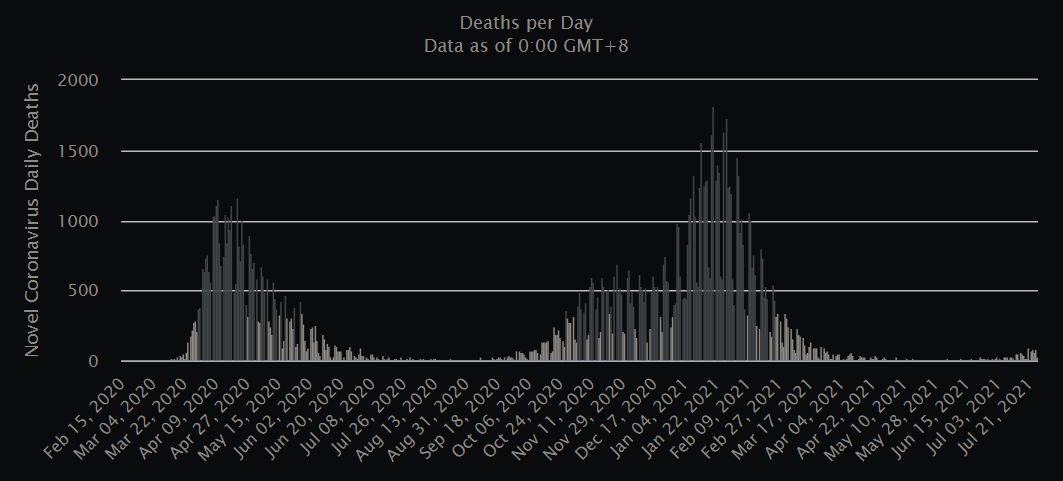 It's also important to note that the rise in cases also occurred because people began resuming their "normal lives" quite a bit more. As large numbers of people mix and mingle more freely, rightly confident in the protection afforded by the vaccines, the virus will undoubtedly be spread.
THERE WILL STILL BE CASES, BUT NEARLY ALL WILL BE MILD
Though there are some differences between the various vaccines as to their effectiveness against contracting Covid-19 (and also in preventing transmission), ALL of the vaccines available in Malaysia have extremely high effectiveness against severe illness or death resulting from Covid.
Even now, it's common for over 98% of new reported cases to be either mildly symptomatic or completely asymptomatic, so this offers encouragement for the weeks and months to come as more and more people in Malaysia get fully vaccinated.
The perfect vaccine would fully prevent the disease and fully arrest any possible transmission of the virus, but so far, there's never been a vaccine like that for any disease. The Covid vaccines, however, collectively come pretty close, and both the creation of these incredibly effective vaccines in such a relatively short time and the staggering worldwide logistical effort mounted to get them produced and provided to billions of people around the world speaks to just how much we can accomplish as a species when there is a need and a will to do so.
When the effort began to create a vaccine, experts were hoping for at least 50% effectiveness. Even that would have made a serious dent in a worldwide pandemic. What they got was a suite of vaccines that all have at least 90% reported effectiveness against serious illness and death.
Most also have better-than-expected effectiveness in curbing the transmission of the virus, too, though it's starting to look like mutated variants may be eroding that advantage somewhat (with some vaccines), but still, even against the known variants, including Delta, the vaccines currently available in Malaysia appear to offer high rates of effectiveness against severe illness and death. (This effectiveness is still being studied, and of course is subject to revision as time passes and more information becomes available.)
A note on this, however: Though it is an effective vaccine, Sinovac is consistently disadvantaged in comparative reports simply because China "has not provided vaccine effectiveness results against the variant based on large-scale data in clinical trials or real-world use, nor offered detailed information from lab tests," according to Reuters. This makes peer-reviewed studies difficult, so analysts have only China's limited data to go on, and many reports touting Sinovac's high effectiveness against Delta are based on studies and statements from Sinovac Biotech Ltd itself, rather than on global, peer-reviewed, real-world studies.
It could be that a larger dose or a third dose will boost the vaccine's effectiveness against the Delta variant to higher levels, though it's important to also point out that booster shots to counter a dip in vaccine effectiveness after six months is something being studied for numerous vaccines, including Pfizer's and AstraZeneca's.
Currently, Malaysia's vaccination rate is still impressive, with a moving seven-day average of over 420,000 jabs a day (as of July 26).
As of July 26, about 11.8 million people in Malaysia have received either one dose or two doses of their vaccine. The more important number, however, is 5.52 million, which is the number of people who have received both doses (about 16.9% of the population). Over the next three to four weeks, if the trends we've seen in other countries play out here in Malaysia, we should see the beginning of a steep drop in serious cases and deaths as the number of fully vaccinated reaches about 10 million.
In the meantime, as always… Stay safe, take sensible precautions, get vaccinated, and take care of each other.
---
"ExpatGo welcomes and encourages comments, input, and divergent opinions. However, we kindly request that you use suitable language in your comments, and refrain from any sort of personal attack, hate speech, or disparaging rhetoric. Comments not in line with this are subject to removal from the site. "
Comments