Neighbouring countries Malaysia and Singapore have had wildly divergent experiences with the Covid-19 pandemic, and have reacted in ways almost as different. In the end, though, reality has driven both countries to reach the same conclusions.
Covid is here to stay. Some of even the most stubborn holdouts (we're looking at you, Australia) have finally conceded that the zero-Covid strategy, tantalising as it may appear, is doomed to fail. We will, as a planet as and as a species, eventually be free of the pandemic and its effects on global societies and economies, but the virus that caused it will not likely be going away anytime soon.
ASEAN neighbours and (occasional squabbling siblings) Malaysia and Singapore have each endured the nearly two-year-long pandemic quite differently, with varying approaches and strategies being deployed at different times along the journey. Successes and stumbles have come for both countries, though at very different points in the pandemic.
But despite the divergent paths taken, the two countries have ultimately arrived at the same destination: A perhaps grudging acceptance that we must now learn to live with Covid. We will not eradicate the virus, nor will we 'win' over it. We will adapt and incorporate it into our lives, just as we have with the endemic diseases caused by pathogens like rhinovirus and influenza.
It's unquestionably been a difficult and uncertain journey for both countries, peppered with triumphs, setbacks, disastrous mistakes, raised expectations, and dashed hopes. Here's how it played out in both Malaysia and Singapore.
MALAYSIA
After a long 2020 filled with various movement control orders and on-and-off again restrictions, Covid cases here began their most catastrophic surge early in 2021.
It was a dispiriting time in Malaysia, to say the least. In the last quarter of 2020, there were hopes that the worst of the pandemic was in the rear-view mirror, and accordingly, a number of restrictions had been eased. By January, however, things had gone right off the rails: Interstate travel was banned throughout the country, shopping centres were closed and lockdowns were reimposed, and an array of restrictions — some quite long-lasting — were put in place. The king, purportedly at the behest of then-Prime Minister Muhyiddin Yassin, controversially declared a state of emergency for the country that would persist until August, and consequently, Parliament was suspended. All the while, however – despite the ongoing political follies of leaders – the coronavirus was evolving and strengthening as it readied its most transmissible and worrying strain yet, the Delta variant.
And with that strain, the worst was yet to come. Despite a robust nationwide vaccination programme that kicked into high gear around April following an initial stumble out of the gate in late February and early March, the summer months saw soaring new highs in cases, deaths, and hospitalisations as Malaysia's healthcare system was stretched to the breaking point. By the middle of the year, Malaysia had one of the worst rates of infection and death of any Asian country when adjusted for population. At the beginning of May 2021, Malaysia had only logged some 1,500 total deaths; now, that tally is well over 27,000.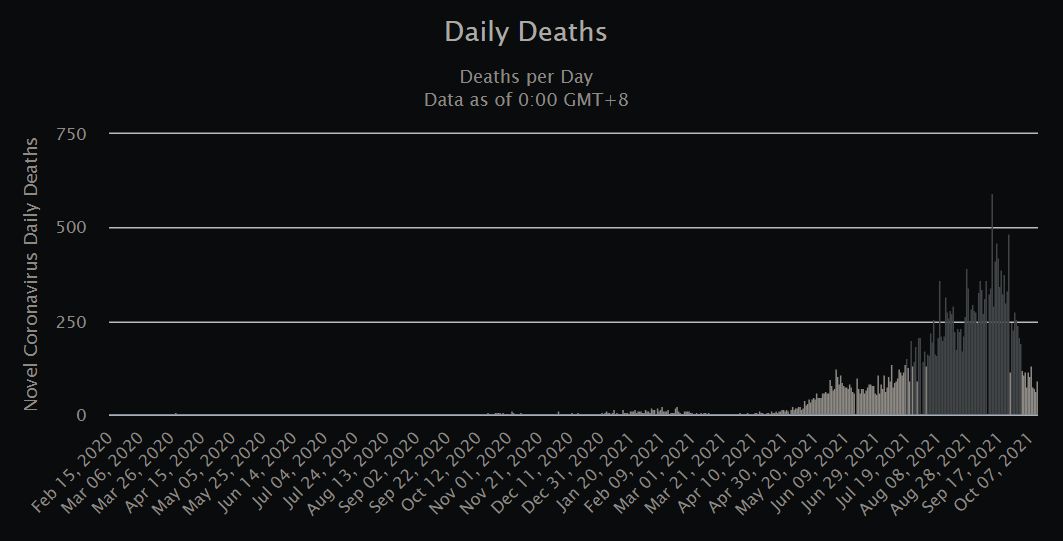 Frustrations increased among residents in Malaysia who were forced to endure yet more restrictions on their movements, and protests against the government's handling of the virus broke out in July. Healthcare workers mounted a strike. The following month, Muhyiddin was forced to resign, a move fuelled in part by a loss of support in Parliament and in part by growing disgust and despair among the public.
Schools were shut down, gatherings banned, restaurants prohibited from offering dine-in service, domestic travel restricted… and there was no end in sight. Daily new cases routinely topped 20,000 as August wore on.
But then, even in the face of the stunning rise of the Delta variant, the investment of the country's impressive vaccination drive at last began to pay handsome dividends. As August gave way to September, ICU cases started to decline from an alarming peak. And throughout September, all the critical Covid numbers began to plunge: daily cases, deaths, hospitalisations, cluster counts, and the R-naught infectivity index. Everything finally began moving in the right direction.
As of October 12, 90.4% of the country's adult population is fully vaccinated (about 66% of the total population), and vaccines for adolescents are proceeding at a brisk pace, with 73.4% of the country's 12- to 17-year-olds having already received their first dose.
Moreover, just as critically, the government marked a significant change in its approach. No longer would daily new cases get so much attention. No longer would the country set arbitrary case counts as catalysts to take action. Malaysia would instead swiftly pivot to a strategy of learning to live with Covid.
Dine-in was once again allowed. Events were permitted anew, albeit with a number of SOPs to follow. More business sectors reopened. Then, on September 16, Langkawi was reopened to domestic tourists via a travel bubble scheme that saw near-immediate success. Two weeks later, the pieces were being put into place for wider-scale reopenings, and on October 10, PM Ismail Sabri Yaakob announced what so many Malaysians had been longing to hear for months: Interstate travel would be allowed without restriction for fully vaccinated residents beginning the very next day. As an additional bonus, Malaysians were also given the green light to travel abroad without need for application to the onerous MyTravelPass scheme.
The government has assured Malaysians that at this point, there is no looking back. Travel bans will not be reimposed, they said, and there will be no more wide-scale lockdowns or movement restrictions. Malaysians have of course heard similar assurances before ("No more blanket MCOs!") that were later rescinded, but somehow, this time feels different.
A new way forward has taken hold in Malaysia with almost breathtaking speed, all thanks to the safety and effectiveness of the Covid vaccines combined with a superb effort by both authorities and the public alike to get millions of people immunised. For the first time in the long night of the coronavirus pandemic, Malaysians are feeling a spark of genuine hope.
SINGAPORE
Malaysia's southern neighbour ostensibly pivoted to a resolute acceptance of having to live with Covid a good bit earlier than most (announcing in May 2021 that it would shift to this strategy over time), but then a fresh wave of infections in August and September – Singapore's worst in the entire pandemic – resulted in a prompt weakening of that resolve, much to the ire of many Singaporeans, who were frustrated at their freedoms being once against curtailed. The pivot would be forestalled, and Singapore would again be placed on the defensive.
On October 1, Singapore reimposed some local restrictions to thwart the spread. The tighter measures included limiting social gatherings to two people and suspending or moving classes entirely online for students age 12 and under – decisions met with some irritation by Singaporeans, as Reuters reported (and a quick glance at social media in Singapore confirmed).
During his address on October 10, the same day Malaysia was announcing the resumption of interstate travel, Singaporean Prime Minister Lee Hsien Loong said it would take "at least three months, and perhaps as long as six months" to become completely restriction-free. He also suggested the possibility of future lockdowns if cases begin to rise again – something Malaysia has expressly ruled out.
"After this surge stabilises, we may still see future surges, especially if new variants emerge," Lee said. "We may have to tap on the brakes again if cases again grow too fast, to protect our healthcare system and healthcare workers."
Through most of 2020, Singapore was hailed as a model of successful Covid mitigation. A notable stumble with outbreaks amid crowded migrant worker dormitories not only put the government on its heels fighting the contagion but also set it playing defense against a storm of criticism for its poor treatment of the foreign workers on which Singapore's success has largely been built. Without a doubt, that stretch marked the city-state's most challenging time in 2020. But a methodical, swift response ensured that they prevailed with minimal deaths, and things continued rolling along. A couple of cursory 'circuit breaker' mini-lockdowns – usually lasting for a handful of weeks at a time – helped curtail any large-scale outbreaks for the remainder of the year.
But just as Malaysia found, 2021 would bring tough new challenges and greater threats to Singapore, too.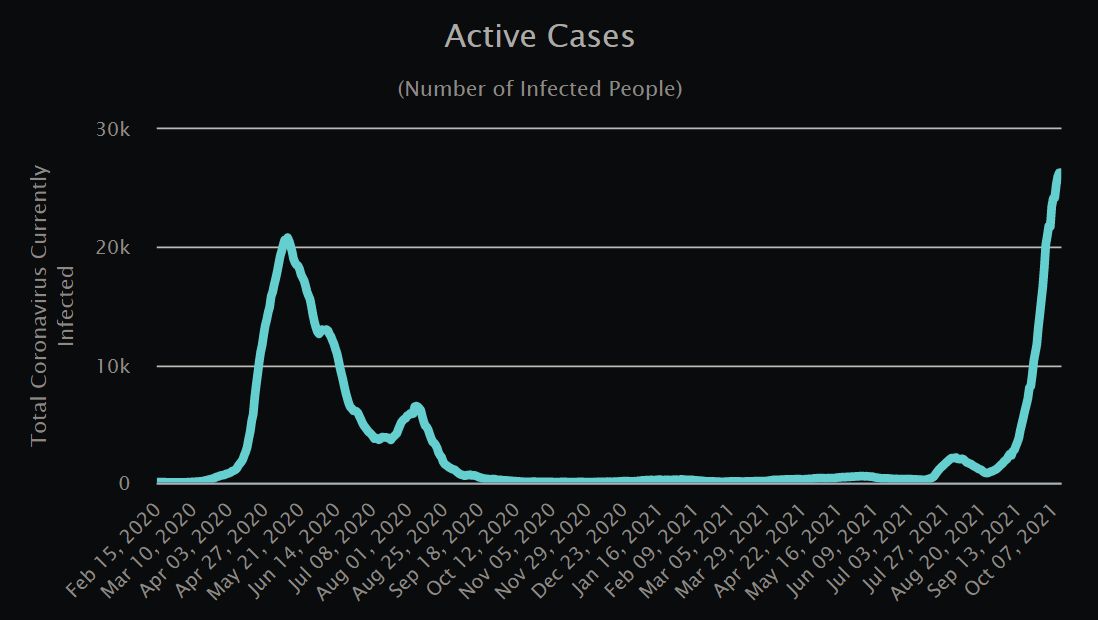 Even though the rate of Covid deaths in Singapore has been among Asia's lowest, authorities there seem keen to take no chances, so as cases began rising in September, it appeared the decision to abandon the zero-Covid approach was questioned and even reversed, at least in part. The back-and-forth waffling by the government clearly frustrated a lot of residents. Many took to social media to express their displeasure and opine that the government had no clear plan, nor any exit strategy on which they could seem to steadfastly focus.
Despite the tightening of some measures, however, Singapore's government has maintained its commitment to accepting that living with Covid is their way forward. Critics in the city-state continue to question that assurance, however, given the prime minister's ominous hints that lockdowns may be reintroduced if cases continue rising. It seems as though some in Singapore's government are trying to have it both ways – a tactic that will surely be met with frustration and, most likely, failure.
Some media outlets in Singapore have predicted that the current batch of restrictions may well be the last, provided the surge in cases eases and the country's healthcare system is not strained. Others have said the government likes the idea of accepting life with Covid, but can't quite let go of the zero-Covid model in actual practice. Time will tell.
Reports from CNN Asia, The Straits Times, and Bernama contributed to this article. Up-to-date information on the Covid situation in Malaysia can be found at www.covidnow.moh.gov.my.
---
"ExpatGo welcomes and encourages comments, input, and divergent opinions. However, we kindly request that you use suitable language in your comments, and refrain from any sort of personal attack, hate speech, or disparaging rhetoric. Comments not in line with this are subject to removal from the site. "
Comments