Think this South American country only produces inexpensive, easy-drinking wines? Think again.
You may think Chilean wines offer easy drinkability and good value – and you'd be right – but if that's where your appreciation for the wines of this South American country begins and ends, it's time to take another look.
That's exactly what we did recently at a wine tasting hosted by Gallo Wine Bar and supported by the Embassy of Chile. During the tasting, guests were able to sample six of the vintages currently on offer at Gallo, which has made 18 specific Chilean wine labels available at their bar which have been chosen by sommelier Mandy Chin, the reigning Malaysian Cepas de Chile Champion. Trust us when we say that all of these wines are really good, and a few are genuine showstoppers.
A BIT OF BACKGROUND
Chile's wine country stretches over 1,500 km of valleys from north to south along the nation's extensive coast. It runs the gamut of biomes from arid deserts to the north, icy Patagonia to the south, the Andes Mountains to the east, and enjoys the chilly winds of the Pacific Ocean's Humbolt Current to west. These extremes of temperature, elevation, and location create the varied terroir from which Chile's 356 exporting wineries cultivate the country's huge range of flexible vintages and is why Chile has found success making such a broad range of wine styles.
According to Chilean Ambassador Diego Velasco, Chile's five-century-old national industry has been undergoing an understated evolution. "Chilean wineries have gained acclaim by emphasising premium varietals and prioritising exports," he remarked. "The classic French-inspired wines which put Chile in the global spotlight are still being produced but other wineries are pushing boundaries into new territory and taking inspiration from the country's roots. I find the best wine is the wine you personally like and Chile's huge variety of choice lets everyone find something they will enjoy."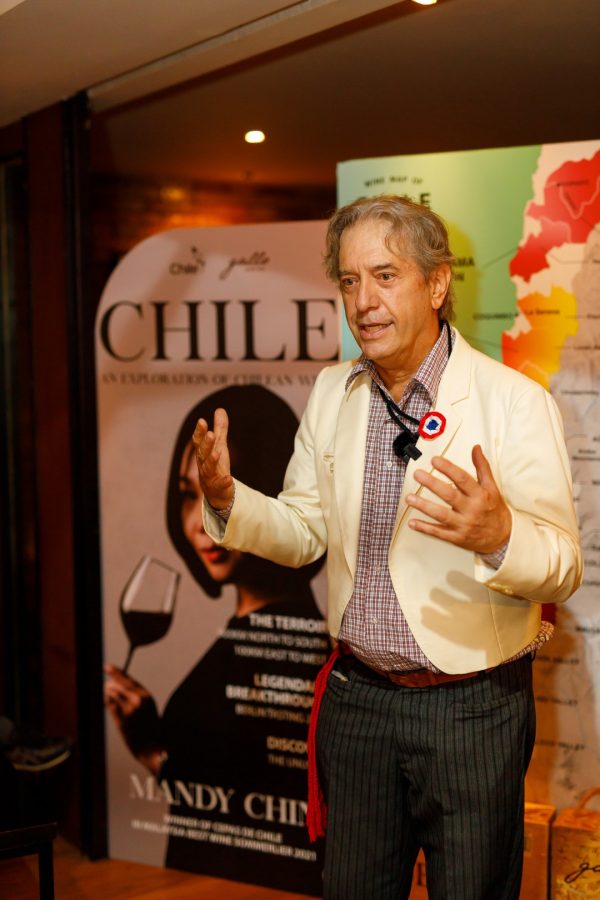 Mandy Chin added, "Chile makes both classic and unusual wines exceptionally well because the local winegrowers have a wealth of experience across geologically diverse regions, each with its own unique terroir. They have figured out the circumstances to best support each grape varietal. We want to take guests on an exploration of Chilean wine country, including some of the best vintages only available at Gallo Wine Bar."
THE WINES
According to Mandy, these world-class vintages include labels of exceptional fame among connoisseurs. Seña, for example, defeated some of the most famous French and Italian premium wines, including Lafite Rothschild, Margaux, Latour, and Solaia in the Berlin Tasting 2004. Many international competitions later, this label is continuing to change people's perception towards Chilean wines. It certainly changed ours, as did the remarkable Clos Apalta.
This wine – ours was the 2016 vintage – is produced from the exceptional Apalta, Colcagua Valley terroir and recognised as one of the most iconic wines in South America. The region facilitates the growth of Carmenere, a varietal mistaken for Merlot until 1994 and of great Chilean national pride. Another wine we sampled, the TerraMater Mater 2017, was developed from a secret and rare grape blend to let the wine express the Maipo Valley terroir for a preconception-free wine-drinking experience.
Here is a full overview of the wines we enjoyed, just a handful of the Chilean labels offered at Gallo, along with their wine bar pricing per bottle:
Seña 2015 (RM 1,990)
An authentic blend of the finest Cabernet Sauvignon, Merlot, Cabernet Franc, and Petit Verdot varietals with Carmenere adding a distinct Chilean personality. From a volcanic vineyard in Central Aconcagua, proximity to the Pacific enhances the ripe intensity and freshness.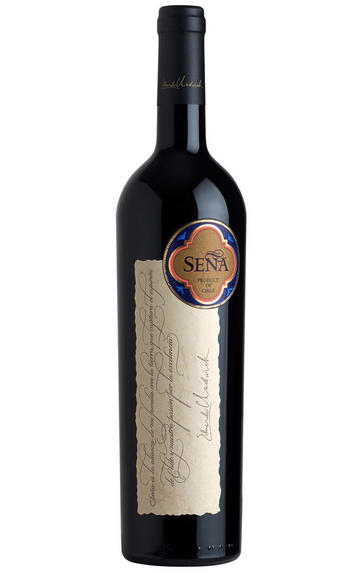 Tasting notes:
Stunning vibrant aromas of blackcurrant, blueberry, redcurrant, flowers, tobacco leaf, and liquorice. Graceful balance with seamless structure, silky tannins, and lifted acidity. Intense. Precise. Perfumed. Complex. This was, unsurprisingly, an excellent wine, and worthy of its accolades. The price admittedly gets it up into the realms of much better-known labels such as Penfolds Grange, some of the lesser vintages of the Bordeaux First Growth wines, and other French superstars like Angelus and Petrus, but happily, the Seña can compete admirably with these giants of the wine world. One of the top wines of the line-up, coming in a very close second for us.
Clos Apalta 2016 (RM 1,085)
A blend of Carmenere, Cabernet Sauvignon, and Merlot. The ambition of crafting the perfect wines founded the exceptional terroir in Apalta, Colcagua Valley. Clos Apalta was born in 1997 and quickly recognised as one of the most iconic wines in South America. Its 2005 vintage was voted TOP#1 by Wine Spectator magazine and its 2017 vintage was rated by 100 points by American wine critic James Suckling, in addition to holding many more awards.

Tasting notes:
Vibrant colour with a hint of purple, revealing harmonious aromas of red fruits, spice, tobacco, and dried flowers. On the palate, it is nicely balanced and integrated with delicate fruits of raspberries, blackberries, red cherries, bell pepper, black pepper, olives, a hint of smoke, dusty cocoa, and leather. Full body, plush tannins, great acidity. This one really blew us away, and even though it's half the price of the Seña, edges that one out ever so slightly for our top pick of the tasting.
TerraMater Mater 2017 (RM 649)
Developed from a secret and rare grape blend to let the wine express its terroir. Once nothing grew in Isla De Maipo, but over decades, the Maipo River deposited sediment combined with proper irrigation and the nutrients contributed by the droppings of 60,000 laying hens led to the creation of the ultra-premium wine that could only be named Mater (mother in Latin), developed in a new terroir created layer by layer.
Tasting Notes:
An attractive array of ripe fruit, including black cherry, blueberry, red cherry and red plum accompanied by forest floor, mint, chocolate with a touch of smoked meat, sweet spicy notes, and oak. A bold, complex wine, elegantly structured, with firm tannins and balanced acidity. The nuanced complexity and impressive finish on this one gave it the nod for our third-place wine of the tasting.
TerraMater Altum 2013 (RM 334)
Located in the heart of Curico Valley at the foothills of the Andes Mountains are 75 hectares of Cabernet Sauvignon, and home to TerraMater Altum. Strict management of the vines and controlled deficit practices reduce the irrigation of this vineyard to almost zero. This wine was blind tasted in the most recent Cepas de Chile competition.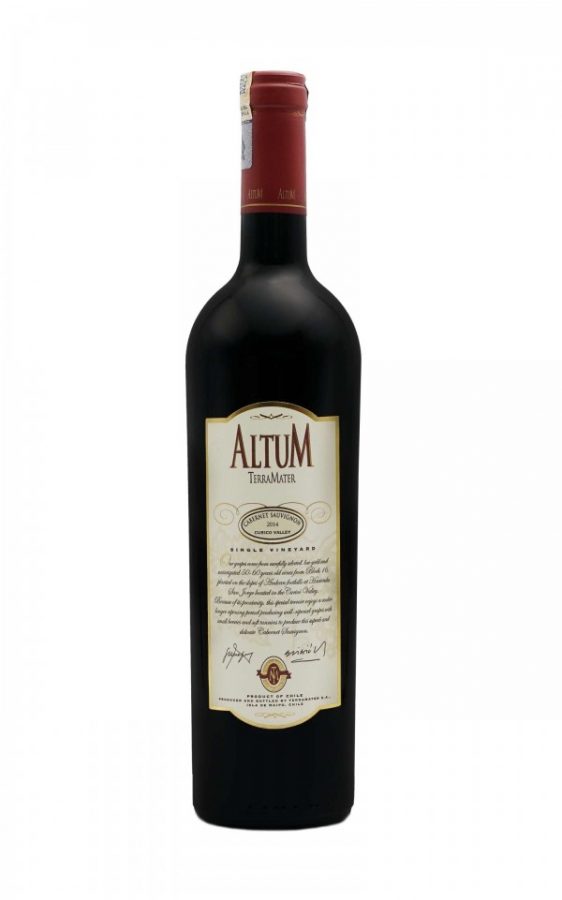 Tasting Notes:
Deep and intense red-violet colour. Medium full body, good tannic structure, long finish, and great evolution of the open bottle – from fresh red and blackberries at the start, to a hint of cooked fruits later, and gradually revealing the spicy notes of vanilla, black pepper, and coffee. Mild balsamic tones enhance the complexity. This wine punches above its price point, but at over RM300, is still no entry-level purchase. We felt this one was slightly above the Cono Sur offering, and gave it fifth place for the night.
Cono Sur Single Vineyard 8 Grapes 2017 (RM 220)
The Single Vineyard 8 Grapes, a unique red blend from the Aconcagua Valley, land of premium grapes, includes Cabernet Sauvignon, Grenache, Carignan, Petit Syrah, Malbec, Mouvedre, Carmenere, Petit Verdot. The valley's mountainous soils and extreme thermal amplitude make it the perfect home for these eight Mediterranean varietals and delivers an elegant, intense, full-bodied wine with mature tannins.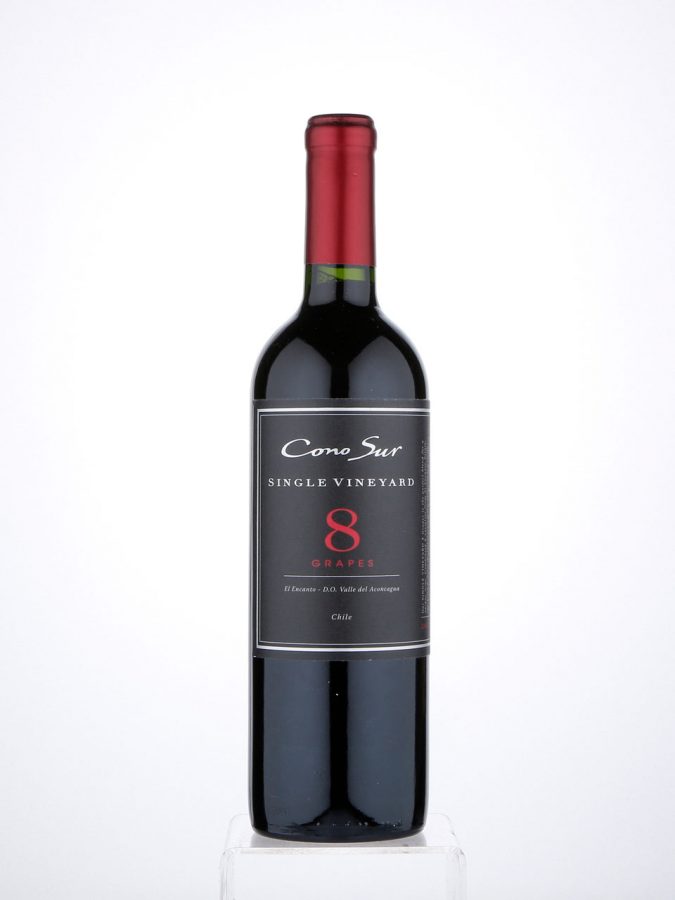 Tasting Notes:
This red blend presents a deep ruby colour with violet hues. Its complex nose displays aromas of red fruits, like plum and berries with a hint of liquorice and mocha. On the palate, it presents good concentration and volume. Soft and silky tannins, round and elegant with a spicy finish. If you've only had Cono Sur's entry-level offerings, this one will really make you sit up and take notice. The fact that it came in sixth on the night is in no way a poor reflection on this wine. One of them had to be last, but it's still a very nice bottle. Additionally, this is also likely the easiest one on this list to find in your local wine shop if Gallo Wine Bar is a bit out of your way!
Luis Felipe Edward 100 Cien Carignan 2013 (RM 280)
Maule is a sub region at the southern end of Central Valley where Carignan, increasingly famous for dry farmed and old vines, is the star varietal. Made from Carignan grapes with no artificial irrigation and where the vine is forced to search for underground water.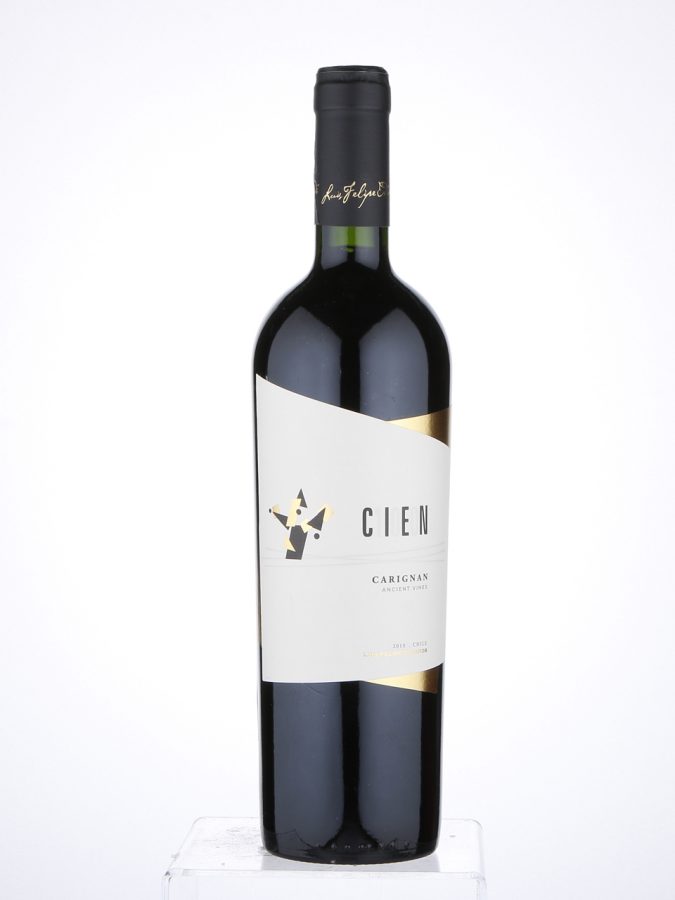 Tasting notes:
A fruit-driven wine with the aroma of ripe red berries including cherries and raspberries, earthy, smoked meats, and hints of subtle liquorice and peppery notes. We felt this particular wine offered the best overall price-quality ratio of the tasting, and came in fourth in the line-up, just barely behind the third-place TerraMater 2017 – and possibly a tie.
Special thanks to HE Diego Velasco, Ambassador of Chile, and Sommelier Mandy Chin for guiding us through this remarkable tasting that really opened our eyes – and our palates and noses, of course! – to the incredible wines of Chile, wines that far transcend the entry-level, value-priced wines Chile is so well-known for. Yes, they have those, and such wines are always worth our attention, but if you've ever wondered if Chile is turning out wines that can stand up against some of the world's best… we can affirm that they definitely are!
To enjoy these or a dozen other sommelier-curated labels from Chile, visit Gallo Wine Bar.
Location & Details
Gallo Wine Bar
5-1-1, Jalan 3/109F, Taman Danau Desa
58100 Kuala Lumpur
T: +603.7971 9005
E: [email protected]
---
"ExpatGo welcomes and encourages comments, input, and divergent opinions. However, we kindly request that you use suitable language in your comments, and refrain from any sort of personal attack, hate speech, or disparaging rhetoric. Comments not in line with this are subject to removal from the site. "
Comments