The latest Transparency International index has Malaysia scored lower yet again — the country's third consecutive decline on the annual global list.
Malaysia's score has dropped again in the annual Transparency International (TI) Corruption Perception Index (CPI). In the global anti-graft group's latest report, covering 2022, Malaysia had a CPI score of 47. For the index, higher scores are better, with 100 being 'very transparent' — meaning little to no corruption. At the other end of scale, 0 means 'highly corrupt.'
The new score for Malaysia shows that the nation has dropped six points in the annual CPI over the past three years, logging three consecutive declines.
In 2019, Malaysia had a CPI score of 53, but this fell to 51 in 2020, and dropped again to 48 in 2021, reflecting a troubling trend.
Local TI chapter president Muhammad Mohan said urgent action was needed to shore up the nation's CPI score in the following years, voicing alarm over how Malaysia had even dropped below countries like Namibia, Saudi Arabia, and Mauritius.
He noted that the score is a more important metric than overall ranking, as the rank can move up or down with even the same score from year to year. We agree with him on this point. Your country may improve its ranking from one year to the next without having addressed any corruption at all; this simply means other countries have gotten worse. This is definitely not a good way to work towards actually improving things.
Muhammad said there were several reasons why Malaysia's CPI score had dropped to 47 for 2022, adding that it includes the rollout of several stimulus packages during the Covid-19 pandemic.
"Bear in mind that these stimulus packages were rolled out without any parliamentary debates," Muhammad said of the Covid stimulus payouts, adding, "Politicians heading government-linked companies are also among the reasons for the drop in the CPI index."
He correctly added that a lack of action being taken against public officials found to have abused their power was yet another reason, though he did not specify which cases in particular.
We would further argue that the primary reason for the low score is the most relevant one: Corruption continues to be epidemic at virtually all levels of government and business in Malaysia. Until this painful reality is acknowledged beyond the typical 'nudge nudge, wink wink' we often see, and real countermeasures are put into place, along with the commensurate enforcement efforts, we should not expect to see any serious improvement.
Muhammad said the federal government must start work immediately in combating corruption, adding Malaysia's score must go back to above 50, adding that "anything below 50 is a failure." Our view is that this is perhaps too low a bar to clear — to suggest that 51 or 55 out of 100 is somehow a success. Perhaps aiming for something slightly better than "halfway to total corruption" would be a better goal? Even getting the score up into the mid-60s would push Malaysia into some pretty respectable company.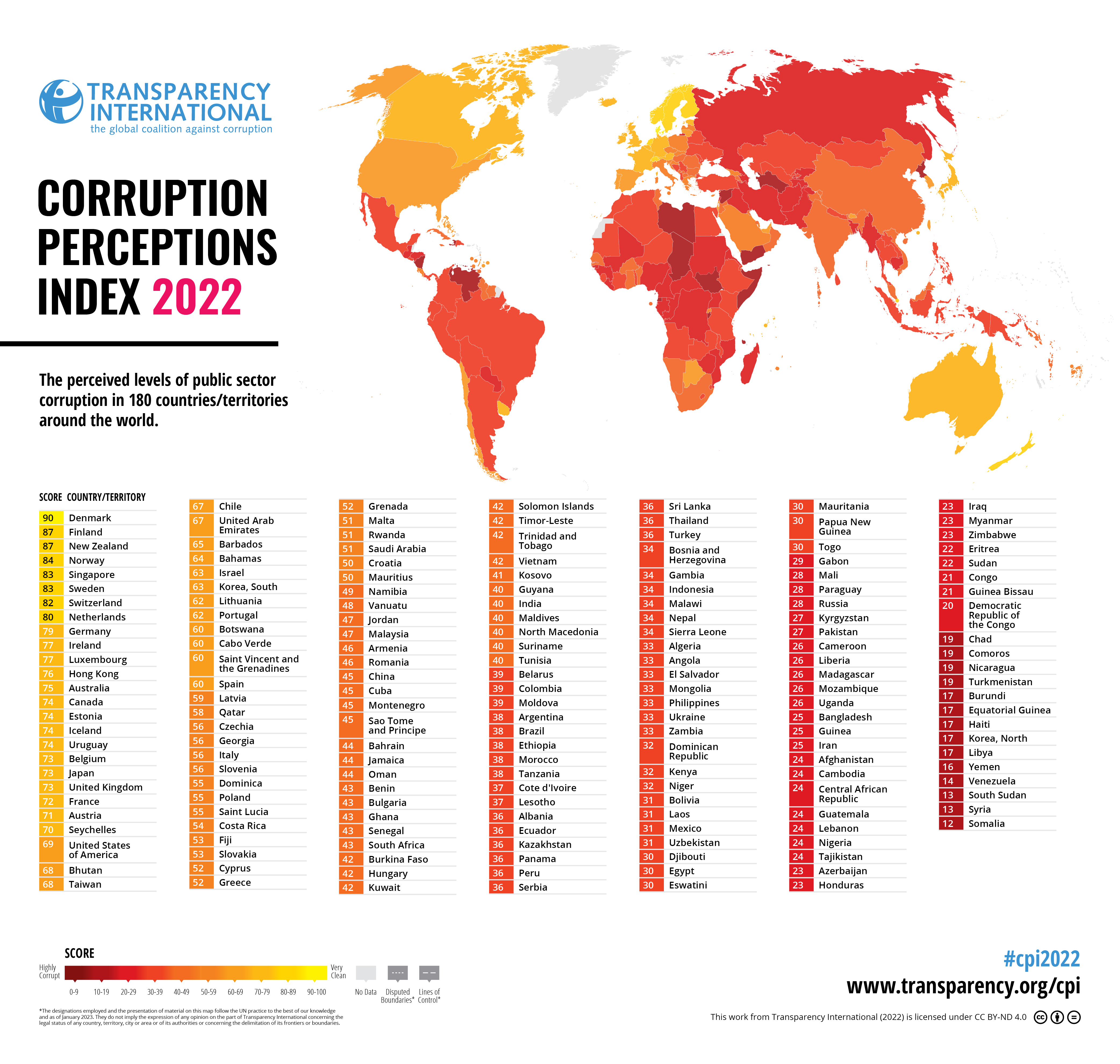 That said, the overall report shows that corruption is by no means strictly a Malaysian problem — far from it, in fact. Fully two-thirds of the 180 countries ranked have a CPI score below 50.
Muhammad stressed that the 2022 CPI score did not reflect Prime Minister Anwar Ibrahim's performance, since he was appointed to the top post in November while the index was tabulated in September.
"The score will only reflect on (his performance in combating corruption as prime minister) when the 2023 CPI comes out in January 2024.
"However, to be fair to him, he needs to be given two years at least (for results to show)," he said.
Prime Minister Anwar Ibrahim has spoken out against the proliferation of corruption in Malaysia, so as Muhammad has correctly said, only time will tell if his premiership will mark a turnaround in the nation's apparent inability to deal with widespread graft. There should be sufficient 'political capital' to do so, as recent polls have shown close to 75% of all Malaysians believe that corruption is a 'big problem' for the country.
Corruption inhibits the development and improvement of society. Looking at the 2022 CPI rankings, a clear correlation can be seen between a country's transparency (low prevalence of corruption) and its development and economic strength. Indeed, corruption is a very serious problem in the world, for many reasons. According to TI:
Global peace has been deteriorating for 15 years. Corruption has been both a key cause and result of this.

Corruption undermines governments' ability to protect people and erodes public trust, provoking more and harder to control security threats. On the other hand, conflict creates opportunities for corruption and subverts governments' efforts to stop it.

Even countries with high CPI scores play a role in the threats that corruption poses to global security. For decades, they have welcomed dirty money from abroad, allowing kleptocrats to increase their wealth, power and destructive geopolitical ambitions.
The CPI 2022 was led by Denmark with a score of 90, followed by Finland (87), New Zealand (87), and Norway (84).
Singapore, meanwhile, made Southeast Asia's only appearance in TI's 2022 CPI 'top 10' list of least-corrupt countries, coming in at fifth place with a score of 83, a sterling achievement. Perhaps aiming for something like that, rather than merely a score "above 50" should be considered by Malaysia.
---
To read the full details of the 2022 CPI report, including the index's methodology, visit Transparency International's website here.
---
"ExpatGo welcomes and encourages comments, input, and divergent opinions. However, we kindly request that you use suitable language in your comments, and refrain from any sort of personal attack, hate speech, or disparaging rhetoric. Comments not in line with this are subject to removal from the site. "
Comments