Like parts of many cities and certainly parts of Kuala Lumpur, the urban enclave of Bangsar has its own fair share of history. It even starts with expatriates and carries the names of two of them!
What is Bangsar today was initially part of a sprawling tract of land largely owned by a British company called Harrisons and Crosfield at the turn of the 20th century. Included in the tract was Kerayong Estate, an area which was primarily used for rubber cultivation and also housed workers who were brought in from other parts of British Malaya and neighbouring countries such as India and China.
In 1906, the Kuala Lumpur Rubber Co. Ltd. (KLR) was incorporated with the plan of developing rubber tree plantations just outside the city to meet the surging demand for rubber tyres for motor-cars, which were replacing horse-drawn carriages in the United States.
One of KLR's first major purchases was the Kerayong Estate, which covered the area that is now Bangsar, as Harrisons and Crosfield wanted to shift their focus to other parts of Malaysia. Two expats, Dutch-German Edouard Bunge and Belgian Alfred Grisar, were appointed to KLR's first Board of Directors, and the Kerayong Estate became the Bungsar Estate – a contracted portmanteau of these men's names, Bunge and Grisar. (Both of these men, particularly the former, would go on to make significant and lasting contributions to the growing global rubber industry, and thus played an outsize role in then-Malaya's early 20th-century growth and development.)
The plantation firm Societe Financiere des Caoutchoucs, or Socfin, also owned some adjacent land in the area, along with KLR, and later sold it to various companies to develop it into a township. Over time, 'Bungsar' evolved to what it is now known as Bangsar, an affluent and vibrant suburb in Kuala Lumpur – and arguably a rather more appealing name on the whole.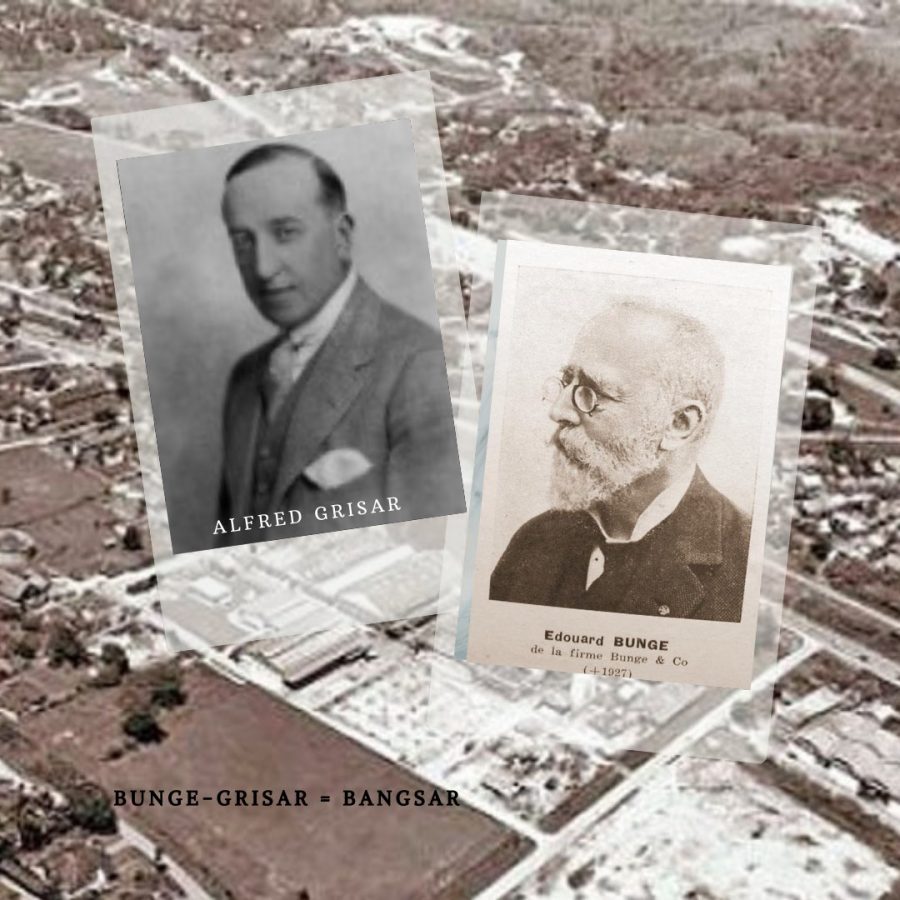 As time progressed, Socfin sold off some of its land parcels to private buyers and from then on, Bangsar's development and growth started to take shape. After World War II, the Malaysian government began acquiring land in Bangsar and other areas to build low-cost housing for the city's growing population. The government also established Bangsar as a planned residential area, with strict regulations on building heights and street widths.
Throughout the 1960s, Bangsar continued to develop primarily as a residential area. The neighborhood grew in popularity due to its proximity to the city center and its peaceful surroundings. During this time, the area was home to many expatriates, including diplomats and foreign businessmen, who preferred the peaceful atmosphere of the neighborhood to the more bustling parts of Kuala Lumpur.
In 1969, Bangsar Park was the first housing development constructed in the neighbourhood, and private buyers started buying the remaining surrounding lands from Socfin. This set off a trend that steadily continued throughout the 1970s.
In the 1980s and 1990s, Bangsar began to transform into a more upscale neighborhood, with the opening of upscale boutiques, trendy cafes, and fine dining restaurants. This transformation was driven not only by expats, but by an influx of younger, more affluent Malaysians who were looking for a more cosmopolitan lifestyle.
Today, Bangsar is a thriving metropolitan township – it can't really be called a suburb, strictly speaking, as it's very much urbanized and quite close to the centre of KL as well as to satellite areas. More than a century after its humble beginnings, Bangsar has grown into one of the most desirable and sought-after postcodes in the Klang Valley for home buyers and business communities… and it all started with a rubber plantation, a couple of local Chinese businessmen, and two European expats!
---
Additional text by Chad Merchant
---
"ExpatGo welcomes and encourages comments, input, and divergent opinions. However, we kindly request that you use suitable language in your comments, and refrain from any sort of personal attack, hate speech, or disparaging rhetoric. Comments not in line with this are subject to removal from the site. "
Comments