Arriving in Bangkok is like stepping into a whirlwind of sensations and experiences. The Thai capital, known to locals as Krung Thep, the 'City of Angels,' is an immense, teeming metropolis that offers visitors a lively, engaging juxtaposition of tradition and modernity.
The city of Bangkok is one of the world's most popular tourist destinations. In fact, just prior to the pandemic, MasterCard ranked the Thai capital as the top destination city worldwide, as determined by international visitor arrivals. That's not very surprising, as Bangkok is renowned and beloved for many things, and has long been a favoured nearby holiday destination for Malaysians, who are rediscovering the City of Angels in droves now that pandemic border closures are a thing of the past. Some go at least in part for its ornate temples, such as the famous Grand Palace, with its grandeur and intricate details that speak of a nation's rich cultural heritage.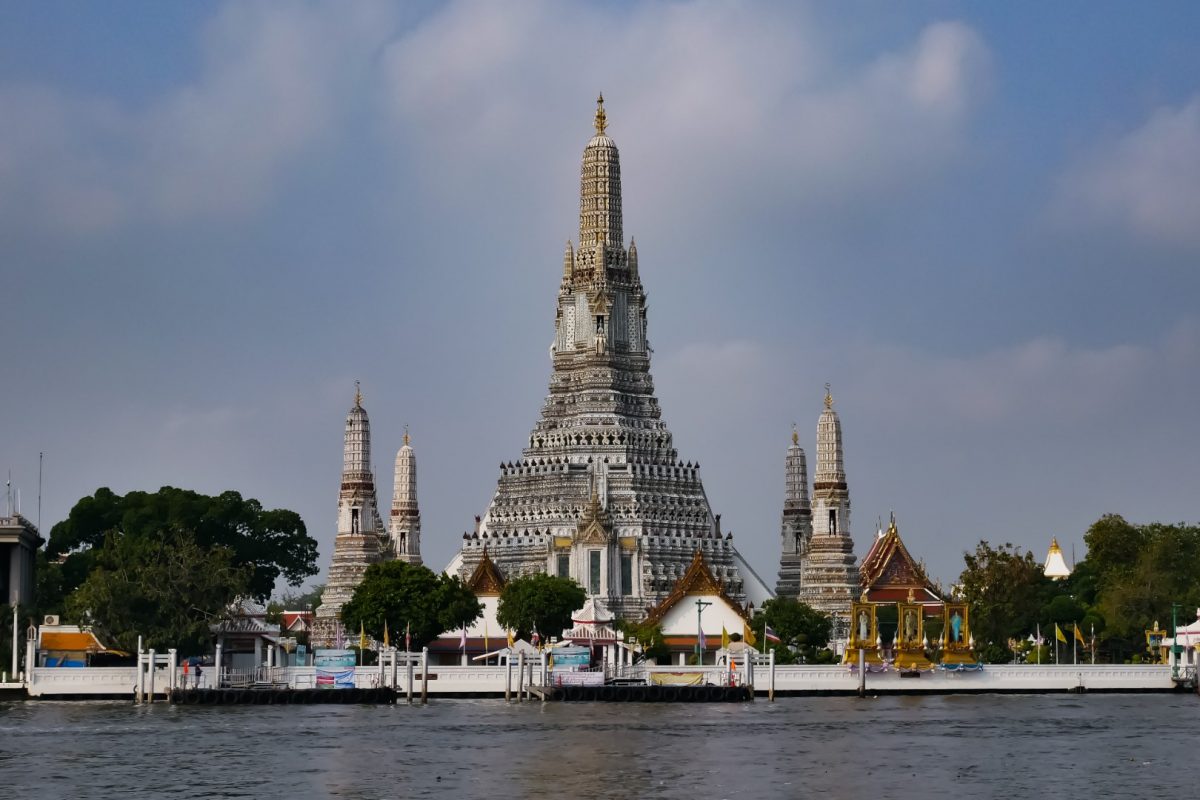 However, it's safe to say that many here head to Southeast Asia's most dynamic city for the unparalleled shopping experience – more on that later. But Bangkok is not just about historical sites, nor is it just about upscale shopping; it's also about thriving street markets, where every alley seems to hide a treasure. And when it comes to cuisine, Bangkok reigns supreme. The city's street food vendors offer an array of dishes that will leave your taste buds dancing in delight, from the tantalizing spiciness of tom yum soup to the sweet and savoury embrace of the near-ubiquitous pad Thai.
And of course, it's also at least a little bit about embracing your inner hedonist. As the sun dips below the horizon, Bangkok takes on a different persona. The bustling streets of the day give way to a vibrant nightlife that truly knows no equal in the region. Night markets come to life, offering everything from fashionable clothing to quirky trinkets. Rooftop bars open their doors, providing patrons with dazzling panoramic views of the sparkling cityscape. Street food vendors stay busy into the wee hours of the night and Bangkok's club scene kicks into high gear, with music and energy that keep you dancing 'til (nearly) dawn.
Any journey through the heart of Bangkok promises a taste of the old and the new, a unique fusion of tradition and modernity. The city is a place where you can explore ancient temples in the morning, shop in sprawling markets during the day, savour delicious street food for lunch, and then find yourself perched on a rooftop bar gazing at the city lights at night.
In the heart of Bangkok, where sprawling shopping malls, historic sites, and bustling street vendors coexist, we frequently found ourselves on or around Sukhumvit Road, which is where we stayed for a recent weekend getaway. This thoroughfare is not just a road; it's an entity of its own, a city within a city. During the day, you can go from extravagant retail therapy at places like Terminal 21 and EmQuartier to exploring for street food that packs a punch. You can savour a deliciously spicy som tum papaya salad from a humble cart one moment, then indulge in gourmet dining at some of Asia's swankiest restaurants the next. The captivating fusion of tradition and modernity is evident in the juxtaposition of old shophouses and towering skyscrapers along this iconic street.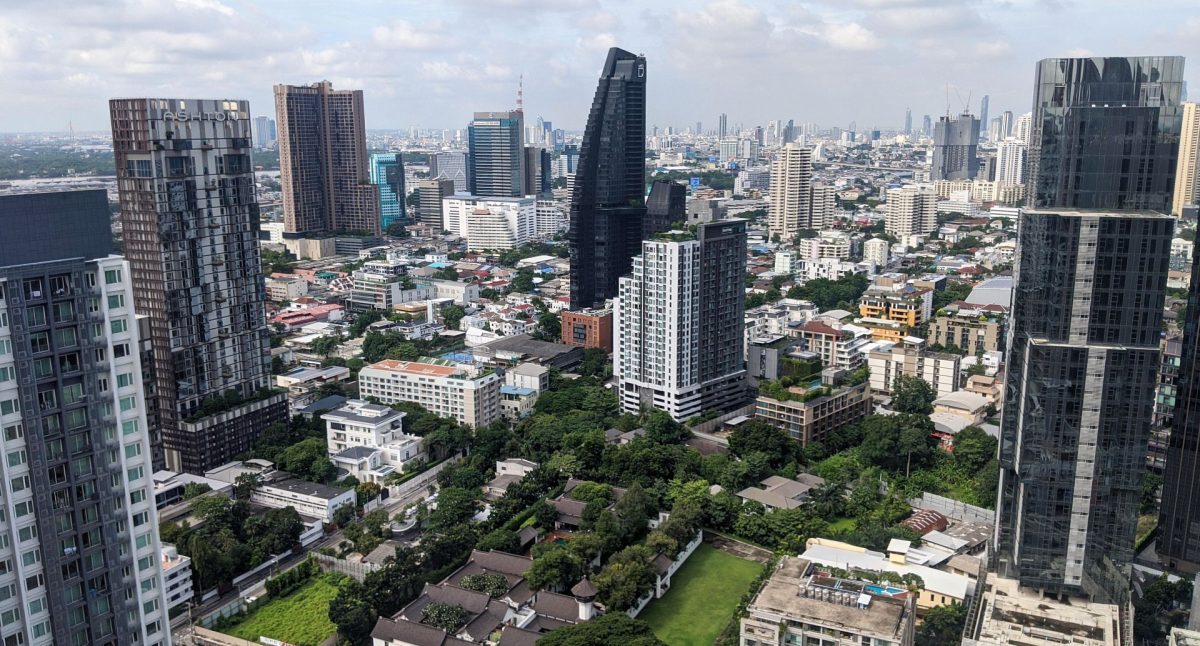 As night falls, Sukhumvit – much like the rest of Bangkok – undergoes a remarkable transformation. This district boasts a nightlife that caters to every taste. From cosy pubs where you can unwind with a cold Singha to lively nightclubs where you can dance the night away, the options are plentiful. We spent two of our evenings at the beautiful Octave rooftop bar, high atop the luxurious Marriott hotel.
It's not all high-octane madness, though. Sukhumvit also offers a soothing escape from the city's seemingly endless hustle and bustle. Benchasiri Park, a green oasis amid the concrete jungle, is where visitors can find respite, surrounded by locals exercising or taking leisurely strolls. There's also a science museum and planetarium, the Baan Lamthieng House Museum, and a handful of other nice parks.
For me, Bangkok is a city of boundless energy and endless exploration, and each time I visit, I peel back another layer of the Thai capital's multifaceted charm.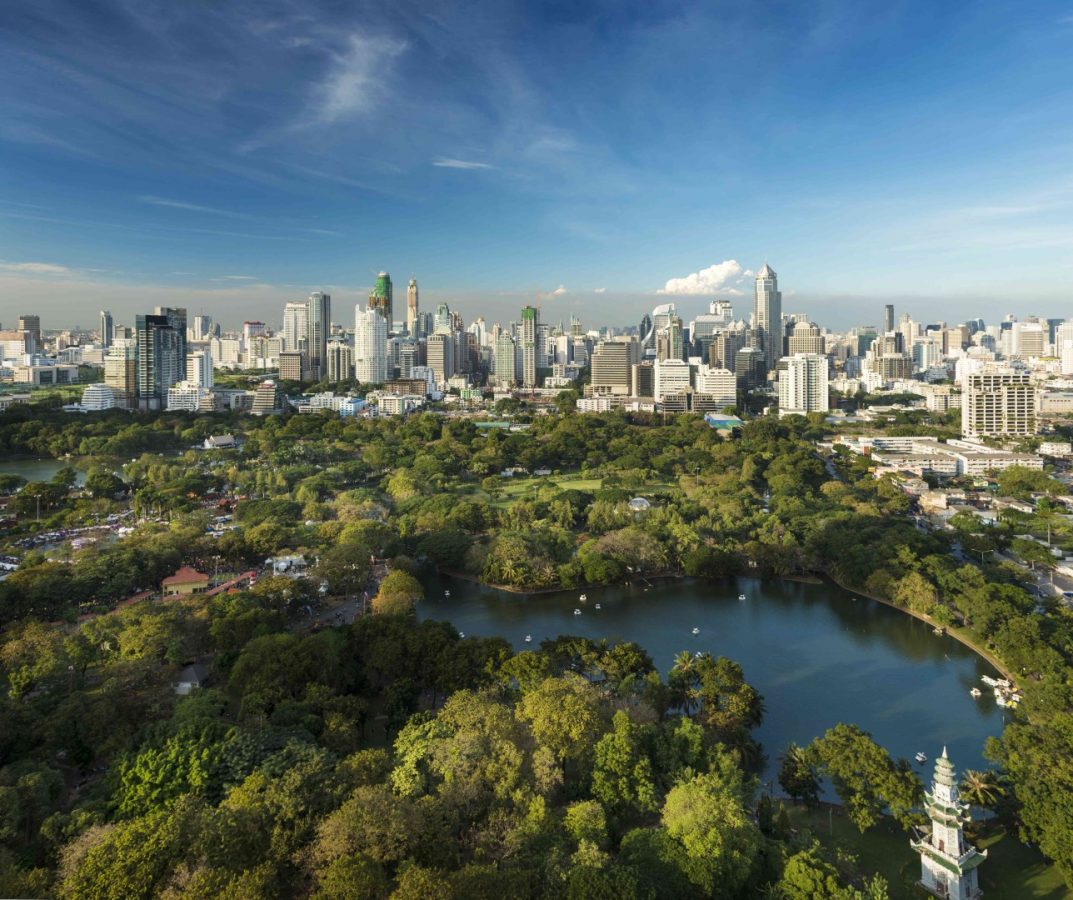 DISCOVERING THE CITY
Despite the relative impenetrability of the Thai language on signboards, getting around Bangkok is easier than you might expect. The train network is quite good – and it's also being expanded fairly rapidly – and mass transit can typically get visitors to just about anywhere they want to go. (Most of the public transportation signage carries English translations, or at least Romanized versions of Thai.)
Navigating Bangkok's public transportation system, the Skytrain (BTS) and the Subway (MRT), is a breeze for travellers exploring this vibrant city. Both the BTS and MRT are efficient networks, but it's essential to remember that they operate independently. This means that separate tickets are required when transferring between these two systems. The Airport Rail Link (ARL) is another autonomous network serving Suvarnabhumi Airport, which is super convenient for visitors arriving via this airport. As of 2022, the Dark Red Line SRT joined the roster, followed by the Yellow Line MRT in June 2023. For tourists flying into Don Mueang Airport, the Dark Red Line SRT is the train that they can take into the city. However, it's nearly a 15-minute walk to the station. We opted to simply summon a Grab car from the airport.
Tourists frequently favour the BTS Skytrain and MRT as they extensively cover nearly all the desirable central areas, including Sukhumvit, Silom, Sathorn, and Siam Square.
You can make your BTS journeys considerably more hassle-free by purchasing a BTS prepaid card known as the BTS Skytrain Rabbit card online. It's a time-saving solution, particularly during peak hours when stations can get crowded with long queues. The BTS Rabbit card is available for online purchase through platforms like Klook, with the added convenience of collecting it at Suvarnabhumi Airport upon arrival.
As of our visit in early October, a similar option for pre-purchasing MRT cards was not available. However, the MRT system allows passengers to tap through barriers using contactless credit or debit cards, making ticket purchase unnecessary. This feature currently applies to the MRT, but not the BTS. It may all seem a bit unruly, but it really doesn't take long at all to get the hang of any of this.
Additionally, Grab users will find that their app and account will both work seamlessly in Thailand, not only converting fares to the local currency, but offering fast and accurate translations of your communications with drivers, which is a wonderful feature. Fares are charged directly to your Malaysian bank account, converted from baht to ringgit, or you can of course elect to pay cash.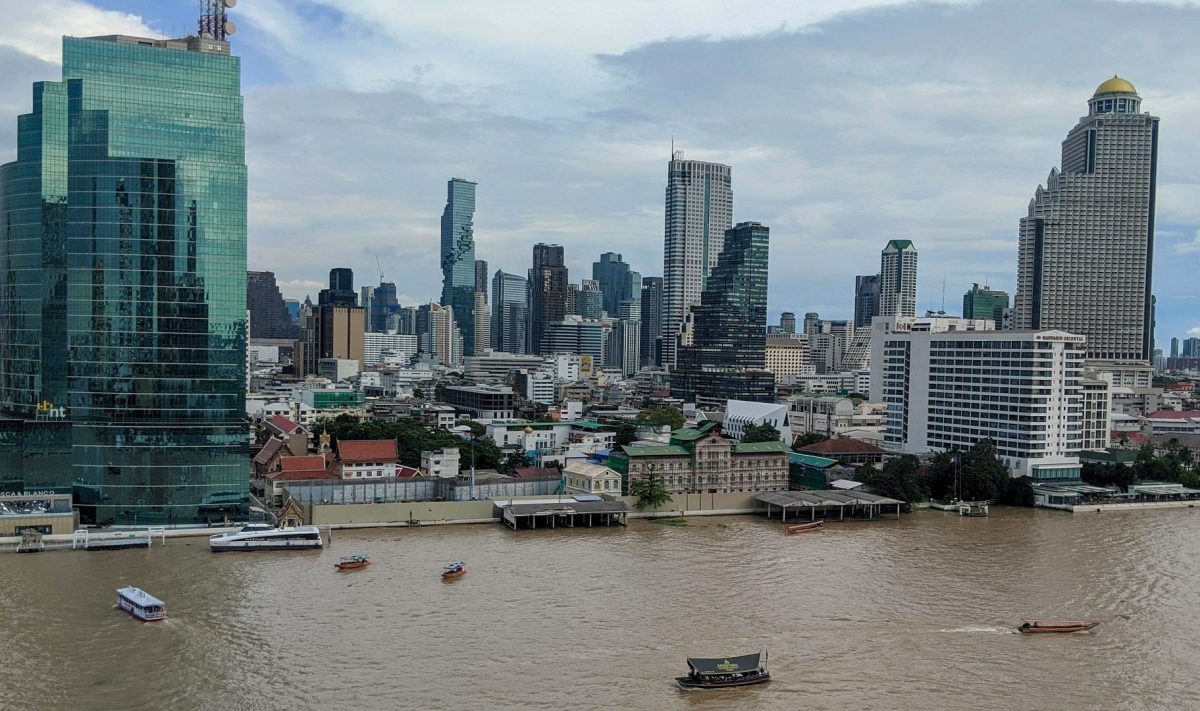 We also utilized some of the boats plying the Chao Phraya River, which for tourists is always a bit of an enjoyable novelty. Whether you're on a crossing boat, or one of the hop-on/hop-off boats, fares range from reasonable to downright cheap. Seek out a local boat (as opposed to a tourist boat) for the lowest fares.
Naturally, tuk-tuks are all over the place, especially in areas that play host to travellers. We didn't use any this time, oftentimes choosing to walk as we were lucky enough to have a rare spate of relatively mild weather – an uncommon occurrence in typically hot and humid Bangkok!
DINING, SHOPPING, AND NIGHTLIFE
Bangkok is justifiably famous for its culinary landscape and vast range of shopping options. As for the latter, I hadn't been to the city since early 2018, so wanted to check out the wildly popular ICONSIAM, which opened near the end of 2018, a mixed-use development and huge mall located on the banks of the Chao Phraya. We took the train from Sukhumvit to the Saphan Taksin station by the well-known Sathorn Pier. From there, we caught a boat to ICONSIAM – about a five-minute journey that cost only ฿10.
It's hard to adequately describe ICONSIAM. The mall has racked up a slew of design awards, and it's not hard to see why: Architecturally, it's a complete jaw-dropper, and going there just to admire the incredible design and aesthetics was worth the journey. (The sprawling complex is also home to Thailand's tallest building.)
But there's so much to see and do beyond that. Hundreds and hundreds of shops, so many restaurants that they're separated into six distinct 'dining zones,' waterfalls, bars, parks, riverfront walkways, fountain shows, a floating market, and plenty more. Simply put, ICONSIAM has to be seen and experienced. Weather permitting, we recommend going to one of the bars or restaurants on the upper floors, many of which have terraces overlooking the river and the city beyond.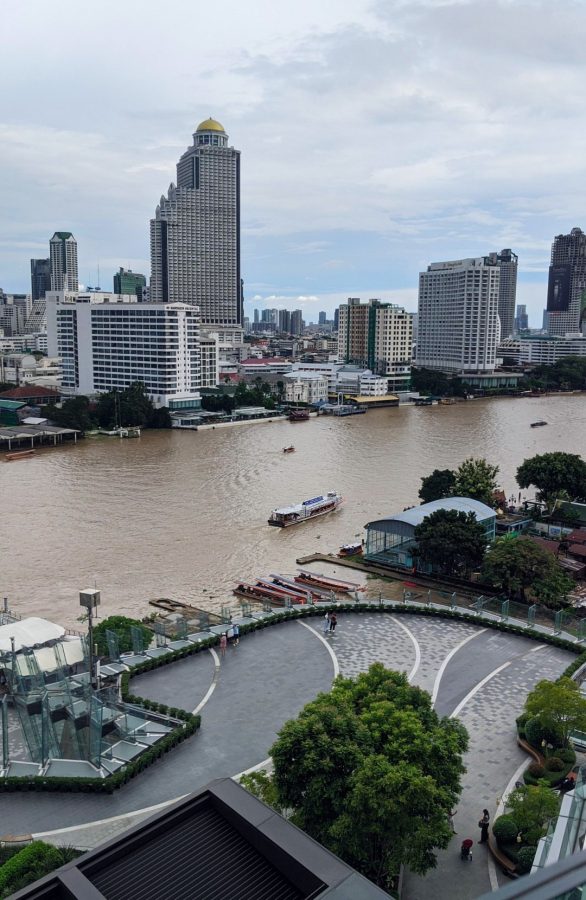 On another day, we went to one of Bangkok's most well-known market areas in Ratchathewi, and to our delight, our visit coincided with an immense, month-long street food and crafts festival that was sprawled out over several hundred metres just adjacent to the huge Platinum Fashion Mall. That proved to be a great way to spend the afternoon, and we wandered aimlessly around the whole area, taking in the explosion of sights, sounds, and smells. When it all got to be too much, we'd duck into any providential food court, typically tented, and get something refreshing to drink – frosty coconut shakes at one instance, big bottles of ice-cold Chang and Singha beers at another!
At the other end of the spectrum, I also had the chance to dine at what is ranked as the number one restaurant in the whole of Asia, a rather dubious claim, to be sure, given the untold thousands of them in the world's largest continent. If you look at the Top 50 list, which is sponsored by Acqua Panna and San Pelligrino, you'll see that the list is dominated by Singapore, Bangkok, and Tokyo restaurants – and virtually all of the top spots: 11 of the top 12, in fact, with the lone exception being a restaurant in Osaka.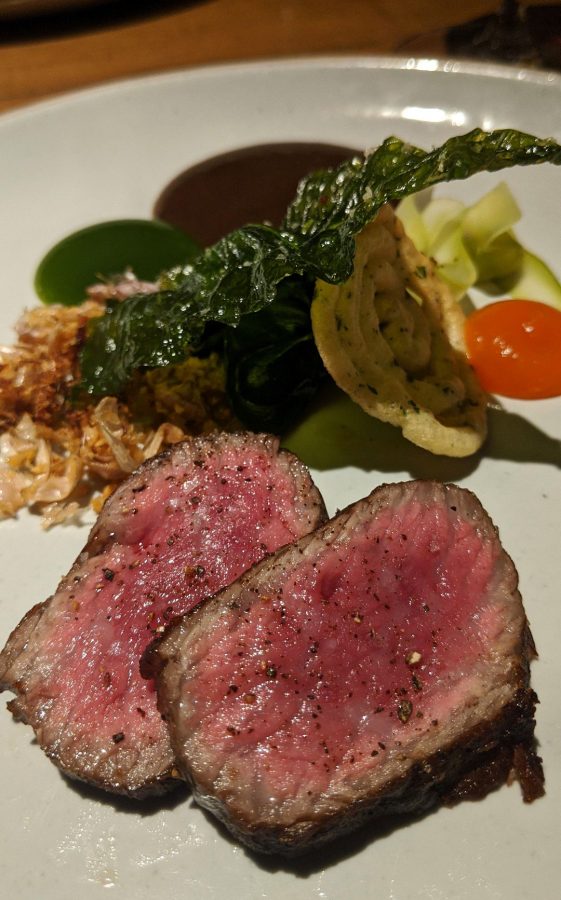 Perched atop the list for 2023 is Michelin-starred Le Du, a restaurant in the Sathorn area specializing in fresh, seasonal Thai haute cuisine. A friend of mine who lives in Bangkok knows the co-owner of the restaurant, Chef Thitid 'Tonn' Tassanakajon, and was able to secure a booking for us on a Friday night, an amazing feat indeed in a renowned restaurant that only seats 40! She and I enjoyed a long and leisurely six-course meal with a succession of beautifully presented dishes, and the food and service were both very good – with the wine service being particularly notable – but I'm not sure any meal could ever have risen to the expectations fuelled by a number one ranking among Asia's best restaurants. It was also incredibly expensive, with the least costly menu option (four courses, no wine) checking in at ฿3,500 per person, plus another 17% in tax and service – or about RM530 per person. For six courses with wine, you'll need to double that figure. If your budget permits, however, Le Du will certainly deliver a memorable dining experience!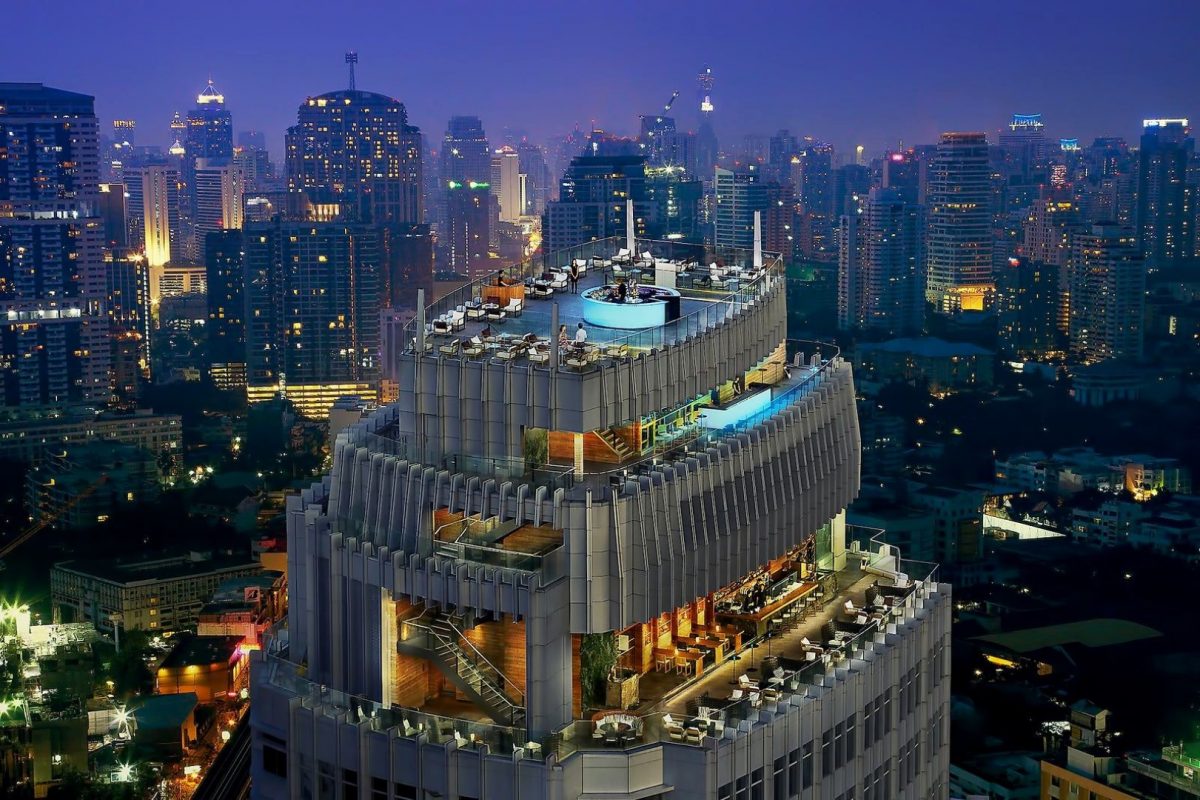 Other evenings saw more wallet-friendly dinners, and we also found the evening cocktail hours at the club lounge in our hotel to be especially winsome, always a great prelude to a night out on the town. We thoroughly enjoyed Octave Louge and Bar, the rooftop attraction at the Marriott Sukhumvit. Set atop the hotel from levels 45 to 49, Octave may not be the highest of all the many rooftop bars in Bangkok, but its trendy location, the amazing 360-degree city views, and a great selection of curated cocktails and craft beers certainly make it one of the best nights out in the Sukhumvit area. Octave is consistently rated among the city's top rooftop bars, and it's easy to see why.
In the wake of the global pandemic, Bangkok has quickly reclaimed its position as one of Asia's most appealing and dynamic cities. And though it's definitely packed with people – the sprawling metropolis has seen its population nearly double in the last 25 years – it's not all about urban chaos. The Green Bangkok 2030 Project aims to notably expand on the city's existing collection of public parks, with a goal of establishing a minimum of 110 sq ft (or 10 sq metres) of green space per person, and to have 30% of the city under tree cover. Until then, visitors seeking a bit of natural renewal while in Bangkok can enjoy the aforementioned Benchasiri Park in Sukhumvit, but also the huge Lumphini Park, which covers a whopping 142 acres in the Silom-Sathorn area, or the beautiful grounds of Suan Luang Rama IX Park, which is the city's largest at 200 acres.
If you've not been to Thailand's City of Angels, or if it's just time to rediscover it, book your flight and head north. In just over two hours, you'll alight in one of the world's most vibrant, dynamic, and engaging big cities – and if you're anything like us, a short getaway to Bangkok will leave you ready to go back for more! It's a metropolis that doesn't just offer experiences; it delivers an adventure at every corner, a tale in every taste, and memories in every moment.
TRAVEL FILE
Bangkok is well-served by two airports, the newer and larger Suvarnabhumi and the regional- and domestic-focused Don Mueang, the latter of which is not only one of the oldest airports in the world, but surely the only one to have an actual golf course between its runways and taxiways! The smaller Don Mueang tends to have shorter aircraft taxiing times and immigration queues.
Bangkok time is one hour behind Malaysia time. Currently, RM1 = ฿7.7, so if something is priced at ฿100, that's about ฿13.00.
Experienced travellers will ensure their accommodation of choice is located very close to a BTS or MRT station. This can dramatically improve the overall quality of a visit, keeping costs down and inspiring more exploration. Stay near to the areas that you want to explore the most; otherwise, you could end up spending a couple of hours (or more) every day on public transit.
If you're carrying cash, keep a supply of smaller notes (฿20, ฿50, and even ฿100) and a few coins (฿10 is most helpful). Many small shops and street vendors will not be able to provide change for a ฿1000 note.
Dress appropriately and respectfully when visiting temples in Bangkok. That generally means covering knees and shoulders, just as a general guideline. You'll also need to remove your shoes upon entering.
When enjoying the huge selection of street food, choose stalls that are busy and/or where the food is cooked in front of you.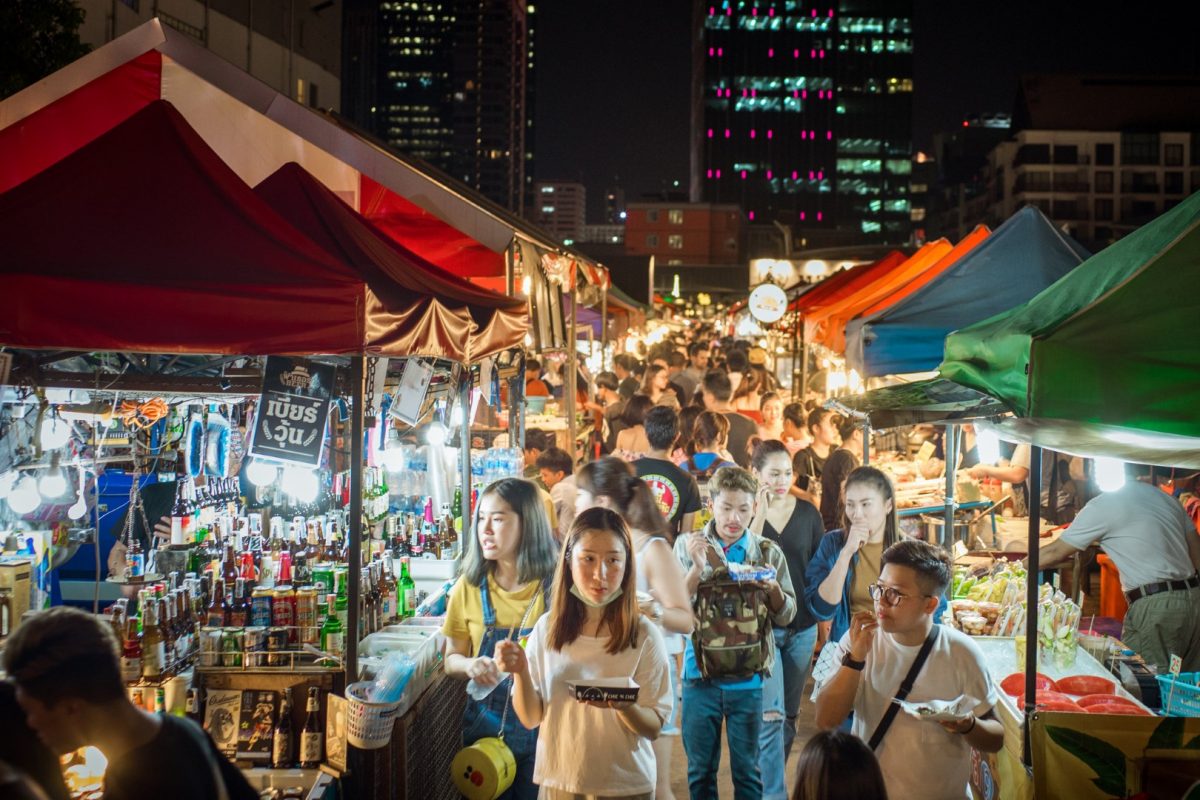 The winter months of December, January, and February are the 'coolest' in Bangkok, and, perhaps counterintuitively, also its driest. Visitors can enjoy average daily high temperatures of about 31-32°C and less than two days of rain per month, on average.
Pro tip: Don't try to do too much! Bangkok is a huge, overwhelming metropolis with a ton of things to see and do. Don't feel you must cram everything into a four-day trip – instead, keep things manageable and take one small bite at a time. Want to check out the temples? Focus on two or three, such as the Grand Palace, Wat Pho, or Wat Arun. Shopping? Choose a couple of key places, such as ICONSIAM, Siam Paragon, Central World, or the Chatuchak Weekend Market (which is a destination in its own right). Better still, confine yourself to one general area, and explore it well. Bangkok is a super-close destination for Malaysian residents, so it's easy to go again and again.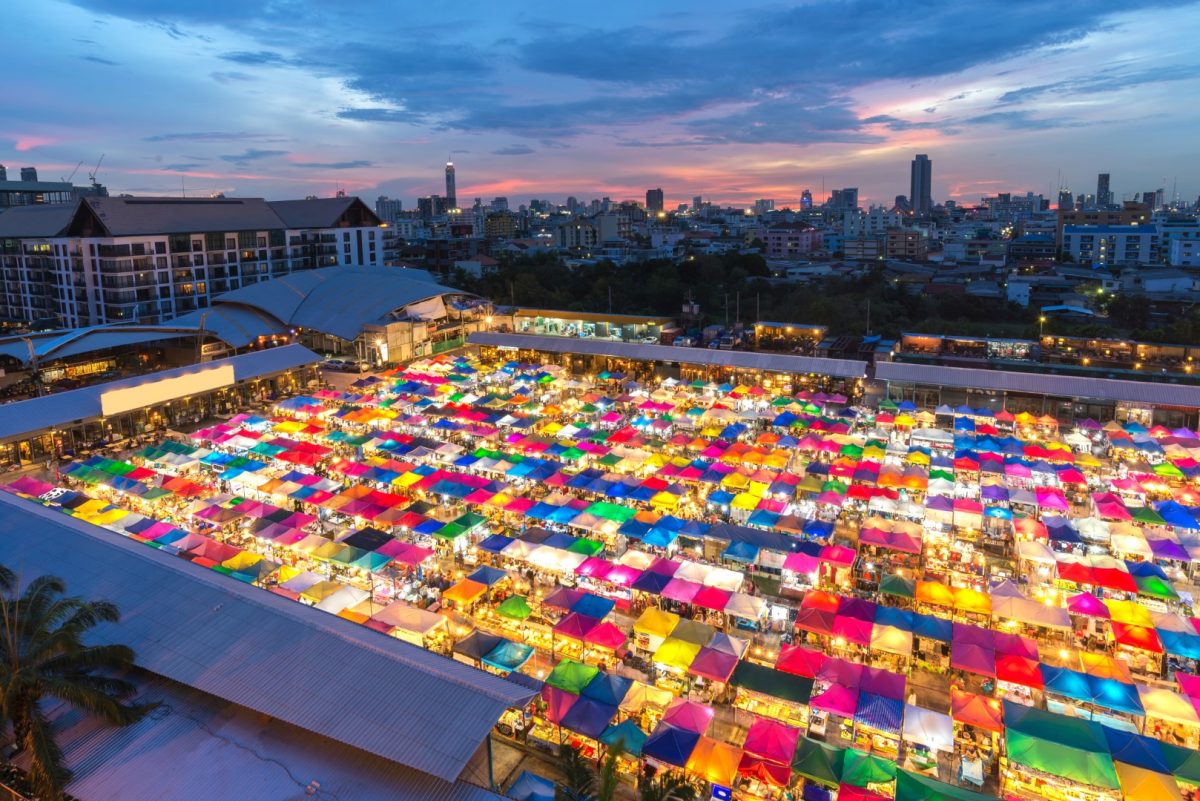 With an estimated 2023 population of some 10.7 million, Bangkok dwarfs any other city in Thailand in terms of size and importance to the country. Such cities are called 'primate cities,' as they dominate their home countries in many ways, having at least double the population of the next-largest city, and more than twice as much significance. Kuala Lumpur is itself a primate city, but Bangkok exceeds these thresholds dramatically, and was at one time called 'the most primate city on Earth,' though that label may now be in question, as Thailand's second-largest city, Chiang Mai, has grown in both size and population. In 2000, Bangkok was 40 times bigger than Chiang Mai; now, it's about nine times bigger. Still, Bangkok's relative primacy is unmatched by any other city even close to its size.
---
"ExpatGo welcomes and encourages comments, input, and divergent opinions. However, we kindly request that you use suitable language in your comments, and refrain from any sort of personal attack, hate speech, or disparaging rhetoric. Comments not in line with this are subject to removal from the site. "
Comments