Guaranteed to be an unforgettable city, new arrivals in Kuala Lumpur will need to familiarise themselves with essential information in order to fully take advantage of their time in the tropical city.
Entertainment in Kuala Lumpur
Locals of all ages enjoy visiting their local pasar malam (night market), which usually takes place once a week, to stock up on food, sample some delectable street food, and to purchase the occasional trinkets and gems hidden amongst the countless vendors selling their wares. These night markets serve as a melting pot for foreigners to gain insight about the various cultures and tastes that inhibit this diverse city.
Kuala Lumpur also plays home to several considerable music festivals, namely the KL International Jazz Festival and Rock The World festival that focuses on local rock acts.
See Also:
Other popular attractions in KL include visiting the Lake Gardens area that contains several attractions such as a huge bird park, the world's biggest butterfly park, as well as a peaceful outdoor park.
See Also: 7 Great Attractions in the Lake Gardens Kuala Lumpur
For movie lovers, KL also features acclaimed cinemas that are up to date with the latest local and international films. Golden Screen Cinemas, Tanjung Golden Village, Cathay Cineplexes and the renowned IMAX theatre are all commonplace venues that litter the city landscape.
See Also:
Dining in Kuala Lumpur
Kuala Lumpur is a culinary lover's heaven. The food scene over here is a mixed bag of every sense of taste known to man and continues to delight and dazzle foreigners with the varied tastes and smells that can be found almost anywhere in the city.
From the primary cuisine of Malaysia, which consists mainly of Chinese, Malay, and Indian food, to other types of other Asian and Western cuisines, such as Japanese, Italian, Thai, German, and Middle-Eastern to name a few, KL is prime destination for any hardcore foodie.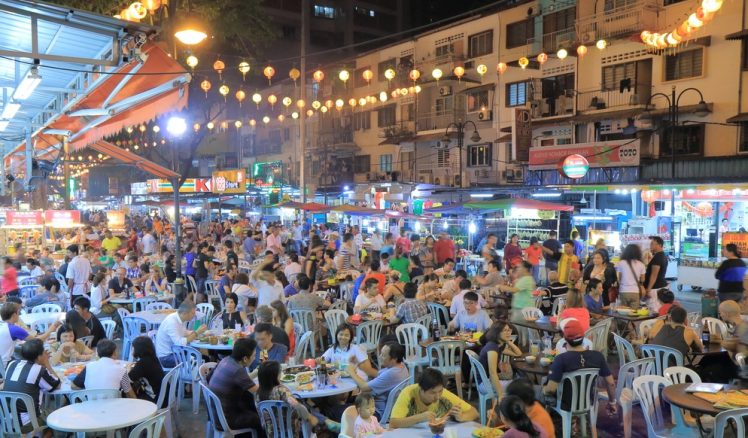 Food in KL also ranges from being extremely affordable to incredibly expensive while guaranteed to be delicious on both fronts. Foreigners should not fret from sampling the local delights in Malaysian-styled cafes known as mamaks, which are typically joints that serve delectable Indian breads and scrumptious banana leaf rice. Other local foods not to be missed are nasi lemak, satay and the assorted types of popular Chinese food that consists of chicken rice, beef ball noodles, curry laksa, and the like.
See Also:
Shopping in Kuala Lumpur
KL is ranked as the second best city for shopping in Asia, according to Globe Shopper Index so it is no surprise that several malls, ranging from inexpensive to premier can be found all over the city.
Getting acquainted with the shopping malls in the city can also be beneficial in times of boredom, hunger, or just out of general necessity, as many Malaysians enjoy hanging out in shopping malls. No matter which suburb or area you live in, KL is sure to have at least one or two malls that can whet your shopping appetite.
See Also:
Nightlife in Kuala Lumpur
The city is famous for its lively nightlife as much as its daytime hustles and bustles. Those seeking to enjoy a drink whilst mingling with both the local and foreign inhabitants can easily do so at the plentiful clubs and pubs sprawled all over KL.
Areas such as Changkat in Bukit Bintang contain an entire stretch of pubs cum mini-clubs – as well as restaurants all rolled up in one destination – and serves as a multi-cultural hub of socialization. That being said, the numerous clubbing establishments that occupy KL also serve as a go-to destination for expats and locals to mingle.
See Also:
Housing and Property in Kuala Lumpur
New expats in KL are spoilt for choice when it comes to finding a suitable area of residence. Depending on the marital status of foreigners, inner city areas such as Ampang, downtown KL, and the KL Sentral area, would most likely suit singles due to the close proximity of places of interests and entertainment.

Having said that, expats with families would more likely benefit from staying in quieter suburb areas such as Bangsar, Sri Hartamas, Damansara Heights, or Mont Kiara, which all offer their own small town centres equipped with restaurants and malls, and where it is more serene than living downtown.
See Also:
Education in Kuala Lumpur
The education system in Malaysia is varied and mainly divided into public, private, and international schools. Public schools cost the least and usually comprises of teaching its students in the national curriculum, which primarily uses Bahasa Malaysia (Malay language) as the means to teach its pupils while English is thought as a secondary language.
Private schools are a lot more expensive than public schools but are largely based upon the same curriculum set by the Malaysian Ministry of Education as their public counterparts. The main difference is that a majority of private schools use English as a primary means of teaching students as well as providing a more robust school schedule.

International schools are the most expensive schools in KL but are the most popular choice for expats living here. These schools educate students based on their school's nation's own curriculum, cultures, and primary language. Expats' kids also have the benefit of learning about their home countries whilst making both local and international friends.
See Also:

Transportation in Kuala Lumpur
Transport in Kuala Lumpur varies with the city having a rapidly developing public transportation system. Although the city contains modern amenities such as a monorail, light rail train, buses, and an upcoming mass rapid transit project, public transportation isn't a primary mode of transportation for some because it has an occasional tendency to be infrequent and inefficient.

However, it is a good option for beating the morning and evening traffic jams that persist throughout KL. The alternative to public transportation is by a private mode of transport, i.e. either by car or a motorcycle. While this is a practical choice for most locals, it is also the more expensive choice.
Even though Malaysia has its own national car company called Proton, a new entry four door sedan from them could still cost as much as RM38,000+. That being said, even though purchasing a car here is expensive, fuel is cheap thanks to government subsidies. One also has to take note of the massive traffic jams that take place all over KL during peak hours.
See Also:
Healthcare in Kuala Lumpur
There are tons of hospitals, clinics, and medical facilities that inhabit the city and there are no shortages of pharmacies either.
Private and public hospitals in KL provide quality medical services, although wealthier individuals often opt for private healthcare, and are usually fluent in English, with a majority of doctors being trained overseas but are able to speak their local dialects.

While there is no government initiative to provide a national heath insurance scheme, foreigners can easily find both local and international health insurance agencies that cater towards the expat market. Employers are also obligated to provide health insurances to foreign workers under the Foreign Worker Hospitalization and Surgical Insurance Scheme, which has been in effect since 2011.
See Also:
 Read more:
Safety in Kuala Lumpur
Thinking about safety, be it just you or your family, is a norm when travelling to a new country. No big city is without its problems and foreigners who are new to KL should take precaution in order to be aware of the various types of thieves and immoral people that damage the decency and credibility of this city.
Popular crimes include snatch thefts from motorcyclists, smashing car windows and grabbing valuables while in traffic jams, and taxi robberies. Foreigners should also be aware that the police and ambulance emergency number over here, which is 999, should also be taken into consideration along with the local KL police hotline for phones.
Additionally, the local police have released an app for smartphones called MyDistress that sends an SOS as well as a GPS coordinate lock-on for your smartphone in hopes for a quick response from the local authorities.
See Also:

---
"ExpatGo welcomes and encourages comments, input, and divergent opinions. However, we kindly request that you use suitable language in your comments, and refrain from any sort of personal attack, hate speech, or disparaging rhetoric. Comments not in line with this are subject to removal from the site. "