A heritage city beyond compare, new arrivals in Melaka will need to familiarise themselves with essential information in order to fully take advantage of their time in the tropical city.
Entertainment in Melaka
Locals of all ages enjoy visiting their local pasar malam (night market), which usually takes place once a week, to stock up on food, sample some delectable street food, and to purchase the occasional trinkets and gems hidden amongst the countless vendors selling their wares. These night markets serve as a melting pot for foreigners to gain insight about the various cultures and tastes that inhibit this diverse city.
Melaka's Jonker Street is another great place for shopping; it's full of trinkets, souvenirs, and cheap good. You'll also find plenty of cafes and restaurants selling delicious local fare as well as interesting, independent stores selling handcrafted goods. This small state is also close to the sea, so there's easy access to beaches for a laid-back picnic or sunbathing if you want.
Melaka is known as Malaysia's historical city and it's has a rich history which is most evident in the architectural styling of old buildings. There are many museums and old buildings that are worth visiting, whether you're a history buff or not.
See Also:
Dining in Melaka
Melaka is a culinary lover's heaven. The food scene over here is a mixed bag of every sense of taste known to man and continues to delight and dazzle foreigners with the varied tastes and smells that can be found almost anywhere in the city.
Melaka is also known for its delicious Peranakan , or Nyonya, dishes like pongteh, Eurasian dishes like devil curry and ayam buah kelauk,  as well as street food like satay celup, durian puffs, and chicken rice balls.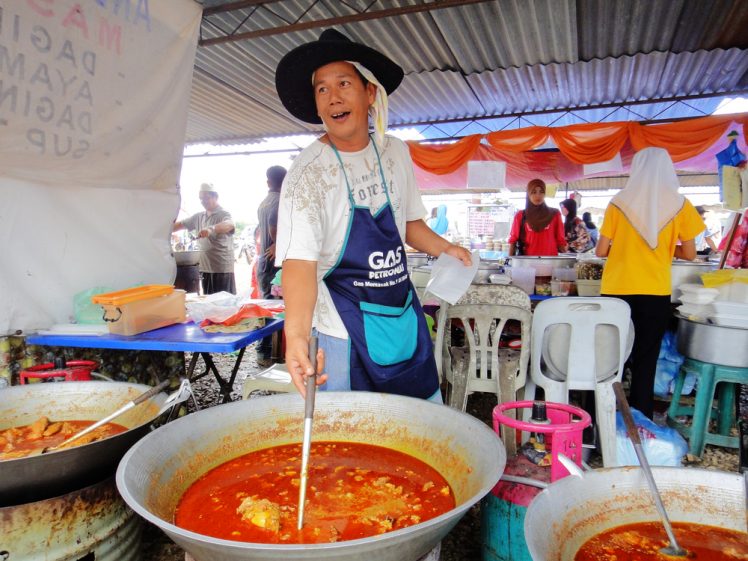 Nyonya cooking in Melaka is slightly different to that in Penang, with influences from Portuguese and Dutch Cuisine as well, and is generally sweeter than Nyonya food up north. Eurasian cuisine, on the other hand, shows heavy Portuguese influences in ingredients and cooking styles, and generally has a higher heat level, probably an influence of local cuisine.
The amalgamation of traditional Chinese, Malay, and Portuguese ingredients and cooking styles create a flavour-packed journey for foodies in this small state. Visitors often face long queues of locals and tourists waiting to fill their tummies with popular delights.
Also popular in Melaka are desserts! You should not miss durian puffs, jam tarts, cendol gula Melaka, and coconut shake. The shake and cendol are refreshing treats that you enjoy in the sun by the beach, while the durian puffs and jam tart make great walking snacks as you explore this old city.
See also:
Shopping in Melaka
Melaka is a small state that is heavily reliant on tourism, so there are plenty of souvenir shops selling fun little knickknacks and hand-crafted gifts. The best place for this is Jonker Street, the tourist capital of Melaka. There are also many stores selling local artwork, antiques, and rare collectables like coins, toys, and porcelain, as well as traditional items like batik textiles and Peranakan costumes.
Don't fret, though, because Melaka also has a few malls that house regular retail stores, from basic to high-end brands. Chain retail stores obviously sell items at the rate all over the country, but local, independent stalls and stores in Melaka do have relatively cheaper goods compared to those in KL. Some malls to check out are Dataran Pahlawan, Mahkota Shopping Parade, and Hatten Square Suites & Shoppes.
Nightlife in Melaka
Despite being a small state, Melaka nightlife is anything but dull. Those seeking to enjoy a drink whilst mingling with both the local and foreign inhabitants can easily do so at the plentiful clubs and pubs sprawled all over the city.
Most of the entertainment is focused in the city area, with bars and lounges are concentrated in hotels, but Jonker street also hosts quite a few watering holes that draws visitors every night, mostly focused on mid-night snacking. For clubs and pubs, you can head on over to Melaka Raya.
Housing and Property in Melaka

Education in Melaka
The education system in Malaysia is varied and mainly divided into public, private, and international schools. Public schools cost the least and usually comprises of teaching its students in the national curriculum, which primarily uses Bahasa Malaysia (Malay language) as the means to teach its pupils while English is thought as a secondary language.
Private schools are a lot more expensive than public schools but are largely based upon the same curriculum set by the Malaysian Ministry of Education as their public counterparts. The main difference is that a majority of private schools use English as a primary means of teaching students as well as providing a more robust school schedule. A private school in Melaka is the Wesley Methodist School Melaka.

International schools are the most expensive schools but are the most popular choice for expats living here. These schools educate students based on their school's nation's own curriculum, cultures, and primary language. Expats' kids also have the benefit of learning about their home countries whilst making both local and international friends. The only two international schools in Melaka are the Melaka International School and Melaka Expatriate School.
See Also:

Transportation in Melaka
Transport in Melaka is not as well developed as in other, bigger Malaysian cities like Kuala Lumpur. The only monorail service that was set up was shutdown not long after being built and is not gradually falling into ruins. To get around, many locals use public buses and taxis. Buses are fairly cheap and connect most major parts of Melaka.
In central Melaka, especially in Jonker street and the surrounding streets, many people move around in trishaws. You can also use a bicycle, but there aren't any designated lanes for cyclist, so this can be a little dangerous. One option would be to use a taxi to get around to further areas, and walk whenever possible.

The best thing alternative, of course, would be to use a private car. However, while this is a practical choice for most locals, it is also the more expensive choice. Renting is possible, and even convenient for short term stays, but purchasing is definitely better value if you're staying for longer than 3 months. Even though purchasing a car here is expensive, fuel is cheap thanks to government subsidies.
See Also:
Healthcare in Melaka
There are tons of hospitals, clinics, and medical facilities that inhabit the city and there are no shortages of pharmacies either.
Private and public hospitals in Melaka provide quality medical services, although wealthier individuals often opt for private healthcare, and are usually fluent in English, with a majority of doctors being trained overseas but are able to speak their local dialects.

While there is no government initiative to provide a national heath insurance scheme, foreigners can easily find both local and international health insurance agencies that cater towards the expat market. Employers are also obligated to provide health insurances to foreign workers under the Foreign Worker Hospitalization and Surgical Insurance Scheme, which has been in effect since 2011.
The closest hospital to central Melaka is the state-run Melaka Hospital, while the other two state hospitals are more than 30 minutes from the main city. These are Jasin Hospital and Alor Gajah Hospital. There are also several private clinics and hospitals in the vicinity of central Melaka such as Putra Specialist Hospital and Mahkota Medical Centre.
See Also:
 Read more:
Safety in Melaka
Thinking about safety, be it just you or your family, is a norm when travelling to a new country. No big city is without its problems and foreigners who are new to Melaka should take precaution in order to be aware of the various types of thieves and immoral people that damage the decency and credibility of this city.
Popular crimes include snatch thefts from motorcyclists, smashing car windows and grabbing valuables while in traffic jams, and taxi robberies. Foreigners should also be aware that the police and ambulance emergency number over here, which is 999, should also be taken into consideration along with the local police hotline for phones.
Additionally, the local police have released an app for smartphones called MyDistress that sends an SOS as well as a GPS coordinate lock-on for your smartphone in hopes for a quick response from the local authorities.
See Also:

---
"ExpatGo welcomes and encourages comments, input, and divergent opinions. However, we kindly request that you use suitable language in your comments, and refrain from any sort of personal attack, hate speech, or disparaging rhetoric. Comments not in line with this are subject to removal from the site. "