Whether you go for the food or the sights, Penang certainly has more to offer to those willing to explore the island and all of its secrets.
Entertainment in Penang
Penang has no shortage of fun things to do when it comes to recreational activities. The incredible sights that populate Penang Island are abundant with venues such as; the famous Batu Ferringhi, a popular beach destination that also features hotel resorts and many other activities, Malaysia's first floating mosque, Penang Hill, and Penang Road, all serving as must see destinations.
Depending on the time of year, numerous festivals and events also take place across the island. Mean Machines, Malaysia's largest motorsports and motorshow performance, also visits Penang annually and is an ideal attraction for motoring enthusiasts. Other festivals not to be missed include the Penang Island Jazz Festival and the George Town Festival, which takes place yearly.
See Also:
Dining in Penang
As Malaysia's food capital, this light guide to dining in Penang will mainly focus on the finer and more popular things to eat on the island, especially its famous hawker street food.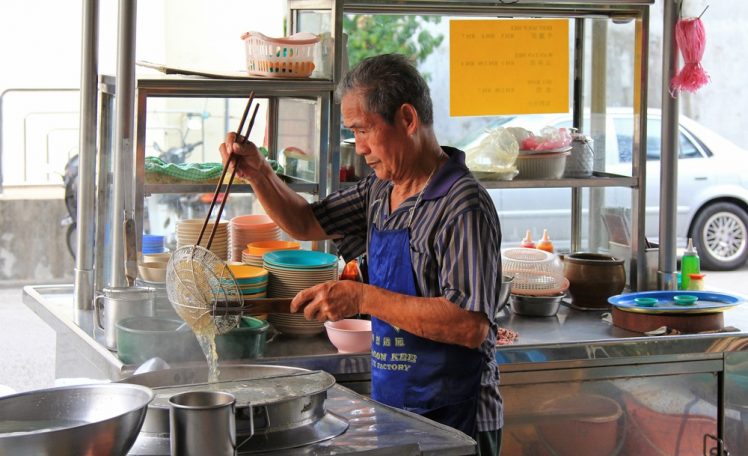 With its culinary tastes mixed up into a fusion of Chinese, Malay, and Indian cuisines, Penang's food scene has a lot to offer hungry travellers. Any Malaysian worth his salt will tell you without hesitation that Penang has the best Char Keow Teow, a mouth watering concoction of flattened rice noodles fried with cockles, bean sprouts, spring onions, prawns, and egg. It is almost considered a Malaysian norm for one to travel to Penang just to have a plate of deliciously sinful Char Keow Teow.
Other popular delights include Nasi Kandar, an extremely popular Penang dish that usually consists of white rice served alongside a variety of curries and vegetables, and Cendol, a dessert comprising of shaved ice flavoured with coconut milk, pandan jelly, red beans, and Melaka sugar (palm sugar).
One should also not forget the various restaurants that are similarly as good as their street counterparts, albeit for a higher price. That being said, Penang's culinary dishes are too extensive to go into depth and it is for that reason that this article shall include links for those who are further interested in reading up on Penang's diverse food scene.
See Also:
Shopping in Penang
KL is often hailed as the go-to destination for shopaholics; nonetheless, Penang Island is fast catching up to its big city brethren. With a variety of luxurious and modern malls that come equipped with quality retail shops, cinemas, and other various amenities, many locals and travellers on the island are finding fewer reasons to leave this island paradise.
Shopaholics visiting Penang should fret not as the city features both local and internationally recognized fashion brands that would surely satisfy some shopping craves. Popular malls include Queensbay Mall, Gurney Plaza, and Auto-City.
See Also:
Nightlife in Penang
Having some good old-fashioned fun after the sun sets is almost everyone's favourite past time, be it drinking at the pub or having a nice meal with family or friends after work. Thankfully, the nightlife scene on the island is bountiful. Like most tropical islands in South-East Asia during nightfall, both the locals and foreigners in Penang come out to play by drinking, socializing, dancing, and eating.
Those wishing to dance the night away need not look further than venturing to Upper Penang Road, where an abundance of restaurants, bars and clubs clutter the street with live music, tantalizing aromas, and pleasure-seeking patrons of various ages.
Regardless, those that prefer their night air unfilled with heart-pumping music can also visit the assorted themed or speciality bars around the island that focuses on providing an alluring and relaxing environment to unwind and relax. Besides dancing and drinking, a visit to a late night market in Penang is also a must! Night markets in Penang are usually similar to other night markets around Malaysia and take place once a week in different areas.
See Also
Housing and Property in Penang
Housing in Penang is often deemed to be a blissful mix of condos, bungalows, villas on the hillside, to apartments and luxurious condominiums by the beachfront. The island does have its fair share of incredible places to stay that occasionally comes equipped with an incredible view of the surrounding seascape.

Nevertheless, no matter where you stay, plentiful hawker cafes, convenience stores, and Penang's other popular amenities can surely be found nearby. Popular areas to live in include Batu Ferringhi, Tanjung Bungah, Straits Quay, Gurney Drive, Pulau Tikus, Georgetown, Queensbay, and Bayan Lepas.
See Also:
Education in Penang
Education is of prime importance for most expat families relocating to a new country or environment. It is important because education has the ability to mould and shape a child's development process.

While foreigners have the option of sending their children to public and private schools, those wishing to send their kids to international schools in Penang will find more than a few quality options throughout the island. Moving on, a number of colleges and universities also exist on the isle of Penang; however, it pales in comparison to the abundance of tertiary educational institutions in the mainland, namely Kuala Lumpur and Selangor.
See Also:
Transportation
Transportation in Penang is similar to most modes of travel in Malaysia with the addition of sea travel. Public transportation on the island usually consists of air travel, buses and ferries bringing people and cars into or out of Penang. Buses are the most popular mode of travel, with Rapid Penang consisting of paid bus routes while the Central Area Transit (CAT) buses provide free transportation for all on selected routes.

Additionally, those wishing to explore the island at a carefree pace should hire a traditional trishaw ride around Georgetown. Private cars and motorcycles are the alternative for those who want to leisurely traverse the island at their own pace and they are available for purchase and rent. Traffic can get pretty bad in Penang and on its main bridge during the weekends as well as during peak hours.
See Also:
Healthcare
Penang has topped the list as a place for medical tourism due to its excellent healthcare facilities and services. Indeed, as reported by the TheEdge Malaysia, Penang is striving to become a medical city for foreigners and locals alike and this is evident from raking in "RM336 million in revenue in the sector for the year 2010".

Home to an abundance of high-quality hospitals, Penang is fast becoming a go-to destination for those wishing to rid themselves of all types of ailments. Besides medical facilities such as hospitals and clinics, Penang also has a profusion of pharmacies that sell over the counter drugs for those who don't require dire medical attention.
See Also:
Read more:
Safety
Safety is a concern for new arrivals in a foreign country and learning the do's and don'ts for a new place can sometimes help individuals in avoiding unnecessary predicaments.
While Penang is relatively safer than its big city counterparts, the element of crime obviously still exists. Expats and tourists should look out for petty thieves that snatch handbags from women, and opportunistic criminals that might try to take advantage of a situation by means of robbing and scamming.
Nevertheless, crime can often be avoided by being smart and quick on your toes when in a sticky predicament or altogether avoided if you respect local customs and do not attract unwanted attention. One should also take note of the local police hotline: 04-2221522/04-2691999 together with the national emergency hotline: 999.
See Also:

---
"ExpatGo welcomes and encourages comments, input, and divergent opinions. However, we kindly request that you use suitable language in your comments, and refrain from any sort of personal attack, hate speech, or disparaging rhetoric. Comments not in line with this are subject to removal from the site. "