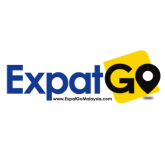 The Malaysia car industry is protective of its fledgling production lines and cars are not as cheap as they are in many other parts of the world. Tariffs on imported cars are high to encourage purchases of the locally assembled product.
For these reasons, you may want to reconsider the idea of bringing your car with you to Malaysia. Very few people do unless they are really attached to it. Shipping fees are not so expensive that they become prohibitive  but there is some red tape involved, and if you are only coming for a short time, there probably isn't much point. If you do, get a good agent to handle all the paper work but you will be required to collect the car from the wharf when it arrives.
You also need a Jabatan Pengangkutan Jalan Malaysia (JPJ, the Ministry of Road Transport) permit, which includes a car inspection, duties must then be paid and then the car needs to be registered. This means having original purchase documents, previous registration documents and patience. Being pleasant, calm and collected always helps in such situations.
Conditions for Importing Cars into Malaysia
For expats:
Valid working permit
Vehicle must be registered under your name in the country of last residence
The approval is subject to the following conditions:

the vehicle shall be registered under the name of applicant
the vehicle is not for sale or transferable
the vehicle has to be re-exported upon termination of work employment in Malaysia
The car must be registered in your name no less than 3 years from the date of your application. If ownership of the vehicle has not reached 3 years, the car won't be allowed into Malaysia.
For Malaysian citizens returning from working or studying overseas:
Malaysians who are eligible for an import license for personal motor vehicles are:
Malaysian citizens studying (and have at least obtained a Diploma) or working full time overseas for at least 1 year (except from Singapore, Brunei and Thailand)
Government officials studying (except from Singapore, Brunei and Thailand) or working overseas, or
The accompanying spouse of a Malaysian citizen studying or working full time overseas for at least 1 year (except from Singapore, Brunei and Thailand)
Spouse or children of government officials and staff of home-based offices working at Malaysian representatives office overseas.
Conditions:
Applicant was residing overseas legally for a period of not less than one year
Vehicle registered under the applicant's name for a period of not less than 9 months from the date of vehicle registration to the date of return to Malaysia
Vehicle insured under the applicant's name for a period of not less than 9 months from the date of car insured to the date of return to Malaysia
Applicant must have a valid driving license (a learner or temporary driving license is not acceptable and is returning to Malaysia permanently
Application made within 3 months from the date of return to Malaysia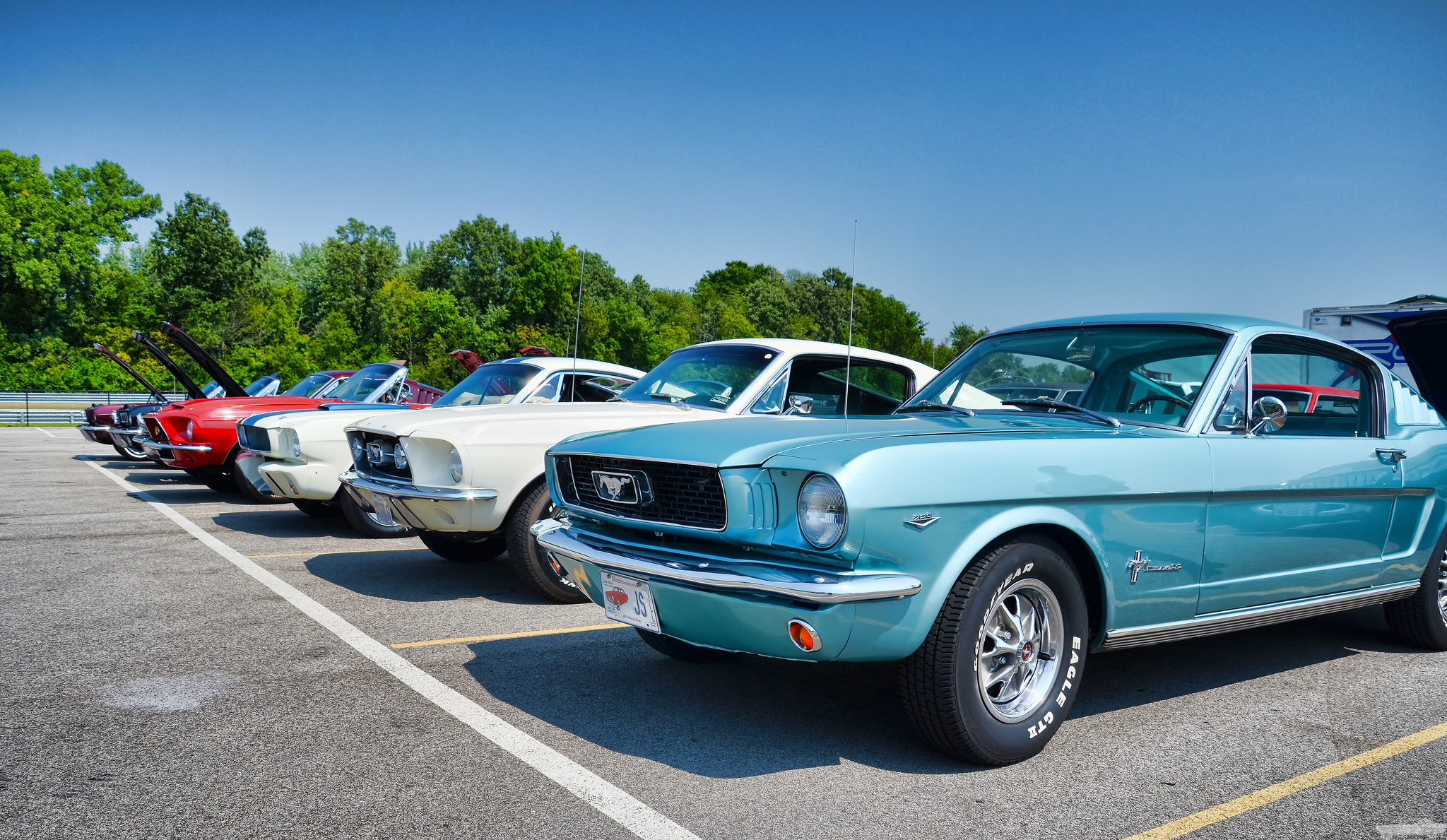 Documents needed for importing cars into Malaysia
For expats:
Covering or application letter addressed to the Ministry of Trade and Industry for importing the car from one's home country for personal use in Malaysia
A completed JK69 form which can be downloaded at the Ministry of Trade and Industry's (MITI) website or obtained from the office.
Original passport and Malaysian visa as well as photocopy
Appointment letter or letter of contract from the company you work for in Malaysia and your work permit
International or Malaysian driving license
Original copy of the car's registration in applicant's name as well as a photocopy
Original copy of the vehicle's insurance document or a letter from the insurance company
Certified translation (if not in Malay or English)
For Malaysian citizens returning from working or studying overseas:
International passport
Work or study visa from overseas
Identity card
Letter of offer to work or study overseas
Letter of job termination or completion of study
Driving license (Malaysian and residing country)
Approval letter to study overseas from the sponsor of the scholarship or loan
Certificate of Registration of the Vehicle overseas
Insurance Certificate of the Vehicle overseas
Purchase Invoice of the Vehicle overseas
Completed and typed Customs Form JK69
Boarding pass or flight ticket back to Malaysia
General conditions for Malaysians:
The vehicle can only be registered in Malaysia under the applicant's name.
The ownership of the vehicle cannot be transferred to any third party within 2 years from the date of registration.
Import license is granted to applicant once in a lifetime.
Take all the above documents to the Ministry of Trade & Industry for processing and an interview with an official. Processing of the application will take 7 working days. Once the Approval Permit is issued, the car must be imported within 3 months, or you will have to re-apply.
Duties for importing cars into Malaysia
The duties on cars sold in Malaysia are high, as they are in many Asian countries. This is not to reduce the number of cars on the road, as Malaysia has some of the best and least crowded roads in the region. The primary reason is to protect Proton, the local manufacturer.
Cars that are imported in completely built up form (CBU) are taxed at a higher rate than those that locally assembled – completely knocked down (CKD). The bigger the car's engine, in terms of cubic capacity (cc), the higher the duty. It is also worth noting that the annual road tax depends on the size of the engine and a car with more than 2,500cc will cost a lot more to tax each year.
If you bring in a second hand car then you will be taxed based on the Customs Department's valuation of your car, which is made using their own methodology and not necessarily on your declared value. However, this requires obtaining proper permits and a fair degree of bureaucracy, so we do not recommend doing this unless you are very attached to your vehicle.
Duty rates for motorcars are as follows: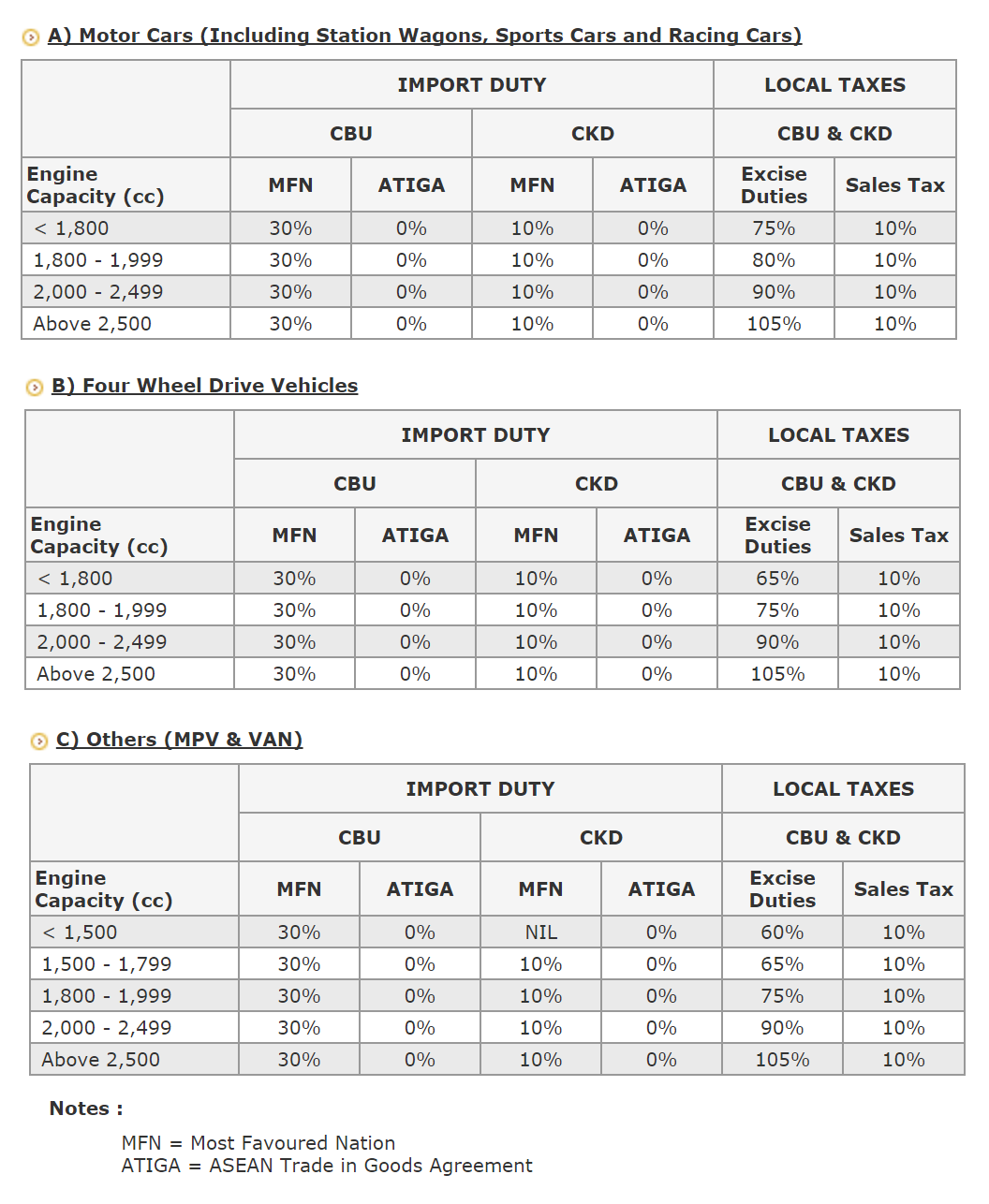 Malaysia My Second Home (MM2H) tax-free privilege
People moving here under the Malaysia My Second Home (MM2H) are entitled to one tax-free car. They can either bring their own car into the country tax-free or purchase a locally assembled car free of taxes. If you choose to bring in your own car, you must do so within six months of your visa being approved.
Since Malaysians drive on the left side of the road it should be a right-hand drive car. If you want to buy a car in Malaysia tax-free you have one year to make the purchase from the date your visa is approved. In both cases you have to obtain formal approval first from the Ministry of Finance / Treasury.
If you want to import a car, you need to have owned it before you apply for the MM2H visa. It has to be imported from either your own country or your place of last residence. There are two important considerations if you plan to import your own car.
First is ensuring that the servicing will not be a problem so that bringing in a car which is not sold in Malaysia does not cause you headaches. The second consideration is the engine size. Although the relatively cheap price of petrol will be a benefit, the road tax is based on the engine size so buying a car with a large 'cc' could prove expensive.
If you choose to buy a car in Malaysia then it should be noted that duty-free eligibility only applies to cars that are built by Malaysian auto makers such as Proton or Perodua and those which are assembled locally (CKD).
Shipping cars into Malaysia
You can personally arrange for the shipping with the automobile association or agents in your home country, and then if you wish, contact AAM (Automobile Association of Malaysia) to assist in the clearance of the car at the port, or to recommend good local agents. Contact AAM's Head Office at 603 – 5511 1932.
Contact :
Ministry of Trade and Industry
Block 10, Government Offices Complex,
Jalan Tuanku Abdul Halim, 50622 Kuala Lumpur.
Tel: 603-8000 8000 Fax: 603-6203 2337
Tel: 603-6201 0033 / 6203 3022 Fax: 603-6203 2337
Email: [email protected]  Website : www.miti.gov.my
Read more:
ExpatGo Guide to Driving in Malaysia – Index
---
"ExpatGo welcomes and encourages comments, input, and divergent opinions. However, we kindly request that you use suitable language in your comments, and refrain from any sort of personal attack, hate speech, or disparaging rhetoric. Comments not in line with this are subject to removal from the site. "
Comments