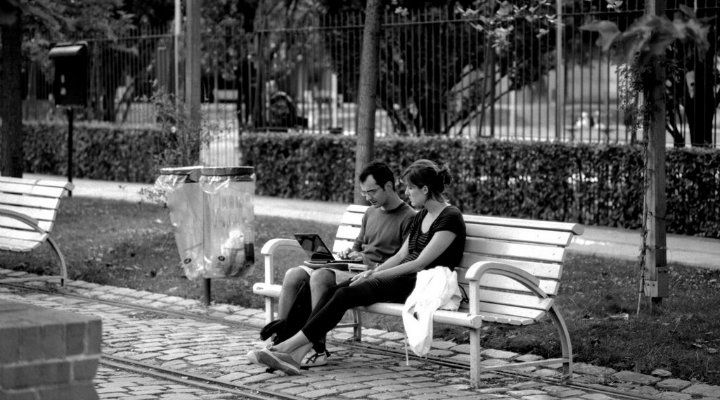 Are you a habitual WiFi hotspot user in Malaysia? These days, it's easy to find a WiFi network pretty much anywhere: at Starbucks, at your favourite restaurant or café, in shopping malls, and even at some mamak stalls. One thing that most people don't stop to consider, however, is their security when connecting to a public network.
Most of our WiFi connections at home are firewalled and encrypted. In other words, they're protected.  You set it up with a password so that strangers can't use your home network.  On the other hand, public networks are often completely unencrypted.
Imagine thousands of people peering over your shoulder while you read your email and stalk a few friends on Facebook. Using an unencrypted network basically makes this scenario possible! Even if a WiFi network requires a password, anything you do while connected may be easily accessed by anyone logged on to the same network.
How do you stay safe on public WiFi networks in Malaysia, then? To be honest, it's not all that difficult. If you're concerned about protecting your personal data and privacy, then read on.
Here are a few key things that will greatly improve your security on WiFi networks in Malaysia.
SEE ALSO: 5 Ways to Get Free WiFi in Malaysia 
1. Avoid Connecting Automatically
First of all, you'll want to ensure that your computer, tablet, or smartphone isn't set to connect automatically whenever an open public network is available. If your devices are allowed to connect automatically, you may be linking in to unsecured, unencrypted WiFi networks without even knowing it.
2. Enable Your Firewall
Most operating systems will come with a basic firewall pre-installed. It's a simple step that will help keep unwanted intruders out. You just need to make sure that your firewall is enabled. Open your Control Panel, or System Preferences if you're using a Mac, and investigate your security settings. If the firewall is turned off, simply enable it and you're all set.
3. Turn Off File Sharing
Actually, turn off all types of sharing. File sharing, printer sharing, iTunes library sharing, and remote login permissions can all compromise your computer's safety, and should all be turned off.
In Windows, you should be able to access these settings by opening the Control Panel and finding the Network and Sharing Center. On a Mac, just look for 'Sharing' under your System Preferences. To be safe, you should also turn off network discovery. This means that other users on the network won't even be able to see your computer. Windows has this option located under your Advanced Sharing Settings, while Mac has it placed under the Firewall's Advanced Settings.
4. Use SSL and HTTPS
If you're using Gmail, HTTPS is standard throughout your entire session, from log-in to log-out. Some email providers and most websites, however, will still use HTTP; this means that plain text is exchanged over the WiFi network, and anyone with basic hacking skills could easily read your web activity. This includes log-in handles and passwords, search terms entered, web pages you visit, and so on. If you use Firefox or Chrome, the extension HTTPS everywhere will make the browser automatically select the secure option on many popular websites which support HTTPS; this includes Twitter, Facebook, and Google.
At the very least, be sure to keep your eye on the address bar whenever you're typing in sensitive information, be it passwords, credit card numbers, or your home address. Be sure that the "S" is present in "HTTPS", and if it isn't, get out of there immediately. Furthermore, if you use an email client like Outlook or Thunderbird, check to ensure that SSL is enabled. Like HTTPS, this will ensure the encryption of all data that is being passed between your computer and the server. If for some reason SSL doesn't seem to be working, double check your other settings and ensure that you have the right port number entered.
5. Use a VPN
VPN stands for Virtual Private Network. Is this really necessary? Well, the answer to that is yes and no; it depends on how safe you want to be. HTTPS works, but many websites don't offer the option. Using a VPN, on the other hand, lets you route all your internet activity through a completely separate, secure network. This provides you with an excellent blanket layer of security. LifeHacker has compiled a list of the five best VPN tools which you should check out.
6. If You're Not Using It…
Lastly, if you just need to sit down and get some work done, and don't need to be connected to the internet—then turn off the WiFi connection! This is really easy to do and will just take you a second. Remember that staying connected for longer will provide others with more time to snoop around.
Final Thoughts
Automate Your Settings
Most of these security measures can be set to run permanently on your computer or device, and in fact, we would recommend it. If you feel the need to switch the settings back and forth, however (depending on which WiFi network you're connected to, or whether you're connected at all), then there are a couple of ways to automate the process. For Windows users, NetSetMan is a great piece of software, but Mac users have more limited options, unfortunately. If you're interested in exploring other types of software that will aid you in your quest for increased internet security, check out these free network and DNS tools.
Safety Not Guaranteed
It needs to be said that even if you follow every tip we've provided here, it doesn't mean that your online activity on public networks will be completely secured. However, these are the most important, basic steps that you should take, and they will definitely provide you with a decent level of protection.
If you have other suggestions you'd like to share, leave a comment below!
MORE WIFI STORIES:
RELATED: What is the Best Broadband Service in Malaysia for You?
---
"ExpatGo welcomes and encourages comments, input, and divergent opinions. However, we kindly request that you use suitable language in your comments, and refrain from any sort of personal attack, hate speech, or disparaging rhetoric. Comments not in line with this are subject to removal from the site. "
Comments