Mobile Hotspot devices in Malaysia are continuing to become much more common, especially in the urban areas. Mobile hotspot gives Internet users a mobile Wi-Fi connection. This is typically done through a small battery powered, portable wifi router that can fit in your palm. Those who use mobile hotspot devices would usually purchase it from their local telecommunication company that would sell the device as well as a data plan.
Malaysia is home to a myriad of telecommunication companies offering mobile hotspot devices and plans. Below is a list of all the different Malaysian Telco's mobile hotspot services. If you're trying to avoid paying for WiFi services, read our post about 5 Ways to Get Free WiFi in Malaysia.
YES Mobile Hotspot Devices
YES Malaysia claims to have the fastest 4G mobile Internet service in the country (however, it is likely that Celcom's and Maxis's 4G LTE runs faster). As such, YES has two mobile hotspot devices to satisfy Internet hungry nomads.
The first of the bunch is the 'Huddle', a small black oblong pebble roughly the size of a small computer mouse. As a mobile hotspot device, it allows users to create private Wi-Fi hotspots throughout Malaysia as long as there is a working reception. It supports up to 5 users to access the device at the same time and is powered by a rechargeable lithium-polymer battery. The device provides a 5 hour battery lifespan. The device costs RM399 but is free if you sign up for one of YES' postpaid plans.
The next device is the more powerful variant of the Huddle, the 'Huddle XS'. Rectangular in size and a bit smaller and lighter than than its sibling, the Huddle XS can allow 5 users at one time, and it boasts a Wi-Fi connection of up to 20 Mbps (megabits per second), and a 6-hour battery lifespan. Nonetheless, even with signing up for a postpaid plan with YES, opting to get the Huddle XS would set you back by about RM80. Purchasing the device as a standalone product would cost you RM480 without data, which is quite costly.
Info on YES's Internet data plans can be found their website here.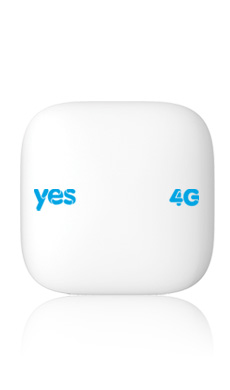 Maxis Mobile Hotspot Device
One of Malaysia's biggest Telcos, Maxis, only offers one mobile hotspot device with a choice of two Internet plan packages. As of this moment, Maxis is offering their mobile hotspot device for free (worth RM350) when you sign up for a monthly postpaid Internet data plan with them. The first plan consists of 28GB of mobile data per month and costs RM150 a month. The second plan is RM158 and has 48GB worth of monthly data.
The device itself is relatively small, with a rechargeable battery that can last for up to 3 hours. Average speeds for the mobile hotspot modem range from about 1-5 Mbps. Additional information on prices can be found at Maxis' website here.
See Also: Guide to Maxis Broadband Packages for Consumers
P1 Mobile Hotspot Devices
P1 offers two mobile hotspot devices: the MF230 and MX230. Both are small, portable, and together with P1's ToGo mobile Internet data plan, ready to give users on the go Internet access. P1 recommends their 4G mobile hotspot device for gadget lovers, who want all their gadgets hooked up to the grid, nomads, who work from multiple locations and need a constant Wi-Fi source, and money saving seekers, who want to save cost from having multiple mobile plans.
They offer three types of data plans and as of this moment, are offering their mobile hotspot devices for free when you sign up for either of their 12-month or 24-month contract. The 12-month 'ToGo 69' contract costs RM69 per month (with a RM100 activation fee + another RM100 deposit for if you are a foreigner), gives users 5GB worth of data, and comes with the MF230 pocket router. The MF230 allows up to 6 clients to share its Wi-Fi connection at any given time, has a rechargeable battery life of up to 4 hours, and takes 4 hours to charge its batteries back to full capacity.
The 24-month 'ToGo 69' and 'ToGo 99' contract on the other hand, comes with the MX230 router, provides up to 8GB and 15GB worth of data and costs RM 69 and RM99 respectively. Like the 12-month contract, both of these 24-month plans come with a RM100 activation fee. The MX230 pocket router is more powerful than its sibling, offering up to 8 user connections at one time, providing up to 6 hours worth of battery life, and takes 3 hours to recharge it fully.
Take a look at P1's Mobile hotspot plans here. You can also read our post about P1's general broadband plans for consumers here.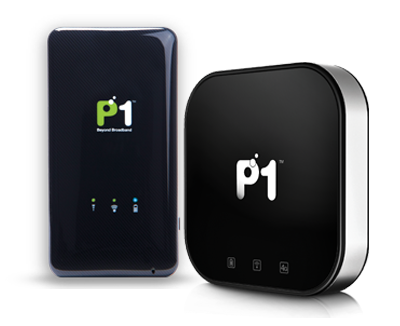 U Mobile Mobile Hotspot Devices
Whereas most of the mobile hotspot devices and plans offered by Malaysian Telco's mentioned here typically operate on a postpaid basis, U Mobile adds on the option of offering users a mobile hotspot prepaid service.
See Also: U Mobile Broadband Packages: A 6 Step Guide
Postpaid Mobile Hotspot Services
Their postpaid services are divided into two options with two variations, non-rental (buying the mobile hotspot device outright) and rental (paying for temporary use of the mobile hotspot device). The non-rental plan comes in either the MB68 or MB128 mobile broadband plan. The former offers 5GB of data and costs RM68 per month, while the latter offers 20GB of data per month and costs RM128 per month. Additionally, you need to purchase the modem for RM 250.
The rental plan is nearly identical to its rental counterpart. The packages are also MB68 or MB128 mobile broadband plans with the same data plans and monthly costs. The only difference is that you have to sign for a 12-month contract as well as pay an additional RM20 monthly rental fee for the mobile hotspot device.
Both plans charge RM100 one time activation fee.
Prepaid Mobile Hotspot Services
Unlike other Telco mobile hotspot plan options, U Mobile also offers a prepaid option. Charging you a one-time fee of RM379 for their mobile hotspot device that comes with 30-day 5GB data validity. As for the mobile hotspot device itself, it allows up to 5 users to connect to the Wi-Fi hotspot device at one time with a 21 Mbps capability.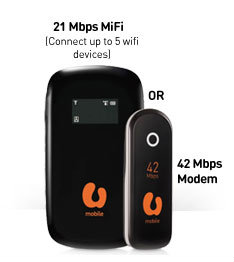 Do you have a mobile hotspot device? Would you get one? Post a thought in the comments below. Also, stay in touch with us, Leaping Post, by registering for our free e-newsletter here.
MORE WIFI STORIES:
SEE ALSO:
Photo Credit: YES website, Maxis website, U Mobile website, P1 website
---
"ExpatGo welcomes and encourages comments, input, and divergent opinions. However, we kindly request that you use suitable language in your comments, and refrain from any sort of personal attack, hate speech, or disparaging rhetoric. Comments not in line with this are subject to removal from the site. "
Comments