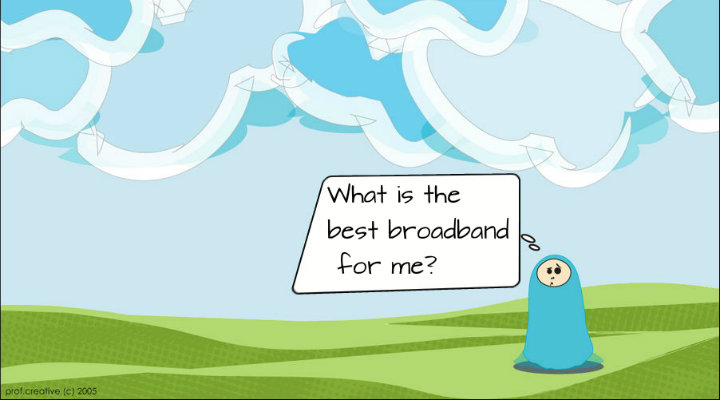 People always ask me: What's the best broadband service in Malaysia? While it would be great to be able to immediately say, "Provider X or Z," the reality is that this is difficult question to answer. The thing is, it depends on what you want. With so many options for broadband in Malaysia, it can sometimes be tough to make a decision.
To help you make your choice, however, I've highlighted seven key factors below. A careful consideration of these factors should enable you to decide which broadband service in Malaysia is best for you.
SEE ALSO: What is the Best Mobile Network Service Provider in Malaysia?
1. Consumer or Business Broadband?
Consumer broadband is designed for individual needs, and is best suited for either home use or on-the-go usage. A consumer broadband connection is of course cheaper than business broadband.
Business broadband, on the other hand, provides users with a higher bandwidth. This means that you'll be able to have multiple computers connected to a single line, without the internet speed being affected.  These packages are typically more expensive.
Major telecom companies offer both business and personal broadband packages.
2. Coverage Area
Unfortunately, broadband services don't cover every part of Malaysia.  Thus, one of the first things you'll need to check is whether a particular broadband service covers your area.  For example, Maxis and Celcom recently released 4G LTE wireless broadband, which is one of the fastest wireless broadband services in Malaysia. Unfortunately, this service is currently limited to very specific areas in Malaysia. You may also be interested in our post about the top 10 cities in Malaysia with the fastest broadband.
3. Prepaid or Postpaid?
If you don't really make use of the Internet on a consistent basis, having a postpaid plan might be a waste of money. This is because purchasing a postpaid broadband plan will provide you with connectivity all the time – even when you do not need it.  However, you should note that if you want fiber broadband (which I'll discuss in a second), it's only available in a postpaid package.
Prepaid broadband works out best for people who need infrequent access to the Internet, a shorter contract, or mobility.  You should also note that the per unit cost of prepaid broadband is typically more expensive than the per unit cost of postpaid broadband.
4. The Different Types of Broadband Technology
In Malaysia, the three primary types of broadband connections are the following:
Fiber: If your number one priority is speed, then a fiber broadband connection is likely to be your best bet. The downloading and uploading of huge amounts of data will be very quick with a fiber broadband connection.  The main downside to fiber broadband services is that you'll typically be required to commit to a relatively long contract (24 months).  Additionally, access to fiber broadband internet is limited to the location where you have it installed.
Wireless: If you are a person who mostly uses the Internet on the go, this type of connection can prove to be very useful. Thanks to developing technology, wireless internet connections in Malaysia are improving with time.  Additionally, with wireless broadband you should have prepaid plan options, plus the option of a shorter contract or even no contract at all.  Wireless broadband won't be as fast as fiber broadband; however, 4G LTE broadband offers speeds similar to those of some fiber broadband plans.
SEE ALSO:  Is Fiber or Wireless Broadband Better?
ADSL: This is an older broadband technology, but if your internet requirements are limited, then this cheaper option might serve your needs well. ADSL broadband is usually available in many areas where fiber and wireless connections are not.
5. Your Quota / Data Capacity
Your broadband quota is the amount of data that you are allowed to upload and download every month. If you are a heavy internet user with high data capacity requirements, make sure you opt for a connection that gives you a big enough quota.
Fiber broadband services in Malaysia will usually offer you the best quotas.  In fact, most telecom companies in Malaysia do not enforce their fiber broadband quotas.
Wireless broadband services in Malaysia usually have lower quotas than fiber broadband connections.  For some reason or another, Malaysia's telecom companies tend to enforce their wireless broadband quotas more strictly than they do their fiber broadband quotas.
6. Budget
This is  an important factor to consider; a budget is a budget, and you cannot ignore the price of your broadband connection. In your quest to choose the best broadband service possible in Malaysia, don't break your budget and impulsively sign for an expensive connection that you do not need. Understand your requirements before you choose your service plan.  If you are looking for the cheapest broadband service, then consider wireless broadband or an ADSL broadband service.
7. Customer Service
Customer service is another factor to consider. It may be easy to ignore in the beginning, but will become crucial when you encounter problems with your broadband service. When you're stuck with a slow connection, a broken connection, payment issues, hardware issues, or you need to upgrade, downgrade, or re-locate–this is when you'll be in need of good customer service.
Speak to your friends and colleagues about their experiences with particular broadband service providers. You can also go online and check for customer reviews before purchasing a connection.  Doing your homework  about customer service is well worth the effort, because if and when you encounter problems, customer service can easily become the most critical factor in deciding whether you have chosen the best broadband service in Malaysia for yourself.
If you have a moment, share your experiences with Malaysian broadband services in the comments below.  Which is the best broadband in Malaysia for you, and why?  We should learn from each other!
A List of Guides to Broadband Packages in Malaysia
Here are guides to fiber broadband services for individuals in Malaysia:
Here are guides to wireless broadband services for individuals in Malaysia:
Here are guides to ADSL broadband services in Malaysia:
Here is a guide to a cable broadband service in Malaysia:
Photo credit: Nasir Nasrallah / Foter.com / CC BY
---
"ExpatGo welcomes and encourages comments, input, and divergent opinions. However, we kindly request that you use suitable language in your comments, and refrain from any sort of personal attack, hate speech, or disparaging rhetoric. Comments not in line with this are subject to removal from the site. "
Comments