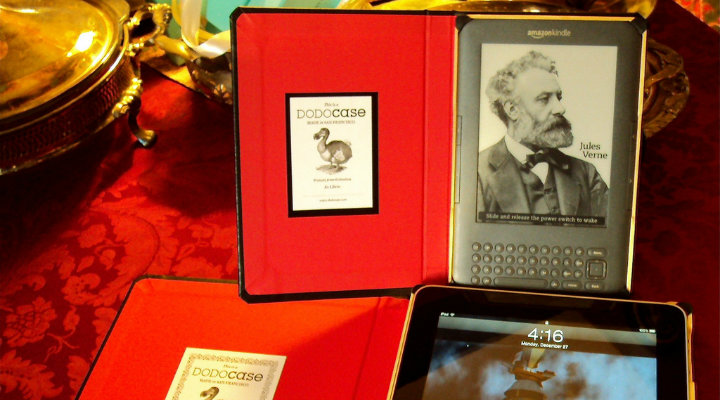 Consuming digital media is the norm in this technology-driven age. Thanks to mobile technology, we can watch movies, listen to music, play games, and read books on a single device. For bookworms, however, e-readers are the perfect devices for reading, which can carry hundreds of books and hours of entertainment. Most have battery life spans that drastically outlast tablet computers.
Unfortunately, buying e-readers in Malaysia is difficult to do, because most of the top e-readers aren't available for sale in Malaysia. Therefore, you need to purchase the e-readers through third parties.
Here are a three ways to buy e-readers in Malaysia.
SEE ALSO: 5 Ebook Stores Available in Malaysia
1. Amazon's Kindle
Amazon's Kindle e-readers come in various models, and are arguably the best all-rounder device. Unfortunately, they are not technically available in Malaysia. However, there are ways to buy a Kindle in Malaysia.
The Kindle e-readers provide some of the best electronic ink displays on the market, providing a natural reading experience that aims to imitate the experience of reading a well-made paperback. They are light, weighing in at about 7.5 ounces and pack a whopping 2 months worth of battery life on a single charge. (This is based on a half-hour average of reading per day, with the Wi-Fi off).
The Paperwhite is in its second iteration. The differences between the 1st and 2nd gen models are similar to the differences between the iPhone 4 and 4S—an internal makeover (faster processor, better touch screen, etc.) without any major physical changes. One thing that can ruin your reading experience is if you opt to buy the cheaper version of the Kindle, as it comes pre-loaded with a configuration that includes ads. If you pay a little more, you will be rewarded with an uninterrupted reading experience. How capitalistic of Amazon.
While the Kindle is not available for Malaysians to directly purchase off Amazon's website, those wishing to pick one up can do so at kindlemalaysia.com. Kindle Malaysia is a third party website that enables Malaysians to easily purchase this e-reader plus its accessories. This site should be a go-to point for anybody who wants to obtain a Kindle in Malaysia.
Here is a breakdown of the Kindle e-readers available for purchase from Kindle Malaysia.
SEE ALSO: Amazon.com in Malaysia: What You Should Know
2. Barnes & Noble's Nook
Malaysians who want to buy B&N's Nook e-readers should note that in order to use it outside of the United States, they would have to go through a somewhat different billing process than typical North American Nook users would. This is because B&N only sells and authorizes payment methods that have an American address. Additionally, B&N does not ship their e-readers to Malaysia. That all being said, Malaysian users can purchase the e-reader from a third party website and register for a B&N account using a fake American address.
The Nook e-reader itself comes in two versions, the Nook Simple Touch with GlowLight or the Nook Simple Touch. The Simple Touch version is affordable and is good at what it does, offering a myriad of books at the touch of your fingertips. It comes with an E-Ink 6″ screen for reading, a 2-month battery lifespan, weighs under 7.5 ounces, and does not feature any ads, unlike the Kindle. The GlowLight version, on the other hand, features a few different specifications. It retains its 6″ E-Ink display but adds a backlit feature for nighttime reading, it weighs less than 7 ounces, and the only downside it has in comparison to the non-GlowLight version is its shorter, 1-month battery life.
Malaysians who want to purchase this Nook e-reader can do so at ipmart.com. Here are the links to both Nooks along with instructions on how to get ebooks onto them:
3. Kobo
Kobo's e-readers are another popular choice for book lovers. Although there are five models, Malaysians only have three to choose from; you can buy Kobo e-readers online from the nearest authorized Kobo store, which is located in Hong Kong. These models are the Kobo Glo, Mini, and Aura HD—each has its own pros and cons.
The Kobo Mini is touted as the world's smallest e-reader. It features a small 5″ E-Ink touch screen, weighs a mere 4.7 ounces, has a 2GB capacity, and lasts for over a month on a single charge with the Wi-Fi off. It also comes in four colour options
The Glo features a 6″ higher-resolution display for sharper and clearer text, a one month-plus battery lifespan, a weight of 6.5 ounces, and comes in a variety of colours.
Lastly, the Aura HD offers the best of what Kobo has to offer. Some of its highlights include the high definition 6.8″ display and a 4GB storage capacity. Nonetheless, it is also the heaviest of the lot, weighing in at 8.46 ounces.
All of Kobo's e-readers come ready with plenty of built-in software to enhance your reading experience. Some of these features include syncing bookmarks across all your devices, personalized book recommendations, and library personalization, along with built-in dictionaries, notes, and quotations.
If you've managed to purchase a Kobo and wish to stock up on books, you can sign up for a Kobo account using a credit or debit card. Malaysian credit or debit cards are accepted only if you use an American address as your billing address.
Kobo e-readers can be found for purchase at Swindon Books. Here is a breakdown of Swindon's Kobo model prices:
Kobo Aura HD: HK$1,499 (RM 610)
Kobo Glo: HK$1,180 (RM480.40)
Kobo Mini: Just HK$750 (RM305.35)
Where and how have you bought your e-readers in Malaysia? Post a thought in the comments below.
See Also:
---
"ExpatGo welcomes and encourages comments, input, and divergent opinions. However, we kindly request that you use suitable language in your comments, and refrain from any sort of personal attack, hate speech, or disparaging rhetoric. Comments not in line with this are subject to removal from the site. "
Comments