Amazon has recently launched an upgraded version of its flagship Kindle Paperwhite eBook reader. The new version has seen many changes as compared to its predecessor.
The looks have not changed, but the internal hardware has improved. There is a new processor that is 25% faster than the processor on the older Kindle Paperwhite. The E-ink screen has also received an update. Another change is the light guide, which has been completely overhauled.
The new Kindle Paperwhite has a glare-free matte screen, unlike a tablet's glossy surface. The display surface is also non-reflective. This makes it easy for you to read your eBook even when the light is very bright.
SEE ALSO: Kindle in Malaysia: Everything You Need to Know
Reduced eyestrain
If you like to read for long hours, you will like the Kindle because you can read for a long time and in the dark without eyestrain. Amazon has a patent for the front lit design on the Paperwhite 2. It focuses light on the display, and not towards your eyes. The update to the light guide also ensures that the brightness is uniformly distributed across the entire surface of the screen. You can also adjust the brightness on the Kindle, according to the various settings available.
Light weight and easy to hold up
The Kindle Paperwhite 2 is light and thin. It is up to 30% lighter than the iPad Mini. One of best things about the Kindle Paperwhite 2 is the long battery life. You can read eBooks on the Kindle for as long as 8 weeks on one charge. (Note: The 8 week period is based on data of reading 30 minutes per day with wireless turned off and front light at setting 10.)
This marathon battery life can be attributed to the low power LED lights. Compare the battery life to the 5-9 hours you will get out of a laptop, 5-10 hours out of a tablet, or 4-13 hours out of a smartphone, getting a Kindle Paperwhite 2 will make a lot of sense.
Faster processor for increased speed and new features
The faster processor means that the pages will turn faster, though in a side by side check with its older version, it did not seem that noticable. Amazon also claims that it has increased the accuracy of the touch grid on the Kindle Paperwhite 2 by 19%.
Reading an eBook on the Kindle Paperwhite 2 is very close to reading a physical book, but some things are still lacking. For instance, you cannot thumb your way through the pages, like you can with an actual book; however, a new feature promises to take care of this. It is called Kindle Page Flip.
With the Kindle Page Flip feature, you can scan through the pages on a chapter or page basis. You can not only flip though the pages, you can also preview a page as a thumbnail. If a certain page is where you would like to continue from, give the preview a simple tap and you are there.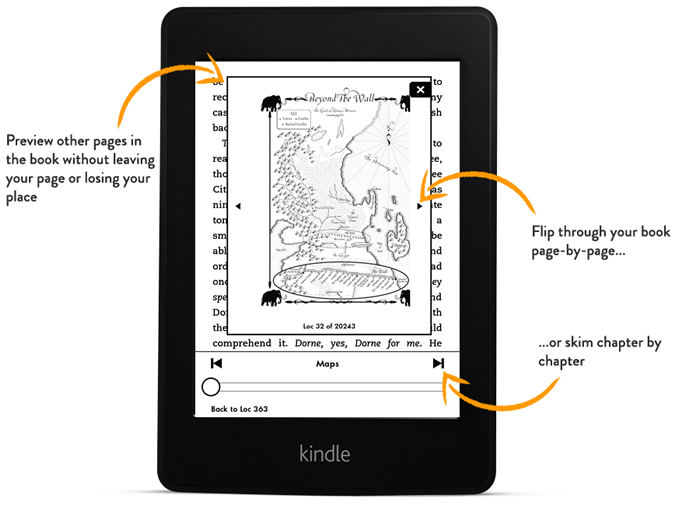 New footnotes feature and flashcards
The bookmark preview has not changed in the Paperwhite 2. But now Amazon has added a new way to view the Footnotes. You can still read the footnotes at the end of the book, but Amazon has added a new pop-up screen. If you want to view the Footnotes, you just have to tap on it.
According to Amazon, more than one million words are looked up every day on the Kindle. On the Paperwhite 2, all queries are made into flashcards. You can use these flashcards to view all the words that you have marked in an eBook. You can also delete them easily. When you select 'Mastered', the word will be dropped from your list of flashcards.  This is a great feature for helping build your vocabulary.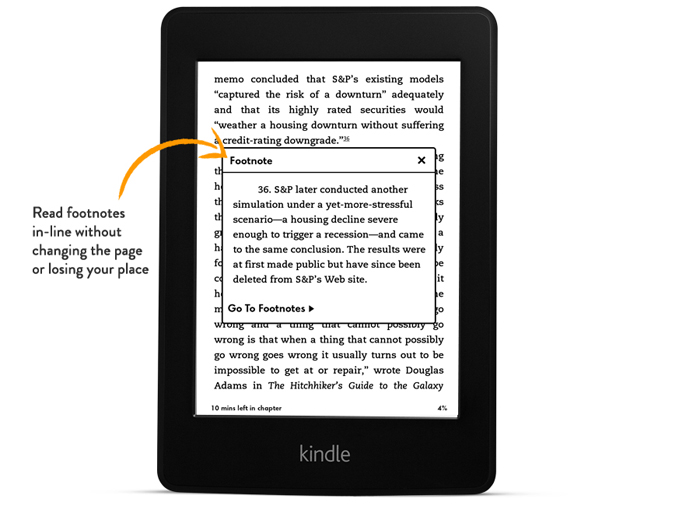 Goodreads, Freetime, and Smart Look-up support
Amazon is also planning to introduce two new software updates –  Goodreads and Freetime in the Paperwhite 2. The irony is that they will not ship out with the Paperwhite 2. You can expect them to be added later in the year.
Goodreads
With over 16 million members worldwide, Goodreads is an online site where book lovers can meet, discuss, and recommend their favorite books.
Freetime
Freetime was introduced in the Kindle environment for the first time on the Kindle Fire tablet last year. If you have kids, you will love this app. It allows parents to choose eBooks, apps, content, and monitor what their children access online.  Once this update is installed on your Kindle, you can use it to create profiles for your kids, shortlist books, and create reading goals and objectives. You can also get reports on your child's reading activities either on a monthly or per book basis.
Smart Lookup
The Smart Lookup is a great reference tool for diving deeper into the book.  It connects to a dictionary for definitions and connects to Wikipedia and X-Ray for more information. The X-Ray feature is great for those complicated stories with numerous characters, various settings, and intricate plots.  Essentially, you select a name in the book and you can then see all the parts of the book where the name appears (see image below).
It has not yet been confirmed whether the old Amazon Kindle Paperwhite models would also get all these software upgrades.  However, Amazon is known for adding new features to older versions of the Kindle. This means you will not have to buy a new Kindle to access these software updates because in all probability, Amazon will let you install them on your older device.
Availability in Malaysia
You still cannot buy Kindle devices or Kindle ebooks through Amazon.com in Malaysia (see image below).
SEE ALSO: Amazon in Malaysia: Everything You Need to Know

When trying to purchase a Kindle in Malaysia, this is the message that appears.
However, you can order the Kindle Paperwhite 2 from third party dealers, such as KindleMalaysia.com. All orders will start to ship from 15 October 2013. There are two versions on sale – the Kindle Paperwhite 2 (with ads) and the Kindle Paperwhite 2 (without ads). You can also order covers and screen protectors for your Kindle Paperwhite 2.
Prices start from MYR640.
You can buy the Kindle Paperwhite 2 here in Malaysia.
Final thoughts
All in all, the Kindle Paperwhite 2 is a decent buy. If you just bought the first Kindle Paperwhite, don't fret, as you're not missing out on too much. However, if you're looking for a Kindle, consider buying this.  Kindle Paperwhite 2 has several new innovations and reader friendly options, providing a great reading experience.
Remember that Amazon does not support selling Kindle ebooks to Malaysia, which can pose a problem for getting ebooks on your Kindle device.  Therefore, to get around that, read our post about Kindle in Malaysia, section titled "How to Buy a Kindle Ebook in Malaysia".
SEE ALSO: 
---
"ExpatGo welcomes and encourages comments, input, and divergent opinions. However, we kindly request that you use suitable language in your comments, and refrain from any sort of personal attack, hate speech, or disparaging rhetoric. Comments not in line with this are subject to removal from the site. "
Comments