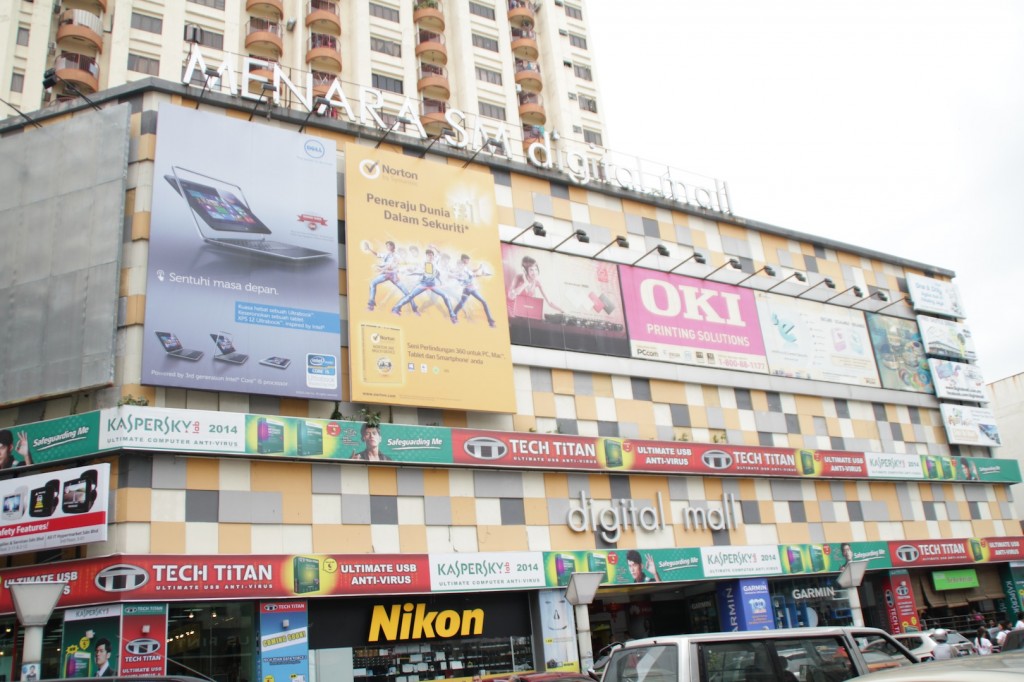 For close to two decades now, electronic or IT gadgets have been an essential part of our daily lives. Did you know that the first smartphone was introduced in 1997?
We are living in a golden age of electronic gadgets where we need to keep tabs with this rapidly-growing and ever-evolving culture. In order to do that, it is imperative that we have easy access to the huge range of products available.
If you live in Malaysia's Klang Valley and you're not familiar with Digital Mall, then it's about time you paid it a visit. It's the go-to place if you find yourself wanting anything electronic – whether it's a better phone, the newest Macbook Pro, or  that incredibly complicated camera you've always wanted to buy.
Basically, no matter whether you're indulging in a personal shopping spree or just looking around for a thoughtful present to give someone, most of your electronic needs can be met at Digital Mall.
SEE ALSO: Online Shopping Sites You Should Know in Malaysia
About Digital Mall
Since its establishment in 2006, Digital Mall has been consistently upgrading its facilities in order to stay true to its service-centred philosophy. According to Digital Mall's representative, this is the idea upon which the mall is largely focused. The management's most recent project aims to provide Digital Mall's customers with free storewide WiFi connectivity..
The multifarious offerings at this four-storey mall are impressive. Although, small in comparison to its relatively larger Bukit Bintang counterpart Low Yat Plaza Digital Mall definitely does not offer any less variety to the wandering eyes of the tech junkie.
Its Stores and Products
Stores such as the Cellnet Mobile Store and the Black Berry Concept Kiosk provide a breathtaking array of phones to choose, offering cute and affordable cell phones going at an average price of RM899.,
If you're into cameras, stores like the Foto Flash Store and Hotdeal Marketing sell top quality models, including a wide range of Digital SLR, which start from around RM1600.
Digital Mall also offers game consoles for sale. You'll find all the latest Playstation, X-boxes, and Wiis. Plus,  the highly-anticipated Steam Machine will soon be gracing the shelves of game stores at the mall. Check out the Galaxy Game Enterprise and the Brother Game Enterprise.
For all you Apple fans, there's the Apple retail outlet on the ground floor, which, of course, provides you with access to all the ingenious Apple products within a polished setting. You can spend as much time comfortably checking out each item in your own pace.
Along the corridors of the 43-shoplot mall, you will find PC stores that cater to every possible PC-related desire. You'll find tablets for as low as RM 349 and laptops from RM 949. If you happen to be looking for you're first desktop computer, you can easily choose all the parts you need from an extensive list and just nitpick and compare your way to the price that's in your range, a service provided by most, if not all the PC stores in DM.
Discover notoriously unavailable top-shelf GPS units at the Garmin Concept Store. Units specially designed for cars can be found there; for example, the Nuvi 40 LM can be obtained for RM450. GPS Units tailored for fitness are also available. If you're an athlete, you may be interested in the Forerunner wrist watch that accurately measures distance, speed, heart rate, time, altitude and pace (RM 1,490).
If you need broadband, subscription kiosks such as P1 Wimax and the like, are mainly settled on the ground floor
Overall, the prices of all electronic gadgets in Digital Mall range from average to expensive.  The stores frequently receive new stock, which means that there is an almost constant flow of new models or products available. If you're a patient shopper, you can always wait for prices to drop, which is inevitable once the newer models come in.
A Comfortable Shopping Experience
Digital Mall is pretty relaxing and comfortable inside especially after you have to soldier through the parking complications outside. The clean marble flooring makes it a delight to manoeuvre your way, from shop to shop for hours on end.  For your convenience, ATM machines are placed in the centre of the ground floor, and at the corners of the first floor.
On top of all that, Digital Mall is also friendly to the disabled community. There are ramps at the entrance to the mall, plus elevators that grant easy access to every floor of the mall.
Competition?
Amidst the competition Digital Mall receives from the mushrooming online shopping websites with competitive quality and prices, Digital Mall still continues to tirelessly maintain its customer base. The mall's management  consistently organises annual events and monthly competitions where there are numerous attractive prizes to be won.
The best-selling point of Digital Mall is the fact that it is direct and hassle-free. There is no need to wander about aimlessly trying to figure out where to go to get your phone's broken screen fixed.  You can easily pick a store, walk right in, and get your request taken care of within half an hour. All in all, Digital Mall is really a good place to shop for your IT needs.
On a different note, Digital Mall also chooses to be an environmental advocate. Their eco-friendly fairs which take place every now and then encourages Digital Mall's customers to responsibly dispose of their IT devices. One such fair was the 'Go Green Printer Fair' that took place in June 2013, where customers who dropped off their empty printing cartridges were entitled to an RM8 discount on their new cartridge purchase.
If you live in KL, you may prefer to check out Plaza Low Yat, which is also a major IT shopping mall.
Where is Digital Mall and When Is It Open? 
Nestled in the middle of a bustling shop-house area, Digital Mall is located in Section 14 in Petaling Jaya. Located strategically between Shah Alam and Kuala Lumpur, Digital Mall receives between 4,000 and 5,000 customer walk-ins per day.
You can reach Section 14 via the Federal Highway. If you are coming from KL, look out for the Asia Jaya LRT Station signboard along the highway, and then take that exit. The mall is also opposite  Jaya 33, which is a helpful land mark if you're coming from Jalan Utara.  Traffic jams are a common occurrence in the area, so getting there by car could be a tedious task. Catch the LRT to Asia Jaya if you want to avoid the traffic shenanigans. Digital Mall is just a 5-minute-walk form the LRT station.
When Jaya Shopping Centre is completed across the road from Digital Mall, Section 14 is going to be an even more attractive area. Parking problems should soon become a thing of the past, however, when Jaya SC opens its doors for business.
Digital Mall Operating Hours
Sunday ~Friday, 10:30A.M – 9.30P.M
Saturday, 10.30a.m – 10P.M
Digital Mall Address:
Digital Mall Sdn. Bhd.
Digital Mall, No. 2, Jalan 14/20 Section 14,
46100 Petaling Jaya, Selangor, Malaysia.
Tel: +603 7968 3311 +603 7955 4394
Fax : +603 7968 3336
Google Map of Digital Mall

Photos of Digital Mall
RECOMMENDED: 
RELATED:
---
"ExpatGo welcomes and encourages comments, input, and divergent opinions. However, we kindly request that you use suitable language in your comments, and refrain from any sort of personal attack, hate speech, or disparaging rhetoric. Comments not in line with this are subject to removal from the site. "
Comments