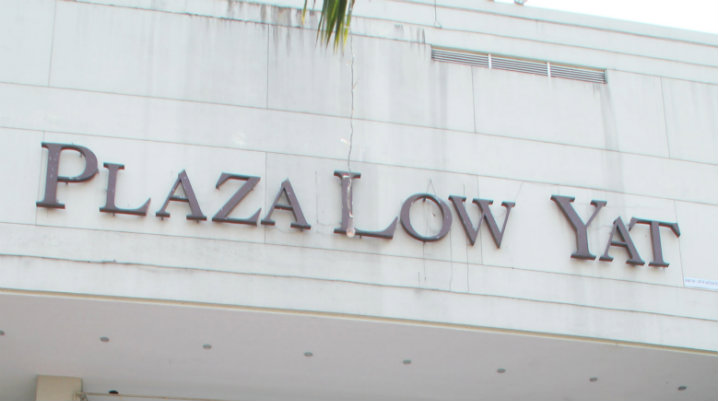 "Low Yat!" Every single KL-ite has probably uttered these two syllables at some point, most likely in reference to something electronic. So, why Low Yat Plaza?
Apparently, the saying goes that "if you can't find the IT product you're after at Low Yat Plaza, it probably doesn't exist!" We're about to tell you why.
SEE AlSO: Digital Mall: The Place for Gadgets and IT Needs in PJ
History of the plaza
Low Yat Plaza (PLY) first entered the shopping scene in 1999. After 15 glorious years, PLY is now the most established IT-related shopping centre in Malaysia. It is currently undergoing changes and has evolved with time to successfully maintain its reputation as 'Malaysia's Largest IT Lifestyle Mall' (It even made the Malaysian Book of Records in 2009).
Basically, PLY houses every single electronic item imaginable under one roof. Whether you need a basic throw-away Nokia phone that you can get new for RM90, or the latest DSLR camera that will go for RM2K, you'll find it at Low Yat.
I am at a loss as to where to begin in order to provide a substantial picture of what the mall really entails. Thus, I figure it is best to break it down by floor and highlight the common things that most keep a lookout for when it comes to IT, gadgets and everything technology-related.
7-levelled Wonders
LG-floor: Food galore
As soon as you exit the underground parking lot, you will enter the lower ground floor that offers food and drinks, with stalls spread from end-to-end of the floor. Kopi Club is a must-go for those of you who enjoy typical Malaysian specialties such as nasi lemak and iced coffee. People who frequent Kopi Club have commented that the food quality is consistent. This particular shop is often packed with customers during mealtimes – pretty good proof that the positive reviews are justified!
Japanese Ramen, Korean food, Turkish kebabs, and Chinese herbal delicacies, you name it, they've got it. (Food is also within reach from the LG floor to the top, so you'll be covered no matter what your standard diet is, and you'll be kept fuelled for long hours at PLY.)
Walk further down and you will find Guardian around the corner for your personal care essentials, plus RHB and Maybank ATM machines for your convenience. The ATMs are surprisingly quite a pull – you'll often find people rushing down from the top floor, in need of cash to pay for their IT purchases. Not to mention, licensed money changers are also located on every floor of PLY so that currency exchange is made convenient to you at all times.
Lastly, if you need a quick, cheap haircut, Kwik Cut offers you speedy service for only RM13.
G-floor: The hunt begins
The moment that you hit the ground floor, you will be greeted by a barrage of advertisements from brands like Samsung, Canon, Olympus, Sony, Nokia, HTC – and the list goes on. No matter where you look, you'll find that the mall is literally lit up with colourful ads. Need more motivation? Upbeat music is always playing in the background, encouraging you to explore the IT forest like never before.
Walk over to the nearest camera kiosk, and you might find that a lightweight Lumix digital camera will just cost you just under RM400 a unit, plus an 8GB SD card. If you're a regular, you may already be familiar with Fotokem, a popular choice among DSLR camera enthusiasts. They offer camera maintenance and repair services too.
Dig into the Dell and Apple concept stores, the Samsung mobile store, and the broadband concept stores by Celcom, YES and Maxis. These are common household brands, situated right on the ground floor for the public's ease of access.
The Mac Studio is across the street from the main entrance of PLY which is equally outlined by more coffee and bakery outlets.
You are just getting warmed up, and you haven't seen anything yet.
Upper-Ground floor: The bargaining begins
This is where you will find the large crowds packed along the hall of stores, negotiating their best deals. Salespeople will be trying to convince you to check out their latest offers. My advice: do not settle for one vendor. At least, not until you have surveyed enough shops so you can reason with the earlier vendor for an agreeable price.
(Side note: don't forget to keep an eye on your belongings! On a busy day, the crowd can get heavy, and the incredible variety of products at hand can be quite engrossing, enabling you to easy forget about your personal items.)
As you cruise your way past the displays of mobile phones, tablets and walkie-talkies, look for pricing sheets at individual shops. These price lists are really helpful, whether you're looking for USB flash drives, RAM, hard drives, laptops, or other computer and smartphone components and accessories.
It's not all just electronic items. You will also come across Sin Sin Bookstore, Fantasy Toystore, Headline Salon and the Jade and Crystal Craft shop located at the corners of the upper-ground floor. There's also an interesting duty-free store called Bintang Maju Commercial Store, where you can find pretty good deals on camera lenses, tripods, and luxury watches, among other things.
Right opposite Bintang Maju, you'll find the Tune Talk Store for your Tune Talk mobile service requirements. It will probably come as no surprise that the Air Asia sales counter shares the space with the mobile network operator. Need to get a mobile plan and book a cheap flight all at once? No problem, you can do it at PLY.
1st Floor: Repair services and more
The first floor is home to the Blackberry Store and the Nokia Concept Store. Perhaps more importantly, however, this is the floor that provides you with a wide range of repair services. If you want to upgrade your computer processor or repair your phone screen, you can get expert advice from the dozens of IT specialists here. Charges for minor services start from around RM30. The repair services section is easy to spot as it occupies half the floor and is vibrantly decorated.
At the same time, dozens of other IT stores such as CSL Digital, GPS City One Mobile, and VS Digital Wholesale Centre are scattered across the floor. They should cater well to many of  your electronics and android needs.
2nd Floor: Gamers' playground
The first thing I laid my eyes on was the PS4 game console that gamers around world had been anticipating. Don't get me wrong; I'm no gamer, but I know people who would (almost!) kill for the PS4.
Launched in Malaysia in December 2013, the Sony PS4 retails at RM1,799 at S.F Game Zone and comes with a one-month PS+ membership. Despite strong competition from the Microsoft Xbox, the PS4 is still one of the hottest-selling items at the moment.
This is also the floor to head straight to if you are a loyal customer of Acer, Asus, Hewlett-Packard and the likes. For PJ residents, your trustworthy neighbourhood computer hardware store, Pineapple Computer, is also located on this level.
3rd -4th Floor: Malaysia's 1st and Largest IT Retail Outlet
You can expect the same kind of variety on both these upper floors. But you should spare a little time to drop by Malaysia's first and largest IT Retail Outlet on the highest floor: the All-IT Hypermarket. This hypermarket offers their customers 300 brands to choose from, at pocket-friendly prices.
It was also at the top floor that I took an interest in a lightweight FM Radio that retails at the price of less than RM150 for my picnic outings. F&B outlets have strategically started appearing again.
Six hours on and my feet were stretched. With more than 600 tenants and 310,000 sq ft of retail space, calling PLY an 'IT bazaar' is to say at the least, an understatement. PLY is an ideal place to go to for great deals on electronics in Malaysia. And if you plan to do a PLY marathon like I did, it's probably best to put on a pair of reliable shoes to last you through the day.
How to get to Low Yat Plaza
Located in the heart of the capital's premier Bukit Bintang shopping district, getting to PLY shouldn't be an issue. Take your pick of public transportation, from taxis, to Uber, to buses to the KL Monorail. Your only concern should be the time at which you decide to head into the Golden Triangle, as traffic is most likely to build up by noon.
However, if you plan to get there by car, note that the direct roads leading into PLY have been partially diverted since January 2014, to allow for the second phase of an MRT project to take place.
I suggest that you park your car off of Jalan Changkat and head into the BB shopping belt on foot. Along the way, you'll be able to indulge in some window-shopping at the stores opposite the mall.

If you happen to come early, and I mean really early, chances are that you'll be lucky enough to get a nice parking spot near the entrance. The parking rate at Low Yat starts from RM 2.50 (for the first hour) and increases by the same price for subsequent hours.
Plaza Low Yat Contact Details
Opening hours : 10am – 10pm daily
Plaza Low Yat,
No. 7, Jalan Bintang,
Off Jalan Bukit Bintang,
55100 Kuala Lumpur, MALAYSIA.
Tel No : + 603 – 2148 3651
For more information, log onto : http://plazalowyat.com/
Google Map of Low Yat Plaza
Photo Gallery of Low Yat Plaza
---
"ExpatGo welcomes and encourages comments, input, and divergent opinions. However, we kindly request that you use suitable language in your comments, and refrain from any sort of personal attack, hate speech, or disparaging rhetoric. Comments not in line with this are subject to removal from the site. "
Comments