Working out is the best way to stay lean and mean, and for most of us who lack the steely determination of Arnie Schwarzenegger, a gym companion can make a world of difference. That gym companion can be music. Listening to your favourite music at the gym or when you're out for a run can increase focus and determination. Music helps you block out the chatter of strangers, the disturbing clank of iron, and (depending on the gym) a god-awful music selection.
However, to fully enjoy an immersive musical experience at the gym, you need a good pair of sports earphones. Why would you specifically need sports earphones? Well, they're designed to be sweat and water resistant, plus they'll fit snugly and serve you well for intense motion workouts like running. Here are my four top picks for you music aficionados out there who want a quality listening experience while working up a sweat.
1. Bose SIE2i Earphones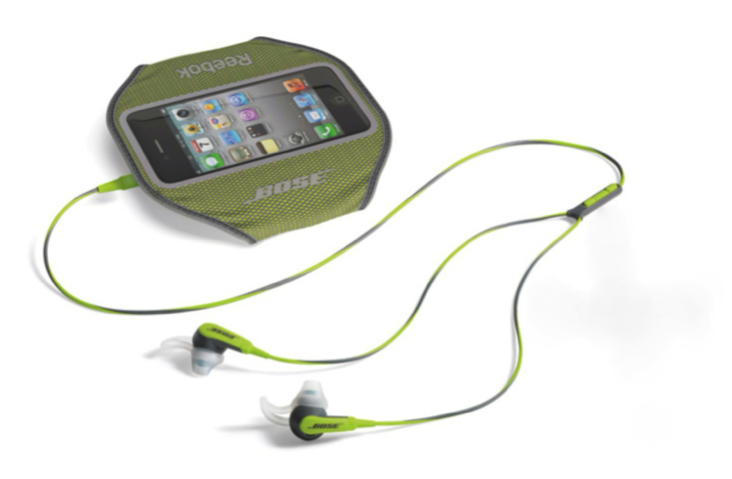 Bose is a well known for making quality speakers, headphones, and earphones. Their products deliver crisp, clear, and balanced acoustic experiences, with good bass and treble ranges. This quality is evident in their SIE2i sports earphones.
The SIE2i was designed to be your workout companion, providing users with in-ear tips, sweat and weather resistant cables, plus an additional Reebok armband to keep your device secure. The earphones also come with an attached inline remote and a microphone for easy playback and call functionality. Additionally, the earphones come in four different colours: take your pick between lime green, orange, purple, or baby blue.
The Verdict:
Sound Quality: 5/5 – Bose's masterful replication of that acoustic sweet spot is why I gave the SIE2is a solid 5. The clearly identifiable bass and treble lines produce a very well-balanced sound. Anyone who hasn't put on a pair of Bose earphones before will immediately notice the difference in quality.
Comfort: 3.5/5 – Bose's StayHear ear tips come with three size options included (as all good earphones should), and provide a snug, comfortable listening experience.
Noise Cancellation 2.5/5 – Miscellaneous gym sounds and street chatter are almost non-existent. Loud sounds such as a car driving by can clearly be heard, however.
Other Oddities: The cord length allows you to leave your mp3 device in your pocket, but Bose also provide an extender should the need arise. The earphones are quite durable, so you won't have to treat them like a delicate pair of earphones. Like the product description says, they are sweat resistant, so I only had to give them a wipe-down after a workout session.
Price: RM 549 from Atlas Hifi 
2. Philips ActionFit Sports Earhook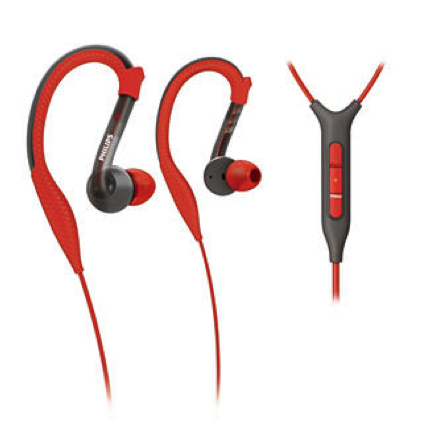 Philips's ActionFit sports earphones are definitely designed with the sportsperson in mind. They're water resistant, lightweight, and have Kevlar-reinforced cables for that extra protection. The ActionFits are also known for their superior fit and good bass. I tested them during a workout, and hardly had to readjust them at all, thanks to their over-ear in-ear design. The earphones also come with an inline remote for call answering and music control, which make them a good smartphone companion.
The Verdict
Sound Quality: 3.5/5 – The thing that shocked me when I first fired up these earbuds is the rich bass that they can produce, especially when blasting music at higher volumes. The music quality hardly scratches or breaks even when cranking up the volume on songs with higher bitrates.
Comfort: 4/5 – These lightweight earphones make it feel like you're wearing nothing on your ears. They are secure and comfortable, thanks to the adjustable earhooks that allow for a custom fit. No matter what your workout routine is, the ActionFits will serve you well for hours on end.
Noise Cancellation: 3/5 – A tad better than Bose's buds in this regard, these earphones will block out unnecessary noise up to mid- or high-volume levels. Even if you don't blast your music, they'll shut out the noise of passing vehicles.
Other oddities: As they're sweat-resistant and rainproof, these buds are pretty durable; thanks to their Kevlar coating that helps reduce wear and tear. You can even wash them under running water to clean them if need be.  
Price: RM 100-200, depending on the retailer and the model variants. You can even find a pair on eBay Malaysia.
3. Sennheiser Adidas CX 685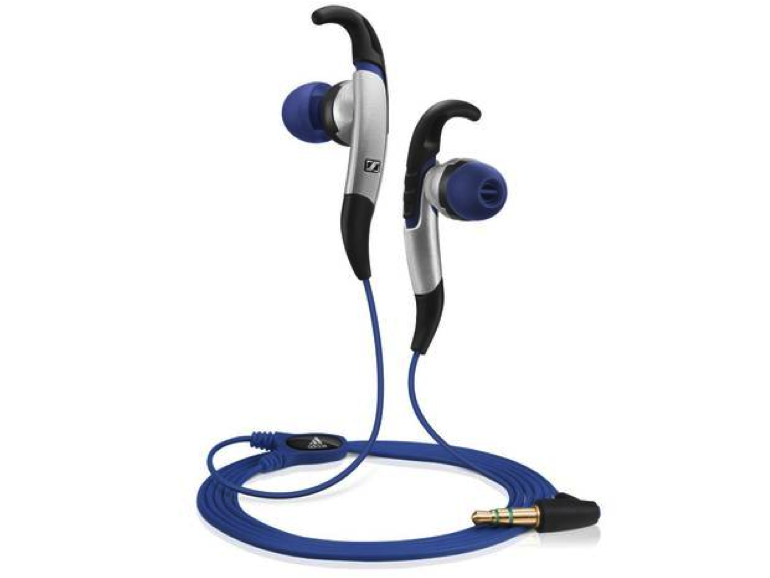 Next up, I have the CX 685s, a joint effort by Sennheiser and Adidas. These earbuds are light, comfortable, and are sweat- and water- resistant, meeting the standard requirement of sports earphones. They feature a decent level of bass, are ideal to use during almost any workout, and can even be rinsed under running water like the Phillips ActionFits.
The Verdict
Sound Quality: 3/5 – While the sound quality of these earphones is decent, it wasn't much to my liking. The bass wasn't half bad, but the quality just didn't do it for me. The sound had clarity but lacked that "oomph" factor that makes music feel symphonic and alive.
Comfort: 3.5/5 – While I found the sound quality mediocre, I did actually find the earphones themselves quite comfy. They're lightweight and fit snugly, but the best thing about them was the fact that they stayed put on my ears throughout most of my workouts, no matter whether I was running, lifting, or circuit training.
Noise Cancellation: 3.5/5 – I found that the 685s were quite good at blocking out the cacophony of the gym, especially when I pumped up the volume. It seems that these buds would be more suited for indoor use rather than outdoor use, due to its noise cancellation capabilities, especially if you aren't the precautious type.[hyx1] [TC2]
Other Oddities: They can be cleaned under running water, and the earbuds also come with an inline remote and a carrying pouch.
Price: RM 272 on Price Panda
4. Sony XBA-S65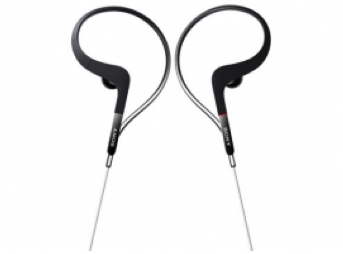 Sony's sports earphones are marketed as having superior sound and noise isolation, conveniently packaged in a sweat- and water- resistant coating. They feature a unique looped earband for a customizable, comfy, and secure fit on your ears. These buds are part of Sony's "balanced armature" lineup, built to provide a high-quality, defined, and balanced listening experience.
The Verdict
Sound Quality: 4/5 – These babies offer an extremely well rounded, high-quality, and distortion-free listening experience for a very affordable price. Although the bass could be a tad stronger, I enjoyed listening to my jams on these earphones during my workouts.
Comfort: 4/5 – Comfortable and secure, with a unique ear-loop mechanism for a perfect fit. The loop is made of rubber to resist the buildup of sweat.
Noise Cancellation: 4.5/5 – As advertised, Sony's earphones do a great job of blocking out ambient noises. While using these buds at a medium volume and above, I couldn't hear noise from vehicles when out on a run. They also shut out most noises when training in the gym.
Other Oddities: These could have been a must-have product for every exercise junkie, but the major drawback of these Sony earphones is the lack of any form of music control[hyx1]  (volume and playback). These buds can also be washed under running water without worry.
Price: RM 209 at Sony Malaysia
As an audiophile and exercise enthusiast, I find myself in need of a good pair of ears when I work out. My music helps me go the extra mile, and I can't do that if my earphones don't produce the sound quality that I'm used to. After testing all four of these products, I would personally choose the Bose SIE2i as I'm quite fond of their audio quality. That being said, I'd be more than happy to swap my pair of Boses for the Philips or Sony buds. Here is how I would rank all four sets of earphones according to their overall quality and general usefulness.
Bose SIE2i
Philips ActionFit Sports Earhook
Sony XBA-S65
Sennheiser Adidas CX 685
Do take note that this review is based on my experience and personal preference. You may prefer less bass, or simply look for different sound qualities than I do! If you think there are better sports earphones out there, please feel free to leave a comment below.
---
"ExpatGo welcomes and encourages comments, input, and divergent opinions. However, we kindly request that you use suitable language in your comments, and refrain from any sort of personal attack, hate speech, or disparaging rhetoric. Comments not in line with this are subject to removal from the site. "
Comments