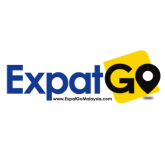 Written by Sharuna Segaren and Vatsala Devi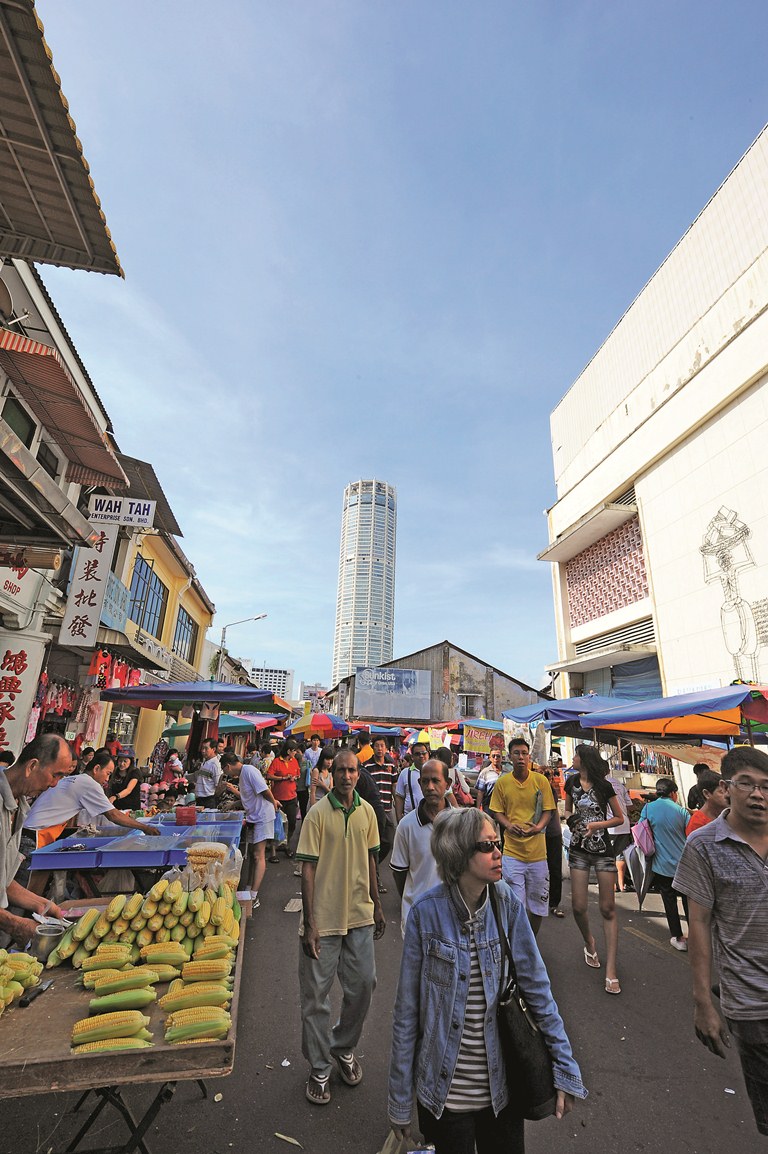 Malaysian cuisine is famous for its variety and diverse flavours, due to the multiracial ethnic makeup of the population. Traditions passed down for centuries, influenced by colonialists and cooking styles from neighbouring countries such as Thailand and Indonesia, have led to a food haven of Indian, Malay, and Chinese delicacies, as well as some uniquely Malaysian fare. Here are just a few popular dishes, some internationally renowned, found in Malaysia.
Chinese
1. Curry Mee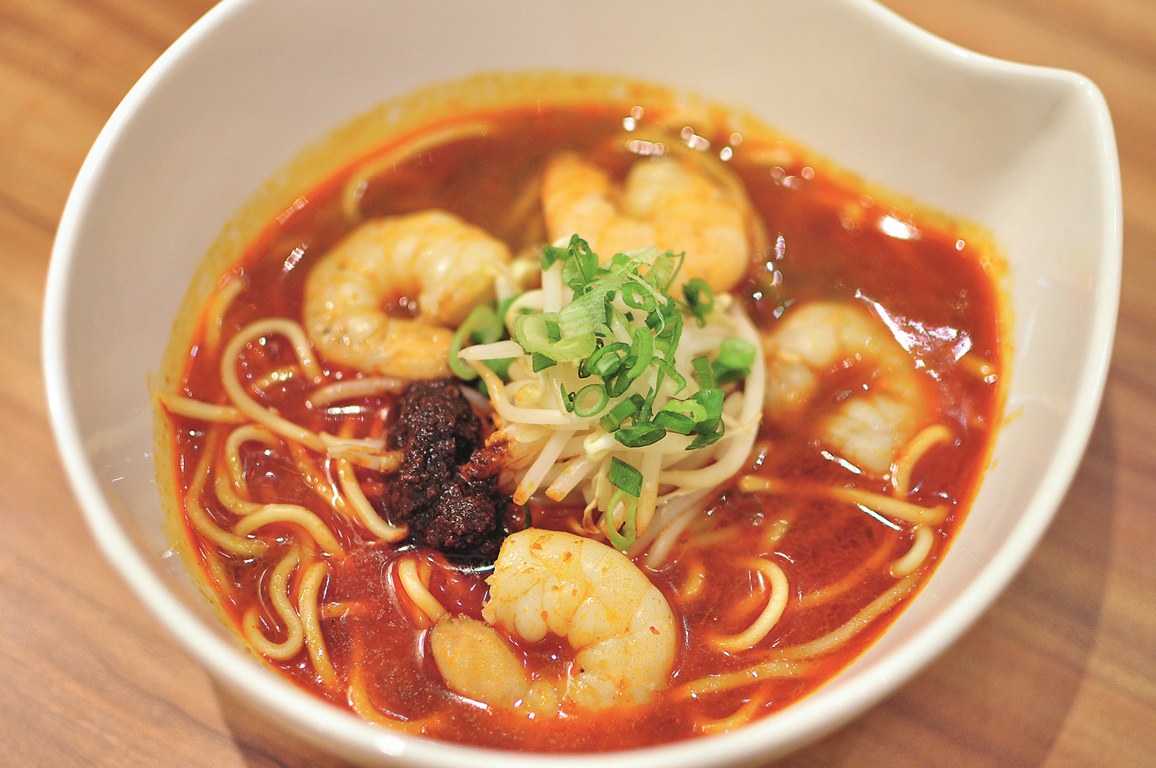 Also known as curry laksa, this signature Chinese dish is a spicy, thick soup consisting of shredded chicken, tofu, chilies, coconut milk, cockles, and yellow noodles. Some people like it mixed with beehoon noodles as well. Also popular is the Nyonya (Straits Chinese) variation, the Penang White Curry Mee, which is creamier and traditionally served with congealed pig's blood, a Chinese delicacy. This satisfying and fiery dish is commonly found at hawkers as well as Malaysian restaurants, and is a must-try for visitors.
2. Bak Kut Teh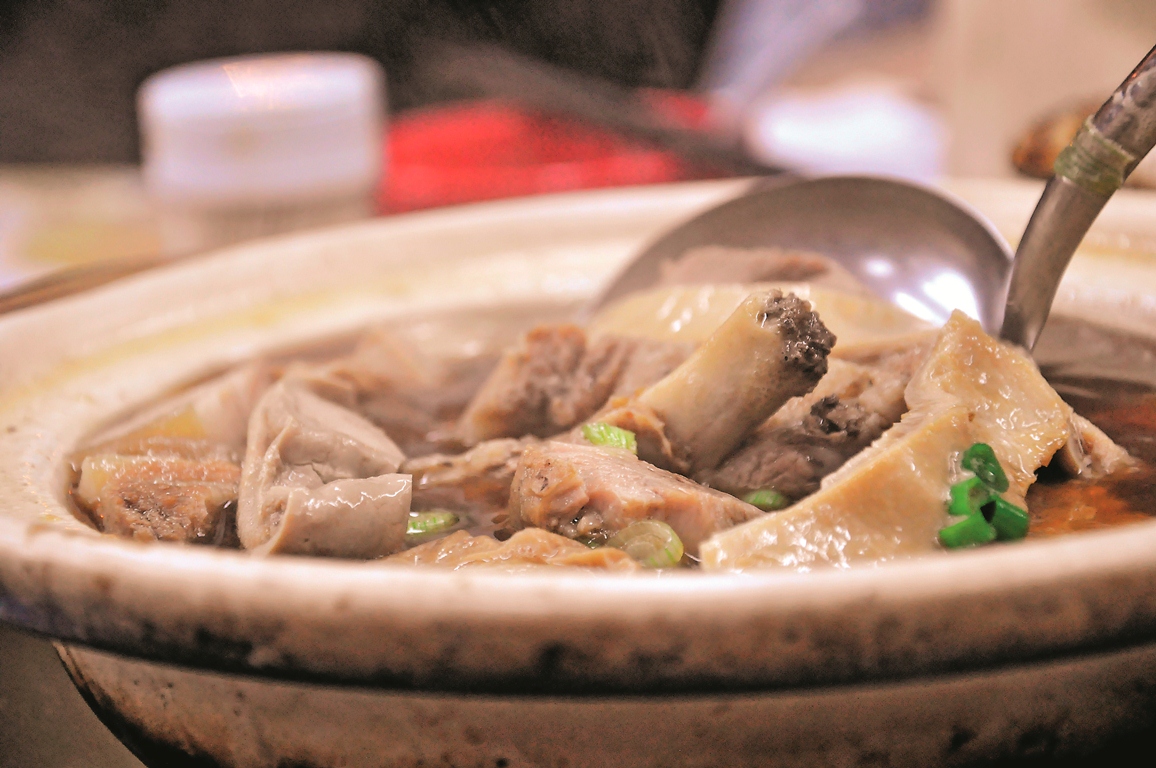 Known as a comfort food to many Malaysians, bak kut teh (translated literally as "meat bone tea") is a rich broth that has been simmered with herbs and spices such as anise, angelica root, cinnamon, cloves, garlic, fennel seeds, and soy sauce, with pieces of meaty pork ribs. For those who don't eat pork, another variation is the chik kut teh, which uses chicken instead. It also often includes tofu, mushroom, choy sum, and is served with rice, although it can be eaten on its own as a soup as well. Pieces of cha kueh (fried dough) is also often served with this dish. It is great for those who aren't inclined to spicy food.
3. Hainanese Chicken Rice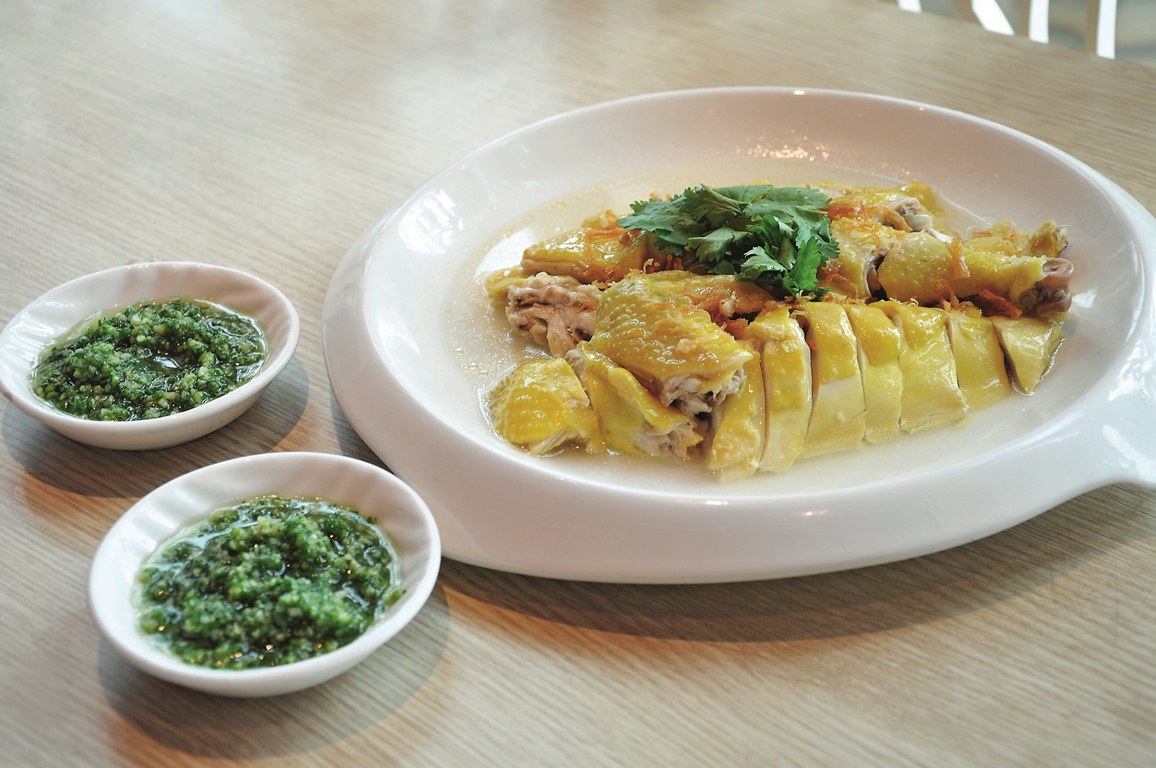 Another staple food in Malaysia is this popular everyday meal. Originating from Hainan, China, chicken rice consists of roasted or steamed chicken served with chicken broth-infused rice as well as slices of cucumber. A small bowl of a light chicken broth comes on the side, as well as the must-have chili sauce which is made up of red chilies, ginger, and garlic. It is somewhat of a 'fast food', as the chicken is cooked beforehand and the dish can be quickly prepared for patrons in coffee shops, usually for lunch.
Malay
4. Rendang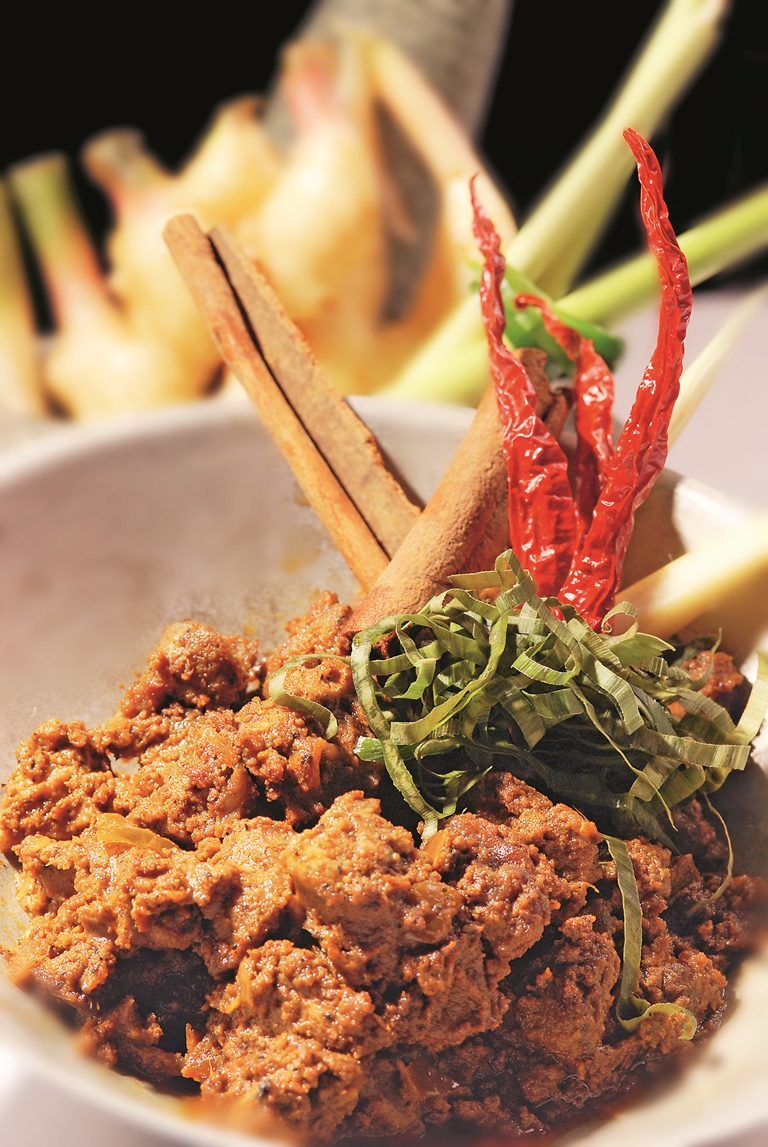 This thick gravy made with either beef or chicken might be close to curry, but has its own identity due to the way it's cooked. The meat is slowly simmered with spices and coconut milk for hours until the meat is tender and absorbed, and the liquid is completely evaporated. The result is falling-off-the-bone meat and a dry gravy rich with lemongrass, galangal, chili, and other spices. Originating from Minangkabau, Indonesia, rendang is a favourite among all races in Malaysia. During festive seasons such as Hari Raya, it is often served with lemang (bamboocooked glutinuous rice), but is available in most Malay restaurants all year round.
5. Apam Balik

Photo credit: goosmurf / Foter.com / CC BY
The delightful apam balik (turnover pancake) is a tasty and indulgent snack or dessert made with fillings of peanuts, sugar, and sometimes corn, and served in a compact package which is crispy on the outside while soft and chewy on the inside. The batter is made with flour, eggs, sugar, baking soda, coconut milk, and water, while fried on a griddle with palm margarine. It might not be the healthiest option, but your tastebuds will thank you when you try this peanut buttery delight. The apam balik has been declared a heritage food, and is normally sold in roadside stalls for a convenient on-the-go snack.
6. Otak-Otak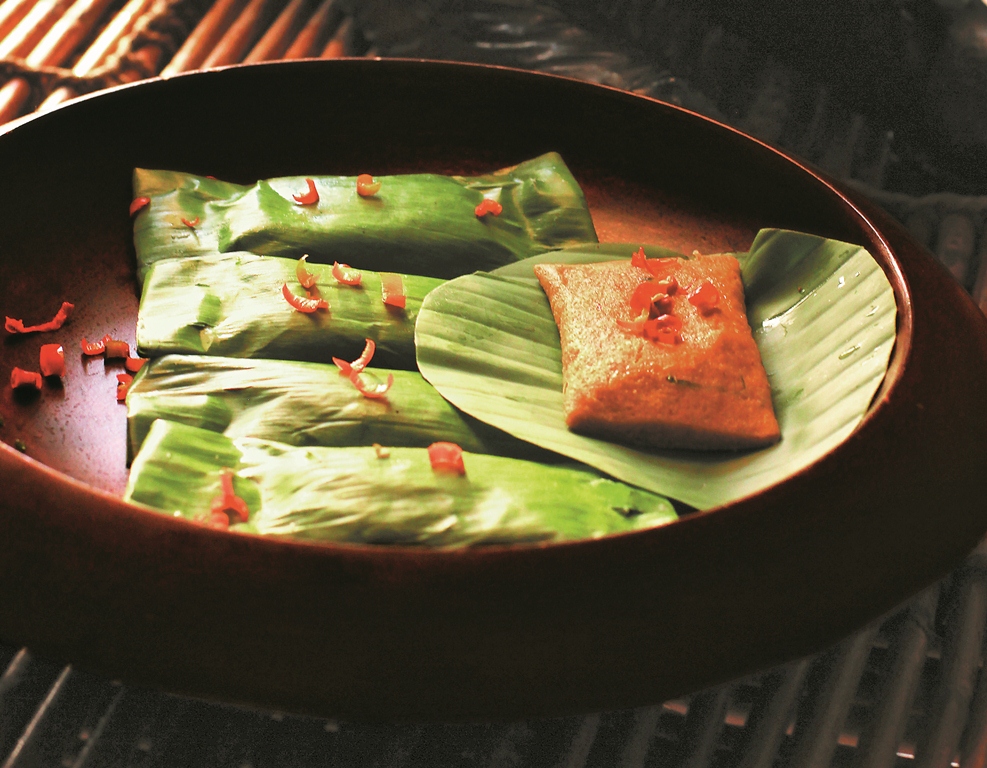 While the name translates as "brains," don't let the name deter you, as it doesn't consist of anything of the sort. The name comes from a humorous interpretation of its soft and squishy appearance, but it is actually made from a fish paste mixture of diced onions, tapioca starch, and selected spices, wrapped in a banana leaf and barbecued over charcoal until the leaves are slightly charred and the filling is cooked. It is served directly with the leaf to keep it warm and fragrant, and the best way to eat it is to pick directly from it. A delicious appetizer, snack, or accompaniment to a main meal, the savoury otak-otak is one of Malaysia's most popular foods.
Indian
7. Thosai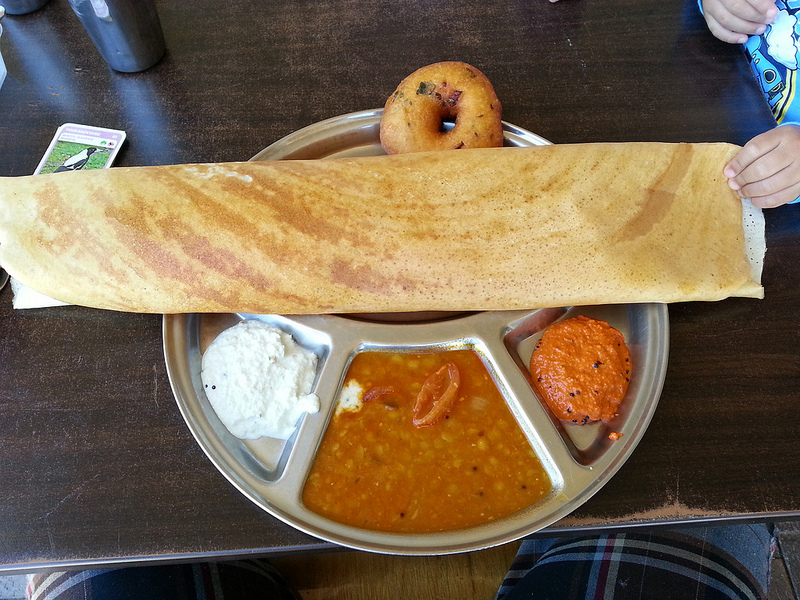 Photo credit: avlxyz / Foter.com / CC BY-NC-SA
The thosai, also known as dosa, comes as a refreshing change from the usual oilladen meal options. Resembling an Indian pancake, thosai is rich in carbohydrates, contains no sugar or saturated fats as the batter is made from fermented rice fl our and ground lentils, before being spread out on a hot plate in a perfectly round shape, and cooked until it is lightly browned and crispy. The result is a pancake that is crispy around the edges and chewy in the middle. Thosai are generally accompanied by spicy chilli chutney, cooling coconut chutney, and a small bowl of lentil curry or sambar. For those after a more solid meal, a variation of vegetarian or non-vegetarian dishes such as spicy potato masala or a chicken dish, are also available. Apart from the plain thosai, other varieties include the rava, paper, masala, egg, and onion thosai variants.
8. Banana Leaf Rice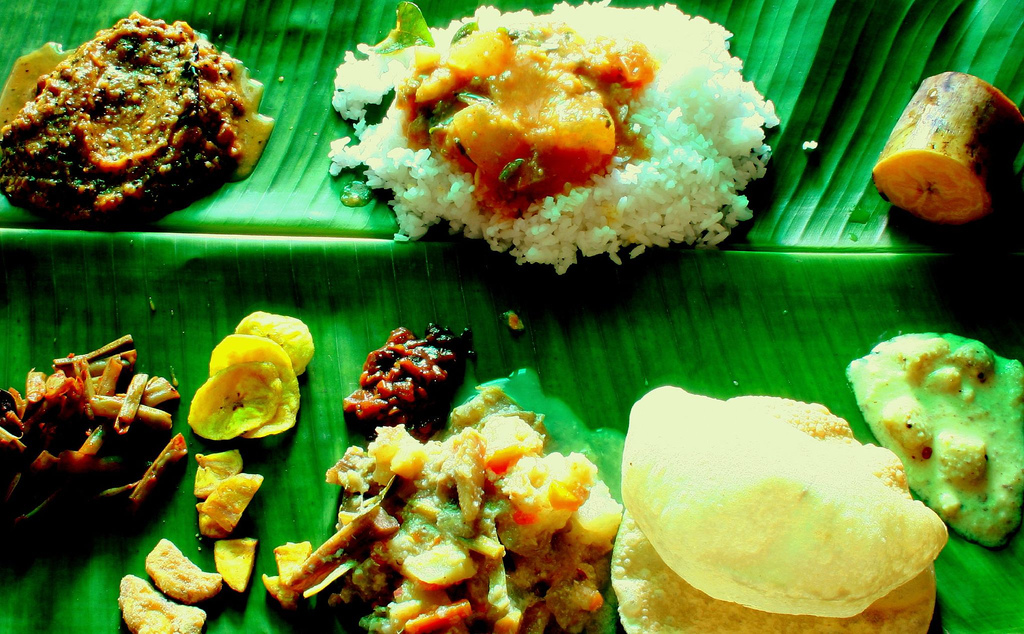 Photo credit: Joseph Thekkekara / Foter.com / CC BY
The banana leaf rice meal is a simple lunch that was brought to Malaysia by the Southern Indians and one that continues to offer cheap, quick, and tasty meals off an actual green banana leaf. The premise is simple: for around RM6-RM7 expect a banana leaf to be piled with fl uffy steamed rice and three to four different types of refillable vegetables (these change daily, and include things such as pumpkin, potato, beans, cucumber, and cabbage), pappadom, a choice of curry or dhal, and various blobs of side dishes such as chutney and pickle. The default version is vegetarian, but you can order plates of chicken, mutton, fish, tofu and other dishes cooked in various styles such as fried, curry, varuval, or sambal to complete the meal. The traditional method of eating is with the right hand, although no one will frown if you ask for a spoon! It is thought that placing hot food onto a banana leaf releases the coating on the leaf and aids digestion. Furthermore, the aromatic banana leaf infuses the rice with its fragrance which adds to the flavour and uniqueness of this meal. To show you enjoyed your meal, you must fold the leaf towards you upon completion.
9. Vadai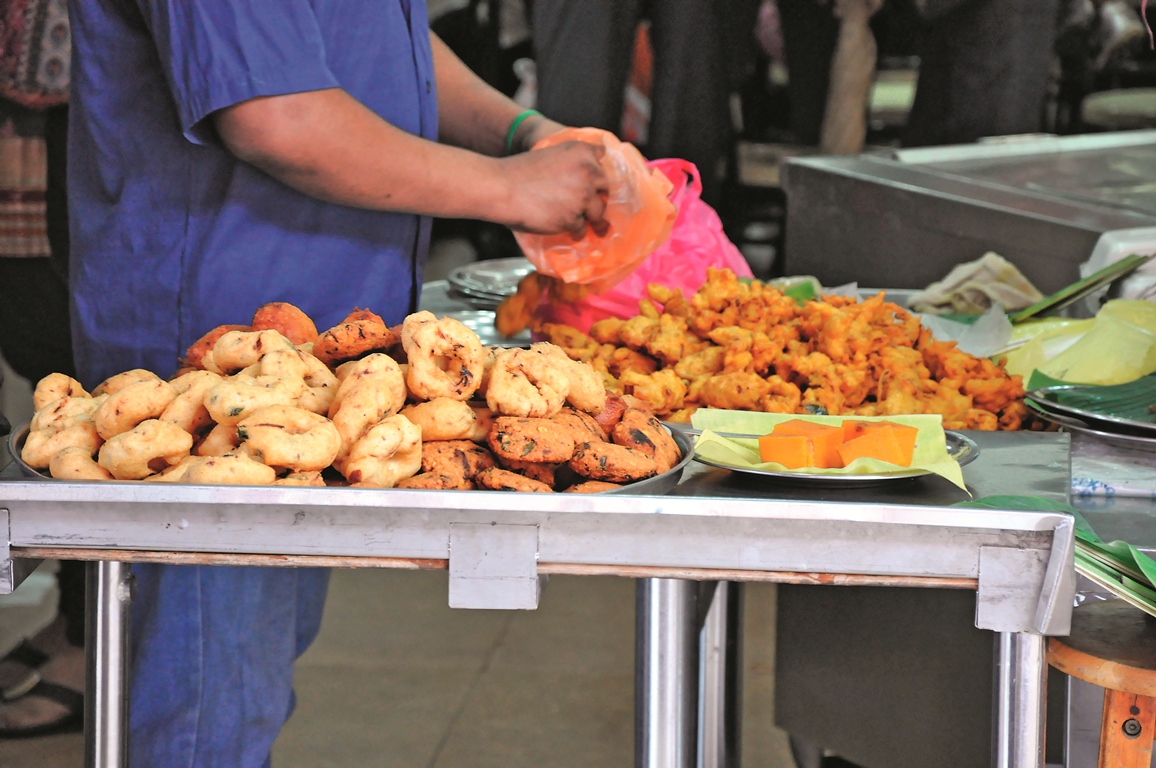 Vadai is a South Indian savoury snack made from soaked or fermented pulses moulded into balls or a doughnut shape and then deep-fried. The resulting snack is soft on the inside and crispy on the outside. It is a very popular snack in Southern India that has made its way onto Malaysians' list of must-have snacks during breakfast or tea time. There are two types of vadai – paruppu vadai made from chana dhal (split de-husked black chickpeas), and ulundu vadai made from urad dhal (dehusked black lentils). Sliced green chillies, curry leaves, and onion are also mixed into the batter, and ulundu vadai batter contains rice in addition to these. While paruppu vadai is circular and slightly flat, ulundu vadai is wheel-shaped with a hole in the middle. Both versions are best enjoyed with chutney or dhal curry.
Malaysian
We saved the best for last! These dishes are so Malaysian-ised, it's hard to pinpoint exactly which racial group it originated from. Each culture has its own versions as well as the traditional Malaysian variety, but whatever type, they're all delicious and has become synonymous to Malaysian cuisine.
10. Nasi Kandar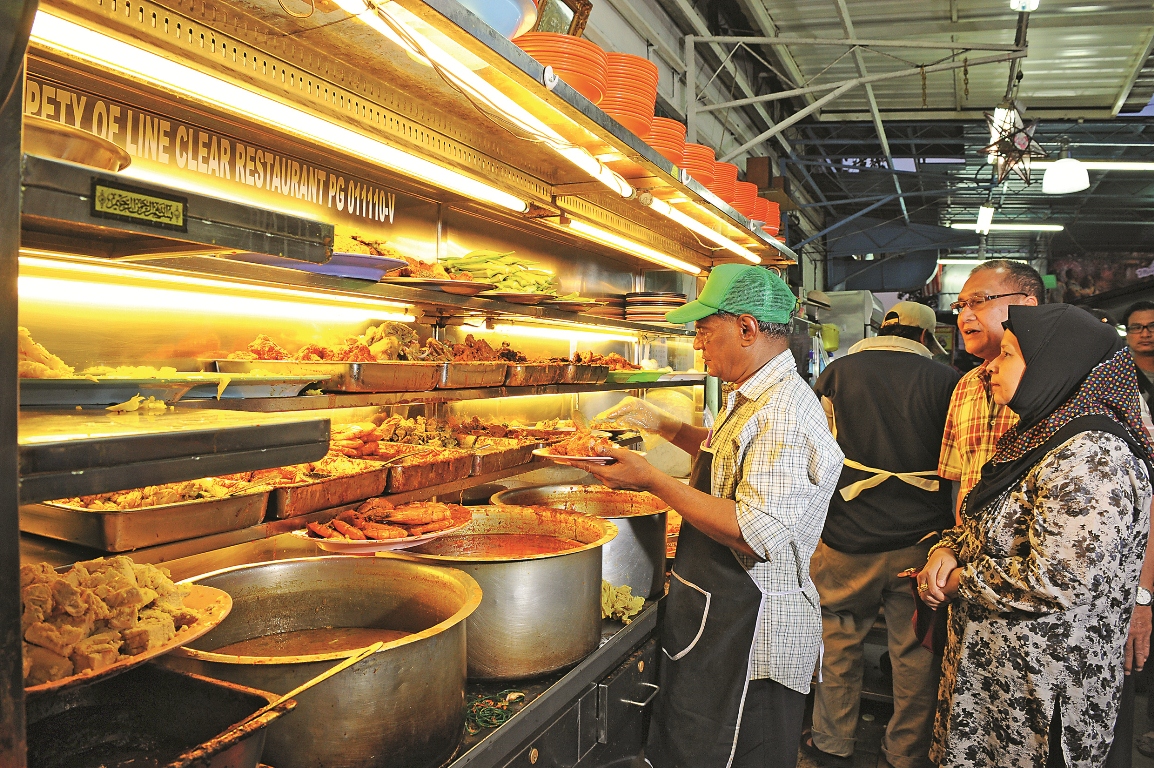 Ask a native Malaysians what their favourite traditional dish is and many will answer with "nasi kandar". Originally from Penang, nasi kandar is an Indian Muslim dish that has developed over the years as the Indian immigrants fused their food with Malaysian spices and eating styles. It even takes its name from its history – in colonial times, this dish was served by vendors who carried a yoke for his baskets of food. A mean of nasi kandar consists of rice soaked in a mix of varied curries and comes with some delicious meat accompaniments (e.g. fried chicken, gizzards, fish roe, curried mutton, or fried prawns) and a portion of vegetables. Today, due to its immense popularity, you'll find nasi kandar joints on every street corner in most cities throughout Malaysia.
11. Nasi Lemak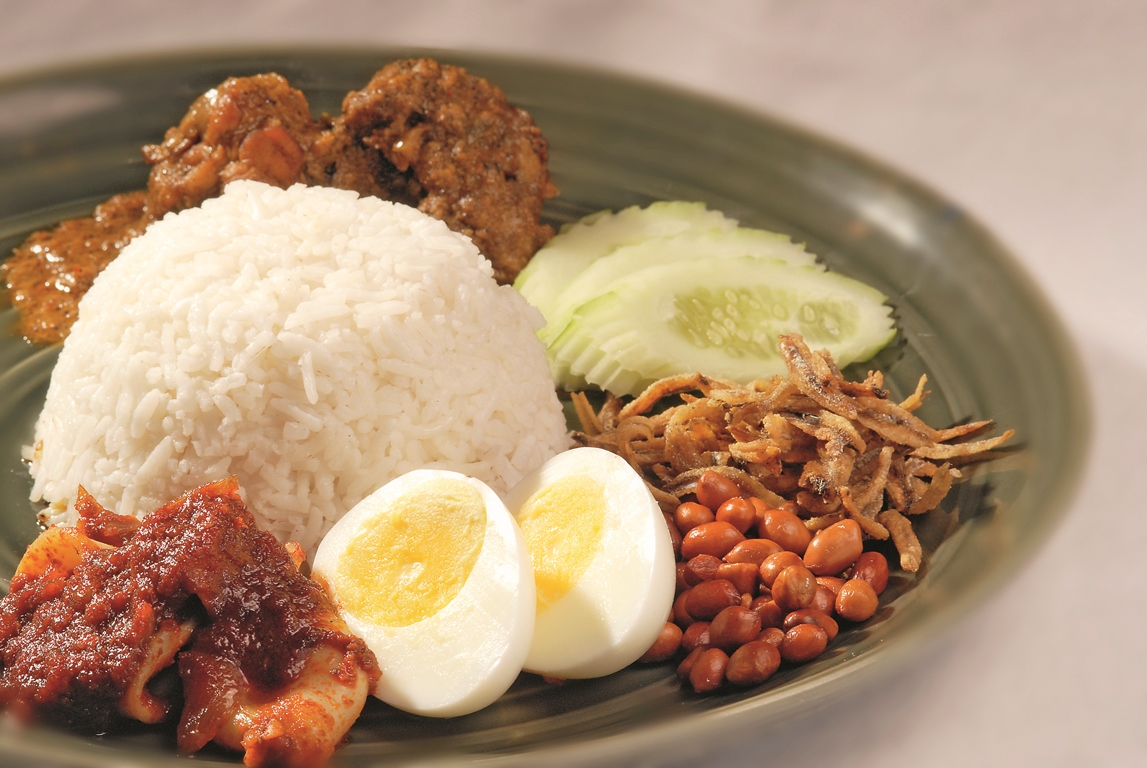 Originally, nasi lemak (or fatty rice) was eaten by farmers for breakfast, and while small green pyramid-shaped packets are still popular as a kick start to the morning, other forms of the dish keep Malaysians well-fed throughout the day. The secret is that the rice is soaked in coconut milk before being steamed and then this is often done with a few slivers of pandan leaves to provide some additional fragrance. The rice is then served with spicy sambal, slices of hard-boiled egg, cucumber slices, roasted peanuts, and small dried anchovies called ikan bilis. Diners mix it all up with many eating the rice with the fingers of their right hand. More substantial versions may have fried chicken, spicy squid, beef rendang, or stirfried greens as accompaniments.
12. Teh Tarik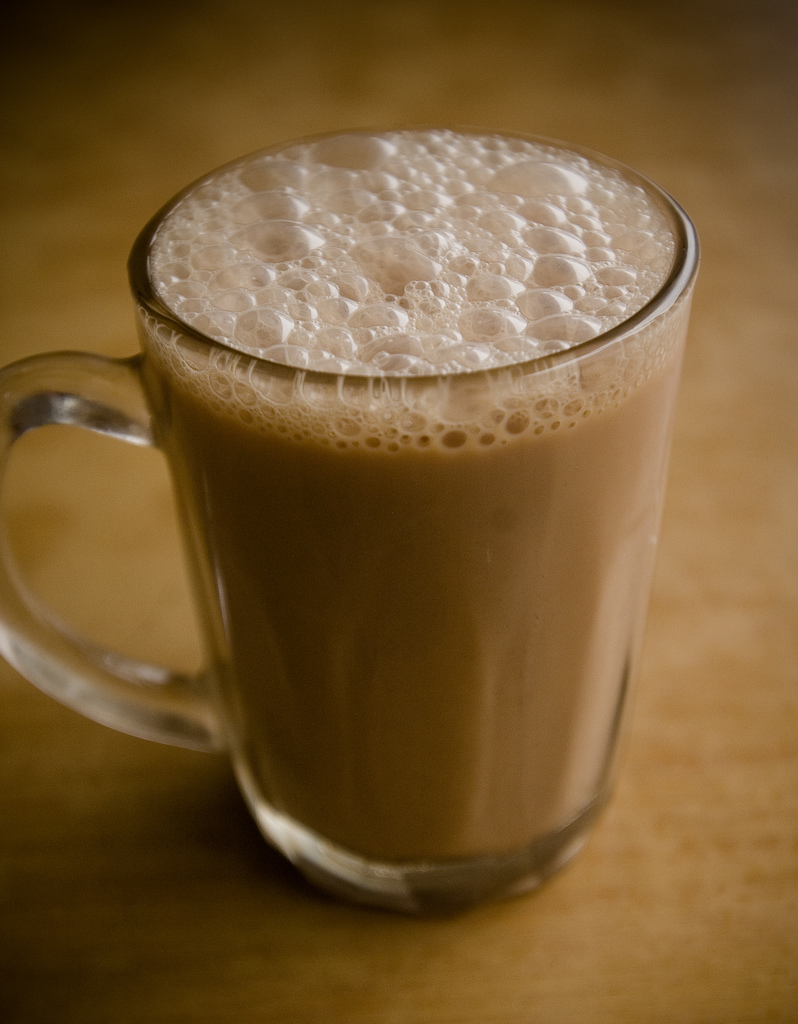 Photo credit: jonolist / Foter.com / CC BY-SA
Originating from Malaysia but famous throughout the region, teh tarik has a special appeal to Southeast Asians. Teh tarik literally means "pulled tea," which is exactly what artisans in Indian mamak stalls do to create the drink. The tea and milk are poured through the air between two cups until reaching a rich, frothy texture. More than just showmanship and tradition, pouring the beverage through the air cools the tea and produces a foamy head and also bring out the full flavour of the tea and milk by combining the mixture to extreme saturation. Teh tarik is typically served in a clear glass so that the distinctly Malaysian mixture can be seen and appreciated.
13. Sambal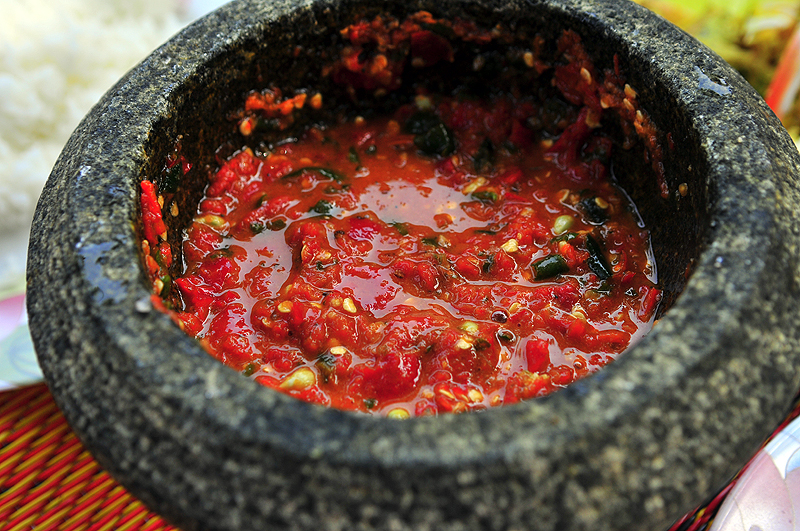 Photo credit: irwandy / Foter.com / CC BY
Sambal is a very popular condiment served with most dishes in Malaysia, and most locals say that they can't live without it. A perfect way to spice up any meal, whether noodles or rice, it is also easily made at home. There are many types, with the most basic version made from a blend of chilies, garlic, onions, and salt. Sambal belacan is a spicier, more pungent version made with shrimp paste.
Read more:
Source: The Expat magazine December 2015



" ExpatGo welcomes and encourages comments, input, and divergent opinions. However, we kindly request that you use suitable language in your comments, and refrain from any sort of personal attack, hate speech, or disparaging rhetoric. Comments not in line with this are subject to removal from the site. "



Comments