Hot on the heels of Malindo Air's stealthy ploy to eliminate the checked baggage allowance from its lowest fare tier, beleaguered national carrier Malaysia Airlines has enacted the same policy. Chances are, it will be received by the public just about as favourably, too.
Effective with bookings from April 8, 2019, MAS will no longer include checked baggage with its Economy Lite fare on domestic flights, only giving them the 7kg hand-carry allowance. If you want a checked bag, you'll need to pay extra, or book at a higher tier. This is the second change to baggage policy for the airline in less than 10 months, and follows the recent Malindo trajectory of first reducing the allowance, then eliminating it, all under the "we want to give our customers more options" banner, which is, frankly, tough for most passengers to believe.
Fortunately, at least, the MAS website is fairly clear when booking, and the price to go to a higher economy class tier that includes baggage allowance isn't outrageously expensive. (In our example below, passengers would pay an additional RM59 one-way for a 20kg checked bag.) Additionally, Enrich frequent flyer members can also get baggage allowance upgrades, but only at Silver level and above .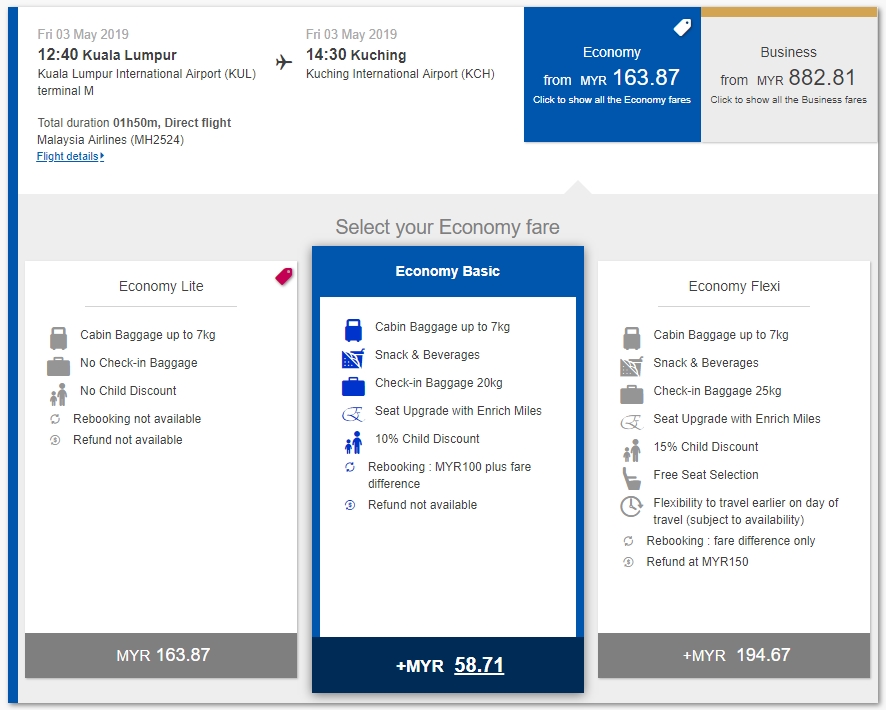 According to a statement from Malaysia Airlines, "Malaysia Airlines' new baggage allowance on economy class was done to allow our customers more flexibility and choice. Moving away from a 'one-size-fits-all' fare, the new options will give passengers a more personalised and tailor-made travel experience based on their requirements." (We feel that we must point out here that, like Malindo, MAS didn't have a 'one-size-fits-all' fare previously. They had several tiers of them!)
Look, we understand that it's hard running an airline. Over 20 of them have gone out of business in the last year alone. It's even more challenging running an airline profitably, and low-cost carriers make it very difficult for full-service airlines to compete, as most passengers repeatedly show that all they care about is getting the cheapest fare. We get that.
But oftentimes, what these airlines are really doing is just moving the goalposts and making things more difficult for their customers. If before the baggage announcement, the fares look like this…

… then by the airlines' rationale when eliminating the baggage allowance (supposedly at the overwhelming request of customers) to offer a bare-bones fare, then the new cheapest fare should be notably less following the new policy's implementation. But that's not the case. They just remove the baggage allowance from the lowest fare tier, sometimes changing its name, sometimes not.
If they really wanted to offer customers a bare-bones option, they could just add a fourth tier, give it a catchy name, make it very clear that it included virtually nothing, and charge less for it than the cheapest option previously (which included baggage). To be fair, MAS has possibly come closer to this scenario than many other airlines who have made similar changes, but we need to compare more of their fares over time to be certain. MAS also continues to provide checked baggage allowances for international flights, in a range of weights, depending on destination, fare class, and Enrich level.
And while we're at it, can we talk about this 7kg hand carry policy? Who came up with that number? The simple truth is, most carry-on suitcases themselves weigh half that amount. If you're eliminating the check-in allowance, why not make the carry-on allowance more reasonable, like 12-15kg? The answer: Because dropping checked baggage allowances and simultaneously enforcing a strict 7kg limit on cabin baggage isn't about giving customers more options or responding to their needs; it's about increasing ancillary revenue for the airline. Nothing more, nothing less.
Ironically enough, all of this baggage policy manoeuvring by MAS and Malindo plays right into the hands of the airline that's probably most responsible for prompting the changes in the first place: AirAsia. With them, there's no question what kind of airline they are. They are a low-cost budget carrier, and have never pretended to be otherwise, so you expect very low fares and virtually no added extras. Now the lines are getting increasingly blurred, though. If all three local airlines offer no checked bags on their lowest fares, don't permit changes once booked, only allow 7kg for hand-carried bags, and dole out totally random seat assignments unless you pony up extra cash to choose – then really, won't most customers just shop all three and pick the cheapest one? And given that it's been successfully doing the budget airline thing for over a decade, won't that usually be AirAsia? Because let's face it: In any race to the bottom, the winner will always be the one who's already there!
It's been a disappointing week for Malaysia's flying public, or at least for those among them who own suitcases. Since the two airlines that still like to position themselves as a hybrid carrier (Malindo) and a full-service one (MAS) are behaving more and more like budget carriers these days, we can't help but wonder what low-cost airline practices they'll adopt next. (Malindo already removed included meals from its lowest-cost fare, though MAS hasn't done this… yet.) Is it only a matter of time before we'll be seeing ads plastered on the overhead bins on our Malindo and MAS flights?
---
"ExpatGo welcomes and encourages comments, input, and divergent opinions. However, we kindly request that you use suitable language in your comments, and refrain from any sort of personal attack, hate speech, or disparaging rhetoric. Comments not in line with this are subject to removal from the site. "
Comments