Just before the 15th of January, many Indian Tamil communities across Malaysia prepared to celebrate the festival of Pongal, one of the first major Indian celebrations of the year.
Having roots in the ancient Chola Dynasty of Southern India (one of the longest ruling kingdoms in the history of the world) Pongal is a three to four-day festival commencing on the third day of the month of Thai. In the Gregorian calendar, this festival usually occurs around mid-January.
Mostly celebrated by the people of the Tamil Nadu region and their overseas communities, this celebration dates back to 2,000 years ago, when tributes of a successful harvest were presented to the Sun God Surya and King God Lord Indra.
Today's celebrations however focus more on the harvest aspect of the celebration, marking the end of the winter solstice and the moving of the sun towards the Capricorn constellation for the future of bountiful crop-planting.
Pongal
The name Pongal means "to boil" and "overflow", both of which is marked by boiling the namesake dish of rice in milk with jaggery (raw sugar) until its frothy liquid bubbles over in a traditional clay pot, signifying abundance.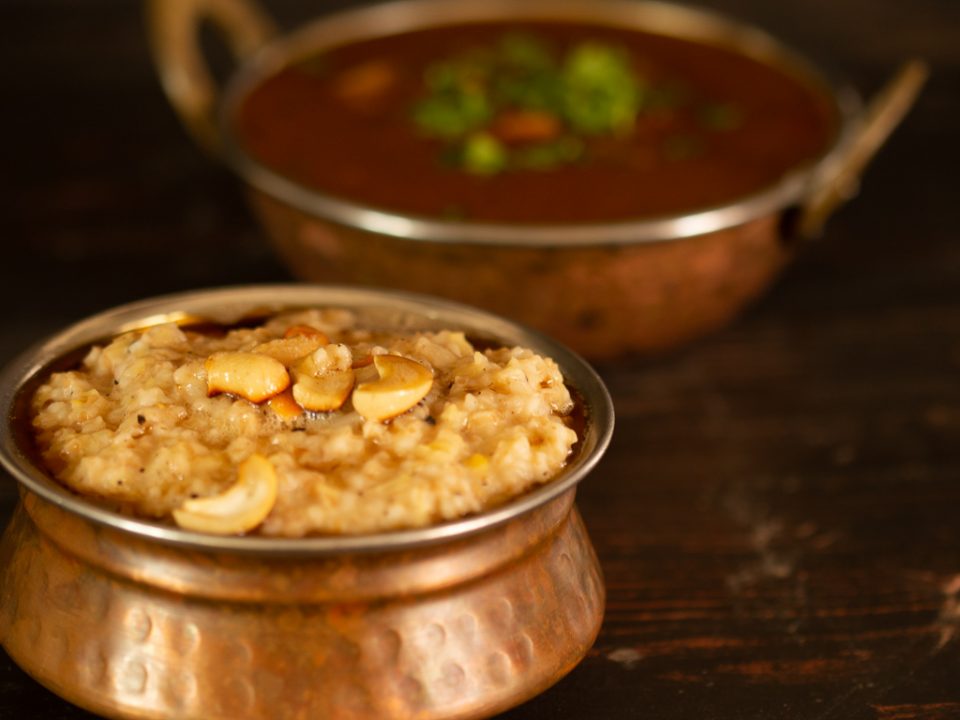 This is an act of contemporary thanksgiving, and a societal festival celebrating community, harmony, and the year that is about to follow the harvest.
Houses are decorated with items considered auspicious by the Indian Tamil community, such as banana leaves and decorative kolam rice patterns.
The controversy
Most Pongal celebrations in Malaysia tend to pass by without as much fanfare as Deepavali, but nevertheless the importance of this festival is significant. Many regional governing bodies will send out greetings and well wishes, and the Prime Minister of Malaysia himself is often broadcasted to be taking part in such cultural festivities.
This year, 2020's Pongal in Malaysia was met with some unnecessary controversy however, with the publication of a circular issued by the Department of Islamic Development Malaysia (JAKIM) and Ministry of Education (MOE) prohibiting Muslims to participate in the festival given the basis that Pongal is a religious festival in itself.
This was met with immediate backlash from many parties, as the identification of Pongal as a religious festival in Malaysia is deemed misguided.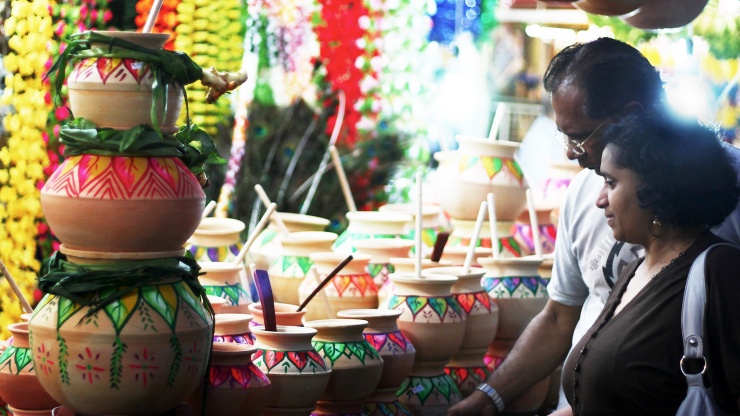 Digging deeper into the rabbit hole, one might even view this as apparent misinformation and intended hyperbole spread by JAKIM who continuously conflates religious and racial identity, rather than acknowledging them to be two separate social constructs. Indian Hindus exist, alongside Indian Christians, Indian Buddhists, Indian atheists, and Indian Muslims (the 'mamak').
The 'mamak' community has long been overlooked as part of the Muslim diaspora, and this act could be taken to further marginalise them as a non-Malay-Muslim community.
While the circular was issued with the intention of 'guiding' Muslims in the observation of the festival, backlash also comes at the distribution of the letter to schools, involving much younger audiences who have yet to fully grasp cultural and religious practices.
Both JAKIM and MOE have stated that the circular was curated to address some concerns from Malay Muslim parents on their children being invited to take part in the festival.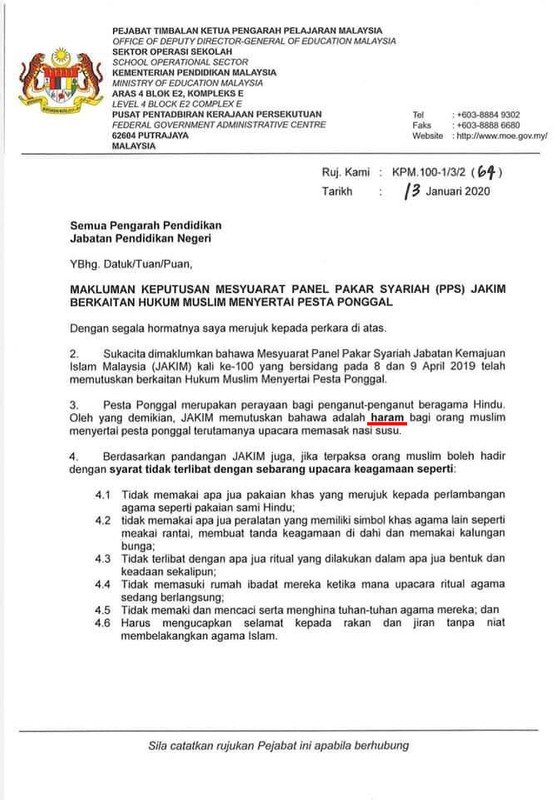 Below is a translation of key points of the letter.
3. The festival of Ponggal is a celebration for Hindu worshippers. As of such, JAKIM has declared it HARAM (forbidden) for Muslims to join in on the festivities especially the ceremony of boiling the rice milk.

4. Based on views of JAKIM as well, if obligated, Muslim people are permitted to attend with the condition of not being involved with any religious activity such as:

– Not wearing any clothing pertaining to religious identity such dressing alike to Hindu monks;

– Not wearing any item of symbolic nature of other religions such as necklaces, applying physical symbols of religious nature upon the forehead, and wearing a flower wreath;

– Not being involved with any sort of ritual in any shape and circumstance whatsoever;

– Not entering houses of worship during any religious ritual that is happening concurrently;

– Not mocking and insulting as well as blaspheming the gods of their religion; and

– Wishing greetings to friends and neighbours without the intention of disregarding Islam.
Just in reading the list above brings more questions to the table. How can the promotion of racial harmony and peaceful coexistence be preserved when one is made to be very cautious about something that isn't culturally or religiously significant to oneself; and in the face of developing better understanding will it apparently put their own faith at risk?
Understandably, many Malaysians have spoken out on the issue, justifying that Pongal has ceased to be a religious occasion, and is not exclusive to Hinduism or any other religion, though there was absolutely no need for them to defend their cultural practices at all, from a constitutional point of view.
The festival has not been banned from being celebrated at schools, but such a circular has the potential to cast doubt over the longstanding message of multiracial harmony, the instilling of religious and cultural tolerance, and mutual respect for others.
The fact that cultural and religious intolerance is being encouraged by government bodies is as harrowing as it is concerning for all Malaysians, should we go down the impending path of violence that has spread around the world like a plague, where people are being physically attacked for simply wearing clothing and apparel that's relevant to a particular religion.
Lest we forget, this recent issuance of prohibition by governmental bodies relate to a festival that has long been celebrated in this country. Clearly, more cultural education needs to be practiced and promoted in order for true understanding and tolerance to be achieved.
---
"ExpatGo welcomes and encourages comments, input, and divergent opinions. However, we kindly request that you use suitable language in your comments, and refrain from any sort of personal attack, hate speech, or disparaging rhetoric. Comments not in line with this are subject to removal from the site. "
Comments