Imagine getting amazing discounts on Apple iPads, fine dining at swanky restaurants and enjoying facials at a top spa, without winning a competition or trying too hard. That's exactly what group buying deal websites offer you. Coupons and vouchers can be yours on the condition that a certain minimum number of buyers grab the deal.
It's a win-win for all parties involved – you land a great deal and merchants get a promotional and sales-generation channel. Deal websites have been whole-heartedly embraced in Malaysia, with consumers clamouring to bag hot deals on a number of products and services. Typically, you buy a deal online, print the coupon, and then take the coupon with you to the associated location to use.
Here is a look at the most popular group buying, deal, and coupon websites in Malaysia. To measure popularity, we have considered the Alexa rankings and Facebook likes of each website. In addition, we have assessed the sites based on the types of deals, availability of deals and other factors that may serve as USP (unique selling points) to get the attention of online shoppers.
This post was originally published in April 2013 and was updated in June 2016.
See also: How to Find the Best Deals Online in Malaysia
1. Groupon Malaysia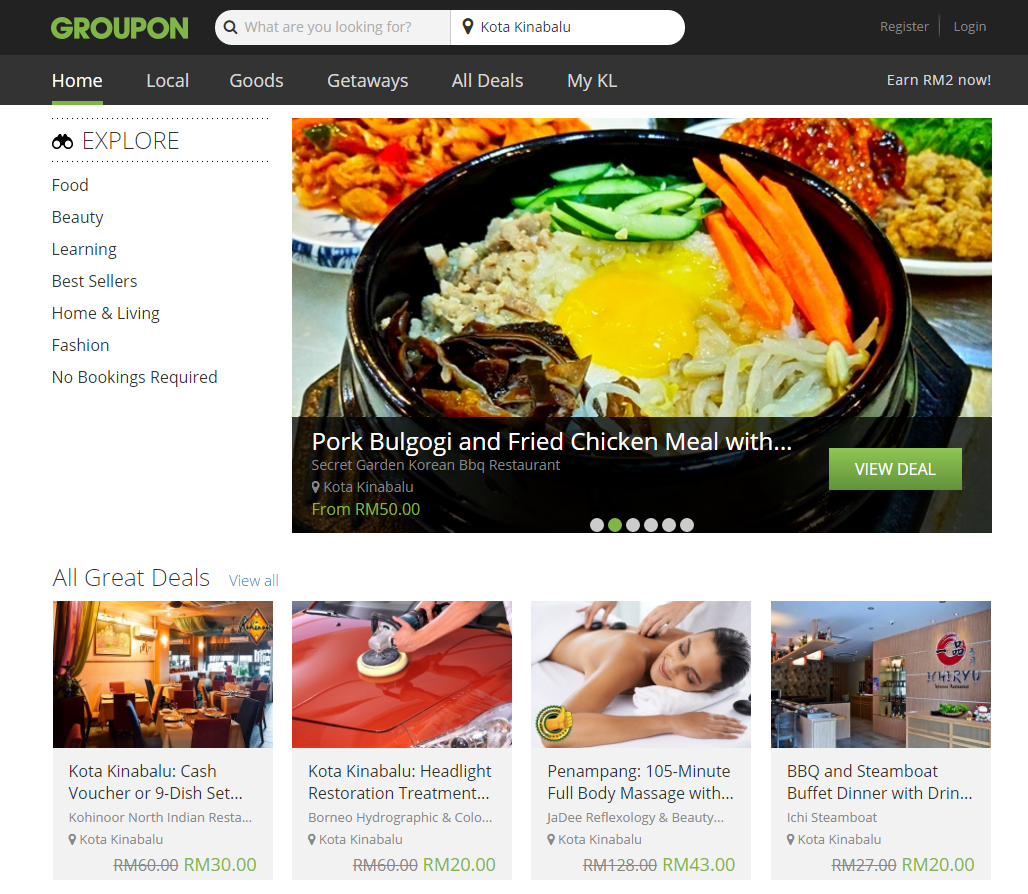 Alexa ranking in Malaysia: 106
Facebook likes: 16.5 million
Website: www.groupon.my
Ruling the roost at the top is Groupon Malaysia, which is available in Klang, Penang, Johor Bahru, Kota Kinabalu, Kuching, Ipoh, Melaka and Halal. It was formed in January 2011 after merging with GroupsMore.
Straight off, Groupon Malaysia's popularity can be attributed to its brand name. Groupon is the leading group buying deal website in the world, and its country-specific sites are much sought-after among their target audience. Groupon Malaysia offers deals across several categories, including travel, fashion items and accessories, healthcare, corporate gifts, hospitality and wellness, entertainment and gadgets.
Groupon has an extensive range of offerings, which are explained in detail on the website. Members can choose from categories like 'getaways', 'healthcare', 'shopping', 'corporate' and 'all deals'. Vouchers can be used to purchase products/services or given as gifts.
Credits are offered on recommending Groupon to friends; this is valid for up to one year. Maybank2U users stand to get exclusive deals at the site.
The site also offers a mobile app. All the information about shopping at the site (for shoppers and merchants) is clearly presented in the FAQ section. The overall shopping experience at the site is enjoyable and intuitive, another reason why it continues to be on top of many online shoppers' lists.
2. StreetDeal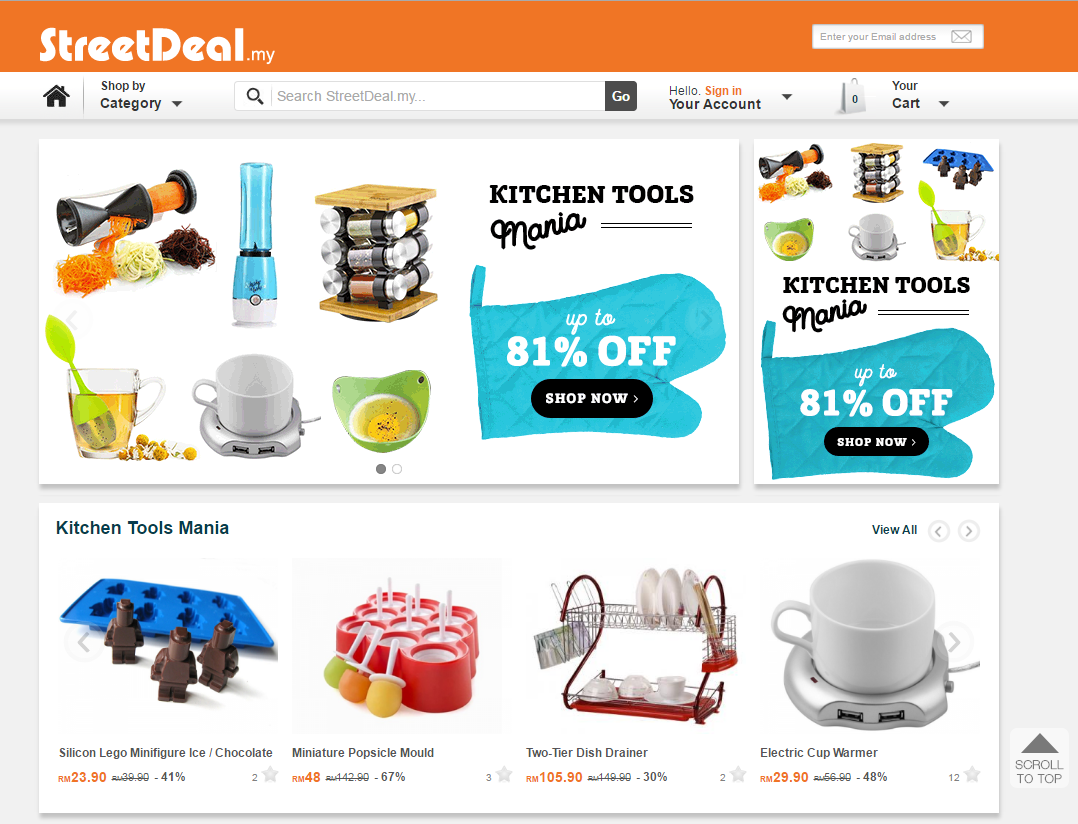 Alexa ranking in Malaysia: 18,388
Facebook likes: 37,527
Website: www.streetdeal.my
There is very little information about how StreetDeal was formed, except that it is a subsidiary of Singapore-based Asia Deal Group Pte Ltd. But there is no denying that it is one of the most preferred group buying deal websites in the country. It has a presence in Singapore, Thailand and Indonesia. However, there is no information on the specific Malaysian cities it serves, though the deals are delivered nationwide and most partner merchants operate out of Klang Valley.
StreetDeal has an extensive range of offerings, across categories like 'travel', 'food&beverage', 'wellness&beauty', 'products&services' and 'activities&events'. An interesting feature of this site is the 'Insiders' section where you can get some useful recommendations from well-known members of the local entertainment industry. There is also a 'Top Sellers' section which features the most sought-after deals, including those that have made a comeback due to popular demand.
StreetDeal allows you to purchase vouchers as gifts for friends and loved ones. During checkout, you can present the voucher to the intended recipient with a personalized message. The site's referral system gives you RM8 every time your invite makes a purchase. It also offers an affiliate program, where website and blog owners can make money by featuring StreetDeal's deals on their site/blog.
3. Living Social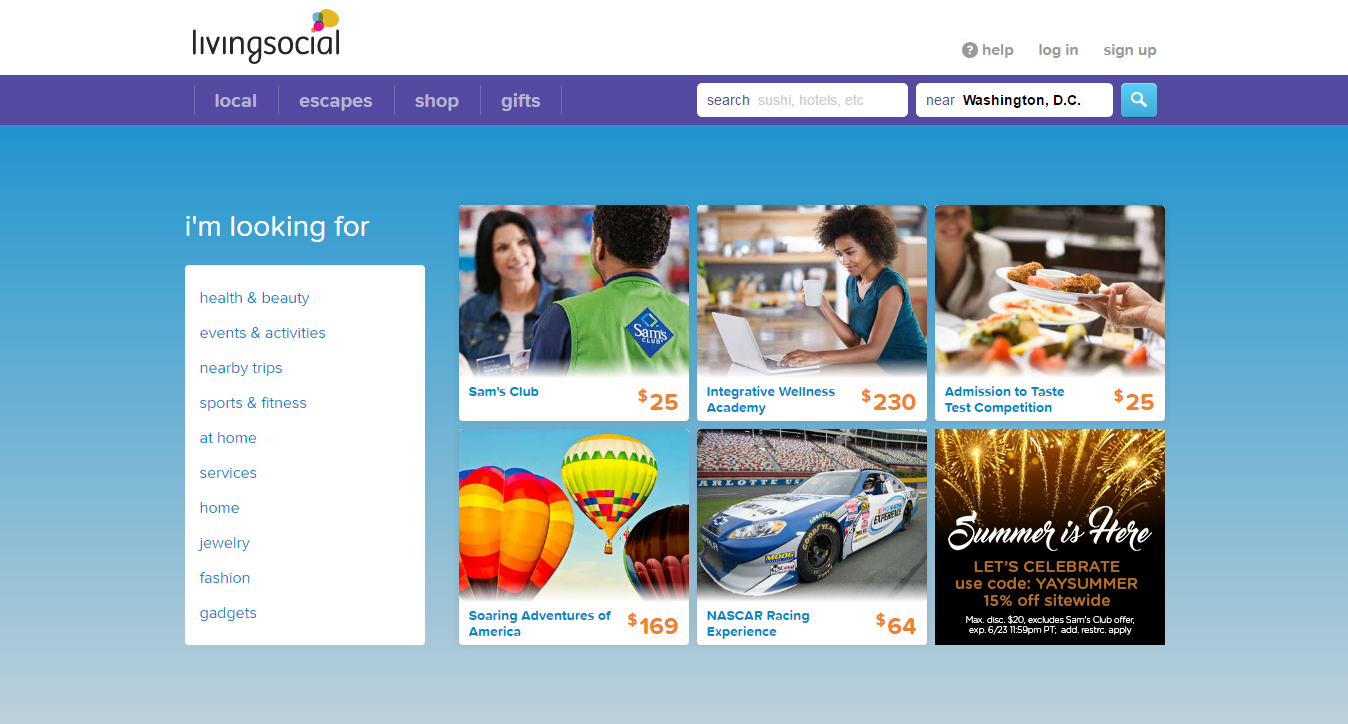 Alexa ranking in Malaysia: 599
Facebook likes: 1.7 million
Website: www.livingsocial.com
Headquartered in Washington D.C., Living Social has over 70 million members across the world and a presence in six continents. In Malaysia, the site's services are offered to consumers based in Johor, Kedah, Klang, Penang and N.Sembilan.
The site offers deals across categories such as 'activities', 'families', 'food and drink', 'at home', 'beauty' and 'healthcare'. Members can choose to browse all available deals in their particular region by clicking on 'all deals' or click on 'nationwide deals' to understand what's on offer in other Malaysian cities. There is also a section called 'popular' which features the recent sought-after deals. The browsing experiencing at the site is a decent one, with each page displaying several deals in four columns, starting from the top.
Living Social gives you the option to win a free deal. After your purchase, you can recommend the site to friends through Facebook, Twitter or by sharing a unique link with them through email. If any three of the recipients purchase the deal with your link, you get the deal for free.
The site also gives you the option to purchase gift cards; note that you may not always find gift cards readily available each time you visit the site. Living Social can be accessed on your iPhone or Android phone.
4. Q0010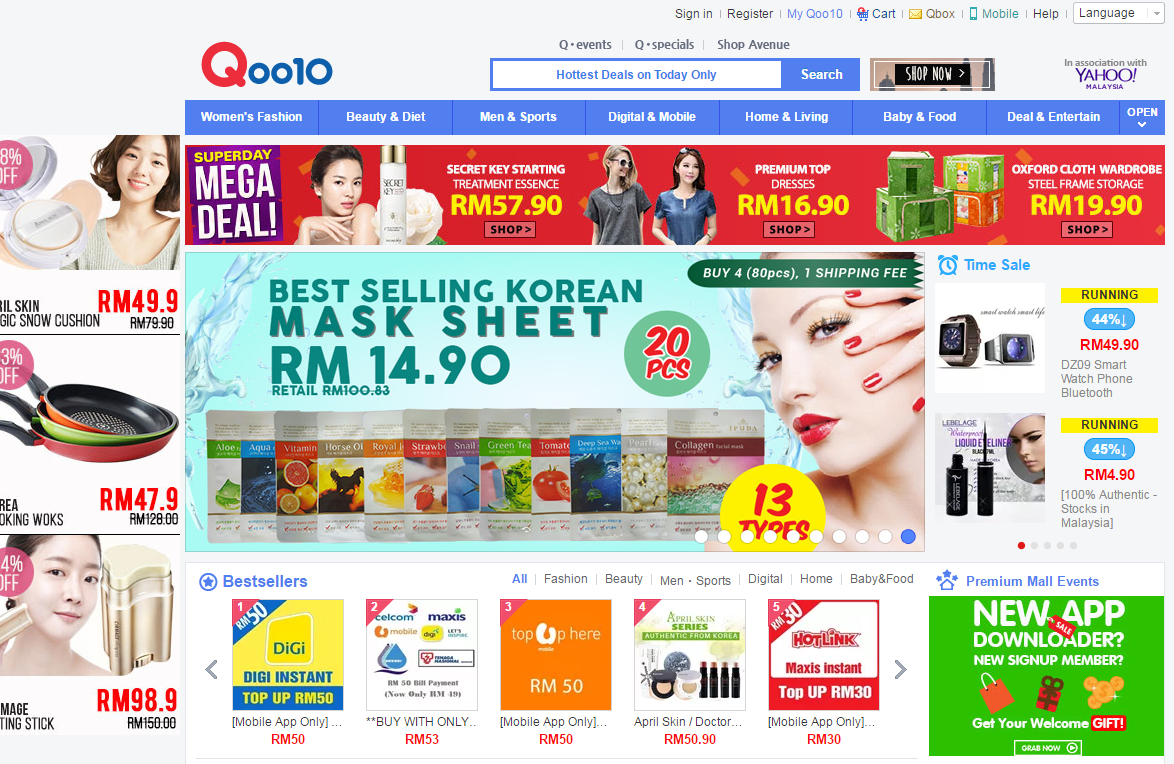 Alexa ranking in Malaysia: 239
Facebook likes: 284,077
Website: q0oo10.my
Giosis Gmarket International is the major shareholder behind Qoo10, one of the top group buying websites in the country. The deals on offer at the site encompass several categories, including fashion, beauty, sports, gadgets, autos, baby products, food, books, music and entertainment. An interesting feature of the site is its 'Auctions' section, where you can bid on a number of products, from day-to-day utility items like face washes to luxury products like diamond encrusted jewelry. Helping you make quicker and more informed buying decisions are sections like 'Bestsellers', 'Hot Deals' and 'Last week's best hits'.
The user experience on Qoo10 is enjoyable. Convenient drop-down menus make it easy for you to visit the particular category you're interested in. Qoo10 also features announcements and updates on its Home Page, telling you how you can write reviews, and listing the winners of events at the site.
Qoo10 offers a shopping app, which allows you to browse and purchase deals on the go. You can also use Qtalk, a free call and group conference service that offers you 100 free Callpoints.
5. GroupMe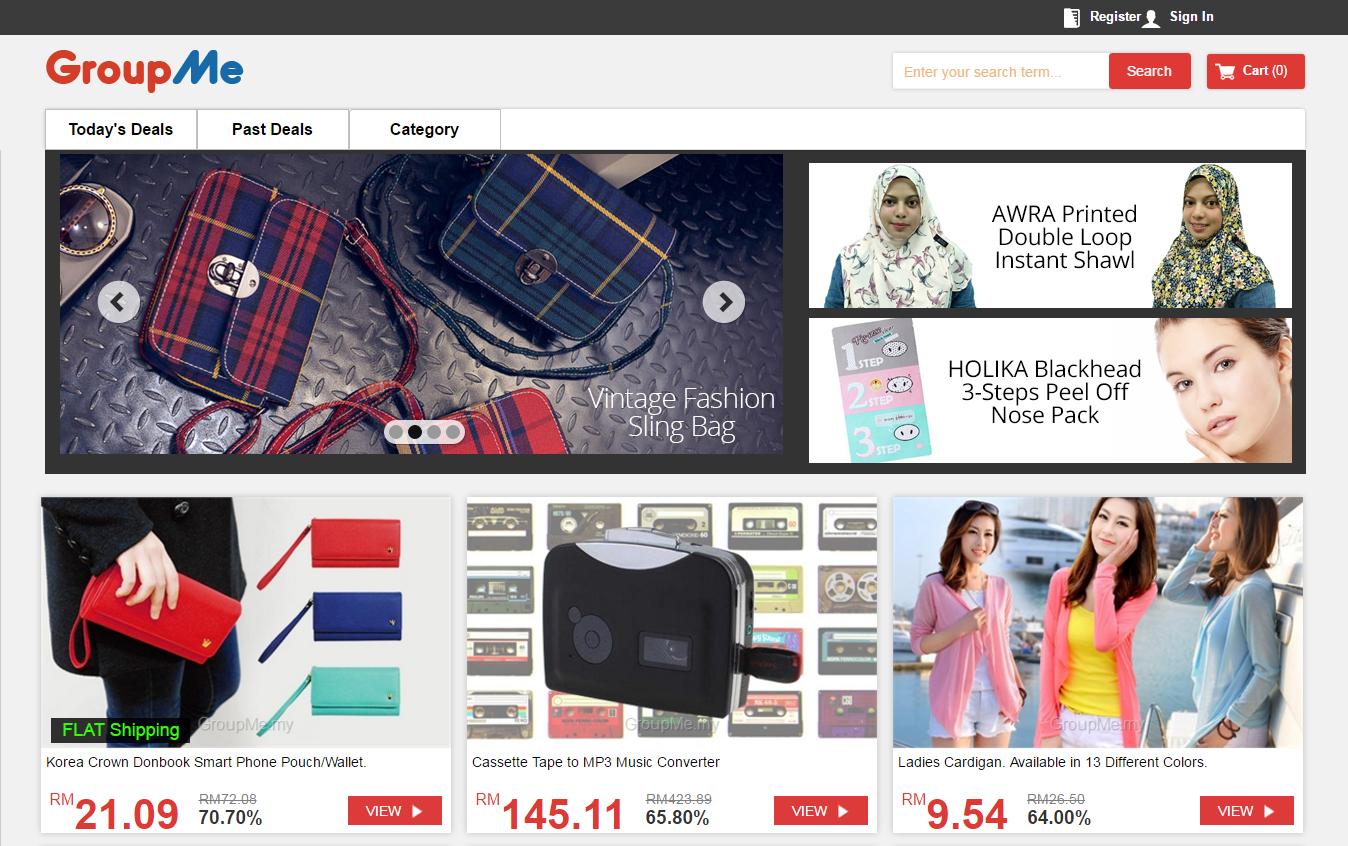 Alexa ranking: 3,564
Facebook likes: 5,955
Website: www.groupme.my
Despite being slow in garnering Facebook likes, GroupMe enjoys a good Alexa ranking, which points to its popularity among Malaysia's online shoppers. The site has a vast range of offerings, which include fashion, home utility items, gadgets, exercise equipment, kids' products and more.
Like all its competitors, GroupMe offers gift cards and the opportunity to earn credits. The site is attractive; but first-time visitors are greeted by a page containing a continuous list of deals, which can be a bit overwhelming. Drop-down menus of different categories can make the browsing experience easier.
6. MilkADeal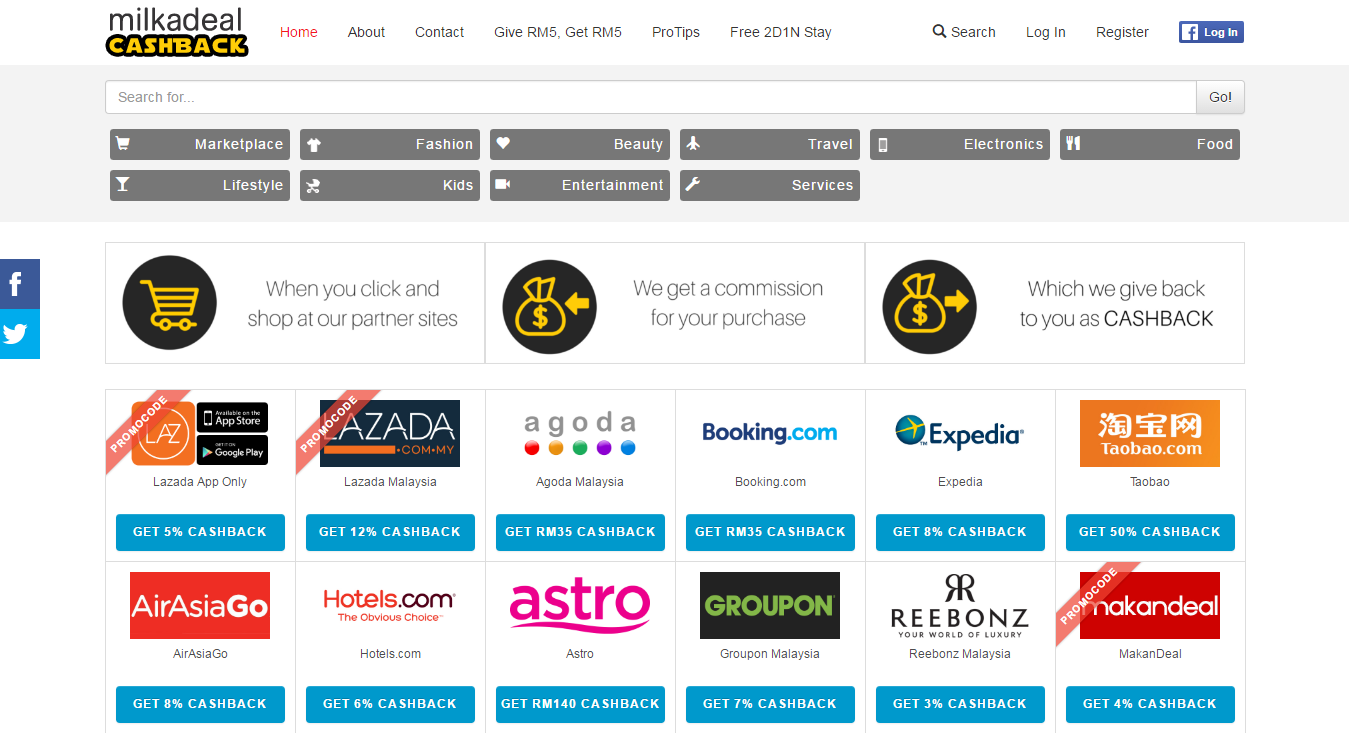 Alexa ranking: 1,896
Facebook likes: 50,822
Website: www.milkadeal.com
Started in 2011, MilkADeal has quickly risen to the top as one of Malaysia's popular group buying deal websites, with over 30,000 Facebook likes to its name. It is available in Kuala Lumpur, Johor Bahru, Pulau Pinang, Perak, Kedah, Negeri Sembilan and Terrenganu.
The site offers deals across a number of categories, including fashion, beauty, wellness, gadgets and gadgets. For easy sharing of deals, email, Google+, Facebook and Twitter buttons are provided under each deal. You can buy a deal as a gift for a friend or loved one as well. The site is simple to navigate and all details and options pertaining to each deal are clearly mentioned.
MilkADeal has a referral system where you can get RM10 in credit for referring friends. The amount is credited into your account once the people you've invited get their first voucher. Currently, the site doesn't offer any mobile application. There aren't any special discounts for shopping with certain credit banks or banks either. Despite this, the site is a good one to shop at, given the large variety of deals on offer and a good browsing experience.
Websites that have closed down recently
Up until June 26, these websites were up and running. But recently, Ensogo and its portfolio of companies have seized operations in southeast Asia. The following are the two website that were run by Ensogo and are now defunct.
7. MyDeal
Alexa ranking in Malaysia: 184
Facebook likes: 136,991
MyDeal is fast becoming a popular online deal site in Malaysia and has garnered a large number of FB likes as well. It is available in Johor Bahru, Penang, Kuala Lumpur, Ipoh, KK, Kuching, Melaka, Miri, Kuantan, Singapore.
MyDeal offers deals under categories like 'products', 'travel', 'wellness', 'dining' and 'activities'. You can click on the 'Bestsellers' button to see the most sought-after deals on the site. A differentiator of the site is its food delivery service that is incorporated in the deals. MyDeal Room Service delivers a variety of cuisines to homes and offices in just an hour. However, note that the discounts are not available on food delivery and the price is not inclusive of delivery fees.
Each time you refer a friend to the site, you stand to earn RM10 as credit, which you can use towards your future purchases. The good news is that the credits don't expire, so you don't have to plan your next purchase in a hurry any time soon! Users of iPhones and Android phones can access the MyDeal application and shop online anytime, anyplace.
Note: Closed as of June 2016
8. DealMates
Alexa ranking in Malaysia: 312
Facebook likes: 78,196
DealMates is available in Penang, Johor Bahru, Klang Valley, Ipoh, Kuching, Kota Kinabalu, Melaka, Miri, Kuantan and Seremban. It belongs to one of Southeast Asia's leading media holding companies Catcha Group and founded in 2011.
The site offers deals on luxury items, everyday utility items and wellness packages, among many others. The categories on the site are 'luxury', 'fashion', 'beauty', 'home&living', 'auto', 'healthcare', 'last call' and a new one (at the time of writing) called 'goMummy.my'. User experience at the site is enjoyable, with all the deals and information neatly segregated and cleanly presented.
The site offers credit rebate, an incentive program for members. Upon the purchase of an item, you will get a 3% credit rebate from the overall cash value. This rebate can be used for your subsequent purchases (note that the credit rebate is valid for 14 days). Members can also make the most of the site's referral program, which offers a reward of RM10 for referring friends to DealMates.
The site has Pinterest, Facebook and Google+ plug-ins. It also offers developers the opportunity to develop their own Dealmates applications by registering for an API key.
Note: Closed as of June 2016
Final thoughts about group buying sites in Malaysia
Most of the group buying websites discussed above offer discounts of more than 50% on many of their featured products. You will be hard-pressed to find such competitive deals in brick-and-mortar stores. Even better, many of the sites offer mobile apps that update you with the latest deals, and give you a head-start on bagging cool deals, over non-members. It makes sense to register at a reliable group buying deal site to see if something catches your interest.
There is an important note to remember when using group buying deal sites. Group buying sites are great at giving discounts, but they sometimes struggle to ensure delivering a top quality service or product. Thus, if a company is unknown or struggling, you might want to think twice before jumping for that deal.
Also, we strongly encourage you to share your experiences and thoughts about group buying sites in Malaysia by commenting below. We can then learn from each other!
See also:
Photo credit: Images_of_Money / Foter.com / CC BY-SA
---
"ExpatGo welcomes and encourages comments, input, and divergent opinions. However, we kindly request that you use suitable language in your comments, and refrain from any sort of personal attack, hate speech, or disparaging rhetoric. Comments not in line with this are subject to removal from the site. "